When it's time to head out for an R/C adventure, there are several things that I need to bring with me. A vehicle, a controller, batteries, tools, and sometimes water or a small snack. That's quite a bit of fumbling around unless you've got a day pack to help you along the way.
CarryAll RC is my go-to brand when it comes to R/C adventure packs. I wore my first-generation CarryAll RC BackpaX during my first Axialfest outing this year, and it served me well every single day on the trail. A full-size backpack that can handle and hold everything that you'd ever need for a day on the trail. But what if you want to take a shorter trek? Thankfully, CarryAll RC also has you covered on that front.
I ordered their recently-released Shoulder SlingPaX 2.0 pack to serve as my sidekick on quick trips not-so-distant voyages. Having taken this bag on a few local jaunts, I thought I'd share my impressions of this scaled-down carry-all.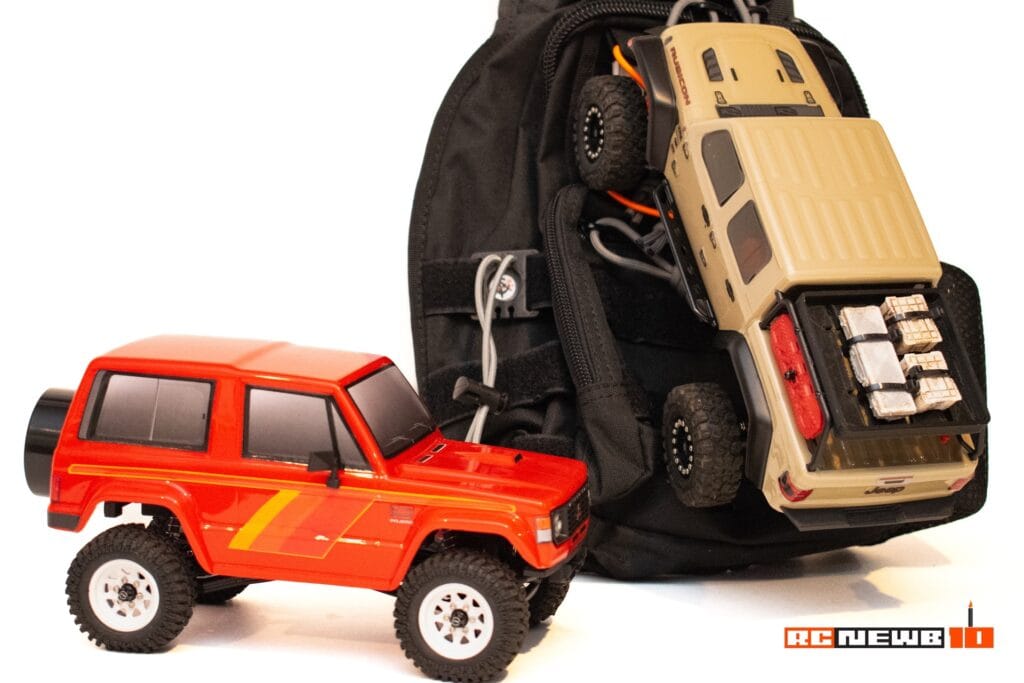 Design and Construction
One of the main elements that sets CarryAll RC's backpack apart from competitors (and standard backpacks) is the fact that you can secure a 1/10-scale rig to the back and tote it with you. The Shoulder SlingPaX 2.0 takes that same concept to the small-scale scene with a kinetic cord system that allows you to secure a 1/24 or 1/18-scale radio-controlled machine to the face of the pack. You can even personalize the cord color to match your style, choosing from red, black, gray, pink, yellow, blue, or orange.
While this looks cool and serves as a great conversation starter, it's nice to be able to free up your hands, even when you're wheeling a smaller-sized rig. Time will tell how these straps hold up over time, but they appear to be very durable and should handle several trail-time adventures.
Despite its size, the Shoulder SlingPaX 2.0 isn't lightweight. The fabric, straps, stitching, and buckles all have substance. The pack feels great when you hold it, and you immediately get a sense that it's been built to endure whatever you can throw at it.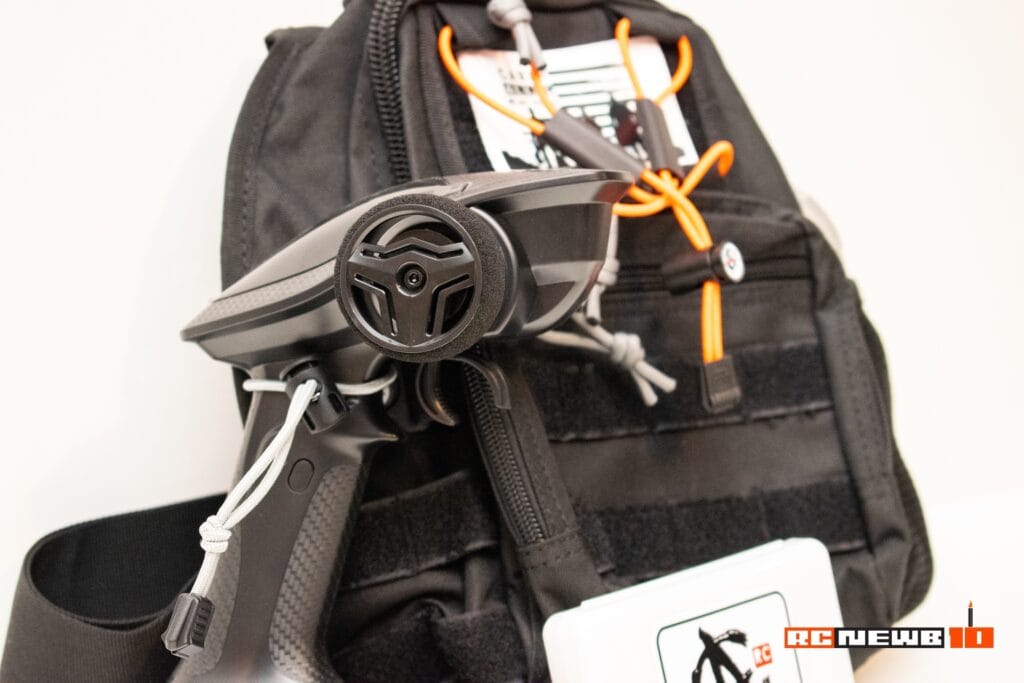 Storage Space
Despite its size, this small pack features plenty of storage space. Three zippered pouches can house tools, batteries, or other important items, keeping them safe and secure on your voyage. An exposed side pouch can serve as a water bottle holder or as quick access for a tabletop tripod or smartphone. The Shoulder SlingPaX 2.0 includes a small first aid kit that's stored in this spot but that can easily be re-housed to another section of the bag.
The large pouch offers a surprising amount of space. On a recent outing, I was able to easily fit a case containing my DJI Pocket 2 and DJI Action 2 cameras inside, with enough room to zip the enclosure fully. The medium pouch is perfect for storing the first aid kit, batteries, a portable charger, or other small items. The third pouch is mounted into the front of the middle pouch and is great for storing money, payment cards, or other flat items.
Another storage element worth mentioning is the transmitter strap. This elastic band can be adjusted to fit your controller, keeping it snug and freeing up your hands as you walk to the trailhead or back to your 1:1 vehicle.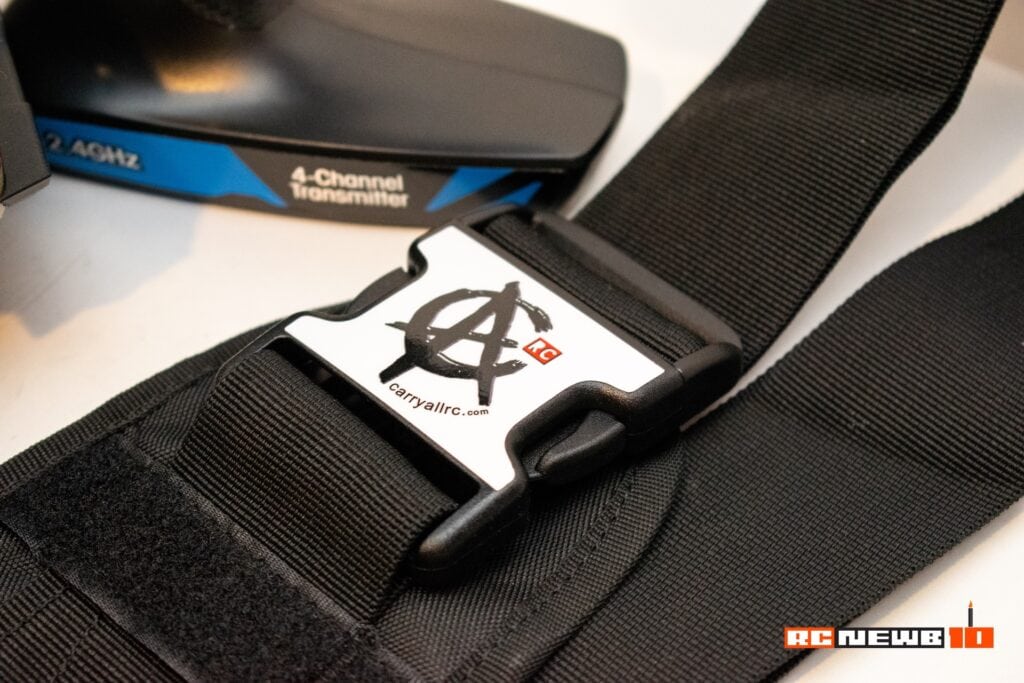 Comfort
CarryAll RC's Shoulder SlingPaX 2.0 is unique in that it can be worn in a few different ways. Across the body and to the back, across the body and to the front, off the shoulder, or simply held by the carrying strap, there's no wrong way to wear or use this pack.
Wearing this pack for long periods of time shouldn't cause any discomfort, and the shoulder strap is adjustable, allowing the wearer to tune the fit to their preference.
Customization
In addition to the custom colors you can pick for the kinetic cords, the Shoulder SlingPaX 2.0 features several hook and loop surfaces for easy patch placement. I'm new to the R/C event and brand patch scene, but I wasted little time decking out my CarryAll bags with patches from Axialfest and some of my favorite R/C companies.
What's the Verdict
The short answer is; I love this bag! The slightly longer answer is; I reeeeaaaaally love this bag! It's become my "don't leave it behind" item whenever I head out for a drive. Even if I'm taking a stroll around the yard, the Shoulder SlingPaX 2.0 is coming with me.
Comfortable and packed with storage space, this is an excellent bag for a 15-minute sprint or a long haul on the trail. It's perfectly sized for 1/24-scale adventures but works just as well as a sidekick for 1/10-scale trail runs.
If you want to experience it yourself, the CarryAll RC SlingPaX 2.0 is priced at $49.99 and is available at carryallrc.com.