When is the last time you've geeked out over a backpack? Typically known as a utilitarian symbol, a backpack usually isn't something to get worked up about. Usually. One pack that I've been eyeing with great interest has been the X-TRA RC Backpack from CarryAll RC. Launched earlier this year, the X-TRA has quickly whipped up interest from scale R/C enthusiasts who have been looking for a durable, do-it-all pack that can stand up to the rigors of a long day on the trail.
Mike George, a fellow hobbyist, friend, and owner of CarryAll RC was kind enough to share the story of his venture with me on a recent episode of the Big Squid RC Podcast. Soon after, a wonderful gift arrived on my doorstep; a review-ready X-TRA Combo RTR RC Backpack.
As I prepare to take this pack out for some trail-time adventures, I want to share some initial impressions. For starters, what sets this bag apart from other backpacks? The answer isn't as simple as you may think. While it's easy to spot the primary, hobby-focused aspects of the bag, there are several unique offerings to be found throughout this backpack.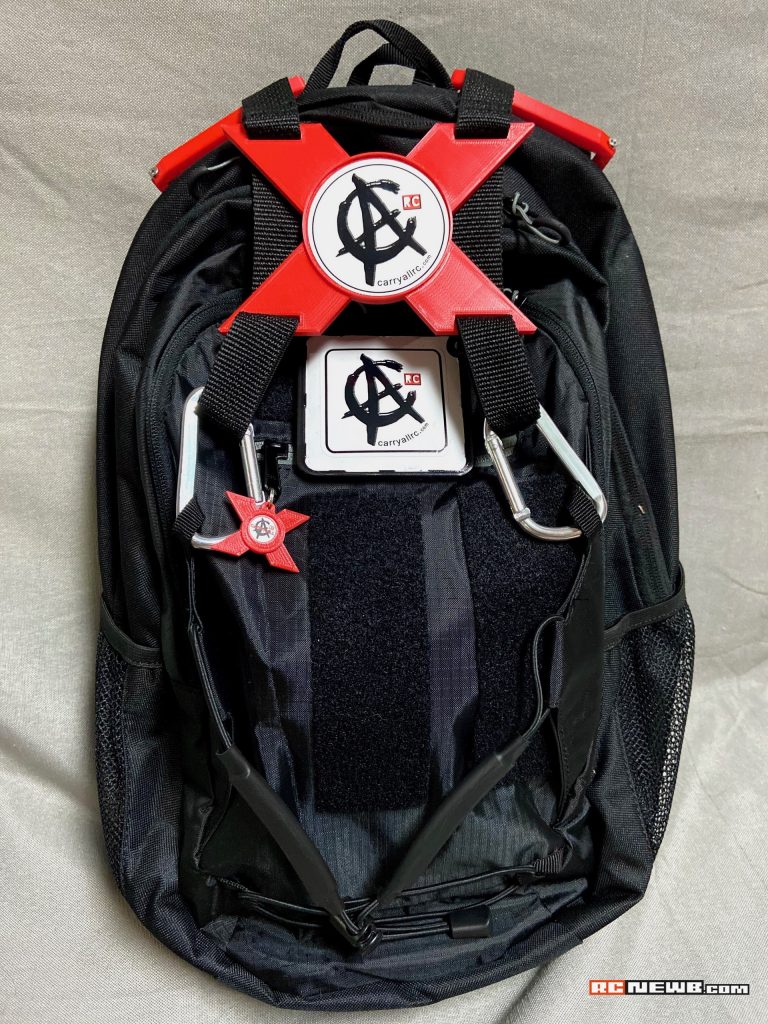 A Ready-to-Run Rucksack
The approach that CarryAll RC is using for this pack is a smart one for a startup. Rather than redesigning the wheel, or bag in this case, they've sourced several standard components to build on top of. Much like customizing an RTR radio-controlled vehicle, this bag starts with a solid base, a durable, comfortable 29L backpack.
On top of that foundation is where the real magic happens. While this bag offers plenty of storage space on the inside, the outside is what sets it apart from the rest. With its external strap and latch system, you can easily mount a 1/10-scale R/C crawler or scale trail vehicle. Whether you're walking from your car to the trailhead or you've run out of batteries mid-adventure, this pack offers a smart way to carry your rig to and from adventure.
With a lightly-modified 1/10-scale trail truck strapped to my pack, I didn't feel weighed down by the rig. CarryAll RC recommends filling your pack up with gear before strapping your trail truck to it, and I'll echo that statement. Filling out the bag helps to give it additional structure and will help your rig sit higher on the pack. Without anything inside the bag, the rig sits quite low and feels a bit "floppy".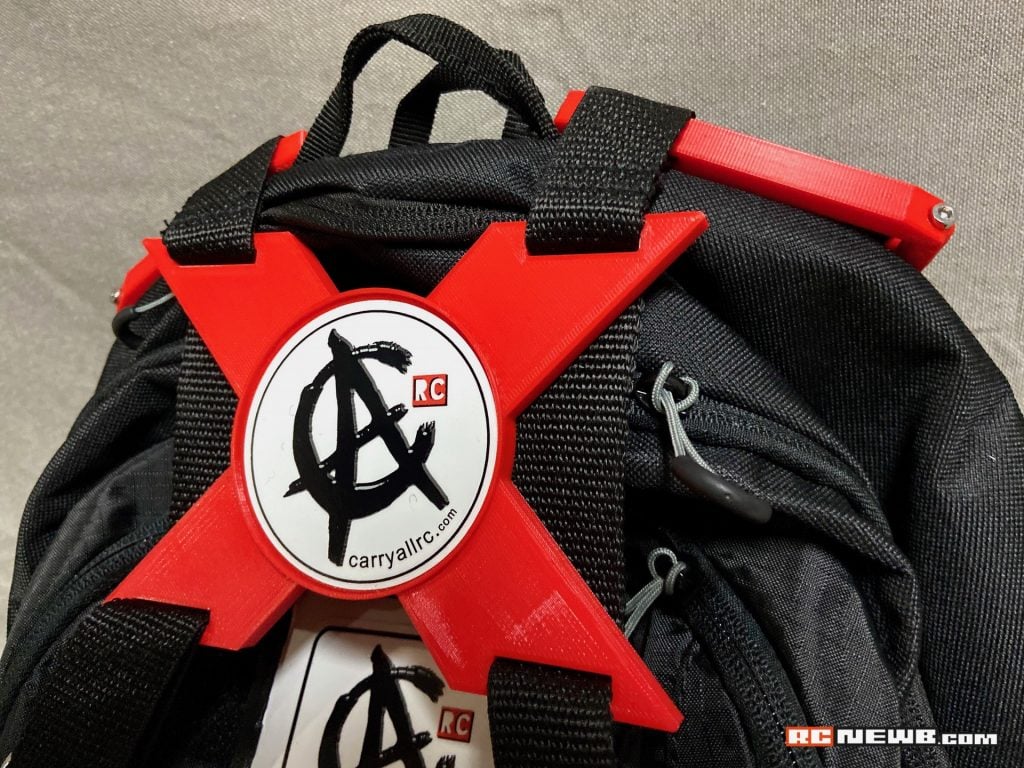 Strapped for Action
The vehicle mounting system on the X-TRA RC Backpack is simple and effective. The big "X" brace serves as a solid foundation for the carabiner clips that attach to your vehicle's front or rear axles or tie-rods.
Depending on the type of model you run, you may need to experiment with the best mounting location. I have attached a Traxxas TRX-4 Sport and Axial SCX10 Classic without any issue, however, the clip placement differs for both.
Once the front is secured, you'll need to prevent the other end of your rig from moving around. This is handled by two elastic straps toward the bottom of the backpack. Each strap slips up and over the tire/wheel and helps to keep the lower-end of your machine from sloshing around or slapping you in the back while you walk.
When you're not carrying your trail truck on your back, the carabiner clips and other straps can be secured onto the bag, keeping them nice and tidy until needed.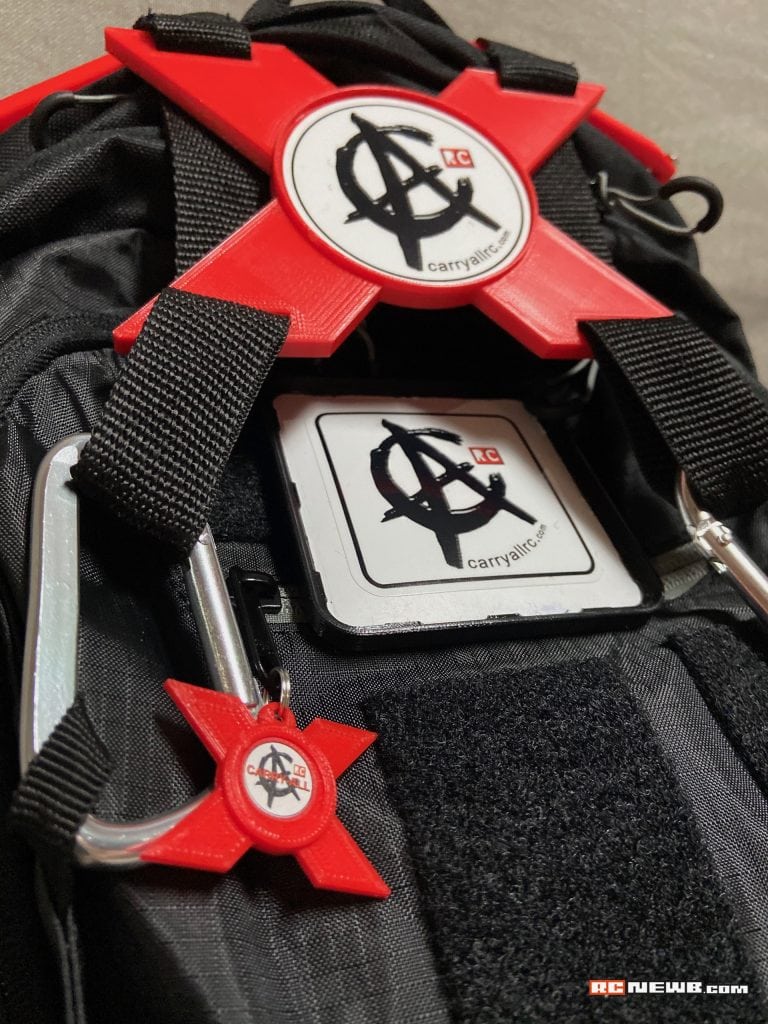 Plenty of Pockets, Loops, and Straps
I can see why CarryAll RC chose this bag to build on top of. With ample interior storage, it offers quite a few pockets and loops to allow you to hold whatever accessories or gear you might need for your next outdoor adventure.
I've counted five zippered or open pouches for storing everything from batteries and radio gear to water and action cameras. Speaking of cameras, the review pack that I have includes a GoPro/action camera mount on the left shoulder strap. If you don't feel like one-handing your controller as you capture your R/C action, this hands-free mount could be quite handy.
In addition to the pockets and add-on straps, there are several elastic loops and retainers on the exterior of the pack, perfect for carrying smaller, high-use items. The CarryAll RC design team also added large velcro strips to the exterior of the bag, which are great for attaching patches or the mini Cow RC hardware mat that was included in my pack.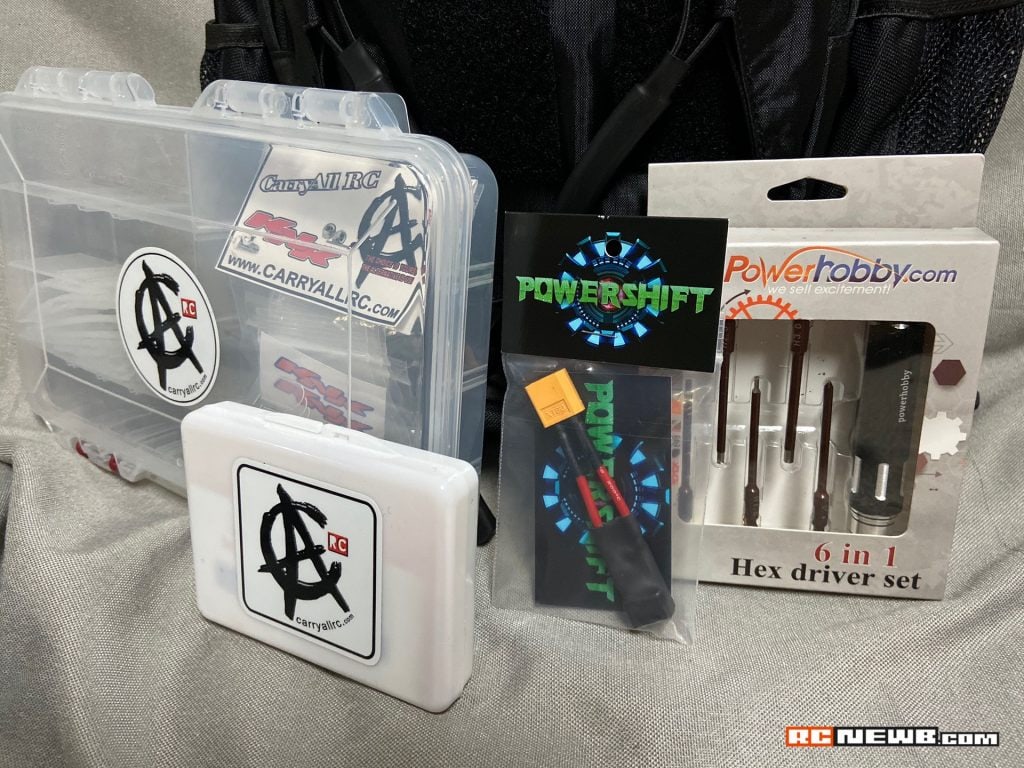 CarryAll RC's Collaboration
Speaking of collaboration, the Cow RC pit mat is just one of the brand team-ups that CarryAll RC has put into their backpacks. In fact, here's a rundown of the brands that you'll find in the X-TRA-2 RTR and X-TRA Combo RTR packs:
Ready to Hit the Trail
Between the baseline durability of CarryAll RC's X-TRA RC Backpack and the impressive number of add-ons that have been attached to it, I'm very much looking forward to my next outdoor R/C adventure. If you've been searching for a R/C-focused backpack that can carry everything you need while also doubling as a rig transportation system, I highly recommend checking out the entire lineup of bags at carryallrc.com.