A quick look at the latest R/C trail truck from Traxxas.
Do you ever feel that you've willed something into existence? When the full-sized 2021 Ford Bronco was announced last year, I immediately hoped that we'd see it recreated in 1/10-scale for the R/C hobby. While New Bright did an amazing job with its 1/8-scale App Driver model, I still wanted more. Something that was hobby-grade, beautifully crafted, and ready for the trail. In complete honesty, I hoped that Traxxas would be the one to take up this mantle.
Months clicked by, and I'd begun to give up on that dream, if not forgetting about it altogether. Then a miracle happened. Ok, it wasn't a miracle, but rather an email newsletter from Traxxas (full disclosure; I was in a church when the email arrived). As I sat at a table, waiting for a Boy Scout meeting to wrap up, I saw it. The sign that I'd been waiting for; the announcement of the Traxxas TRX-4 2021 Ford Bronco ($549.99). Mated to their full-featured TRX-4 chassis, this release looked amazing, and it took me a while to pick my jaw up off the floor. As I skimmed through the details, one thought would play over and over again in my mind.
After staking out my local hobby shop in the weeks after the 2021 Bronco announcement, I found myself snagging the first "for public sale" model that arrived. A short time after that, I was tooling around a local hiking trail, getting a feel for this new, beautiful machine. While the overall platform is unchanged, Traxxas has managed to sneak a few new features into this release. Here are my initial thoughts on their latest trail machine.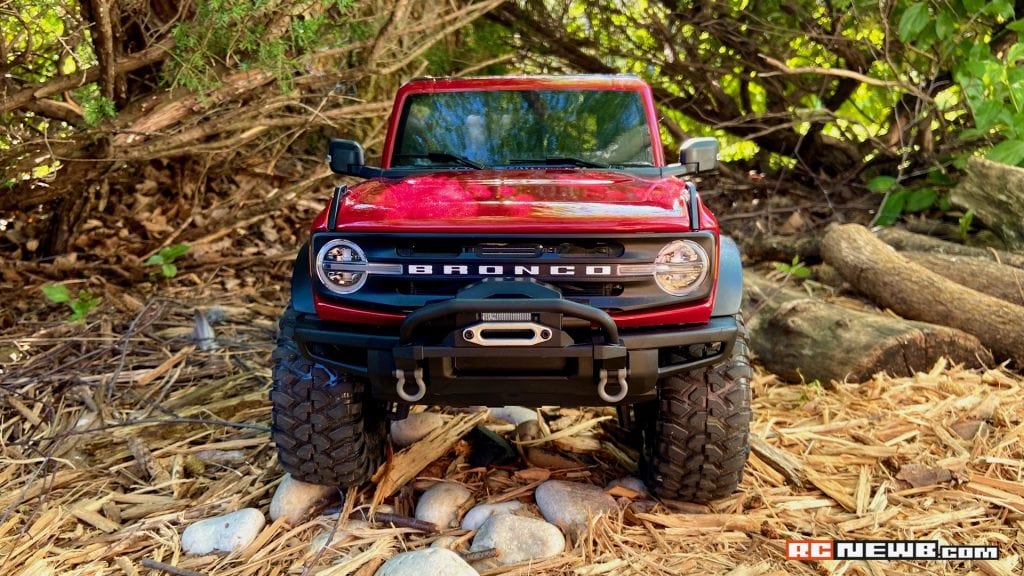 What's Included:
Traxxas TRX-4 2021 Ford Bronco 1/10-scale R/C Model
Traxxas TQi Radio Transmitter
Instruction Manuals and Quick Start Guides
Appearance
The main attention-grabber for this model is undoubtedly the body. The product design team at Traxxas has been on a roll as of late, churning out some stunning replicas of 1:1 vehicles. From the 4-Tec 3.0 Corvette to the Drag Slash and now the TRX-4 2021 Ford Bronco, they've managed to hit on an amazing formula that blends beauty, detail, and durability into one jaw-dropping package. I chose the latter between the two body color options available for the TRX-4 2021 Bronco (Cyber Orange and Rapid Red). Both options are eye-catching in their own right, and I'd honestly love to park both colors side-by-side in my R/C garage.
Along with the beautiful color recreation, the body details found throughout the body of the TRX-4 2021 Ford Bronco are just as appealing. The front grille looks like it's been pulled off of a full-size Bronco and scaled down to fit this 1/10-scale replica. From bumper to bumper, this rig doesn't disappoint when it comes to visual beauty.
Of course, I can't talk about the body without mentioning the "clipless" mounting system that Traxxas has included in this model. First introduced on the 4-Tec 3.0, this body attachment system removes the need for traditional body posts and clips and replaces it with four "pinchable" inner tabs that snap into the fenders. While these new mounting tabs are "technically" clips, they aren't the legacy body clips that you've come to know, love (and possibly hate) over the years.
This model isn't the first to shed body clips, and it's not the last. Redcat and Carisma Scale Adventure both offer models with alternative body-mounting methods, but I will give Traxxas some credit for how they've engineered their approach. It's definitely easy to use and made removing and reattaching the body a breeze, even while out on the trail.
Another body detail that's earned some praise is the fold-in side mirrors. Again, Traxxas isn't the first to implement this type of design into a body accessory, but as someone who's lost more than a few side mirrors over the years, it's an appreciated feature.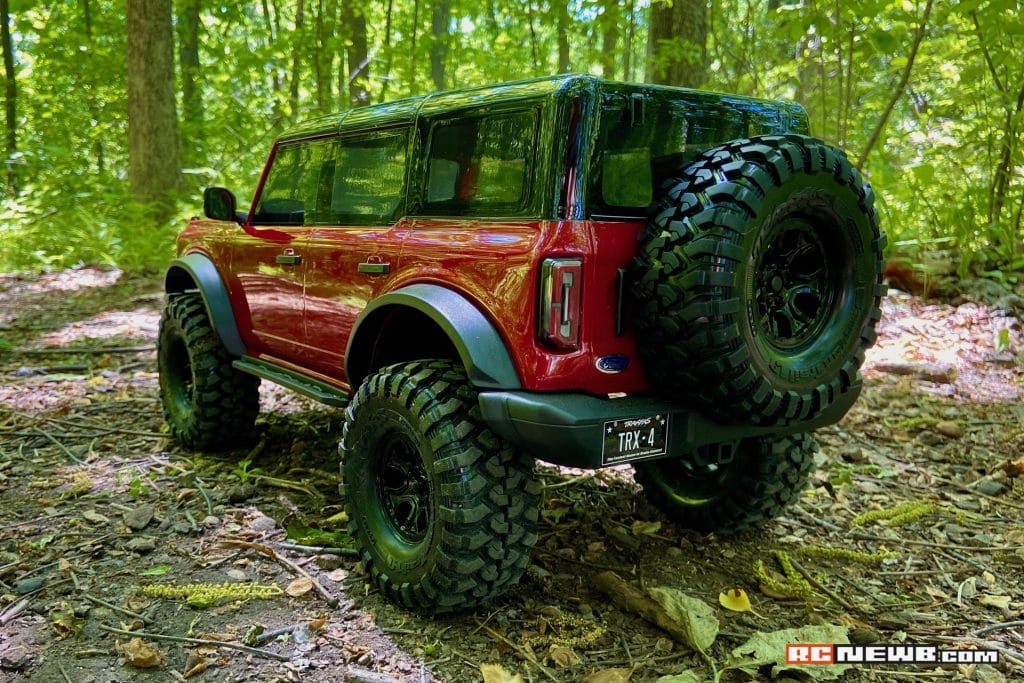 Performance
My previous experience with the TRX-4 platform started and ended with the TRX-4 Sport. A solid machine in its own right, the Sport doesn't feature some bells and whistles included on "premium" TRX-4 models. Items such as a two-speed transmission, remote-locking/unlocking diffs, and cruise control were all-new elements for me, and I'm still getting my head wrapped around them. While they're nice to have, they add another layer of options to your everyday trail drive. While that might sound like a negative, it's just something to consider if you're jumping from a TRX-4 Sport into the full-featured TRX-4.
Overall performance for this truck is wonderful. The smooth suspension setup and "go anywhere" attitude of the TRX-4 Sport had me hooked during my first drive of that model, and that's echoed in the TRX-4 2021 Ford Bronco. The 21T Titan brushed motor offers a solid blend of torque and speed, so whether you're crawling around in first gear or cruising along the trail in second, you shouldn't lack power.
As mentioned earlier, I'm still getting the hang of the two-speed transmission and remote diff locker. While these features aren't difficult to use, I have to remind myself that they're there. When they are in play, however, they perform beautifully. The second-gear cruising speed is perfect for a nice stroll along the trail, and the low-end gearing and differential lock/unlock made quick work of a log pile that I encountered on my maiden voyage.
Initial Thoughts and Suggested Improvements
In my view, it's hard not to have fun when wheeling a radio-controlled vehicle, and the TRX-4 2021 Ford Bronco is no exception. My maiden trail adventure was an absolute treat, and I enjoyed the full-featured experience that the premium TRX-4 platform offers. It's a solid vehicle right out of the box, but that's not to say that you can't improve it.
For starters, the torque of the standard steering servo leaves a bit to be desired. After encountering some tricky trail obstacles, I swapped in a REEF's RC 422 HD servo for a little more speed and quite a bit more turning power. The standard steering servo is good, but having more power and speed is always appreciated. The second item that I addressed is the low-end weight and tire performance.
The overall weight of this TRX-4 model is good, but it could use a little help. Along with weight, I wanted to add some tires that provided more grip, so I swapped out the stock tires and wheels for a set of heftier beadlock wheels and Pro-Line BFGoodrich Mud-Terrain T/A KM3 tires (Predator Compound). This small adjustment makes the TRX-4 2021 Ford Bronco even more potent and allows for exploring truly extreme terrain.
At the end of the day, I'm very impressed and pleased with this model. The full-size 2021 Bronco is on my shortlist of dream machines, and for the price of one payment on a 1:1 model, I'm quite content having scaled-down trail adventures with the TRX-4. The visual detail that's offered by this body is stunning, and the under-the-lid performance is tried and true. If you've experienced the TRX-4 platform before, you know how good it can be. For those who haven't, you're definitely in for a treat.
Where You can Buy a Traxxas TRX-4 2021 Ford Bronco