Shortly after the 2021 Ford Bronco was announced last year, I started to wonder if a major R/C brand would add this body style to its lineup anytime soon. No sooner had that thought popped into my head, New Bright released its 1/8-scale 2021 Ford Bronco, but that wasn't exactly what I had in mind.
My wish at the time was to see Traxxas turn their attention for visual detail toward this modern reincarnation of an off-road legend. Months later, that wish has been granted. Say hello to the Traxxas TRX-4 2021 Ford Bronco.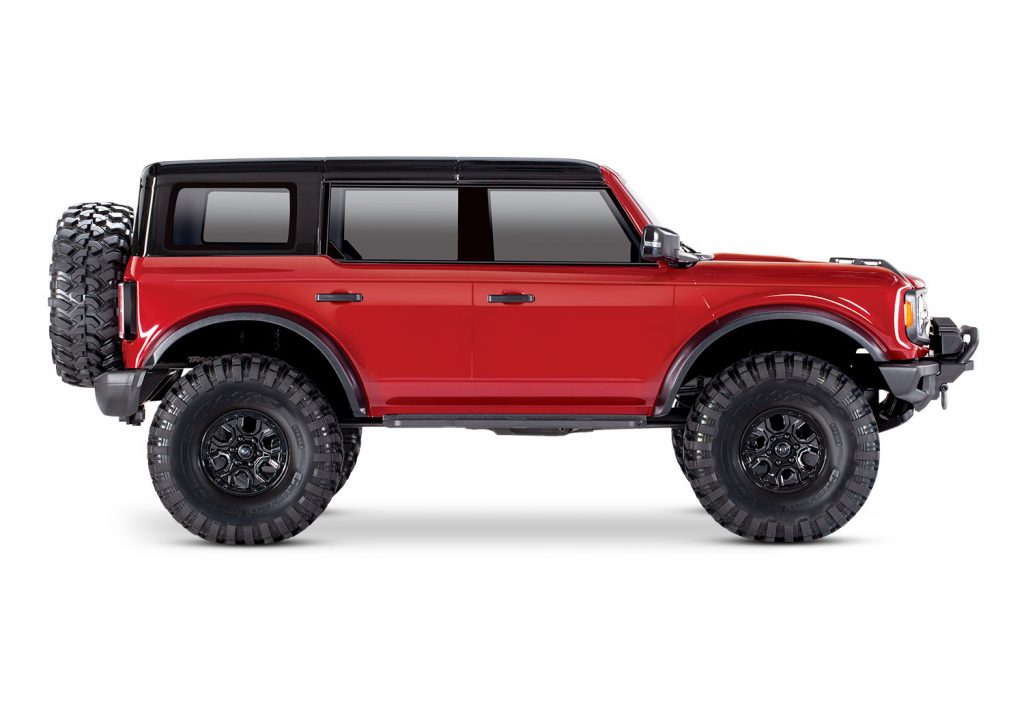 Riding atop its tried-and-true TRX-4 chassis, the latest addition to the Traxxas trail truck lineup is truly a stunning piece of machinery. Under the beautifully-crafted 1/10-scale 2021 Ford Bronco body (which we'll get to shortly), this rig features plenty of performance, plus a few creature comforts to make your time on the trail the best it can be.
Portal axles, steel gears, cruise control, and an optional two-speed transmission are all part of what's made the TRX-4 a favorite among R/C adventure enthusiasts. If you've experienced the TRX-4 before, whether it was a standard or Sport model, you know what to expect from this latest entry.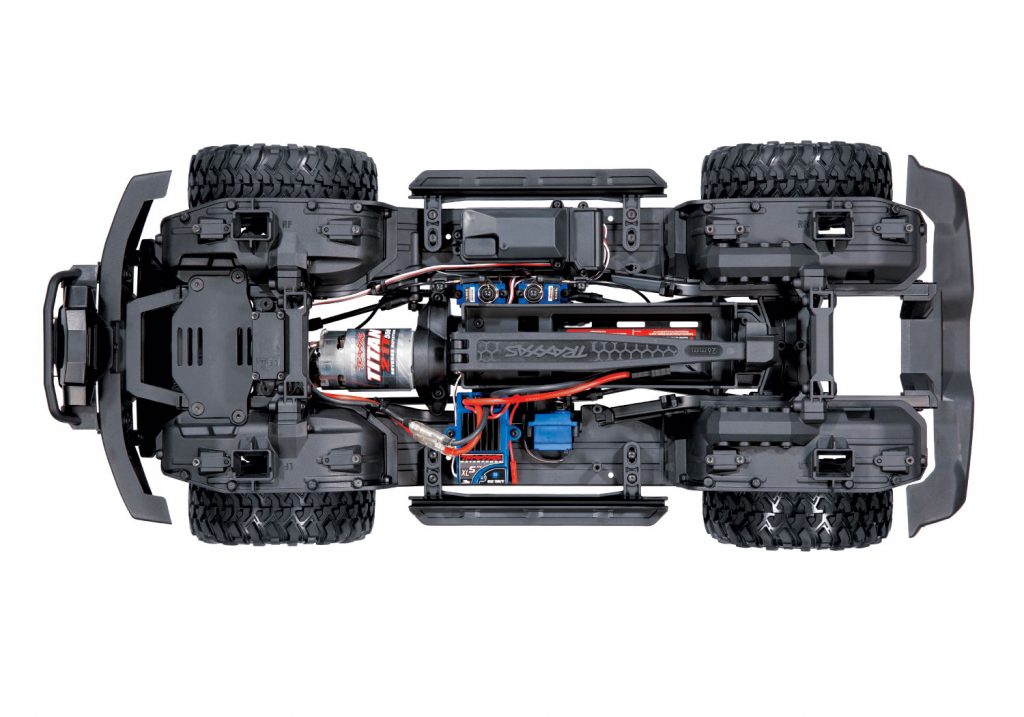 That said, something is refreshing about seeing a new body option added to a lineup, especially if it's one of the most anticipated off-road releases in recent memory. The 1:1 2021 Ford Bronco grabbed my attention at the first moment that I saw it. Since then, it's become my latest dream vehicle. While I might not be parking one in my driveway anytime soon, I'm stoked by the fact that I can park a slightly smaller variation of it in my R/C garage.
With its throwback-inspired design, the 2021 Ford Bronco rekindles the essence of the original Bronco off-roader. Traxxas appears to have done an amazing job of recreating that look in 1/10-scale from the headlights to the taillights.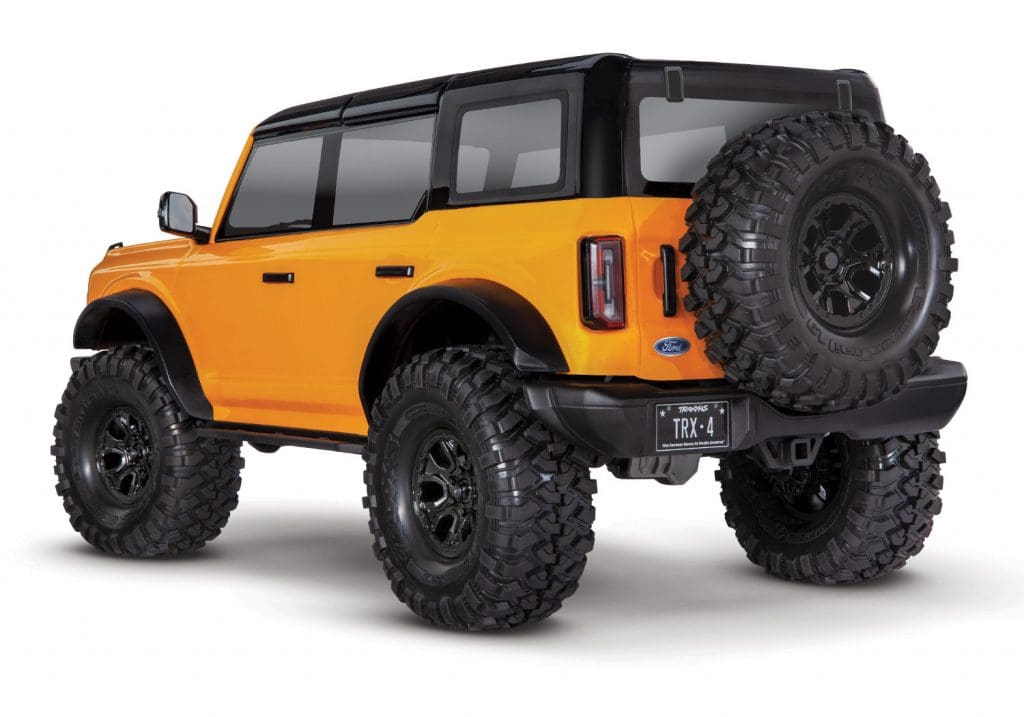 One body feature that's easy to miss (but well appreciated) is the "clipless" body mounting system that Traxxas has recently introduced. Eliminating the need for exposed body posts and body clips/pins, this trail rig has a smooth, clean appearance that many R/C enthusiasts should appreciate.
The Traxxas TRX-4 2021 Ford Bronco is available in two body colors (red and yellow) and features body accents such as a detailed grille, headlights/taillights, side-view mirrors, off-road inspired front, and rear bumpers, a rear-mounted spare tire, clear windows, and a black-topped roof.
Traxxas TRX-4 2021 Ford Bronco Specs:
Length (overall): 22.98 inches (584mm)
Length (chassis): 21.59 inches (549mm)
Front Track: 9.78 inches (249mm)
Rear Track: 9.78 inches (249mm)
Ground Clearance: 3.14 inches (80mm)
Weight: 6.42lb (2.91kg)
Height: 9.4 inches (239mm)
Wheelbase: 12.8 inches (324mm)
Front Shock Length: 3.54 inches (90mm)
Rear Shock Length: 3.54 inches (90mm)
Front Wheels: 1.9 x 1.02 inches (49 x 26mm)
Rear Wheels: 1.9 x 1.02 inches (49 x 26mm)
Front Tires: 4.64 x 1.89 inches (118 x 48mm)
Rear Tires: 4.64 x 1.89 inches (118 x 48mm)
Approach Angle: 52°
Departure Angle: 49°
Breakover Angle: 58°
Hex Size: 12mm
Speed Control: XL-5 HV
Motor (electric): 21T Reverse Rotation
Transmission: 2-speed Hi-Lo, Remote Shifting
Gear Pitch: 32P
Differential Type: 4 Gear, Remote Locking
Chassis Structure / Material: Steel Ladder Frame with Nylon Composite
Crossmembers
Brake Type: Electronic "Hill Hold"
Drive System: Shaft Driven 4WD
Steering Setup: Chassis Mounted Servo
Steering Servo: 2075X Metal Gear
Radio Transmitter: TQi™ 2.4 GHz 4-Channel Transmitter
Radio Receiver: 6533
Price: $549.99
The TRX-4 2021 Ford Bronco is priced at $549.99 and will be available from Traxxas and their dealers in mid-May (2021). Visit traxxas.com to learn more about this R/C trail truck.
Image credit: Traxxas