If you can't wait to hit the trail with a 1:1 2021 Ford Bronco, New Bright has what might be the next best thing. They've released a 1/8-scale version of this reimagined off-roading legend as part of their R/C App Driver lineup, giving you the opportunity to wheel this rig in five different ways.
The 1:8 R/C App Driver Ford Bronco can be controlled through the included 2.4GHz controller as well as through New Bright's App Driver app (Google Play/Apple App Store). As a toy-grade radio-controlled model, you probably won't be conquering any extreme terrain, but you can still get young R/C enthusiasts interested in the hobby with a vehcle like this.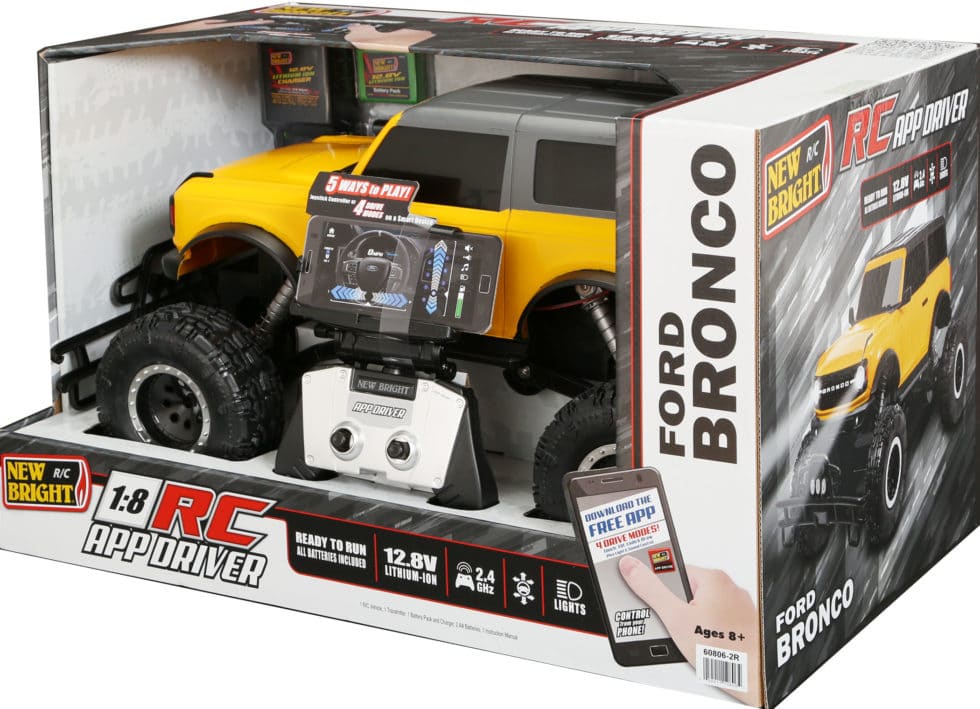 Aside from the functionality of this R/C machine, the most attractive feature might be the body. New Bright has a knack for knocking out amazing 1:1 vehicle replicas, and this 2021 Ford Bronco is no exception. Along with the spot-on Bronco design, this model includes LED headlights and tail lights with clear/translucent lenses.
Made from durable plastic, the body is designed to take abuse from younger, less experienced drivers, meaning it should hold up to just about whatever you can dream up.
If you're a hobby-grade, scale R/C fanatic, you could also pull the body off of its toy-grade chassis and mount it onto a 1/10-scale, 12″ wheelbase trail truck or crawler. In fact, a few fellow hobbyists have done this exact body-swap with some downright stunning results.
The New Bright R/C App Driver Ford Bronco is priced at $69.97 and can be found at your local Walmart store or online at walmart.com. To learn more about this 1/8-scale 2021 Ford Bronco R/C truck, visit newbright.com.
Image credit: New Bright