With news of new R/C crawlers from New Bright fresh on my mind, I was happy to see one of their DashCam Jeep Trailcat models in the toy aisle of my neighborhood Walmart. This model was one that I'd hoped to get a closer look at and once I did, it quickly found it's way into my shopping cart. From there, it was game on.
While I consider myself a "hobby-grade" enthusiast, I do like checking out the toy aisles from time to time. It gives me a feel for how those brands see the the world of R/C and what might be of interest to younger radio-control enthusiasts. And let's be honest, you can discover some hidden gems every now and then.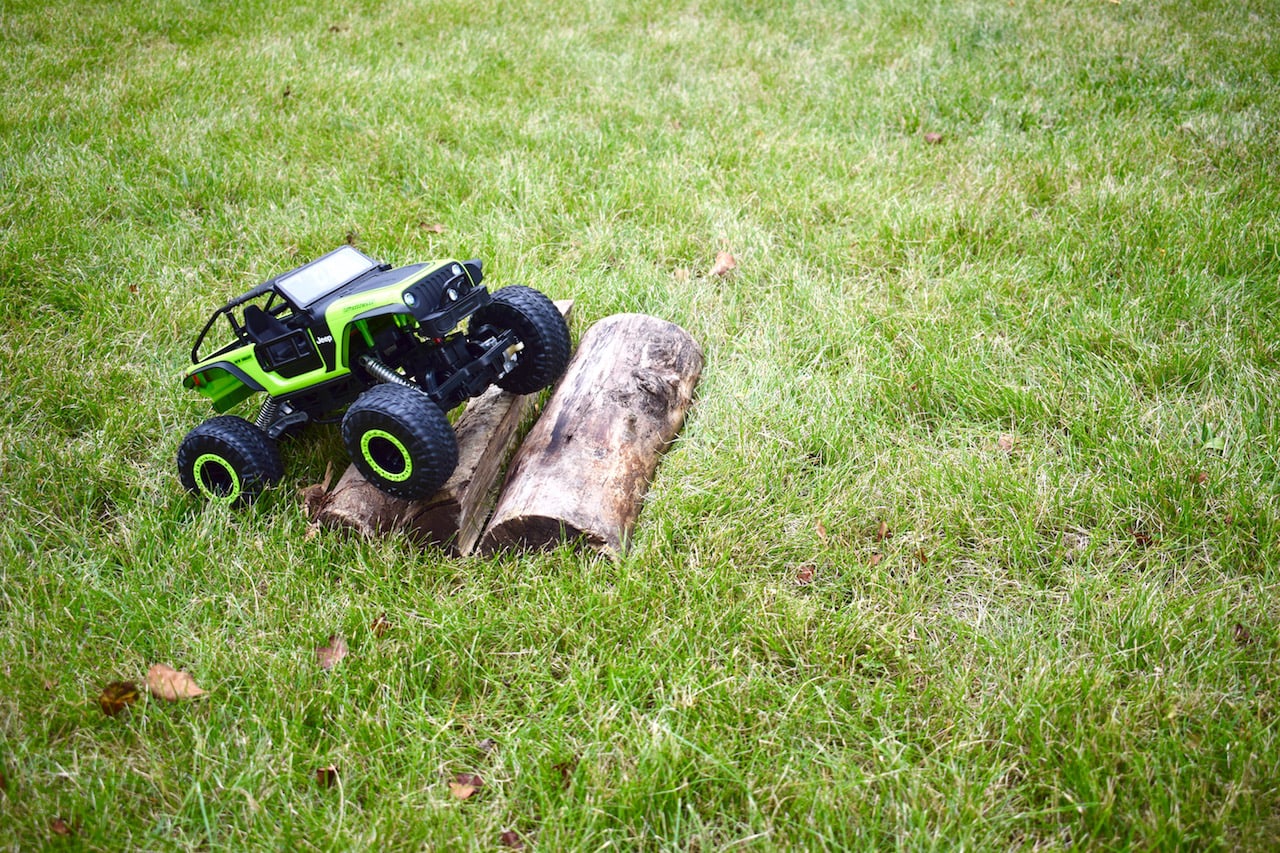 The DashCam Jeep Trailcat might be one of those hidden gems. At $59.99, it appears to be a capable crawler which features a stunning, well-designed body. On top of that, you have a built-in FPV experience with its own unique set of goodies. If you ask me, that's quite an intriguing combination.
What's Included:
1 Jeep Trailcat DashCam R/C Crawler – $59.99 (

Available at Walmart.

)

1 R/C controller

1 FPV goggle smartphone enclosure

1 9.6V Li-Ion battery

1 9.6V Li-Ion battery charger

1 Instruction manual
Unboxing the New Bright DashCam Jeep Trailcat:
Initial thoughts on the New Bright DashCam:
To be honest, I'd buy this vehicle for the body alone. While the scale doesn't match up with most of my larger vehicles, I'd imagine you could find a way to make it work on a smaller-to-medium scale machine. Aside from my own love for the Jeep Trailcat body, this vehicle does have an overall appeal to younger R/C fans, especially those who'd like to venture off the beaten path once and awhile.
Right from the start, we tested the durability of the DashCam by driving it off of our "unboxing table". While this wasn't planned, I was happy to see the vehicle hold up after a 3-foot drop onto a fairly hard surface. Pro tip: never give a 5 year-old a R/C controller for a vehicle that's powered up, but not cleared to take off. Lessons learned the hard way…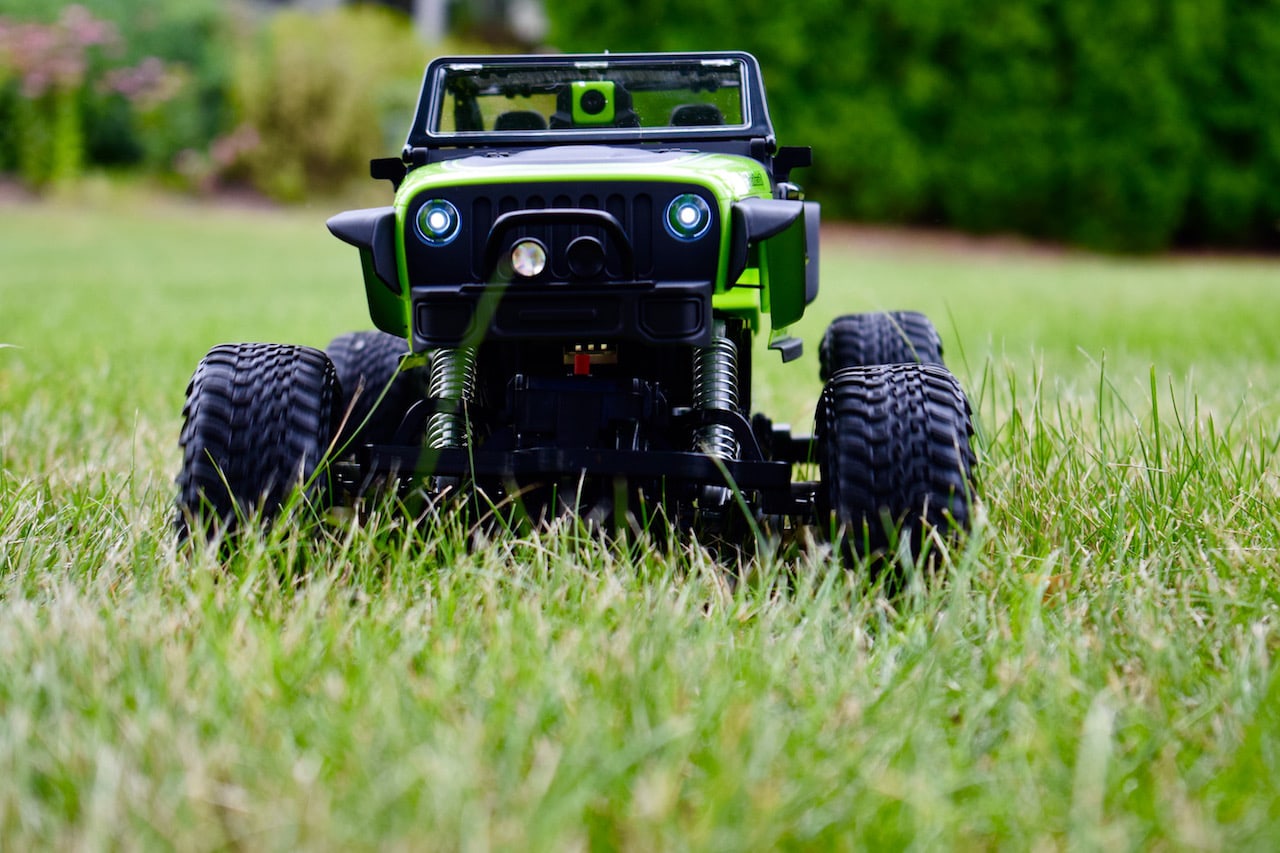 Aside from that little mishap, my experiences with this vehicle have been enjoyable. To be honest, I haven't driven it much, if at all. Most of the wheeling has been done by my youngest "test driver" who's had a history of putting vehicles through their paces. In fact, he was the one who urged me to add this vehicle to our R/C garage, not that I needed much prodding.
Vehicle Performance
Although my time behind the wheel of the New Bright DashCam Jeep Trailcat has been limited, I've been impressed by what I've seen. This machine can easily drive over light obstacles and scoots across grass without any hesitation. The articulation is very impressive, making this vehicle an excellent competitor to other toy-aisle crawlers such as Maisto's Rock Crawler.
From the grass to a log-laiden obstacle course, it happily took on whatever was thrown at it, making me a very happy observer.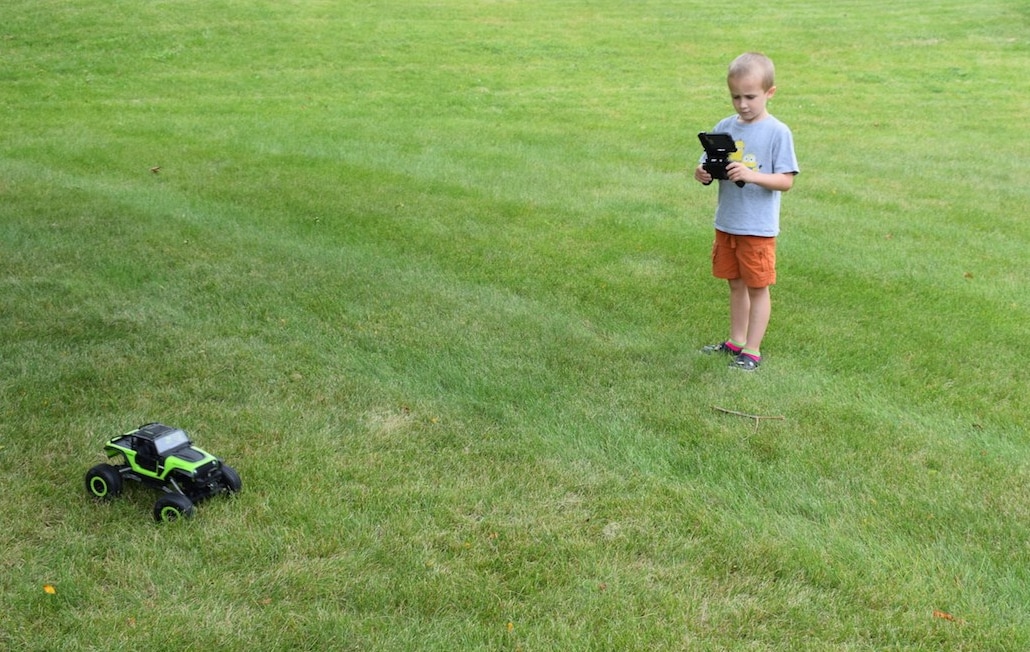 While the New Bright DashCam doesn't have proportional steering or throttle, that doesn't take away from its overall capabilities and performance. The lack of fine steering and throttle control make this less of a technical crawler, but the soul of a basic R/C crawler is still there.
The FPV Experience
Perhaps the biggest draw to this vehicle, for me at least, is the FPV aspect. FPV has become my new hobby-within-a-hobby and I've been on high alert for new ways to experience and incorporate it into my vehicles and driving habits. The inclusion of an FPV setup on a toy aisle find is gateway to an entirely new world and one which I'm very excited to explore.
The FPV gear included on the DashCam uses WiFi to broadcast to your smartphone. From there, you can either mount your device inside a wearable enclosure or directly onto the controller. Establishing the WiFi connection is straightforward and painless, something that I was happy to see and experience.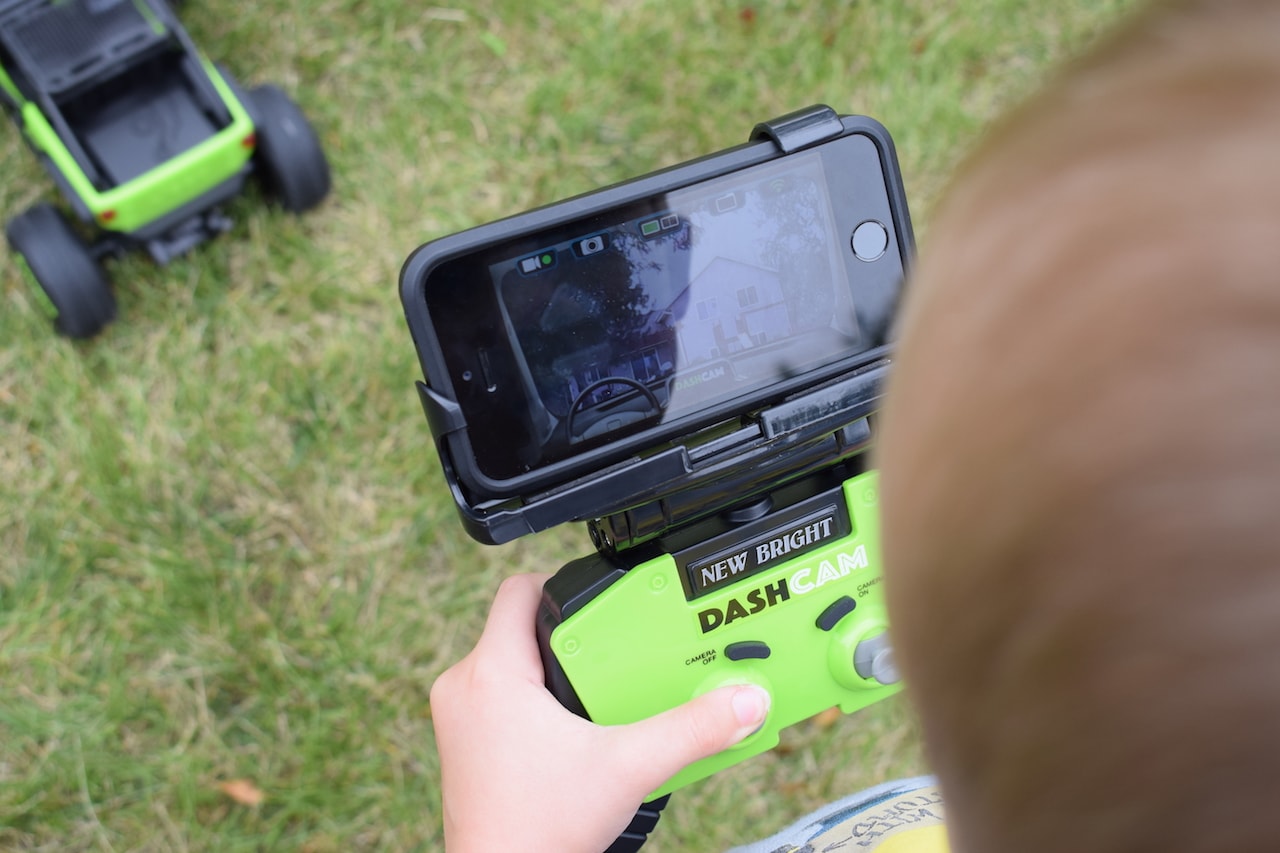 Once you're all set up, the video connection is solid and you can easily drive the Jeep Trailcat as if you were behind the wheel. There's even a steering wheel and dashboard overlay which adds to that feeling. It's a great effect for kids, but I could do without it.
Ready to Hit the Trail
With our maiden voyage under our belts, I'm looking forward to taking this machine out on the trail (or at least through a backyard course). While it won't entirely match what a 1/10-scale trail rig can do, I'd be surprised if it can't hold its own for most of the voyage. Regardless of what I think, it's a solid bet that my kids will enjoy their adventure, and that makes this a worthwhile purchase in my book.