The wait is over. At long last, Traxxas has fully unveiled the details of their Drag Slash R/C Drag Truck. With tidbits released in drips and drabs, the full picture is now clear, and it's quite a stunning work of art. Sporting a Chevy C10 pickup truck body and boasting a 3500kv brushless motor, a hardcore transmission in the Magnum 272R, and TSM with Drag Race Mode, the Drag Slash should make quite the splash when it rolls into hobby shops.
The body features plenty of scale detail, and there are six colors to choose from, so there are plenty of opportunities to explore and customize. With LED-ready headlights and marker lights, you can add even more scale detail, whether you're at the track or hanging out in the shop.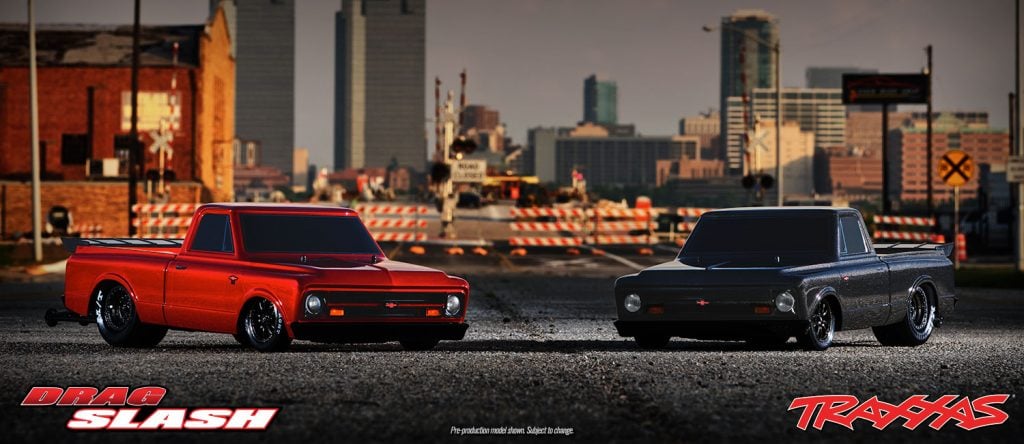 Traxxas Drag Slash R/C Dragster Specs:
Length (with wheelie bar): 29.7 inches (754mm)
Length (body only): 22.6 inches (574mm)
Front Track: 9.3 inches (236mm)
Rear Track: 8 inches (205mm)
Width: 11 inches (279mm)
Weight: 5.23 lbs
Height: 7.7 inches (196mm)
Wheelbase (at ride-height): 12.9 inches (327mm)
Tire Diameter (front): 3.35 inches (85mm)
Tire Diameter (rear): 4.13 inches (105mm)
Tire Width (front): 1.04 inches (27mm)
Tire Width (rear): 2.25 inches (57mm)
Wheel Diameter (front): 2.2 inches (56mm)
Wheel Diameter (rear): 2.2/3.0 inches (56mm/76mm)
Motor: Brushless, 3500kv
Radio System: Traxxas TQi, 3-channel, 2.4GHz
Price: $499.95
Priced at $499.95, the Drag Slash will be available soon from Traxxas dealers. Visit traxxas.com to learn more about this R/C drag truck.
Image credit: Traxxas