This Fall classic returns to the Midwest October 19 – 22.
R/C racing action returns to Wisconsin as the 2017 Team Associated Off-road Championships will once-again take place at Trackside Hobbies & Raceway in Brookfield, WI. With nine classes and four days of racing action, this is a must-attend event for fans and drivers alike.
Kicking off on Wednesday, October 18 with an open practice ($10), the on-track activity includes a controlled practice session on Thursday, October 19, and multiple qualifying rounds on Friday and Saturday (October 20 – 21). All of this prep and practice leads up to a day of "mains" racing on Sunday, October 22.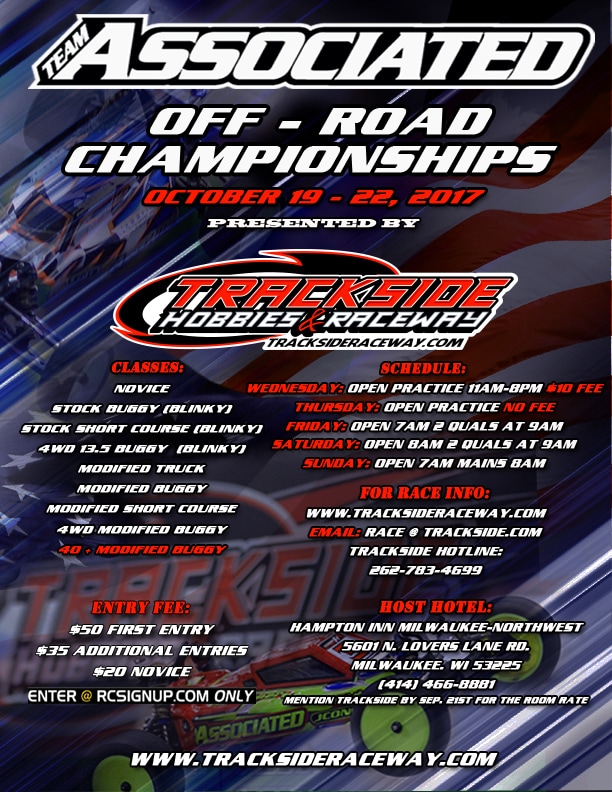 The event follows ROAR class rules and guidelines for chassis, battery, and motor specs. Vehicles will be inspected "as needed", so be sure you're setting your R/C racer up accordingly.
2017 Team Associated Off-road Championships Classes
Modified 2WD Buggy
Modified 4WD Buggy
Modified 2WD Short Course Truck
Modified Stadium Truck
40+ Modified Buggy
13.5 4WD Buggy (ROAR 13.5 Brushless, Blinky ESC)
Stock Buggy (ROAR 17.5 Brushless, Blinky ESC)
Stock 2WD Short Course Truck (ROAR 17.5 Brushless, Blinky ESC)
Sportsman/Novice
Entry fees range are set at $50 for the first entry and $35 for each additional entry. Novice class racers will be charged $25. Registration details can be found at rcsignup.com.
If you've got the itch for competition and want to try your hand at a well-known Midwest U.S. track, consider attending this year's Team Associated Off-road Championships. Class-specific details, track location, and more can be found at tracksideracway.com.
Image credit: Trackside Hobbies & Raceway