Jacob Dohrmann, a teacher at Reese Elementary School in Reese, MI, contacted me earlier in the year and introduced me to ROVE, a program that he heads-up in his classroom. The ROVE project deals with applied mathematics, science, and physice in fun and challenging situations, and is primarily focused on radio-controlled vehicles.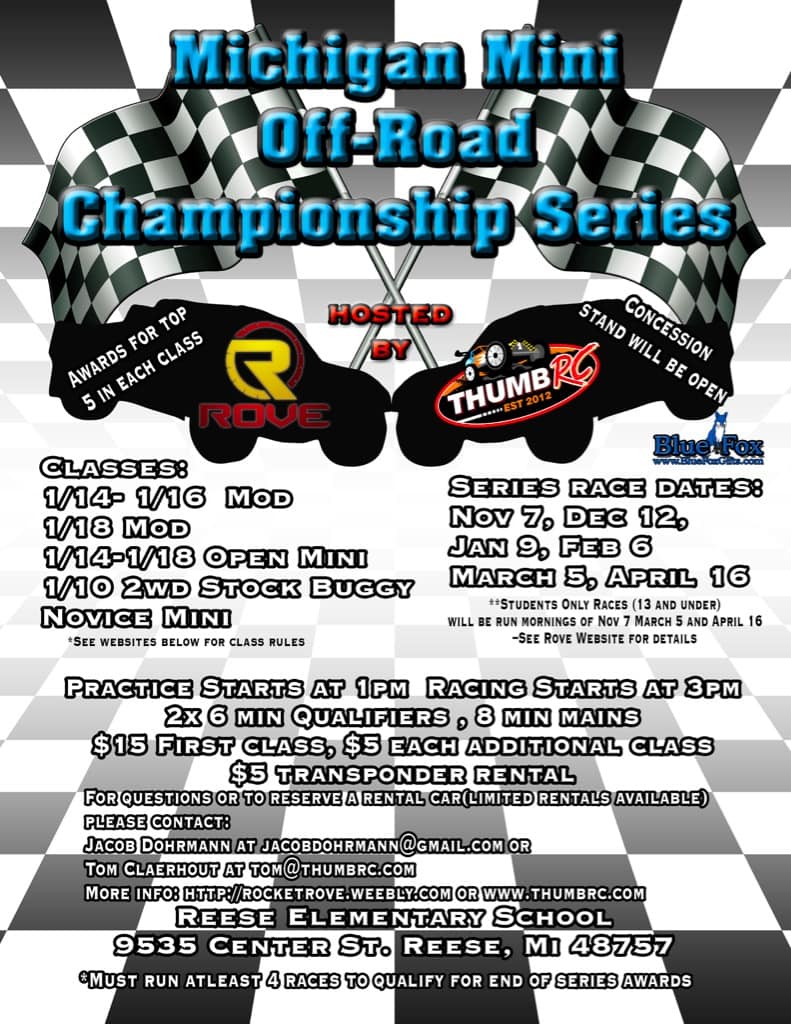 With a new school-year having just started, the Jacob's program is back-in-action, along with another planned racing series at Reese Elementary (partnering with  Thumb RC). From the looks of it, they have expanded their racing series to include 1/10 scale R/C vehicles, in addition to the 1/14 to 1/18 scale machines that were run last year.
Blending education and radio-controlled vehicles is a great opportunity for kids to learn lessons that they can apply in real situations and is highly-engaging.  Sponsorship of this racing series is also welcomed:
Dear Potential Sponsor:

Our 2nd Annual ROVE race season is scheduled to start on November 7th, 2015. I lead a student group called ROVE.  ROVE is a student group in Reese, Michigan which focuses on science, technology, engineering, and other topics. The ROVE student organization is in its fourth year of operation.  Last year we were fortunate enough to have races at our school.  Our first race last year had over 70 race entries.  Many of those racers were students.  This year we are hosting the Michigan Mini Off-Road Championship Series.  Local student and adult racers are invited to come and compete at a track that is set up for the race in our school gymnasium.  This year the series will encompass 6 monthly races from November to April.  We are expecting 80 to 100 entries per race.

We would like to thank our past sponsors for their support and hope you can continue to help us again this year.  We are also looking to make some connections with some new sponsors. As customary, we will promote your business by hanging any banners you provide us with at the race track and by giving away catalogs, stickers, or other promotional items you would like us to hand out. Your company will also be recognized by our announcer as being a sponsor of the track. All sponsor logos will be added to our flyers, website and race reports. To do this, we must have confirmation of your intent to support our track by October 23rd, 2015. You can respond by phone or email which allows us time to get our promotional items printed with your logo. In support of our track, the only thing we ask is that you donate a few prizes for our race day raffles such as gift certificates, product samples, etc. As long as we have the prizes before the event that you would like to support, that would be excellent. We rely on the support of great companies within the RC industry to keep our drivers coming back for more. Your great prizes help ROVE stand out from all of the other race tracks in Michigan. If you have previously sent banners, we will hang them up every year. There is no need to send more unless you have extra that you would like us to hang up.

Enclosed with this letter is the current flyer for the race series.  Flyer will be changed with any sponsors added.  If you would like additional information you can check out our website at: rocketrove.weebly.com or contact me direct at: [email protected]. Our school phone number is: 989-868-4561.  My cell phone number is 989-863-0780 Check us out on Facebook at: Michigan Mini Off-Road Championship Series.

Thank you for any consideration.

Respectfully,

Jacob Dohrmann

ROVE
Reese Elementary School
9535 Center St.
Reese, MI 48757
USA
For more information on the ROVE program and racing series, head over to http://rocketrove.weebly.com.