The sea of scale and trail-ready R/C crawlers can be a tough one to navigate. With so many great options to choose from, it can be hard to decide on one model over another. This year, in particular, I've had opportunities to drive a number of up-and-coming rigs, and they've all impressed me.
One of the newest kids on the block is the Enduro Sendero from Element RC. Not only is this rig a newcomer, but so too is the brand behind it. Sort of. Element RC was introduced in 2019 as the scale/trail arm of Associated Electrics, the parent company behind Team Associated.
While it follows the well-established playbook from other 1/10-scale models, it offers up a few unique bits that set it apart from the pack. After a few months of on-trail use, let's dig into the Enduro Sendero RTR from Element RC.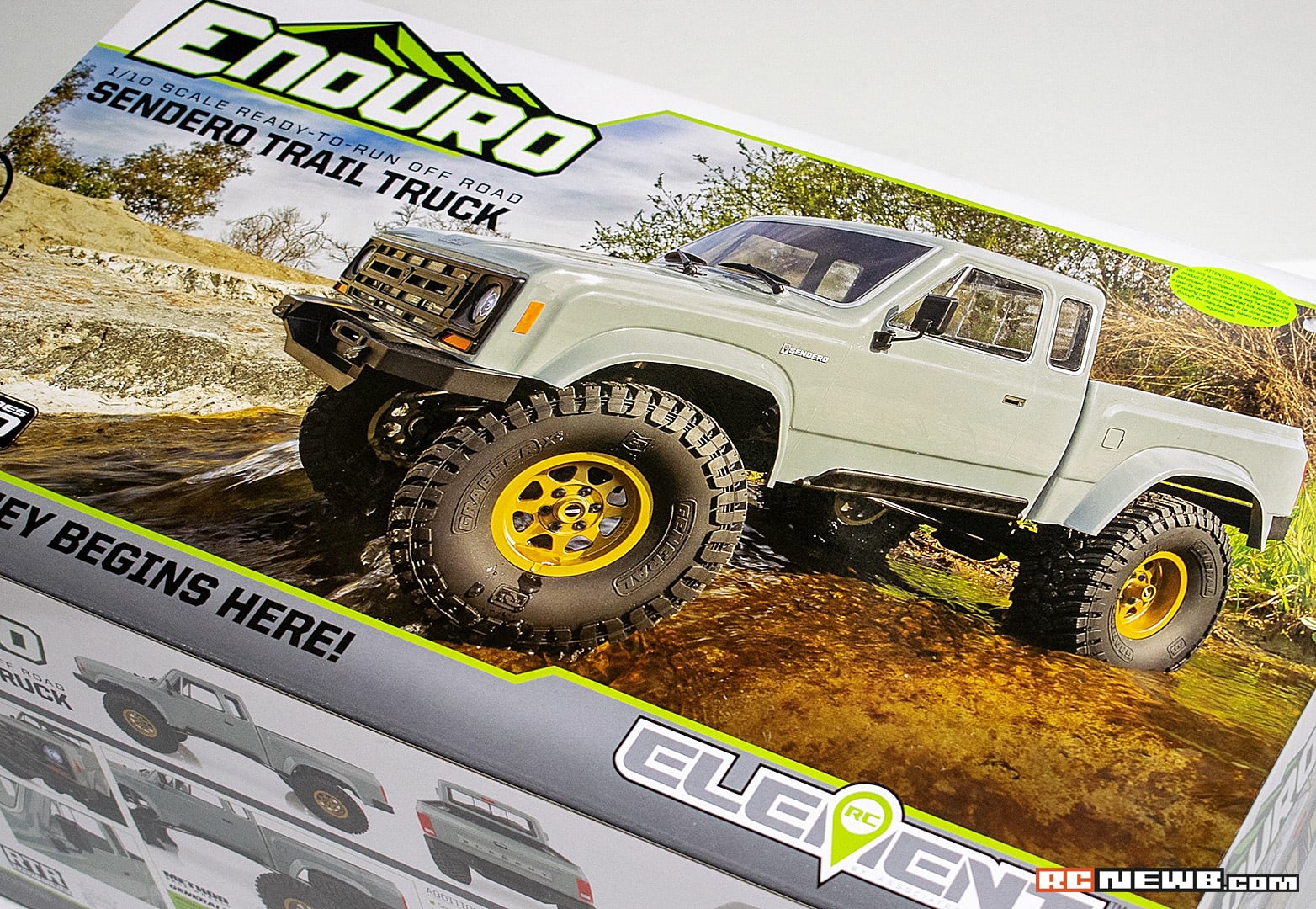 What's Included:
1  2.4GHz radio transmitter

1 Spare parts bag

1 Instruction manual
Element RC Enduro Sendero RTR Specs:
Width: Varies

Height: Varies

Length: Varies

Wheelbase: 313mm

Weight: 6.9 lbs (3130 grams)

ESC: Reedy SC400X Brushed

Radio System: 2.4GHz

Motor: 17T, 550-size, Brushed

Price: $349.99

The Body
In terms of appearance, the Element Enduro Sendero might not grab your attention right off the bat, but the look will grow on you. With its mid-80s, early-90s-inspired pickup truck design, gray paint job, and overall utilitarian feel, this rig has a certain "go anywhere, do anything" feel to it. While the body is rather basic, it does feature a two-piece design which allows you to remove the bed and swap it out with an aftermarket rear cage, if you so choose.
An assortment of scale details can be found throughout the truck body as well, including side-view mirrors and windshield wipers. There's just enough detail in the Sendero's body to make it interesting but not enough to make you pull back on the reigns.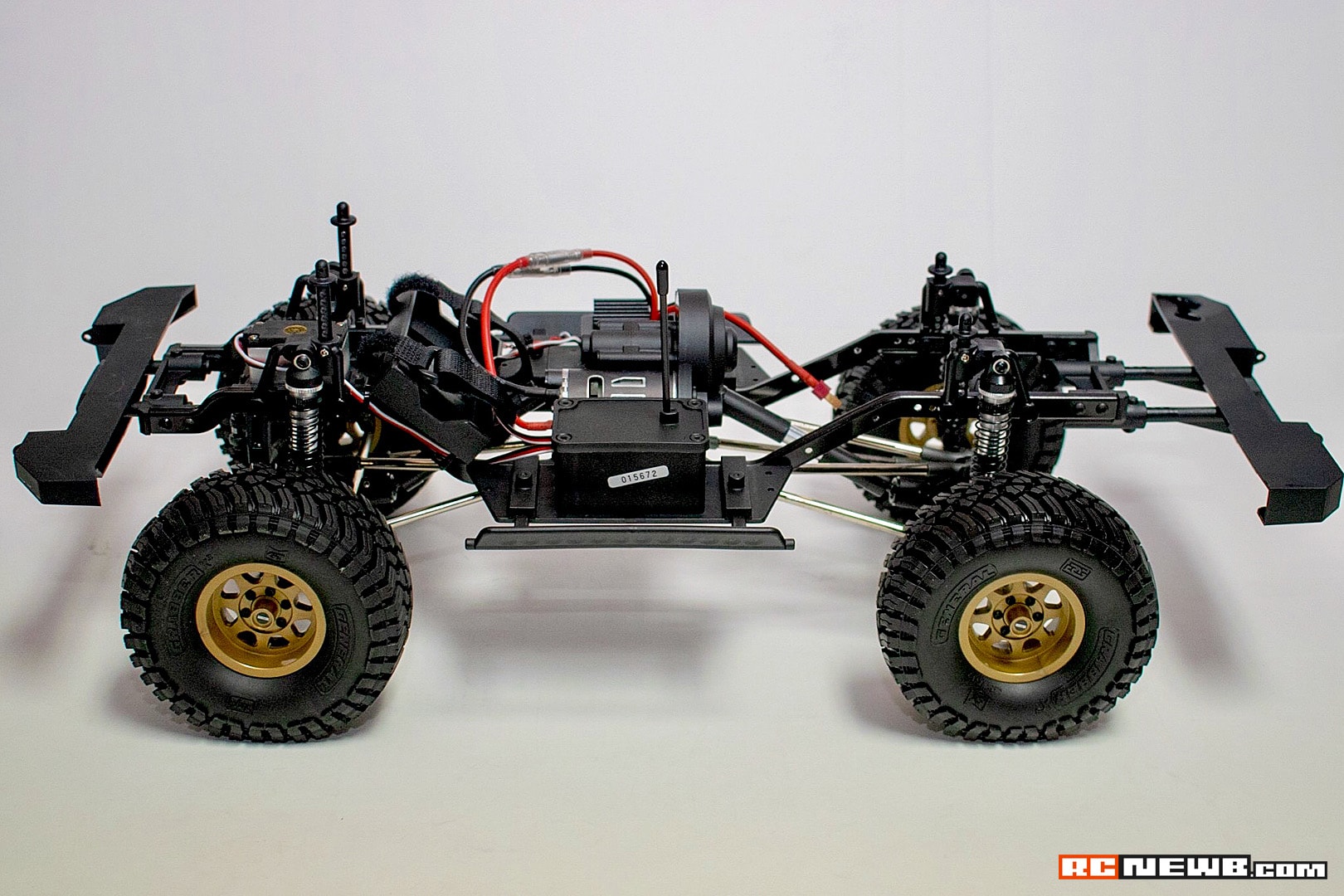 The Chassis and Suspension Setup
When it arrived on the scene, the Enduro Sendero offered up a handful of unique performance considerations that set it apart from the pack. The steering linkage has been positioned behind the front axle, allowing for greater approach and descent angles and reducing opportunities for hang-ups and getting tangled in obstacles.
The chassis of this model doesn't offer anything new and features the standard ladder frame construction with steel frame rails and steel suspension links. The shocks and suspension setup on this truck are tuned quite well out of the box.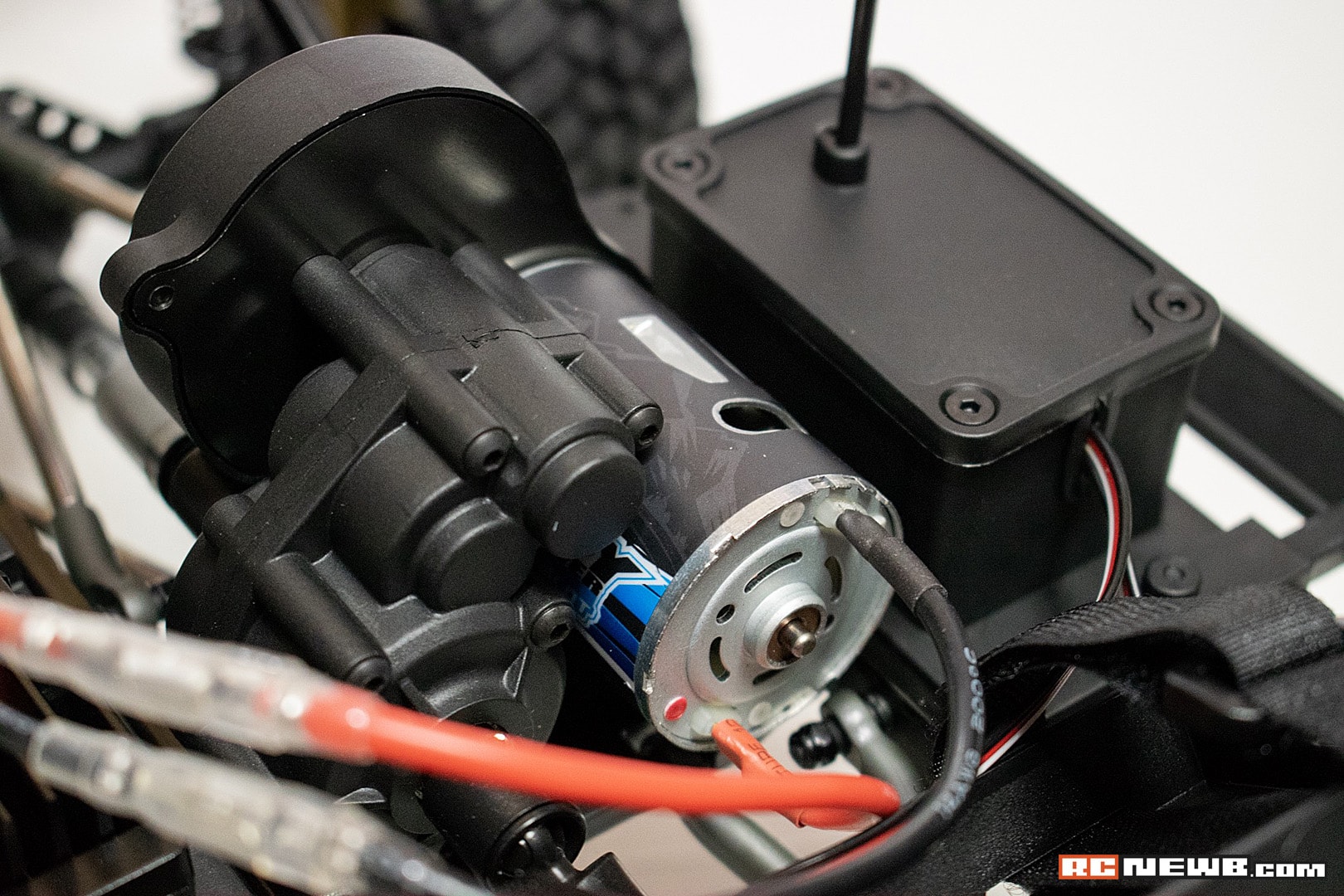 The Motor and Electronics
Smooth and almost too quiet. That's how I'd describe the sensation of driving the Enduro Sendero. Don't get me wrong, that's not a knock on this rig by any stretch. It is, hands-down, the quietest-running rig that I've ever heard and makes for a unique driving experience.
When you're used to and expecting to hear a certain level of "whir" and "buzz" coming from your trail truck, the lack of those noises can make you appreciate the electronic tech that's gone into this vehicle even more.
As far as power is concerned, the Enduro Sendero has plenty of it. On a NiMh battery pack, I can easily navigate any number of natural crawling environments. Rocks, logs, gravel trail, tall field grass, and everything in-between…this truck has seen it and powered through it.
Another unique aspect of this model is the Stealth X gearbox and adjustable overdrive gears. If you're not afraid to crack open the gearbox and move a few things around, you can adjust the rear-drive gearing to suit your driving conditions and style.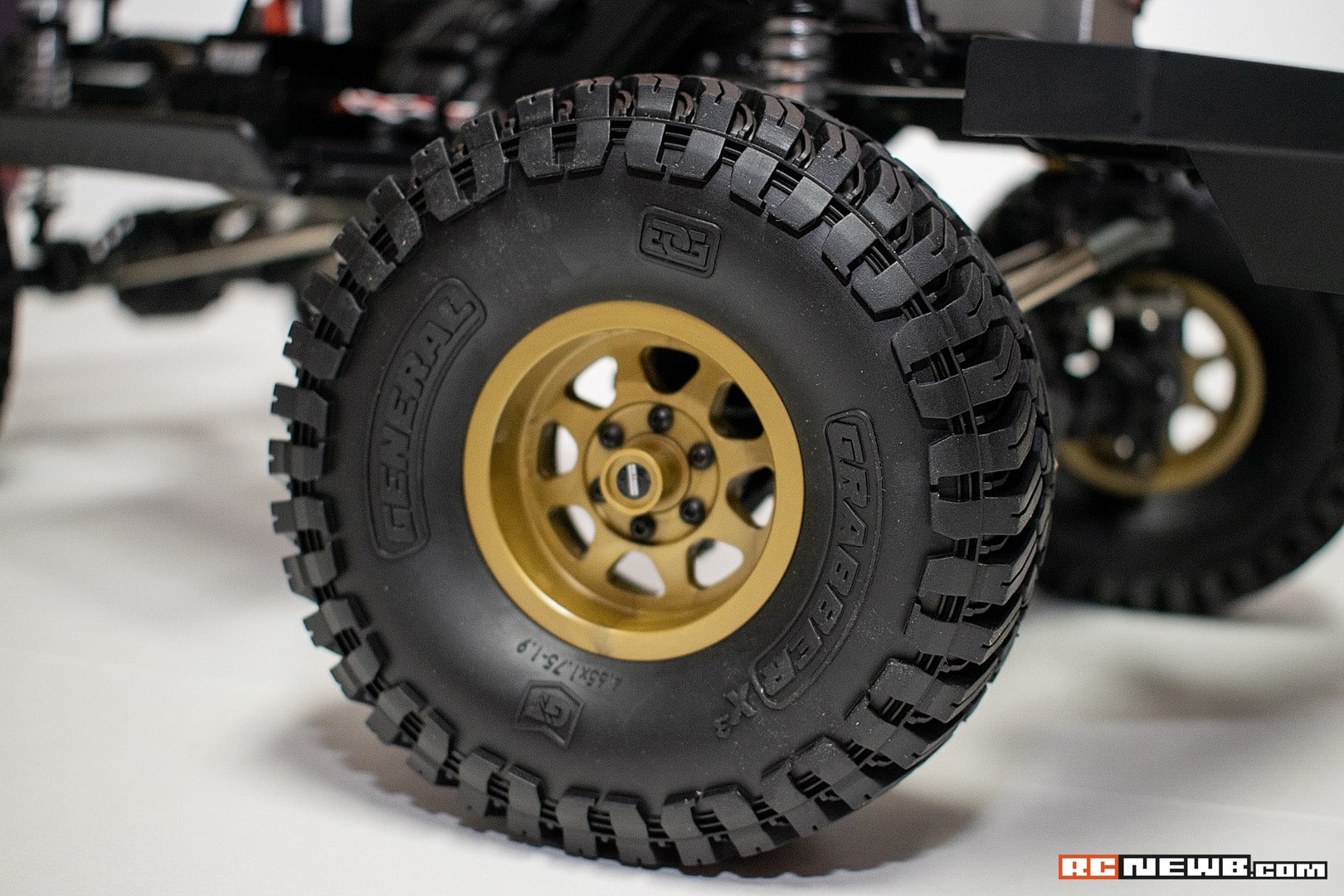 The Tires and Wheels
Lately, my go-to upgrade for any of my trail vehicles centered around tires. That may change with the Enduro Sendero as I've found the stock tires to be quite capable and eye-catching. Modeled after 1:1 General Grabber X3 rubber, these tires have performed quite well and I'd consider them to be the third-best RTR tire that I've experienced in recent years. 
The wheels on the Enduro Sendero are also quite nice and give this truck a rugged yet refined appearance. I'm not a huge fan of gold, but these wheels fit the Enduro Sendero perfectly.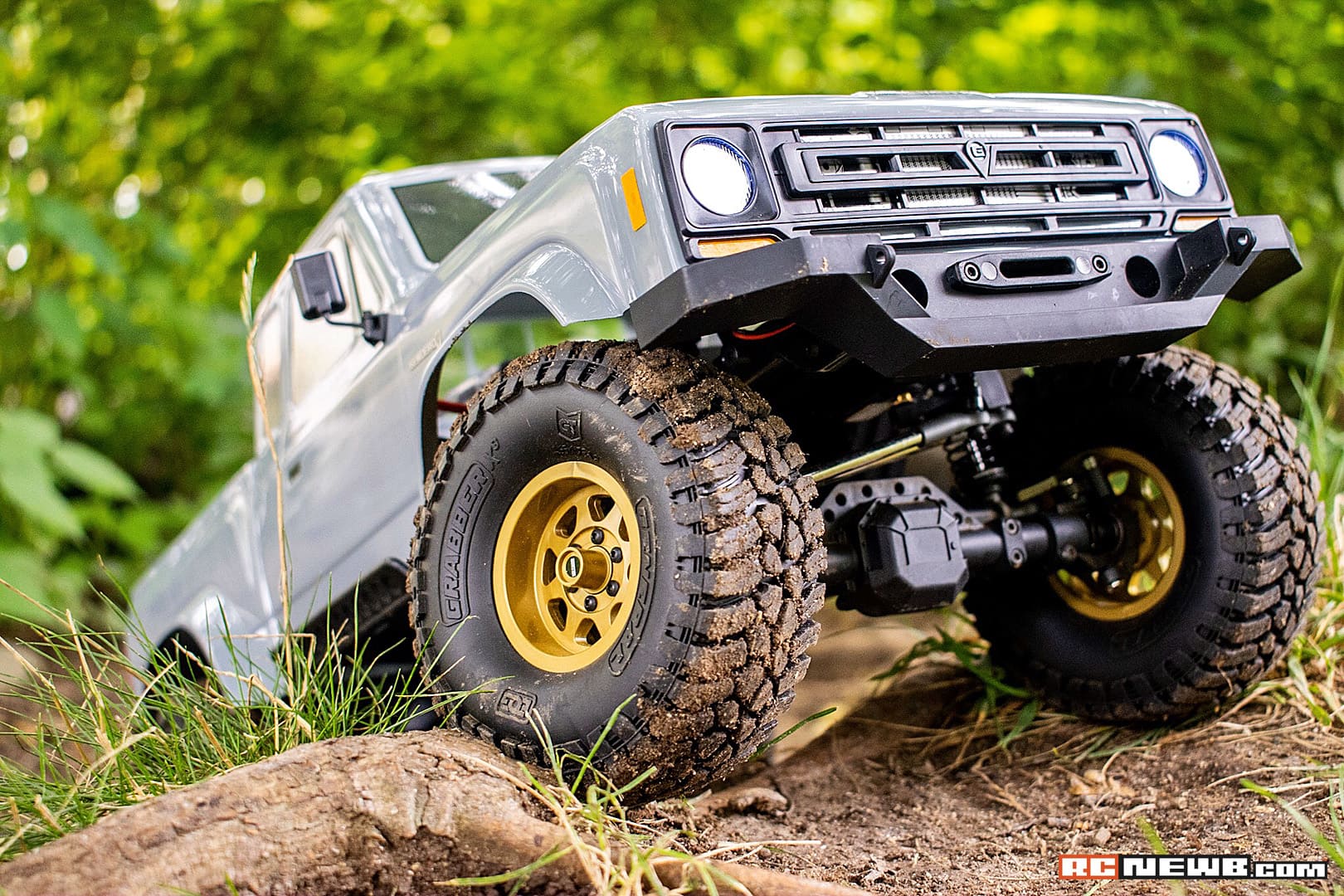 The Driving Experience
During my first outing with this truck, I was surprised by how quiet the motor and transmission were. While it does whir and hum, it's much quieter than many other RTR rigs that are on the market today. Motor noise (or lack thereof) aside, this truck proves its trail-worthiness right out of the box.
Crawling performance is respectable, however, you may want to add some weight to the Enduro chassis if you're planning to take on challenging courses and obstacles. The lighter weight of the stock chassis can make some approaches and lines harder to manage.
Still, this truck took on everything that I threw at it, even if it took a bit longer to navigate some pathways. Some of the biggest challenges that I put it up against were a few rock piles that featured shifting terrain and uneven, mismatched surfaces. Working my way up, down and around, proved tricky, but this truck motored its way through and came out the other side ready for more.
As far as trail driving is concerned, the Enduro Sendero RTR is a great trail runner and trail cruiser. No matter the trail surface, I had a great time trekking behind this rig. This is truly a great, all-around radio-controlled crawler.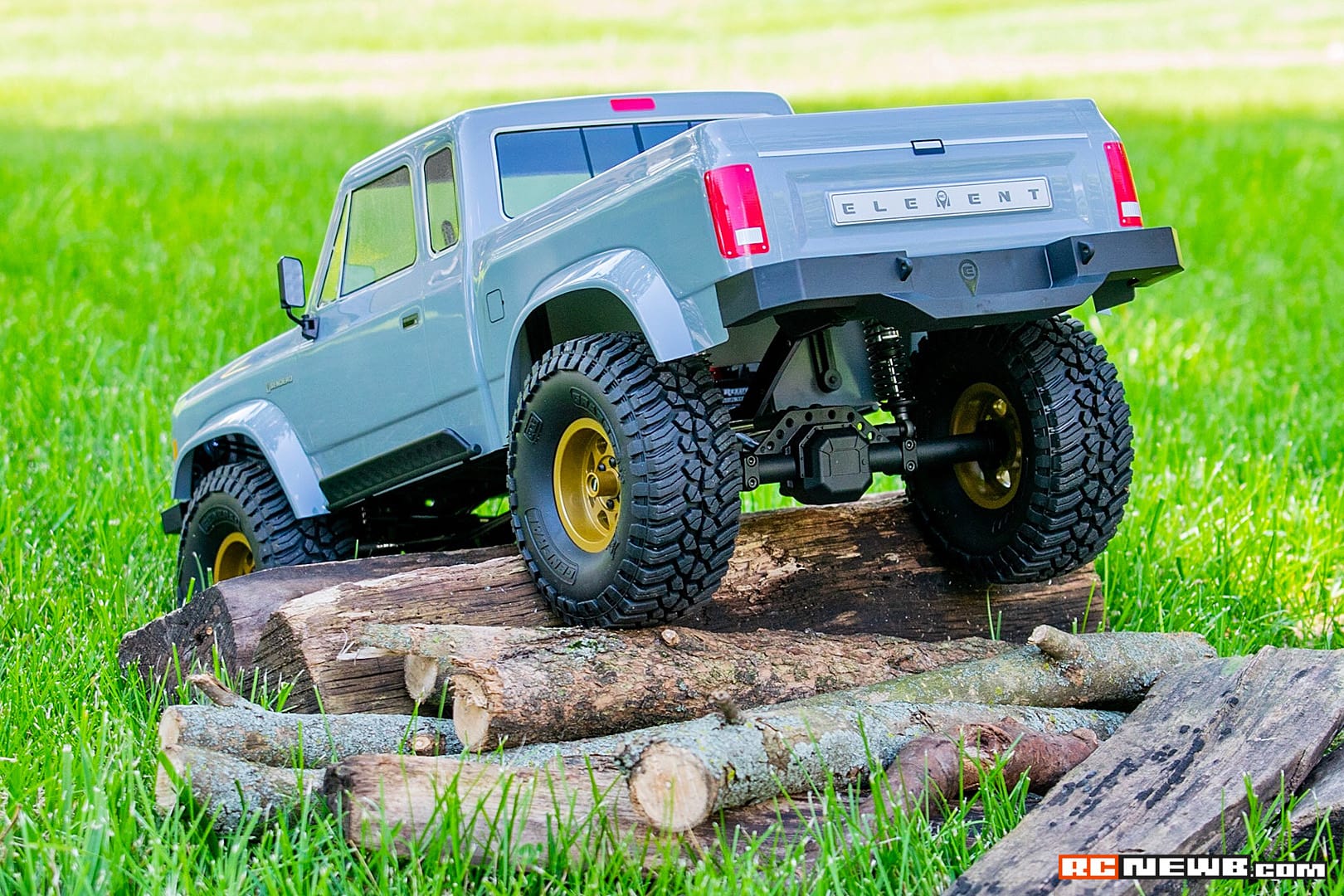 The Upgrade Possibilities
As with any R/C model, there are plenty of ways to upgrade Element RC Enduro Sendero. In fact, I've got some plans to overhaul the look of my rig, but keeping the underlying chassis setup intact. Whether you've got this rig parked in your R/C garage or are planning to buy one soon, check out my list of upgrades and hop-ups for this model.
Is the Element RC Enduro Sendero Worth Adding to Your R/C Garage?
For their first-time developing a 1/10-scale R/C crawler, Element RC has, in my opinion, hit a home run with the Enduro Sendero. While it's not perfect, it offers plenty of performance right out of the box. The unique aspects that it brings to the table (behind-the-axle steering link, adjustable rear-drive gearing), paired with its easily-modifiable platform make this a great option for scale R/C enthusiasts.
Whether you want to run this model as-is or tinker and upgrade it into a custom creation, you've got plenty of room to do both, enjoying the experiences along the way. If this is your first trail truck or you're adding to your collection, the Enduro Sendero RTR is a solid choice for outdoor R/C adventures.
Where to buy an Enduro Sendero RTR