The list of upgrades and goodies for the Traxxas X-Maxx continues to grow. Pro-Line has followed up their Ford F-150 Raptor body with a new set of tires and wheels for the monster 1/8 R/C basher.
Their Badlands MX43 Pro-Loc tires feature big, knobby lugs and an appetite for traction. While they excel on loose terrain, they're an all-terrain tire that will make quick work of whatever is underneath them.
Designed to work with Pro-Line beadlock wheels (including the new Impulse Pro-Loc X-Maxx wheels), the Badlands MX43 Pro-Loc tires feature a unique channel design that helps ensure a snug and secure fit to the wheel rim and locking ring.
These tires are available as an unmounted set with form inserts and also as a mounted set (on the Impulse Pro-Loc wheels).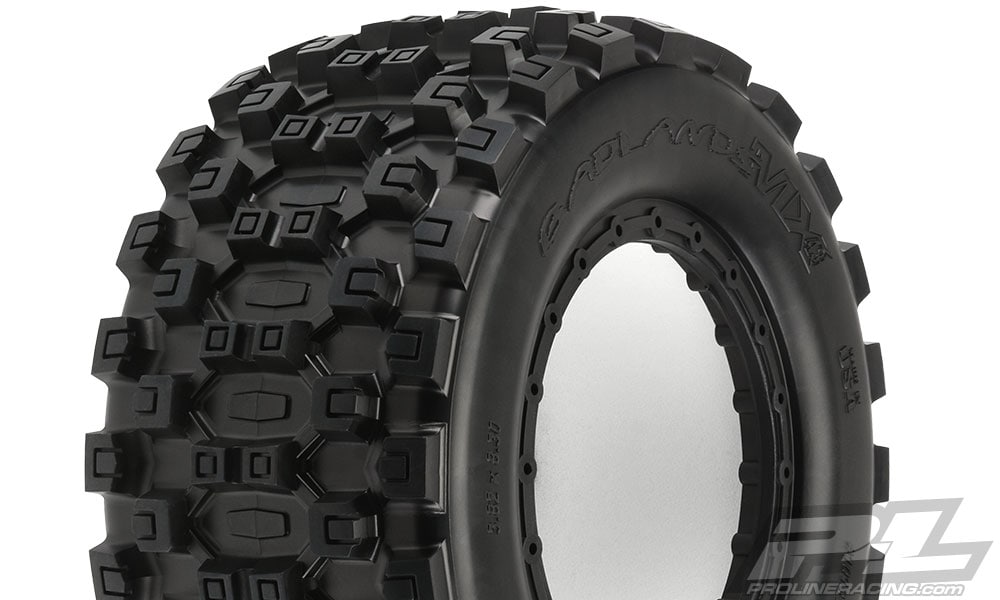 The unmounted Badlands MX43 tires are priced at $42.46 and the pre-mounted set, with Impuse Pro-Loc wheels, is priced at $93.46.
Image credit: Pro-Line
Save 10% on your next order at prolineracing.com with coupon code RCNEWB10!