I've had my eye on the ECX Barrage since it was announced late last year. For the price, it could be a great entry-level scale, trail rig for those looking to get into the great outdoors and enjoy the hobby. The Barrage is not only an entry-level rig for R/C enthusiasts, but it was the first foray into scale-type radio-controlled rigs for ECX as well.
Now, a second version of the Barrage has been unveiled, and it's nothing like the original. The Barrage Doomsday shares the same scale as it's cousin (1/12) but features a slightly larger motor (390 brushed vs 370 brushed). And the differences don't stop there.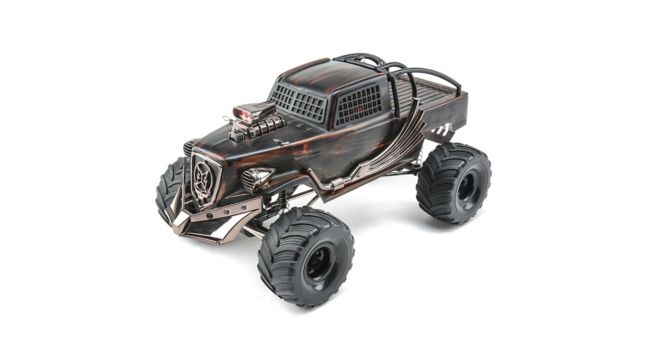 The body and wheels of the Barrage Doomsday make this trail truck look like a post-apocalyptic monster truck rather than a trail-ready off-road vehicle. That said, the styling of the body and the visual accents which have been applied to it (large, swooping exhaust pipes, front-mounted cow-catcher, exposed engine, and burly tires) make this machine stand out in a crowd.
From the brief action video which ECX has released, it's still a classic scale, trail truck, although the look may not match. A four-link suspension and ladder-frame chassis, hallmarks of many mainstream R/C scalers, can be found under the body of the Barrage Doomsday.
ECX Barrage Doomsday Specs:
Type: Rock Crawler
Scale: 1/12
Length: 16.4in (417mm)
Width: 7.7in (196mm)
Height: 8.5in (216mm)
Ground Clearance: 2.25in (57mm)
Wheelbase: 9.9in (252mm)
Weight: 2.8lb (1.3kg)
Chassis: Steel Ladder Frame
Suspension: Solid Axle 4-Link
Drivetrain: 4WD
Tire Type: Soft, Falken AT3W All Terrain
Motor or Engine: Brushed 390
Speed Control: Included
Radio: ECX 2.4GHz 2-Channel
Servos: Included
Batteries: Dynamite 900mAh 6-cell NiMH
Charger: NiMH Wallwart
Gear Pitch: 48
Wheel Size: 1.9in (49mm)
Diameter, 1.1in (27mm) Width
Kit/RTR: RTR
Shock Type: 3 in (75mm) plastic body
Body: Painted
Ball Bearings: Complete
Experience Level: Beginner
Recommended Environment: Indoor/Outdoor
Assembly Time: Less than 1 Hour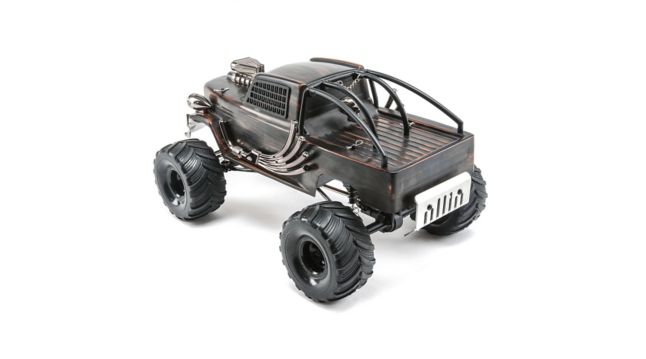 Priced at $199.99, the Barrage Doomsday costs slightly more than the original ECX Barrage ($189.99). For that little bit extra, you're getting a uniquely styled body, slightly larger motor, and wider, monster truck-style tires and wheels. Not a bad trade-off for an additional ten-spot.
Learn more about the ECX Barrage Doomsday at ECXRC.com.
Image credit: ECX