An entry-level option for R/C beginners & scale enthusiasts alike.
It seems everyone wants to go scale trail running with their R/C rig. While this is very true from a hobbyist standpoint, it's also the case for many radio-controlled vehicle manufacturers. ECX is the latest brand to join the party, and they arrived in a new, 1/12-scale rig that they call Barrage (#ECX01009).
While the scale of this new rig is slightly smaller than your traditional 1/10 trail machines (such as the Axial SCX10 and Vaterra Ascender), it does roll through the wilderness on licensed Falken AT3W 1.9" tires. This fact makes the tires and wheels look slightly disproportionate from the pickup truck body that rests on top of its chassis, but it's still a interesting and unique option for the R/C beginner.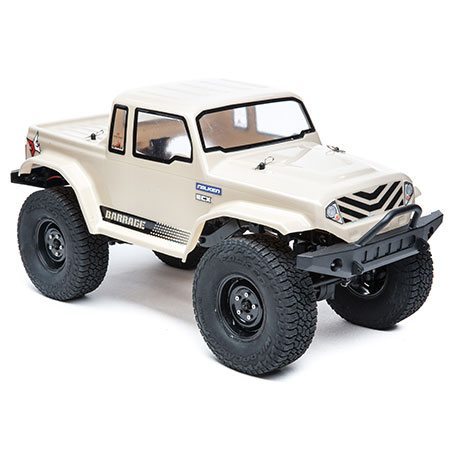 Buy the ECX Barrage on Amazon.com – $179.99
ECX has become a brand that isn't afraid to cater to the newcomer to the hobby. While their models don't offer every bell, whistle, and feature under the sun, they are proven to be capable and durable. Looking at the details of the ready-to-run (RTR) Barrage (, you can easily see those values shine through.
Starting with the chassis (ladder frame, a standard among 1/10 scale trail vehicles), the Barrage utilizes multi-link suspension to help you tackle tough terrain. The shocks are oil-filled and adjustable, allowing you to tune in the handling to suit your driving style or to better fit the trail that you're driving on.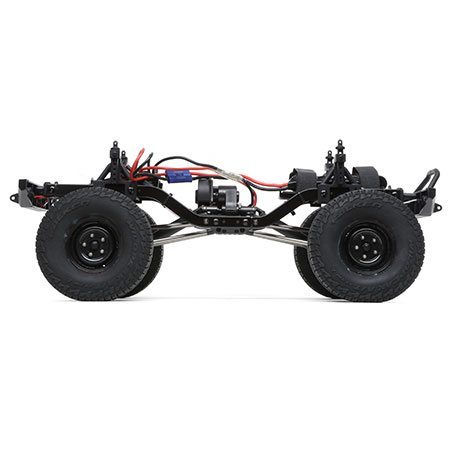 The electronics system is waterproof/resistant, meaning you can drive this machine just about anywhere without the risk of damaging the internal components. The included 2.4GHz radio system, which utilizes an SPM STX2 2-channel transmitter and 4-channel receiver, should give you the range needed for trail and course driving.
Powered by a brushed, 370-size motor, the ECX Barrage has the makings to be a great entry-level vehicle, whether you're new to the hobby or just new to scale crawling and trailing.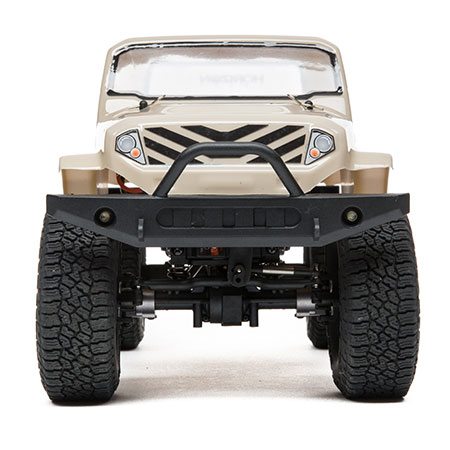 Buy the ECX Barrage on Amazon.com – $179.99
Specifications:
Type: Rock Crawler

Scale:

1.9 Class

Length: 16.4in (417mm)

Width:

7.7in (196mm)

Height:

8.5in (216mm)

Ground Clearance:

2.25in (57mm)

Wheelbase:

9.9in (252mm)

Weight:

2.8lb (1.3kg)

Chassis:

Steel Ladder Frame

Suspension:

Solid Axle 3-Link

Drivetrain:

4WD

Tire Type:

Soft, Falken AT3W All Terrain

Motor or Engine:

Brushed 370

Speed Control:

Included

Radio:

SPM STX2 2-Channel

Servos:

Included

Batteries:

Dynamite® 900mAh 6-cell NiMH

Charger:

NiMH Wallwart

Gear Pitch:

48

Wheel Size:

1.9in (49mm) Dianmeter, 1.1in (27mm) Width

Kit/RTR:

RTR

Shock Type:

3 in (75mm) plastic body

Ball Bearings:

Complete
What's more surprising than ECX coming to market with a scale radio-controlled rig? The price. At $179.99, the Barrage sits well-below the prices of the before-mentioned 1/10 Axial SCX10 and Vaterra Ascender and is slightly less expensive than the 1/25 Pro-Line Ambush 4×4. That's not to say that all of these vehicles are equally matched in features and performance, as each model has their own strengths and weaknesses. However, for an entry-level option, the Barrage looks to be in an enviable position, price-wise.
Learn more about the ECX Barrage 4-wheel drive, brushed RTR.
Image credit: ECX