New Bright has always held a special place in my childhood memories. My first remote-controlled vehicle was a New Bright Corvette which I had gotten in the mid-1980's. I can still remember the many Details and features that were built into it. Working headlights, including the iconic "pop-up" headlamp function, opening doors and a removable top are just some of the great aspects that I remember to this day. With this fondness in mind, when New Bright sent me a review unit of their Trak Attak, a 1/10-scale R/C machine (#81010), I was excited to see how they had evolved through the years.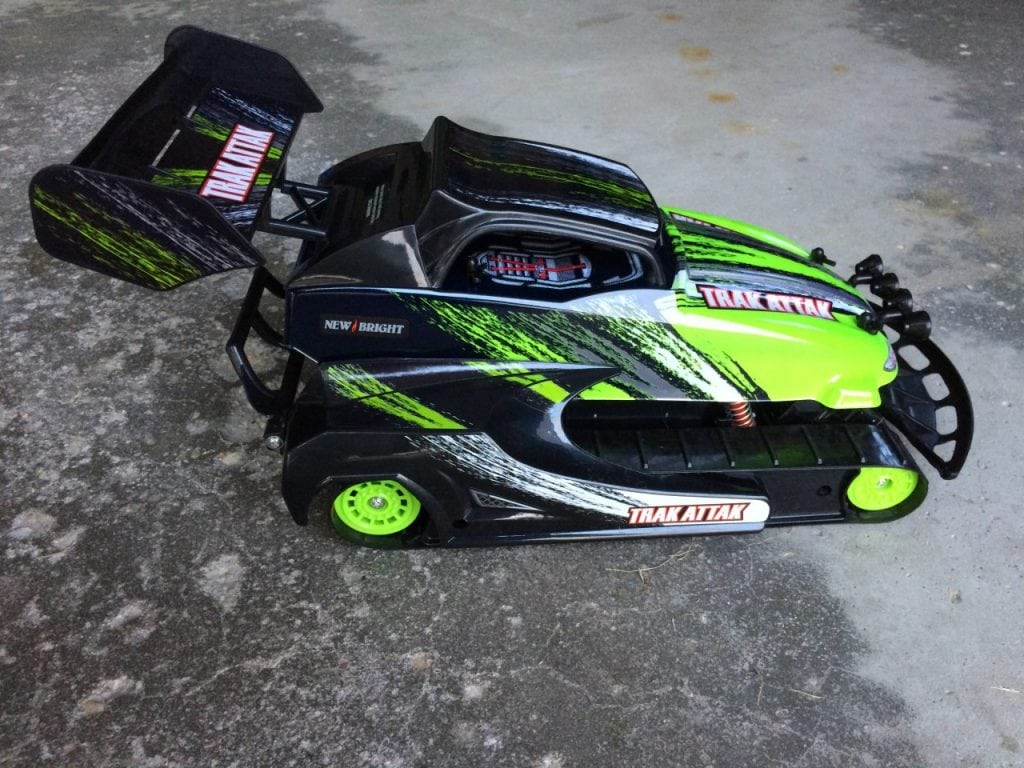 I'm referring to the Trak Attak as a machine rather than a tank or a car, because it's caught somewhere in between. Driven by tracks rather than wheels you may think that this is a tank, however the dual motor power and 12.8v Lithium Ion battery (available on Amazon) can propel this vehicle across the ground at an impressive rate of speed. My recent experience with "toy-grade" R/C vehicles has been varied. While my children all have their own fleet of cars and trucks, those vehicles are limited in where they can drive and what they can do. They have started to explore more advanced vehicles that carry added benefits, but also an added cost.
What's Included
1 Trak Attak RC vehicle

1 Trak Attak 2.4GHz controller/transmitter

1 12.8V Li-Ion battery (vehicle) (available on Amazon)
1 12.8V Li-Ion wall charger (available on Amazon)

2 AAA batteries (controller/transmitter)

4 Replacement body clips

1 Instruction manual
Buy the New Bright Trak Attak at Walmart.com – $49.97
Unboxing the New Bright Trak Attak
First Impressions
New Bright's Trak Attak, while technically a toy, features a number of assets that you'll find on traditional "hobby-grade" radio-controlled vehicles. These touches aren't necessary, but they do add to the overall experience that this machine offers. The dual-motor power plant, combined with the Li-Ion battery, packs a punch of speed and overall longevity. My initial test drive lasted for 10-15 minutes before a recharge was needed.
As kids tend to do, they tested out some durability aspects of the Trak Attak as soon as we had it on the ground. The front bumper and rear wing both have decent amounts of flex and impact resistance, which can be useful when ground clearance becomes an issue. Speaking of ground clearance, there aren't many things that I've found that can slow this machine down, however it can get hung up if front bumper makes contact with an object before the tracks are able to gain adequate traction.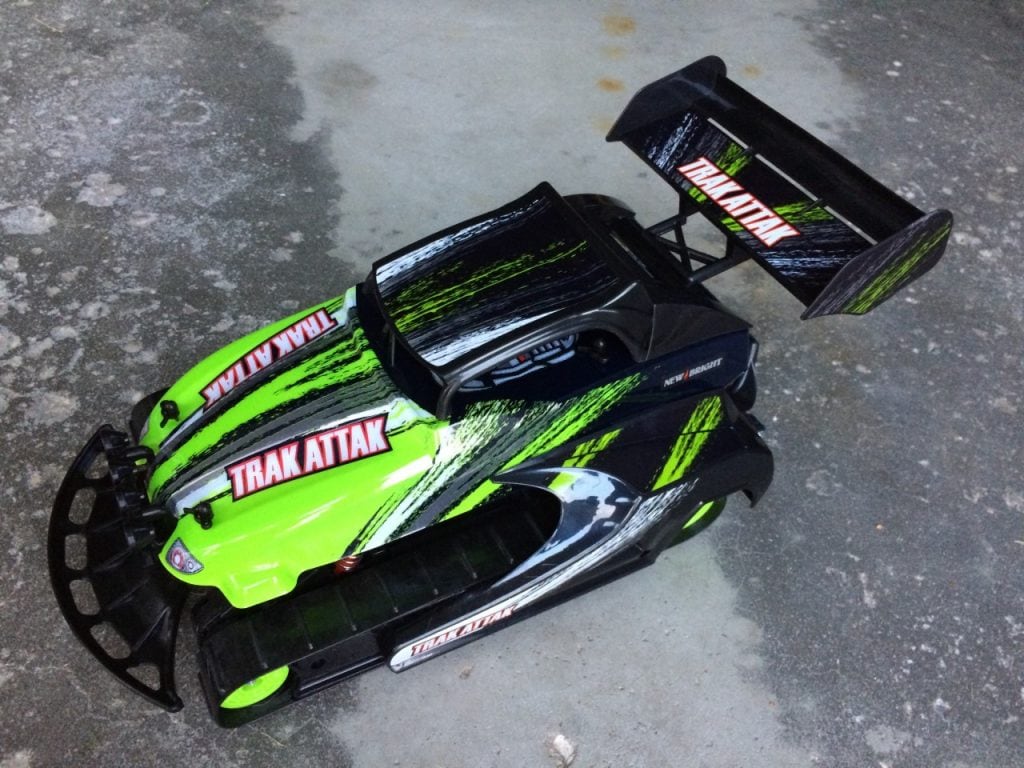 The track treads are shallow, but provide grip when needed. The track itself is made out of a rubbery material that is on the medium-to-hard end of the scale in terms of grip. Even with a tougher material, the overall grip on launch and stopping is very impressive. Through my tests on a variety of indoor and outdoor surfaces, I've found the Trak Attak to have an admirable balance traction and slide. I have been able to do quick spins on both carpet and pavement, and it takes on grass with relative ease. Grass/turf performance has always been a sore subject when it comes to toy R/C vehicles, but the combination of powerful motors and traction allow this vehicle to scoot across lawns.
Diving deeper into components, I should mention that suspension setup isn't just for show, either. It functions as a means to help the tracks achieve balance more than softening impact, but if you do find yourself launching the Trak Attak into the air, you'll be happy to have any bit of mechanical dampening in place.
Visually, the graphics and overall design of this machine are aggressive and attractive. I was amazed that my children and I drew a small crowd of kids as we were testing it out in our yard. The quick, dart-like movements had the lookers-on asking if they could take a turn behind the controller.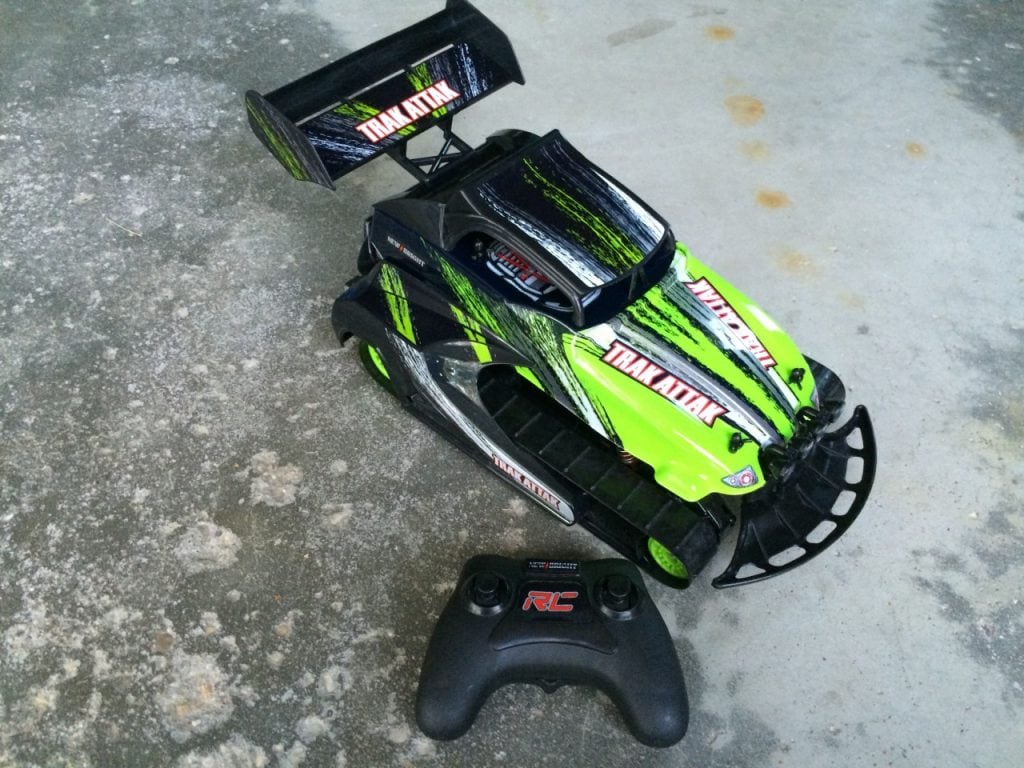 Speaking of the controller, while it is a touch on the small side (from an adult perspective) it feels comfortable and has a straightforward, no frills approach to its design. Only two levers are visible on it and they are the only levers that you'll need to control each track.
As new R/C models go, the Trak Attak is a unique model that appears to have many good things going for it. I have more testing planned for my review model and plan on giving the controller to my kids for further exploration.
If you want to pick up one of these track-powered radio-control machines for yourself, it retails for $49.97 and is available at Walmart. Learn more about the New Bright Trak Attak at newbright.com.