If there's one thing your R/C crawler can never have too much of, it's grip. Traction is crucial, no matter if attempting to tame a gnarly trail, blasting over rocks and natural obstacles, or just out for a carefree drive. For the most part, the tires that your ready-to-run (RTR) machine will do the trick, but if you're looking for a greater edge, there are plenty of upgrade options for you to consider.
After reading plenty of rave reviews about Pro-Line's Hyrax tires ($28.86), I wanted to see what all of the fuss was about and picked up a set to bolt onto my Carisma Scale Adventure Lynx ORV. While this is a fully-capable rig, the tires are a bit smaller than what you'd encounter most other 1/10-scale trail rigs (similar to a Class 1 size), making it a bit tricky to conquer extreme terrain. It also provided an excellent platform on which to test the Hyrax tires.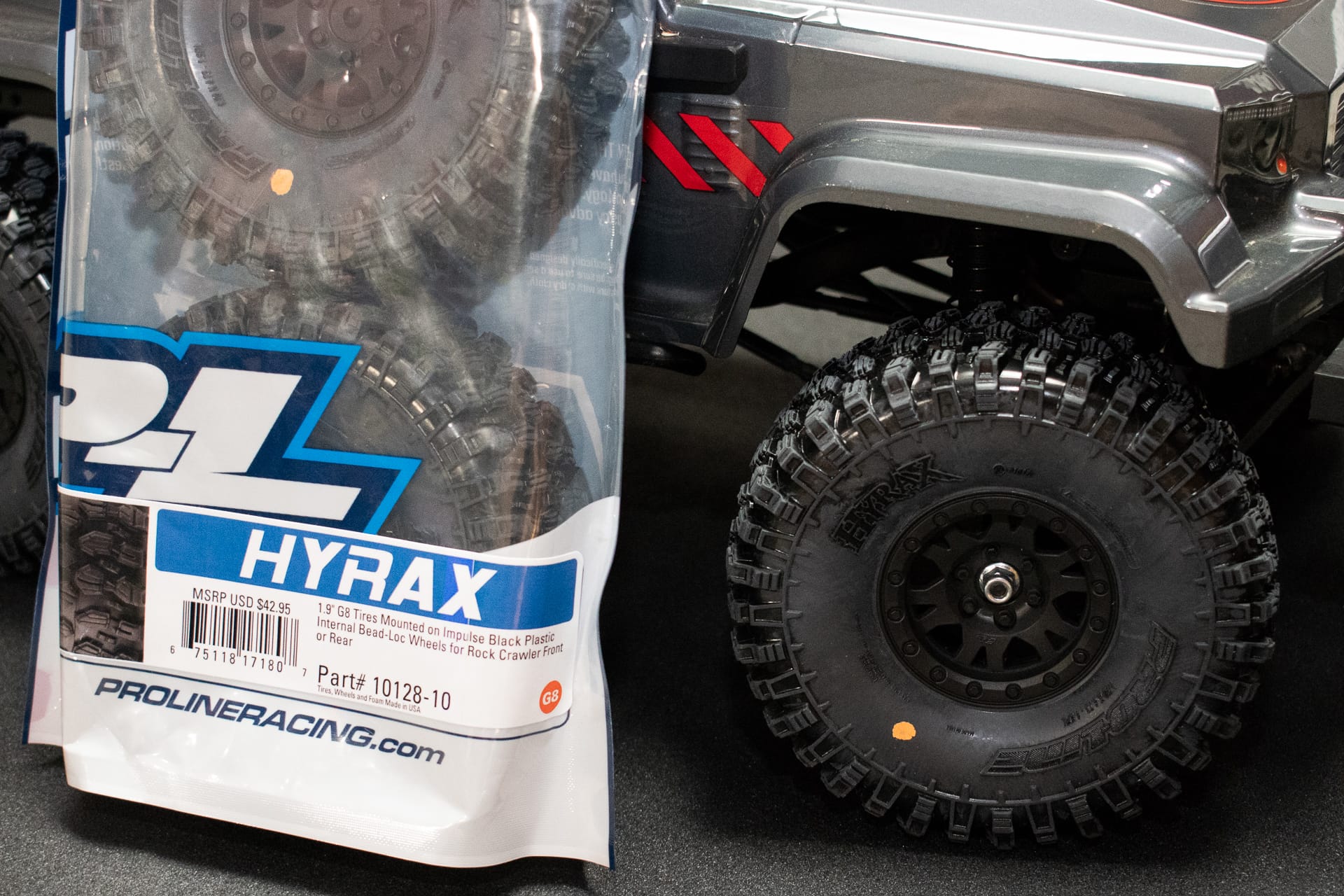 Pro-Line offers a few varieties of the Hyrax, ranging from a Class 1, 1.9" size (4.19 outer diameter) all the way up to a 2.2" size, giving plenty of options to choose from. I opted for the pre-mounted version ($36.51), which includes a set of Pro-Line Impulse wheels ($16.11). The wheels feature a beadlock design, allowing me to easily swap out the tires, should I want to do so. At this point, however, I'd say it's highly unlikely that these shoes will ever leave my rig.
Appearance
Choosing a set of aftermarket R/C tires can be a time-consuming task. In this case, the buzz around these tires was too loud to ignore. The visual design of these tires has a rugged appearance, yet still have a "scale" aura about them. The Carisma Scale Adventure Lynx is a post-apocalyptic, zombie hunter themed rig, so an aggressive tire design doesn't look out of place.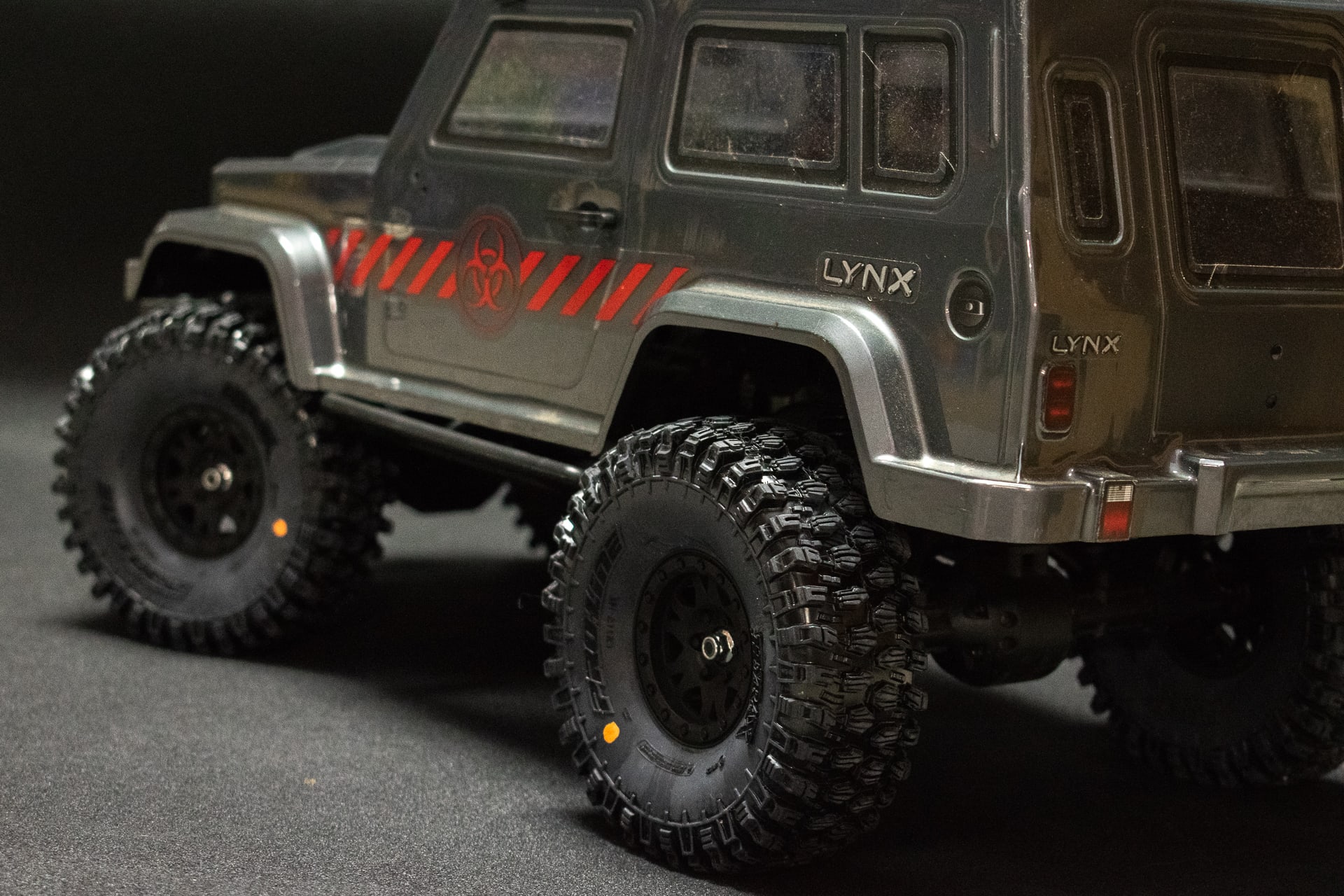 On my rig, specifically, I did worry that the tires would become too much of a focal point, however, they fit right in after they were mounted. There are other tire options that have a more pedestrian feel to them, however, they would have looked out of place on the Lynx.
Between the increased height and aggressive tread pattern, these tires look right at home on the Lynx. When you add the Impulse wheels to the mix, you have a tire and wheel upgrade that's tough to beat.
Tire Compound
Pro-Line offers two compound options for their 1.9" Hyrax tires, their "classic" G8 material and a newer, super soft "Predator" variant. The pre-mounted tires use the G8 compound, which I've found to be plenty soft for my trail and manmade obstacles.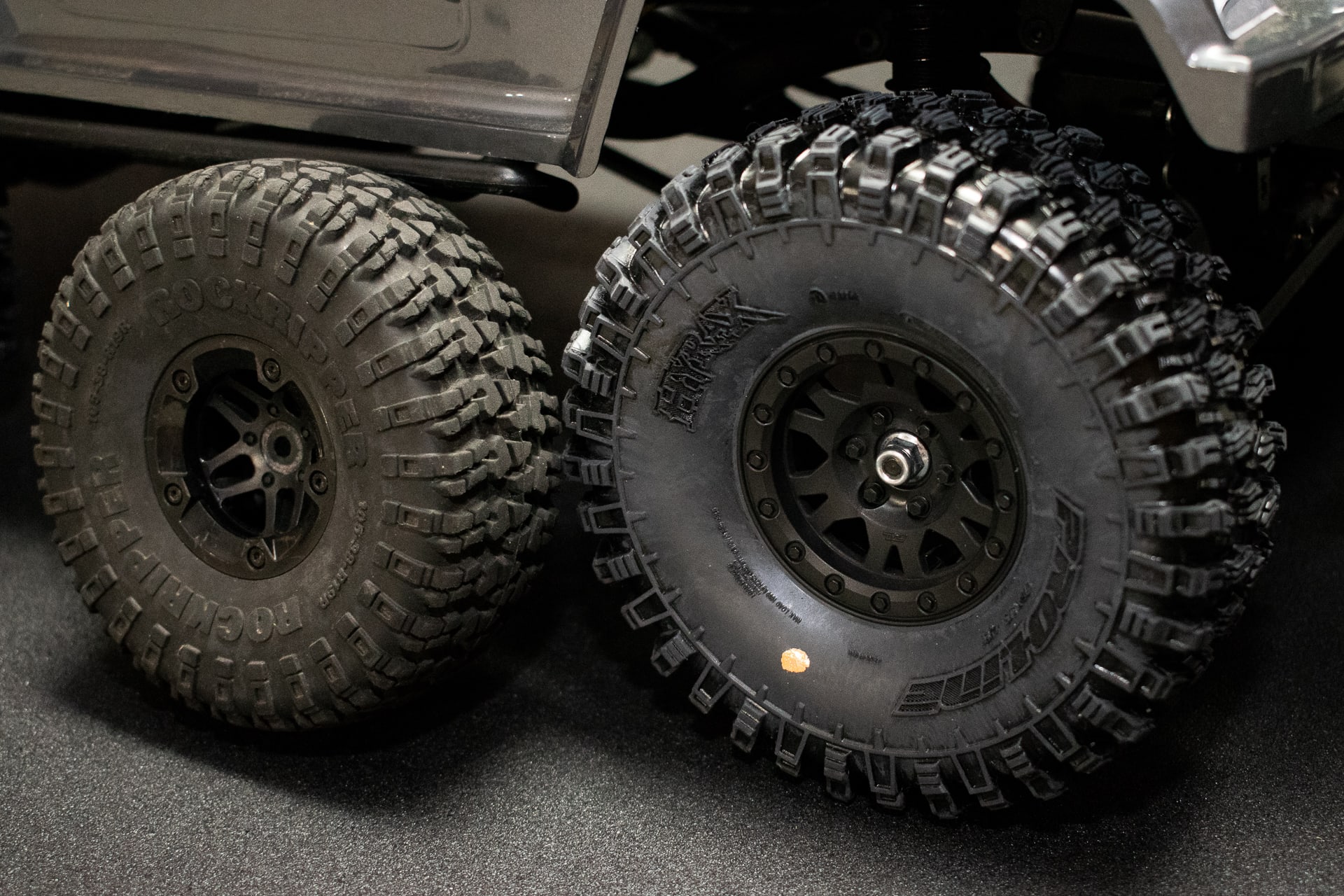 While they're not tacky to the touch, there is a noticeable softness to these tires when you squeeze them. That said, they're soft in the right areas (the tread and contact zone) while retaining a firm sidewall structure.
Grip & Tread
The tire treads are fairly deep, especially when compared to other tires that I've accumulated through the years. The lugs provide solid grip, yet flex enough to form around and onto obstacles. The sidewalls don't seem to cave in on themselves while turning, however, I'll point out that this rig is still fairly stock and extremely lightweight. Once additional chassis weight is added, I'll see how much it affects the tire's structure.
Performance Impressions
The Lynx performed quite well with stock tires, however, there were a few instances were taller ground clearance would have helped. Keeping that in mind, I set up a log pile obstacle, similar to what I had tested this rig on originally, and put the wheels in motion.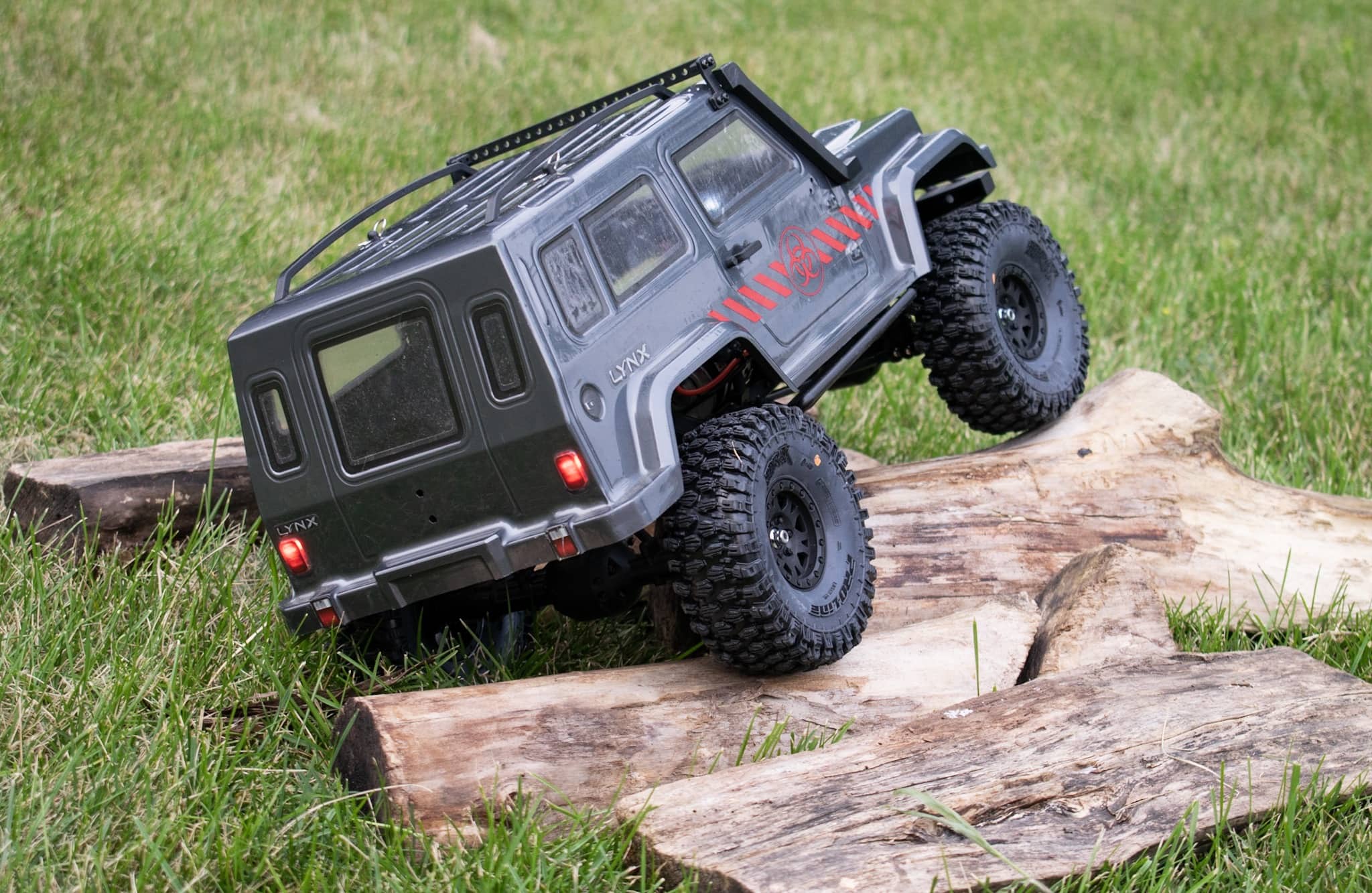 Not surprising, the taller and wider Hyrax tires made approaching and overcoming the logs an easier task than I'd imagined. The G8 compound gripped the log, even shredding off parts that had gotten soft over time, as the rig clawed its way up and over the obstacle.
While this is hardly an in-depth test, it does give me a solid feel for how these tires will handle on other terrain types, making me look forward to my next grand adventure with this truck.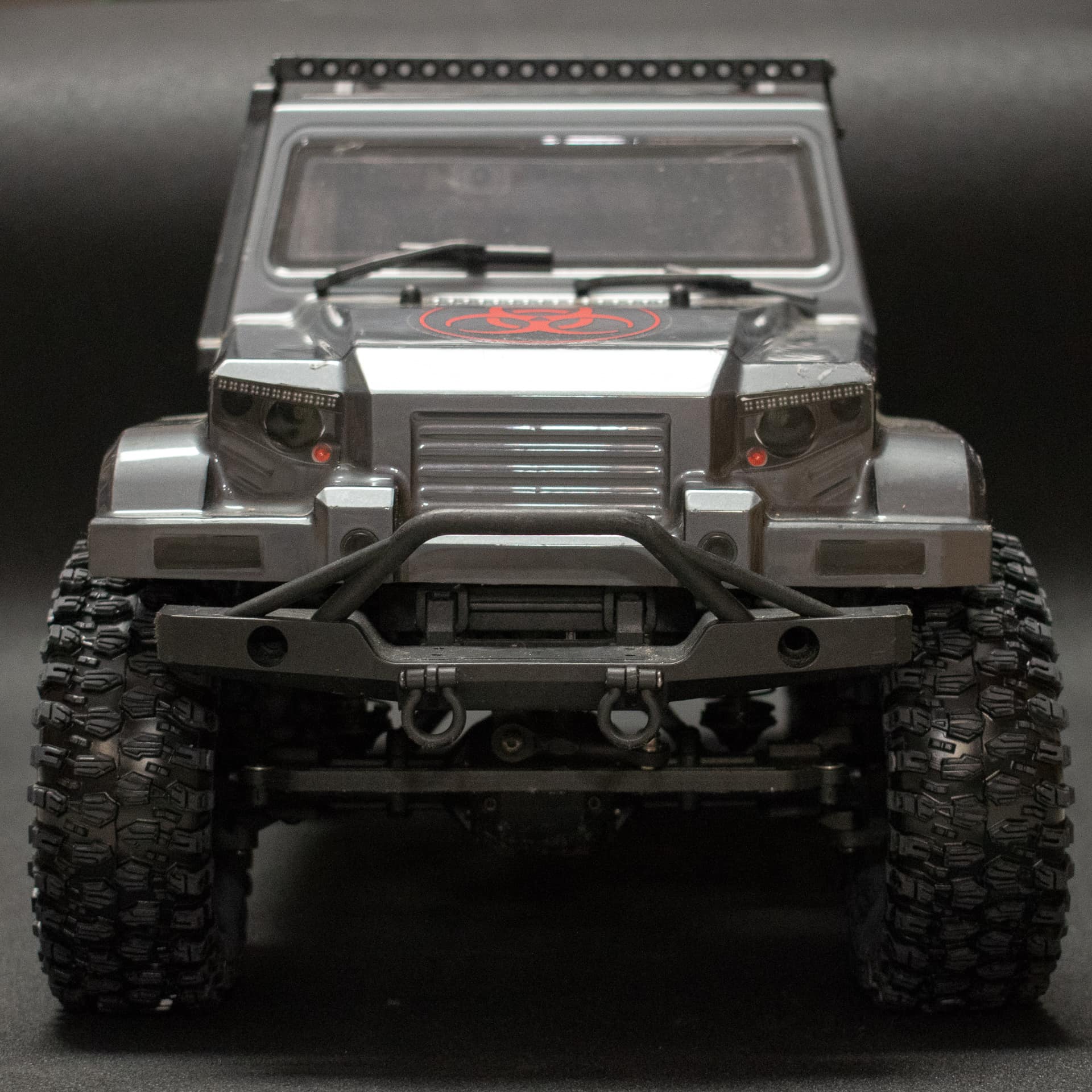 Where to Buy Pro-Line's Hyrax 1.9" G8 Rock Terrain Tires