The scale R/C scene has been booming over the past year, with many new names jumping into the ring. When Carisma launched their Carisma Scale Adventure brand, I was excited to see how this new player performed against other well-established brands and fellow newcomers.
Their second ready-to-run (RTR) model, the Lynx ORV, may feature an apocalypse-themed body, but there's plenty of life lurking under the skin of this trail rig.
Carisma Scale Adventure Lynx ORV Specs:
Length: 480mm

Width: 230mm

Height: 210mm

Wheelbase: 480mm

Scale: 1/10

Price: $299.99
What's in the Box:
1 Carisma Scale Adventure Lynx ORV 1/10-scale R/C truck

1 Carisma CTX8000 Controller

1 7.4V, 1400mah NiMh battery pack

1 USB-powered battery charger

Various body accessories

1 Instruction manual
Unboxing the Carisma SCA-1E Lynx ORV
The Chassis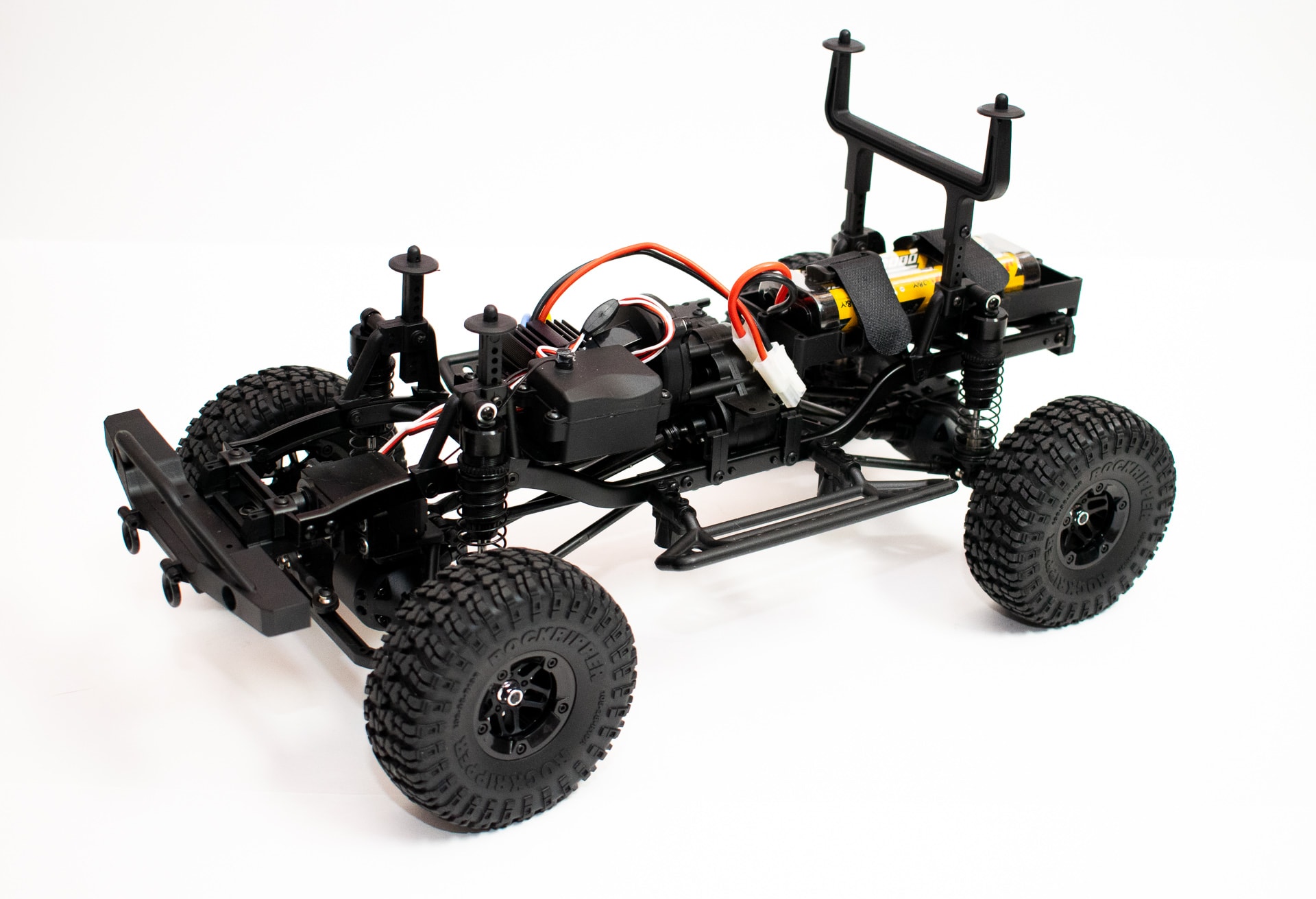 Scale R/C trail rigs generally share the same type of chassis design, and with good reason. It's hard to go wrong with a ladder-frame chassis and four-link suspension are at the heart of many popular radio-controlled scalers and rock crawlers. Carisma used this same formula for their SCA-1E platform which was first introduced with the Coyote.
The Lynx ORV shares the same chassis foundation and wheelbase dimensions as the Coyote, making this 1/10-scale vehicle as capable as it is durable. The shorter wheelbase and slightly smaller tires can provide an added challenge depending on your terrain type, but no matter what I threw at this truck, it ended up prevailing.
A steel ladder-frame chassis, metal suspension links and massive shocks serve as the foundation for a solid trail machine. Running up and down rock piles, taming wild trails, and even tumbling down hills, the Lynx kept on ticking. The only damage made note of was a side mirror that was lost during one of my rollover incidents.
The Body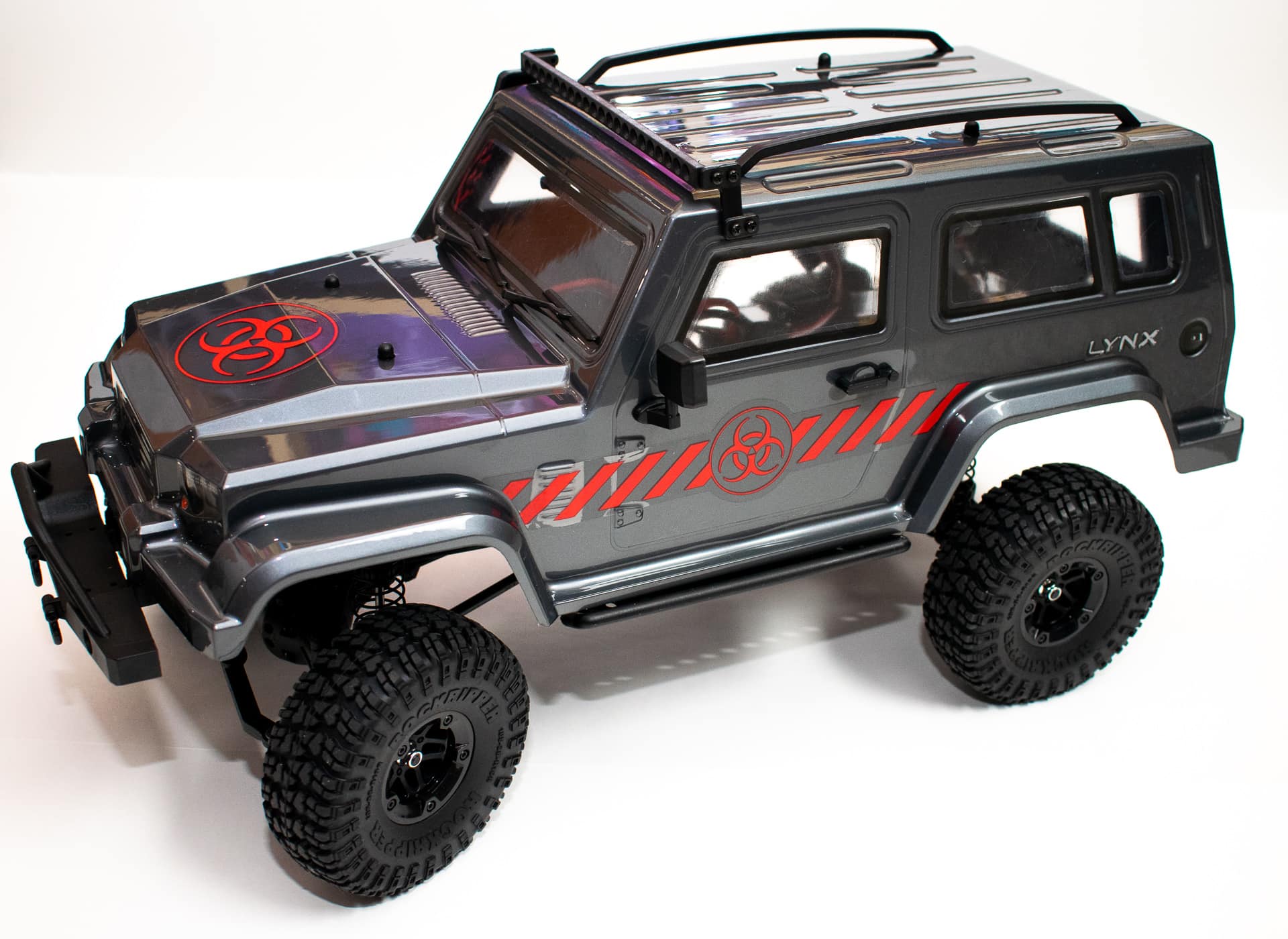 The Carisma Scale Adventure Lynx offers a unique visual look, especially when compared to its sibling, the Coyote. Where the Coyote is a retro-styled pickup truck, the Lynx has a modern flair, perhaps with humanities future-state in mind.
Its "zombie response vehicle" theme is certainly unique among R/C trail trucks and it provides a fun concept that can add to your overall adventures with this model. Aggressive body lines and rugged body details such as a snorkel post, light bar and roof rails all combine to give this truck a "take-no-prisoners" appearance. Combined with its dark gray paint job, this off-road machine is as fun to look at as it is to drive.
The Tires & Wheels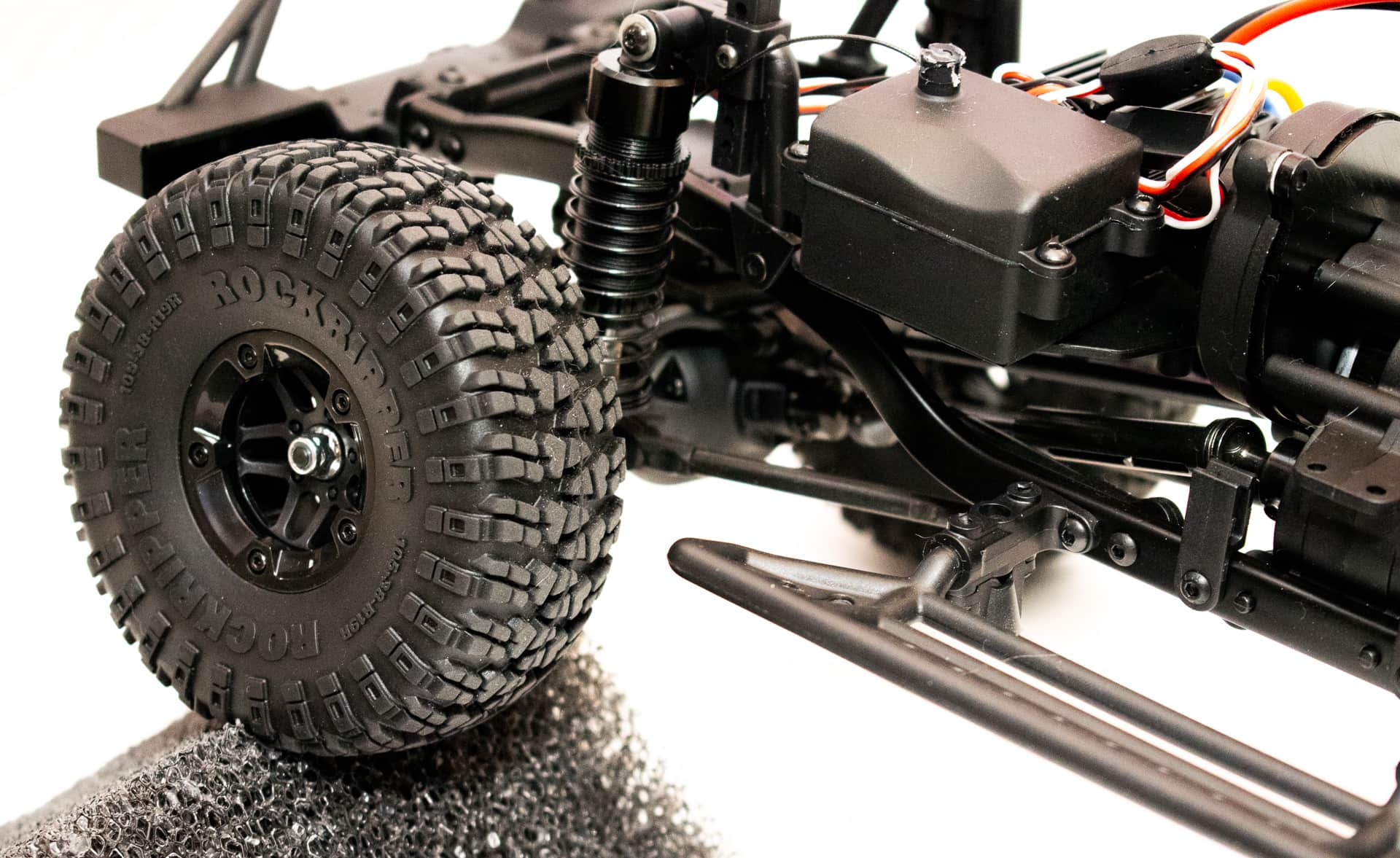 As soon as I pulled this truck out of its packaging, I became aware of some of its smaller features. The tires, for one, caught me by surprise as they're noticeably smaller than "standard" 1.9" options. With an outer diameter of 4", the tires on the Carisma Lynx are closely related to "class 1" size.
That smaller size makes the truck work a bit harder than other R/C crawlers that I've driven, however, that added challenge can also provide some fun experiences.
The Motor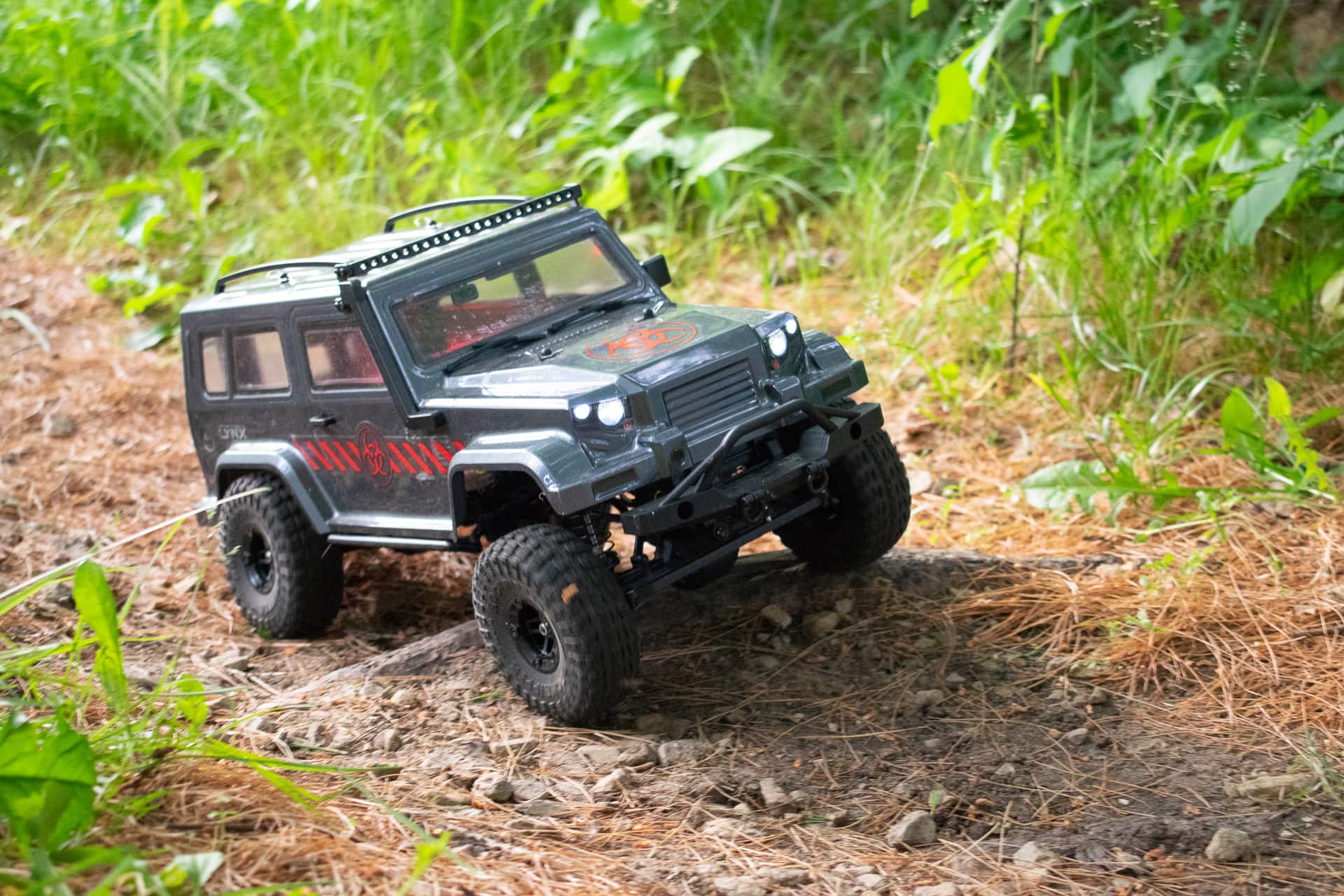 Powering this 1/10-scale truck is a 35-T brushed motor. While I've experienced this motor size in previous models, the speed that the Lynx provides far exceeds my previous expectations. Thanks in large part to gearing, the Carisma Lynx is one of the fastest trail trucks that I've driven (in stock configuration).
That said, speed isn't the name of the game when it comes to trail driving and technical rock crawling. To that end, the Lynx offers solid low-end performance which allows it to motor through just about any type of terrain.
The Controller
I've confessed my affection for Carisma's CTX8000 controller in the past and my thoughts on this transmitter still remain the same. To this day, it remains one of the more comfortable, ergonomic controllers that I've used. The CTX8000 is lightweight and brings enough features to the table to make it a solid option for both trail and speed applications.
On the Prowl with the Lynx ORV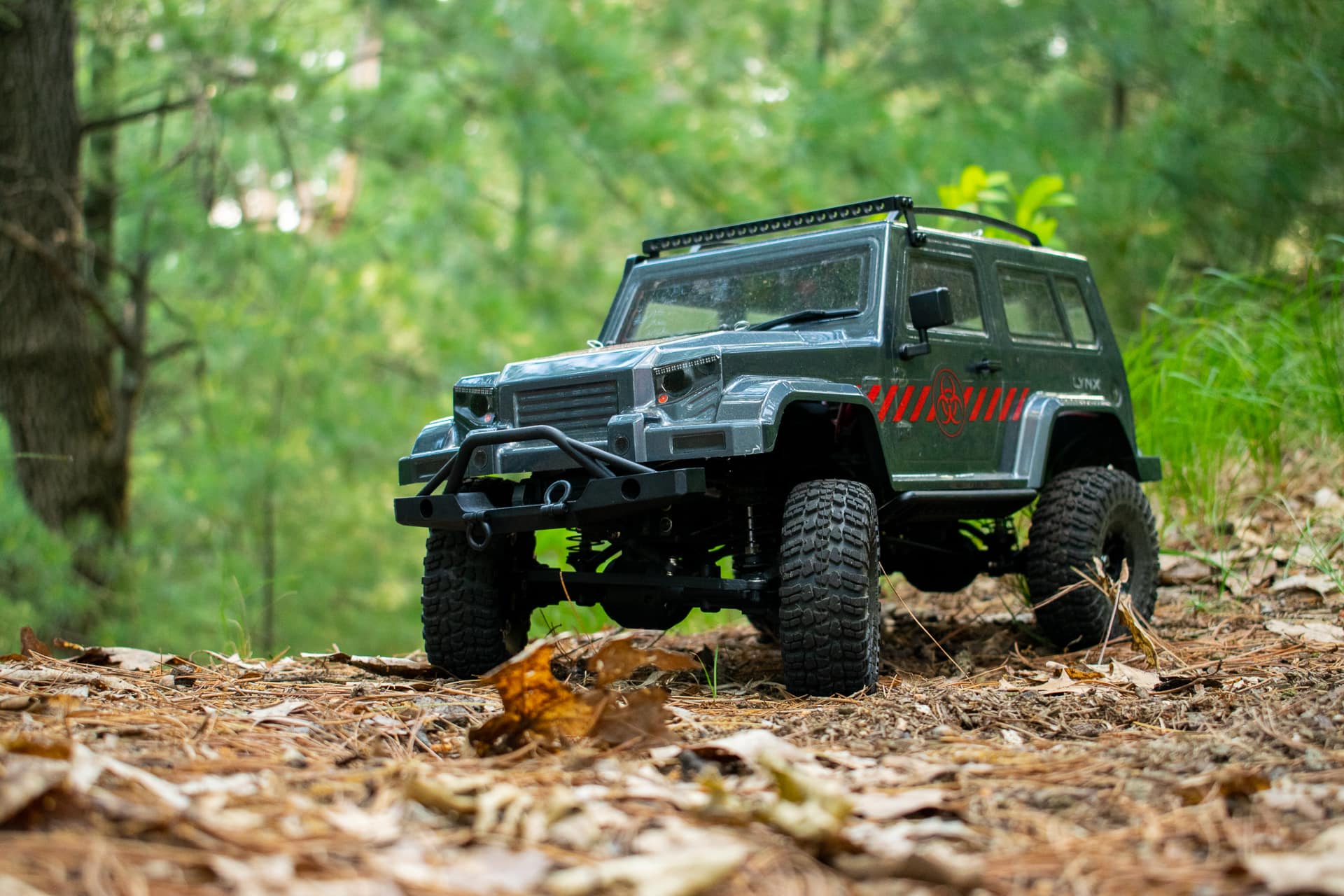 When you compare the Lynx to other options on the scale R/C landscape, it's easy to see that it compares quite well on price. At $299.99, this machine is in line with the Axial SCX10/SCX10 II Deadbolt, Redcat Racing Everest GEN7 Pro and even the Traxxas TRX-4 Sport. But as they say, money isn't everything.
Does the Carisma SCA-1E still hang with the rest of the group when you compare these vehicles solely on performance? While I haven't driven all of the machines listed above, I have experienced a majority of them. With that in mind, the Lynx is a vehicle that can hold its own, no matter what you're comparing it to.
In testing the Lynx ORV, I wanted to get a feel for its performance on any number of surfaces. My outdoor expeditions included grass, gravel, dirt, and rocks and my indoor testing employed my wooden shakedown setup. No matter what I put the Lynx up against, it managed to find its way through to the end. The overall light weight of the SCA-1E (in stock configuration) made some of the surfaces more difficult to pass than others, however, I managed to drive through, over, and around whatever was holding me up.
The most-challenging terrain came in the form of a rock pile that I've driven on in the past. The large, loose rocks provided an uneven, unstable surface that not only challenged the Lynx but also my driving and navigating skills. While the Lynx performed well, it's smaller tires and lighter overall weight appeared to work against it in some aspects. Having said that, part of the fun in driving a scale R/C machine is the challenge.
Is the Carisma Scale Adventure Lynx ORV Right for You?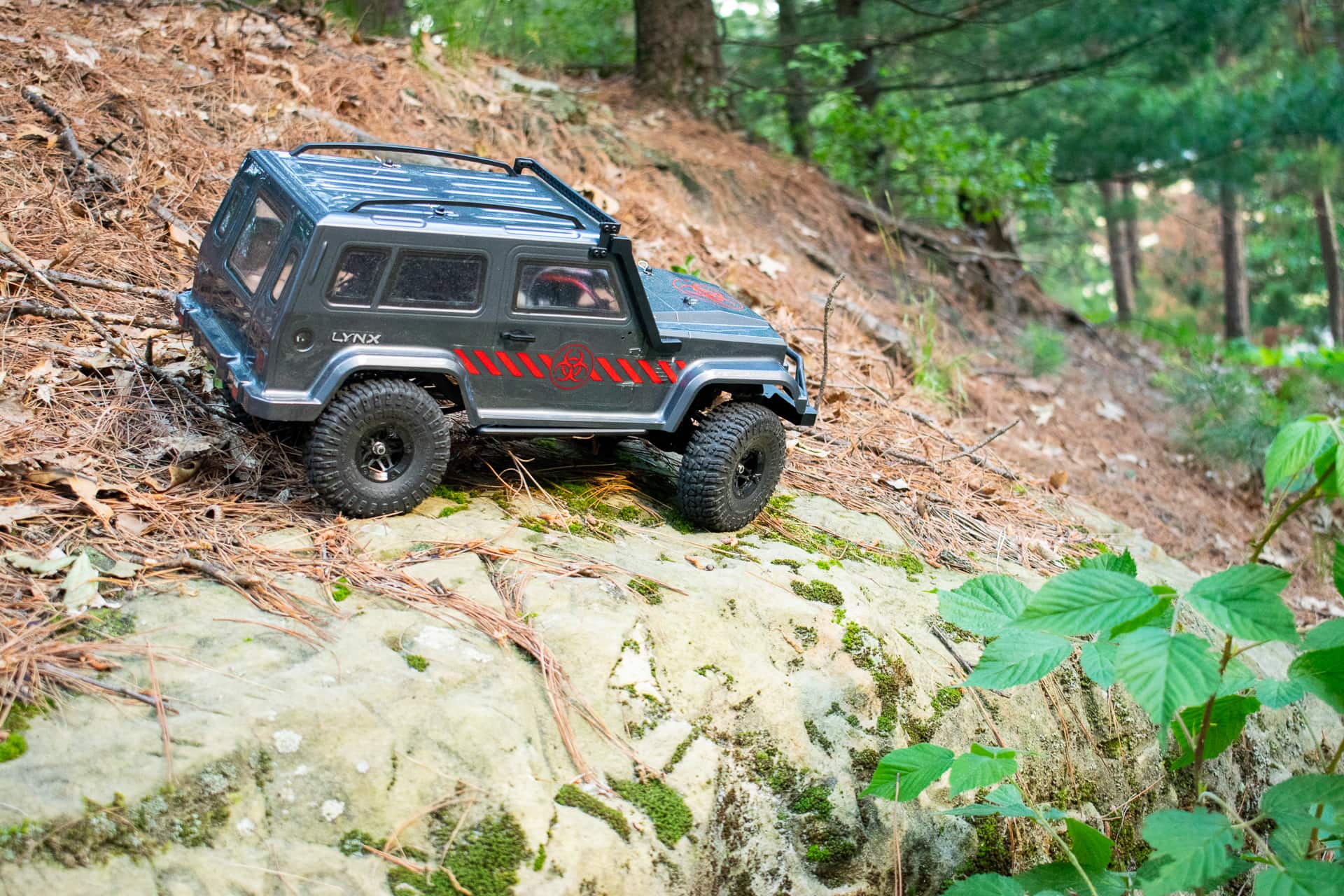 With a number of well-traveled R/C crawlers before it, there's no denying that the Carisma SCA-1E platform has some stiff competition. However, Carisma always seems to bring their best to the table, no matter what type of radio-controlled vehicle they're introducing.
In my mind, the Lynx ORV has proven itself to be a solid competitor when compared to other 1/10-scale R/C trail trucks. Both in price and performance, it is a great option for anyone looking to get into the R/C hobby.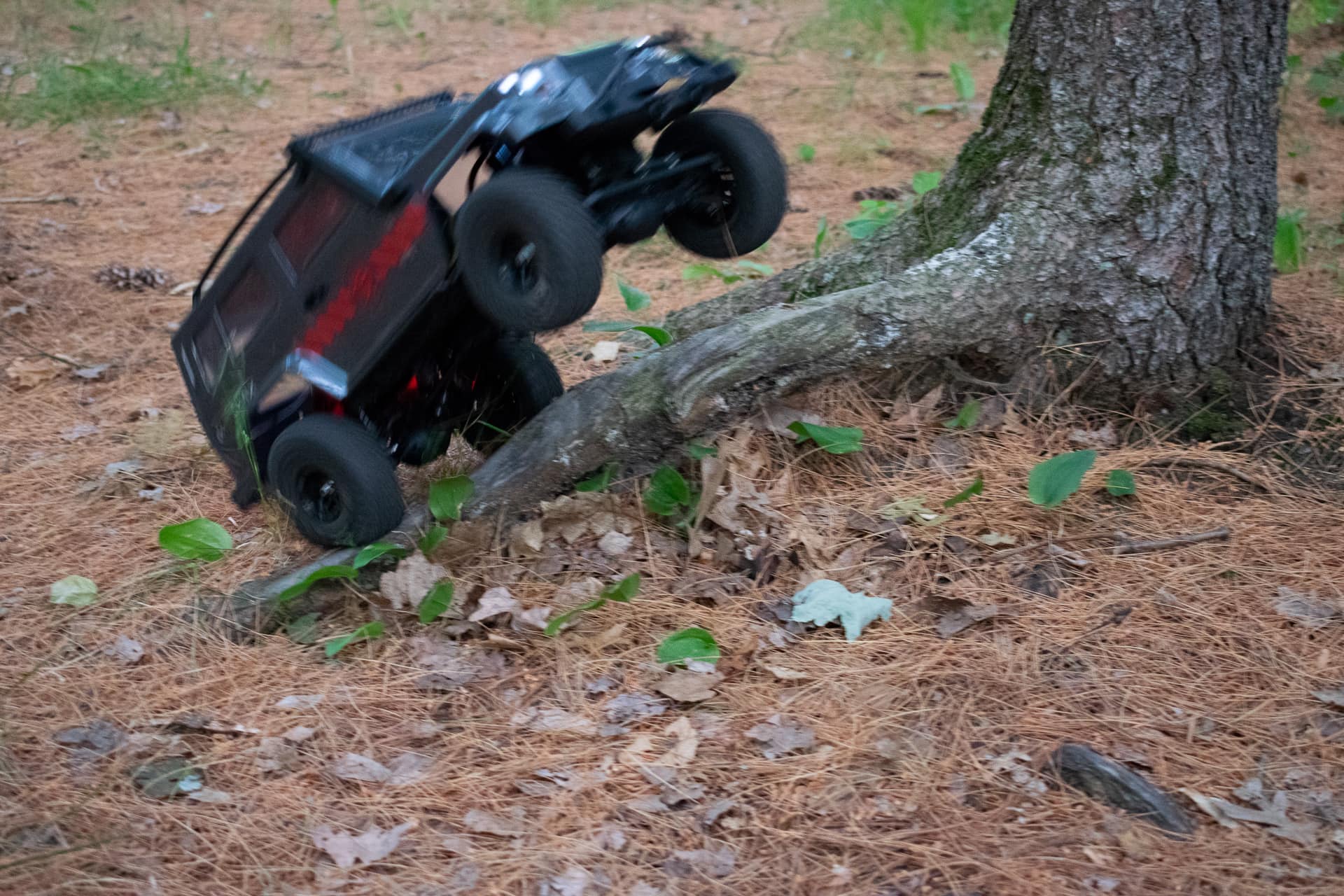 Where to Buy the Carisma Scale Adventure Lynx ORV: