In this hobby you can come across a variety of vehicles from any number of manufacturers. While the price and quality of these machines span a broad spectrum, one thing has always stood out as one of the most-important factors in deciding what vehicle to buy.  Will it be fun?  Don't get me wrong, I am concerned about the build-quality and the performance of the vehicle, but above-all, I want to have fun with these machines. The folks at GearBest.com sent me an R/C car that I had not heard of before and was from a manufacturer that I hadn't paid much attention to in the past.  The vehicle, the Foxx S911 Radio-controlled Monster Truck from GP Toys.
On the surface, this looks like a fun machine.  Big, beefy tires, a standard monster truck/stadium truck style chassis, and decent components and power.  Not bad.  When I started looking into the vehicle a bit more, my level of intrigue grew.  Priced at $39.33 (at GearBest.com), this would either be a slow, sluggish, unresponsive vehicle that would break the moment it hit…anything, or it could surprise me and be a decent entry-level fun-runner and light basher.  I was prepared to have the test go either way.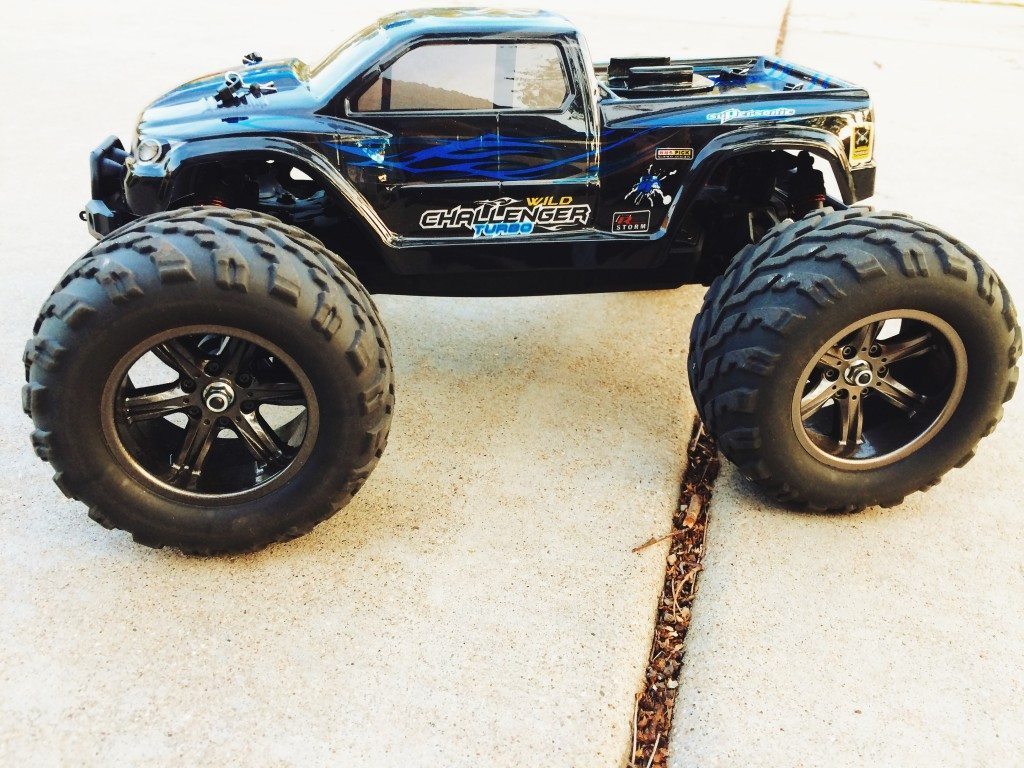 Given the price, I made a list of items that I would let slide and not hold against the Foxx S911. In short, I didn't want to set myself up for disappointment if things went wrong.  Much to my surprise, I found this to be a well-built R/C truck and it proved sturdy and solid when put to a few real world tests.  For my initial, raw thoughts on this vehicle, check out my unboxing video.
Features and Specifications:
Vehicle Type: Two-wheel drive radio-controlled monster truck
Kit or RTR: RTR (Ready to Run)
Motor: 390 brushed
Battery: 9.6v, 800mAH Lithium-Ion
Bearings or bushings: Bearings
Shocks: Plastic, friction
Electronics/Radio: 2.4GHz
Opening it up (and out of the box)
Out of the box, this looks like your typical R/C car, which is a good thing.  Given the price, you might be expecting less than what you get with the Foxx S911, but to be honest, you get quite a bit for not much of an investment.  The chassis is made of a sturdy, durable plastic and feels good in your hands, not giving any indication of being flimsy or fragile. Moving outward, the axle and suspension components also give the impression that they're ready to withstand just about anything you can throw at it.  While not oil-filled, the shocks do provide a good amount of flex and rebound.  I later found these to lag a bit when making hard, fast-paced turns, but the rest of the vehicle tends to make up for this slight-delay in cornering performance.  This is also a monster truck and not a on-road racer, so you have to take that into consideration as well.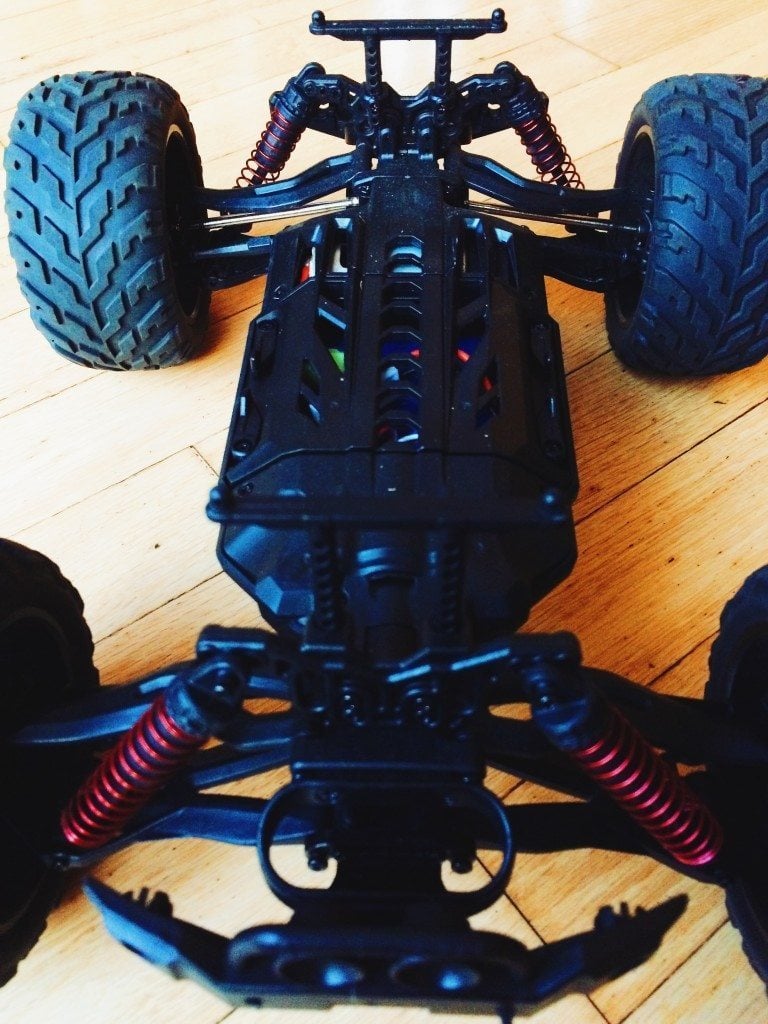 The tires and wheels not only look great on this truck, but they aren't bad in the handling department either. Grip-wise, the tires could provide a little more traction on some terrain (you'll get an ample amount of wheel-spin on grass and other low-traction areas) they provide enough grip/slip to make hard cornering and quick spins both achievable and fun.  Compared to some of my other radio-controlled vehicles, the Foxx S911 is nimble enough to pull off some of the slides and spin-stops that my LaTrax Rally and HPI Micro RS4 can perform.
I know I'm getting ahead of myself a little by diving into some of the performance and handling aspects of this truck, but it still amazes me what type of performance you can get for under $50. To wrap up the overview of the vehicle itself, it is a solid, durable machine that looks great standing still or blasting over jumps.  Powered by a 390 brushed motor, it has ample speed and torque on a full charge of the 9.6v, 800mAH Lithium-ion battery.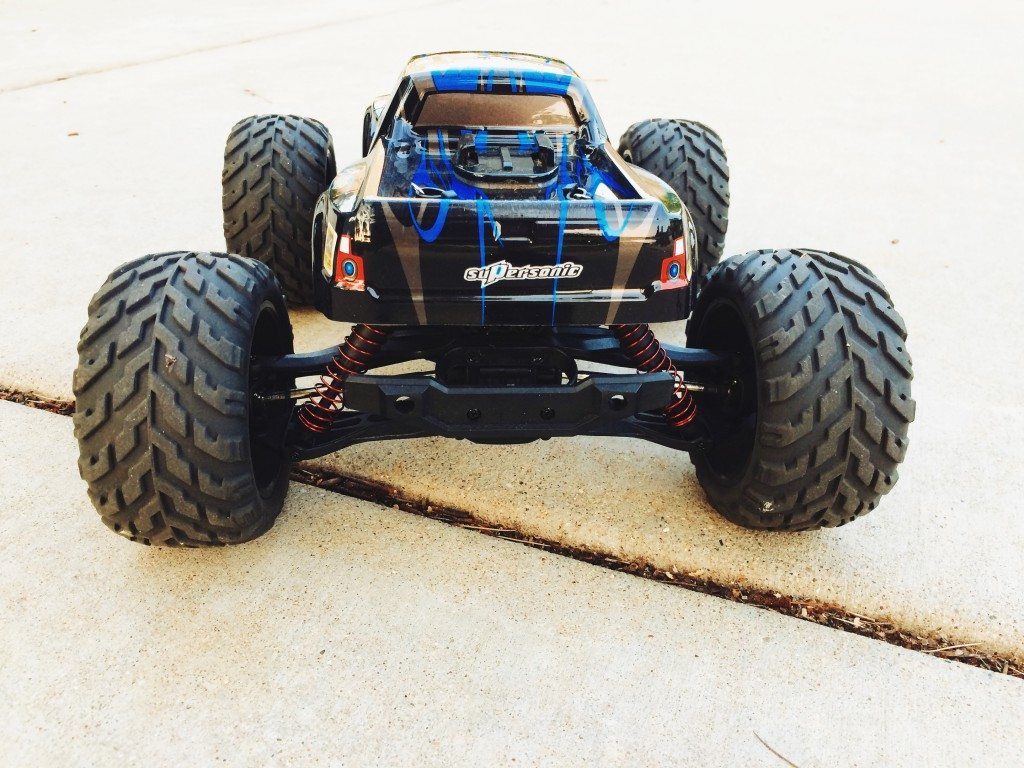 Beyond the truck itself, the transmitter for the 2.4GHz system looks a little…unique.  Once you get past the straight-line appearance of the radio and put it into your hand, you'll quickly discover that it doesn't feel that bad.  It may be one of the more comfortable radios that I've used, and I have  a nice collection of them that I've gathered over the years.  As far as adjustments and fine-tuning, the radio doesn't offer much aside from steering trim.  Your other main controls, as with any R/C vehicle, are forward/reverse throttle and left/right steering. I should also mention that steering is proportional.  That may be an are of concern to some of you, given the cost of this machine, but you can rest easy knowing that it's not all-or-nothing when it comes to navigating with this truck.
The final, important piece that you'll get with this package is the charger.  I've covered this item in my unboxing video and will cover it again in this review.  The charger may be one of the weakest points of the Foxx S911.  Specifically the U.S. to European plug adapter that ships with the unit.  With a little bit of ingenuity, you can work past the main issue of the adapter not fitting snug onto the wall charger, but when it comes to electricity, you shouldn't be jerry rigging any kind of setup in place.  If you have a mini-Tamiya charger lying around that is made for U.S. wall sockets, I suggest using that, provided the voltage/amperage is the same.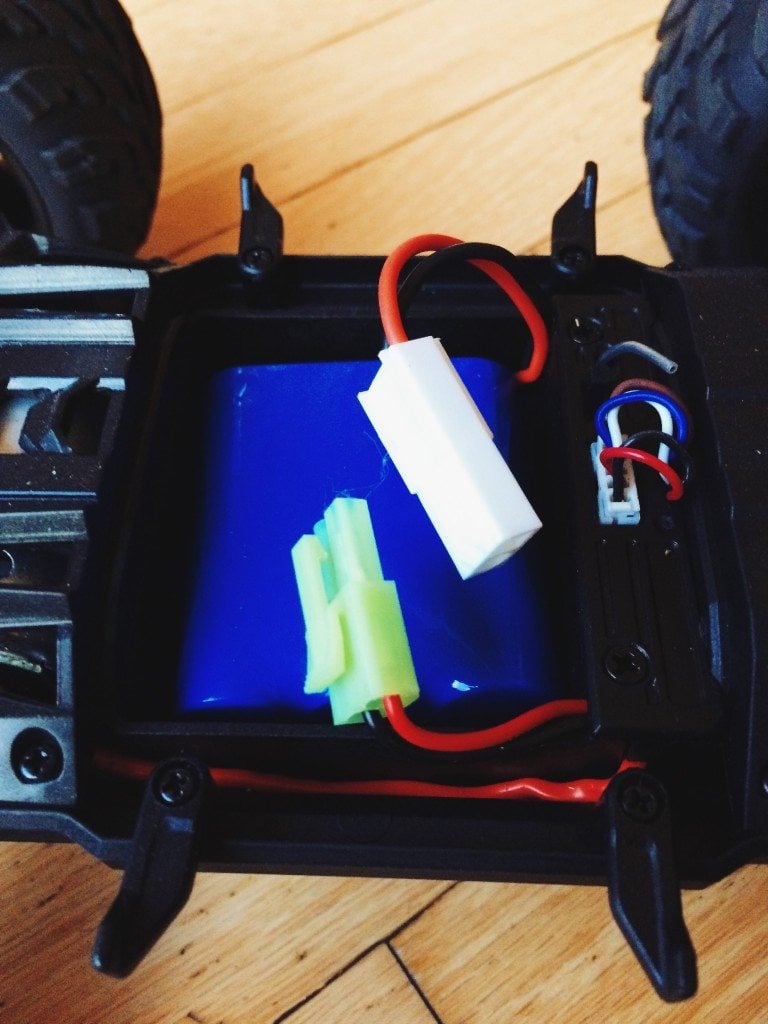 Hitting the road, grass, pavement, shrubs…
After the initial charge-up, I was eager to take this machine outside to see what it could do.  After a quick warmup lap around the driveway, I slowly started to up the ante in terms of what I made this truck do.  It handles my off-road (dry grass lawn) challenge with little issue.  There was a bit of wheel spin on takeoff, but that's to be expected, given the surface I was running on.  It handled a few natural bumps and jumps that are scattered throughout my "test track" with ease as well.  It withstood a few jumps where it got at least 2-feet of air and survived a few tumbles and flips on some of my less-successful landing attempts.
Speed-wise, this truck is no slouch either.  The box states it can go 35mph, and while I don't have the setup to adequately measure that, I was impressed by the straight-line runs that I performed with it.  After dialing in the steering and getting the truck to track in a relatively straight line, I had it zipping past me on a road, taking the small bumps and imperfections in it with ease.
After I had a few times to test it, I turned it over to two of my children to get their thoughts.  While this was the most-powerful radio-controlled car they've ever driven (to-date) they quickly picked up on how to control it…for the most part. Above all, they had fun driving it, which is something that I can also state as true for myself.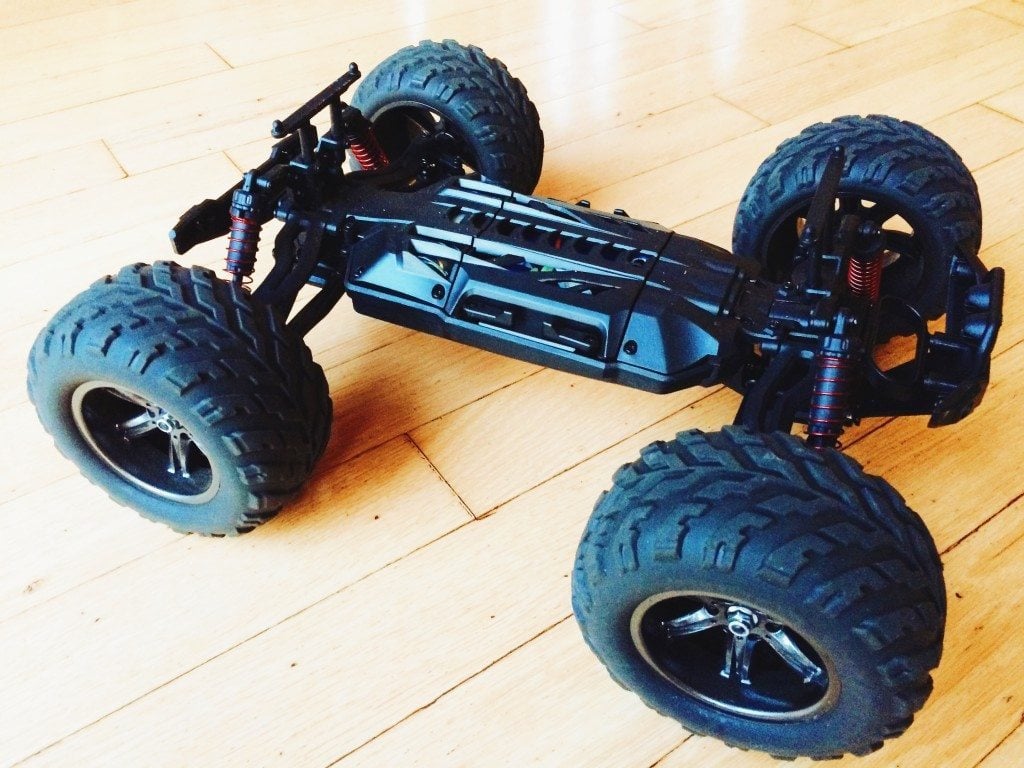 The Good
Despite the fact that this isn't a "name brand" radio-controlled vehicle, based on the price and the level of pure fun that I have been having with it, I can't give this vehicle higher praise. If you're looking for an entry-level R/C truck or purely want something to drive around and not worry about breaking expensive parts on, this is a vehicle worth looking into.
The overall construction of this truck is surprising and surpassed my initial expectations.  It withstood some moderate run-ins with a variety of objects and surfaces and still has enough zip and pep as when I took it out of the box.
When you're bashing, looks don't really matter, but this truck looks great. The body is quite durable and only has a few signs of wear and tear (nothing major) after taking those before-mentioned spills.
The So-So
The charger for this vehicle may pose a few problems when you charge up the battery. By default, it isn't a United States standard wall plug, but there is an adapter that is shipped with the vehicle.  Unfortunately, the adapter doesn't fit onto the wall charger in a snug manner, and would fall off.  Using a rubber band, I was able to secure the adapter to the wall charger and get the battery charged.  Not the most ideal setup, but it works.  If you have a mini-Tamiya-style charger that has a default U.S. wall plug, then use that (provided the voltage and amperage will work with the battery).  Otherwise, you can see what other battery/charger combinations are available (and compatible) with the Fox S911.
The abundance of plastic may scare some people off, but given the fact that the entire truck costs the same price (or in some cases less than) as some aftermarket bolt-on parts, you won't be out much of an investment should you break something during your fun-run.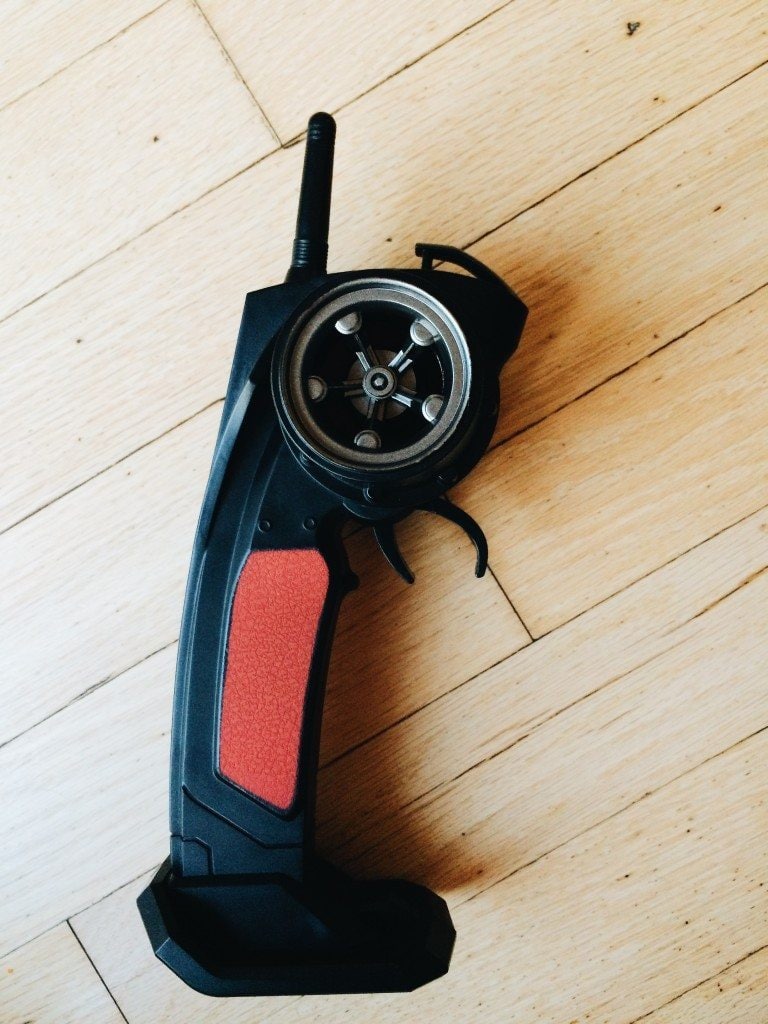 The Verdict
I'll be the first to admit that I was prepared to be let down by this vehicle.  It had too many "too good to be true" signs, from the price ($29.33 when tested, now $39.33), to the claims made on the box, I was ready to be disappointed by this radio-controlled car.  Much to my surprise, it has surpassed my expectations and is a great truck that I've been reaching for when I need to get out and take a drive of blow off some steam.  At under $50, this is a terrific buy for those looking to get someone into a slightly faster, more capable R/C car or for those looking to add a "daily driver" to their fleet of radio-controlled machines.  Check out the complete details on the Foxx S911 and pick one up today ($39.33) from GearBest.com.