Opening the box for a new R/C vehicle is a bit like opening a box of chocolates. You never know what you're going to get. Sorry to borrow (and butcher) a line from Forrest Gump, but I've opened more than my fair share of cars (and chocolates) in my time, and each new model brings with it its own surprises.
Gearbest.com has been sending me a variety of R/C models to review, and one of them is a vehicle that I've had my eye on for quite some time. The WLToys 12428 looks like your typical radio-controlled off-roader and is a spitting image of the Vaterra Twin Hammers. While these two vehicles look the same, they differ in size and price.
The WLToys 12428 is a 1/12-scale vehicle with a price under $80. Given its relatively low price and off-brand status, I was curious to see how this model held up, both against its competition and in general.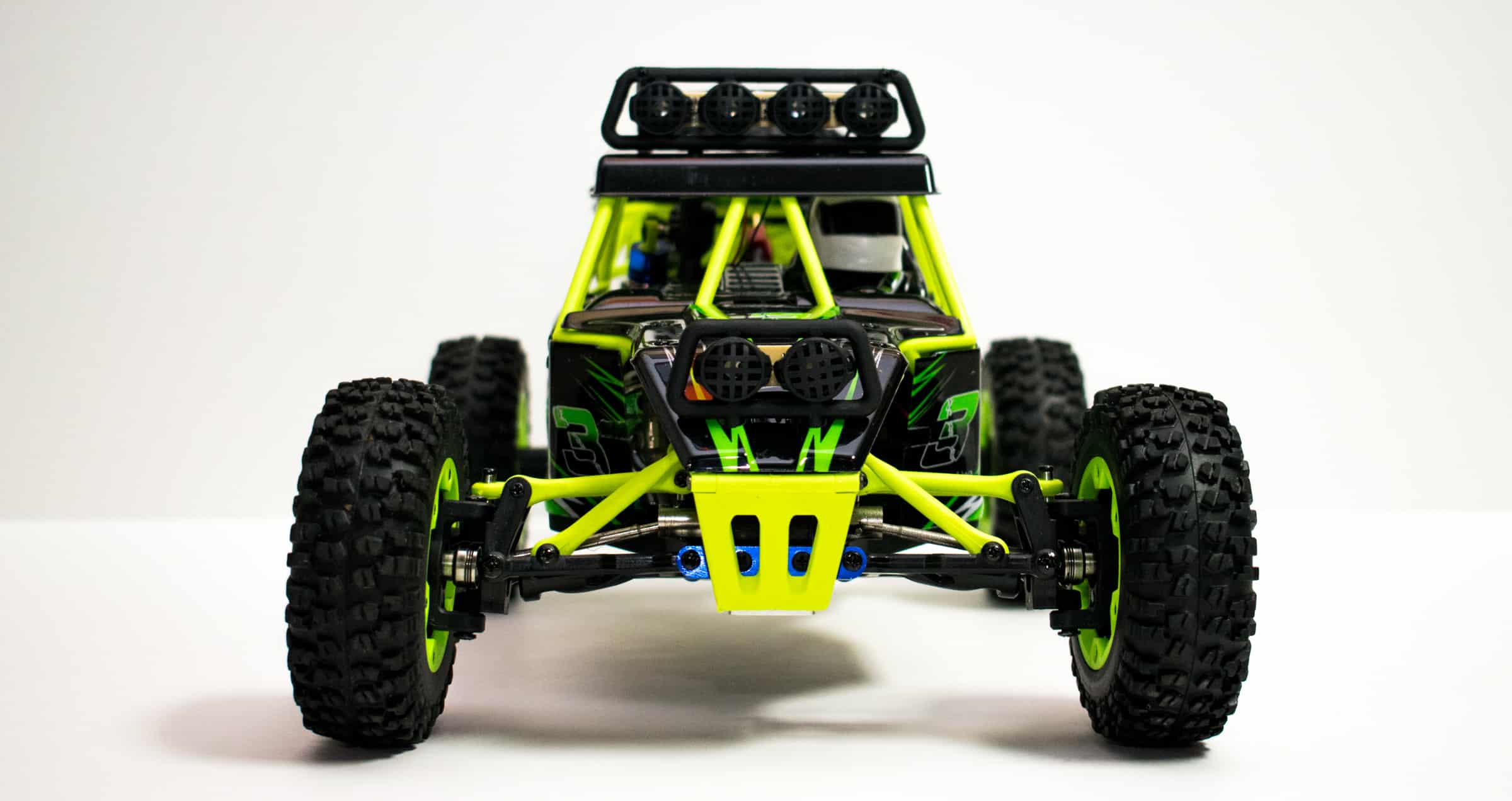 What's Included:
1 WLToys 12428 1/12-scale R/C Buggy

1 2.4GHz transmitter/controller

1 7.4V, 1200mah battery

1 Charging adapter

1 Instruction manual
Unboxing the WLToys 12428 R/C Buggy
Initial Thoughts on the WLToys 12428 R/C Buggy
Despite its somewhat small size (at least when compared to 1/10-scale R/C vehicles), the WLToys 12428 is a surprisingly solid machine. Before I cut it free from its packaging, the heft and overall weight stuck out in my mind and caught me by surprise.
The design of this off-road buggy is both aggressive and eye-catching. The bright green roll cage and accents grab your attention and make this vehicle easy to spot, no matter where you're driving it.
The body panels are made of a thicker polycarbonate than what you'd encounter from other, more well-known, brands. Beyond those panels lies a sturdy, well-assembled (from what I can tell) chassis and nylon tube-frame assembly. This is a rock dressed up like a 4×4 buggy. Simple as that.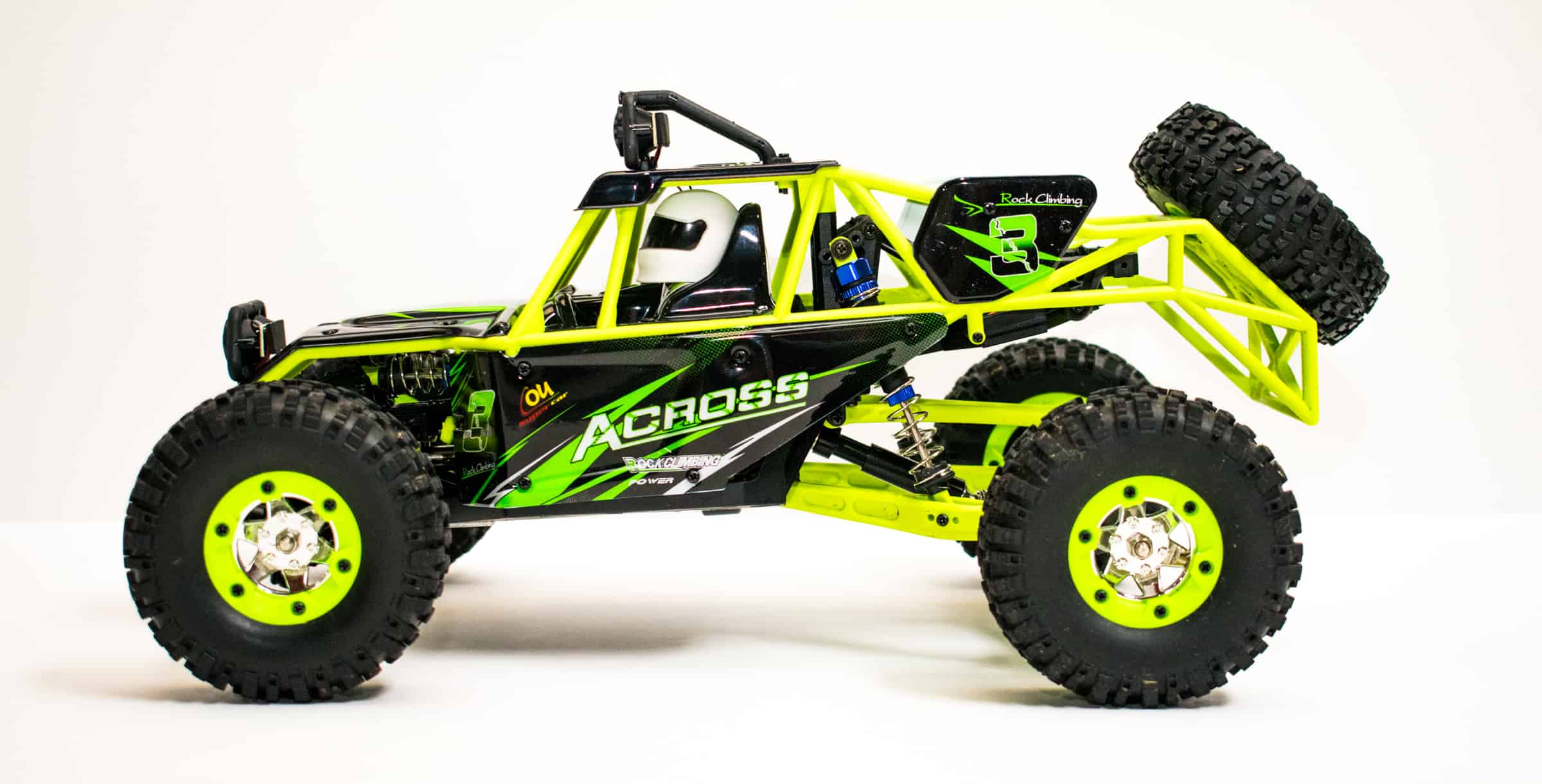 Looking beyond the robust build quality, this vehicle features some impressive, if not surprising, components. The 12428 features independent front and rear suspension, with both sets of shocks equipped with aluminum caps and adjustment rings. The rear shocks are set up in a vertical configuration while the front set uses a cantilever arrangement. Getting to the front shocks will be a bit tricky (should I want to make adjustments), however, it's a unique setup and one which appears to work quite well in this buggy.
The brushed motor, when paired with the 7.4V battery, packs a powerful punch. My quick indoor test of the WLT 12428 showcased impressive torque and low-end power. At full throttle, this machine is equally as impressive.
Letting this beast run wild outdoors is where you'll truly see it excel. The suspension works very well at absorbing small bumps and impacts as it zips from one point to another. The weight distribution appears to be a bit "off" as this truck tends to tumble and roll after being launched airborne. While this isn't ideal, the durability is on display as, after a series of flips (barrel-rolls and "end-over-enders") this buggy still looks brand new.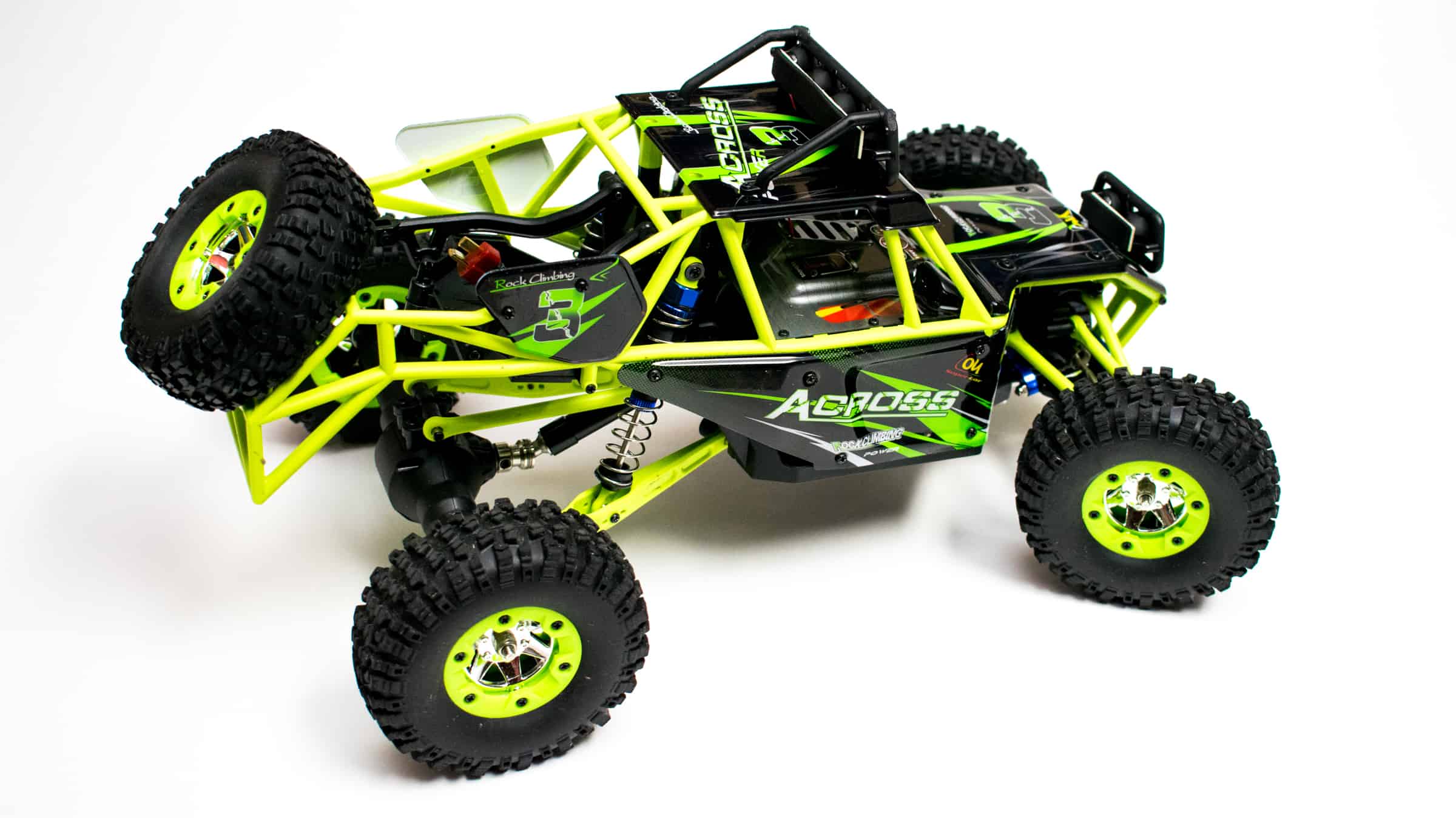 Outside of its in-air performance, the run-time which the stock battery provides leaves me wanting. Granted, it's a 1500mah pack, however, it seems to deplete itself rather quickly, ending "fun time" prematurely.
At this point, I'm very happy with this machine and am looking forward to more time behind the controller. For a fun, fast, all-around enjoyable R/C buggy, the WLToys 12428 is a solid option at an impressive price.
Where to Purchase the WLToys 12428 1/12-scale R/C Buggy: