While scrolling through my social media feeds, it's not unusual that I see some amazing builds and custom projects from time-to-time. What's rare, however, is when I see something that stops me dead in my tracks and makes me stare for a good five to ten minutes.
That was my reaction when I saw Stuart Pardue's drop-dead gorgeous Carisma Scale Adventure SCA-1E build. Starting with a stock, long wheelbase 1976 Ford F-150 model, he transformed an already amazing rock crawler into a stunning, highly detailed trail truck.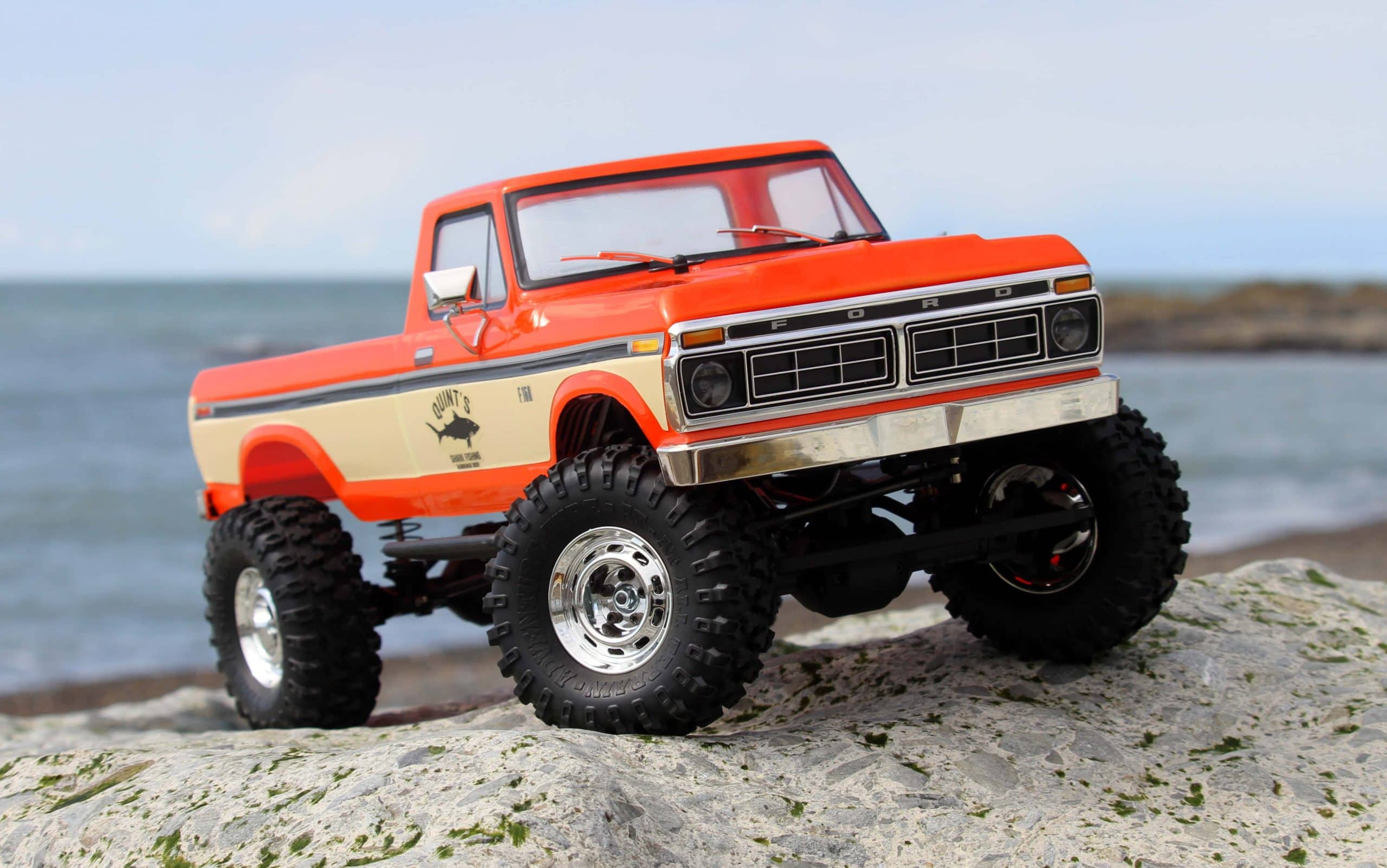 Scale is the name of the game.
After coming across photos of his truck, I reached out to Stuart to find out more about the build. While the foundation of the rig is a SCA-1E, he's made quite a few adjustments to it to make it as close to 1:1 appearance as possible.
In order to achive that goal, he needed to narrow up the track of the truck, allowing the wheels and tires to tuck inside the body. To achieve this, he used MST's MSA axles (front and rear, and threw on a set of RC4WD Mickey Thompson Baja MTZ tires, mounted on RC4WD 1.55″ steel wheels.
With the width of his truck taken care of, Stuart turned his attention to ride height, using a set of Fastrax 75mm shocks. The short length of these dampers allowed him to get the wheels to fill the wheel wells better, inching him closer to his 1:1 target.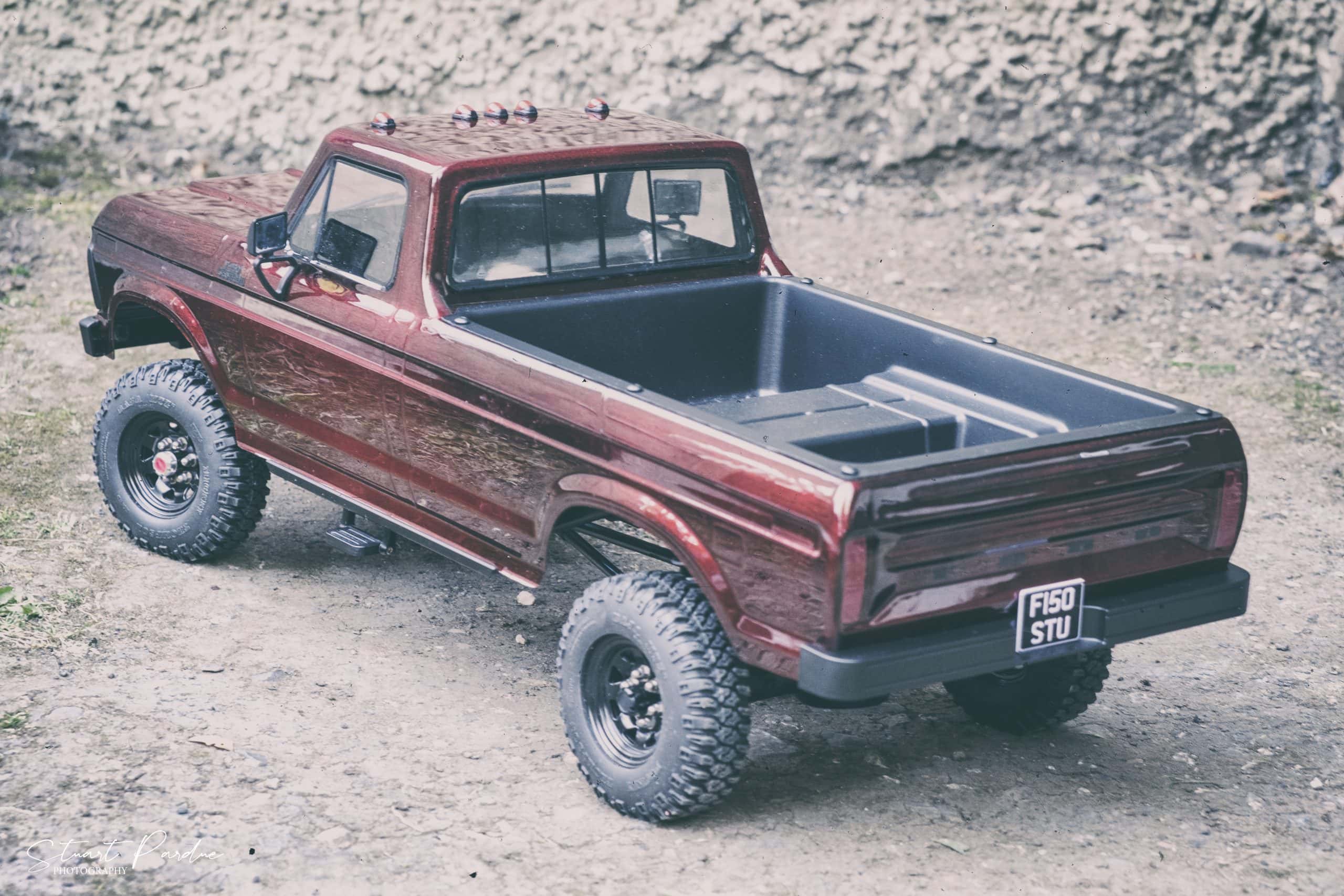 Painted perfection.
The real attention-getter, for me at least, is the body. Stuart's SCA-1E features a deep, "blood red candy" paintjob that has just enough metallic spark to make it pop against some of it's darker areas. Not having seen the rig up close, I'm guessing that photos don't do this machine justice at all.
To achieve this stunning look, the body was sent to Sharkfat RC Customs, who took care of the painting and drop-bed installation duties. Once the body was back in Stuart's hands, he applied the finishing touches of a detailed grille, door handles, side mirrors, roof lights, and sun visor.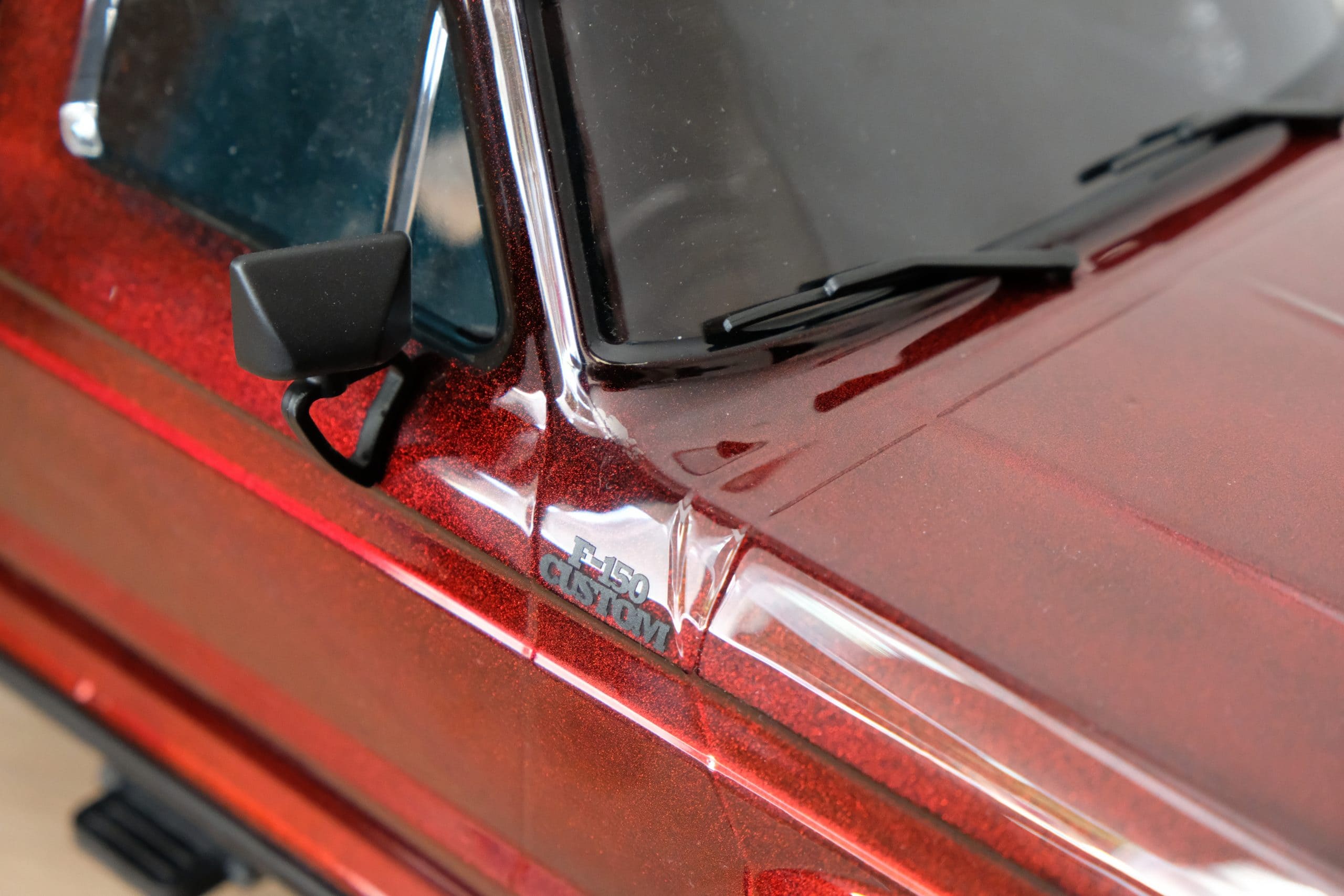 Devilish details.
Every time I glance at photos of this rig, I notice some new detail that I hadn't noticed before. When it comes to applying 1:1 detail, no rock was left unturned for this creation.
Stuart created custom, aluminum exhaust pipes, side-step footholds, and attached a rear rollbar from an RC4WD Chevrolet Blazer body for even greater detail.
All of the decals were recreated, from bumper to bumper, including a rear-window USA flag.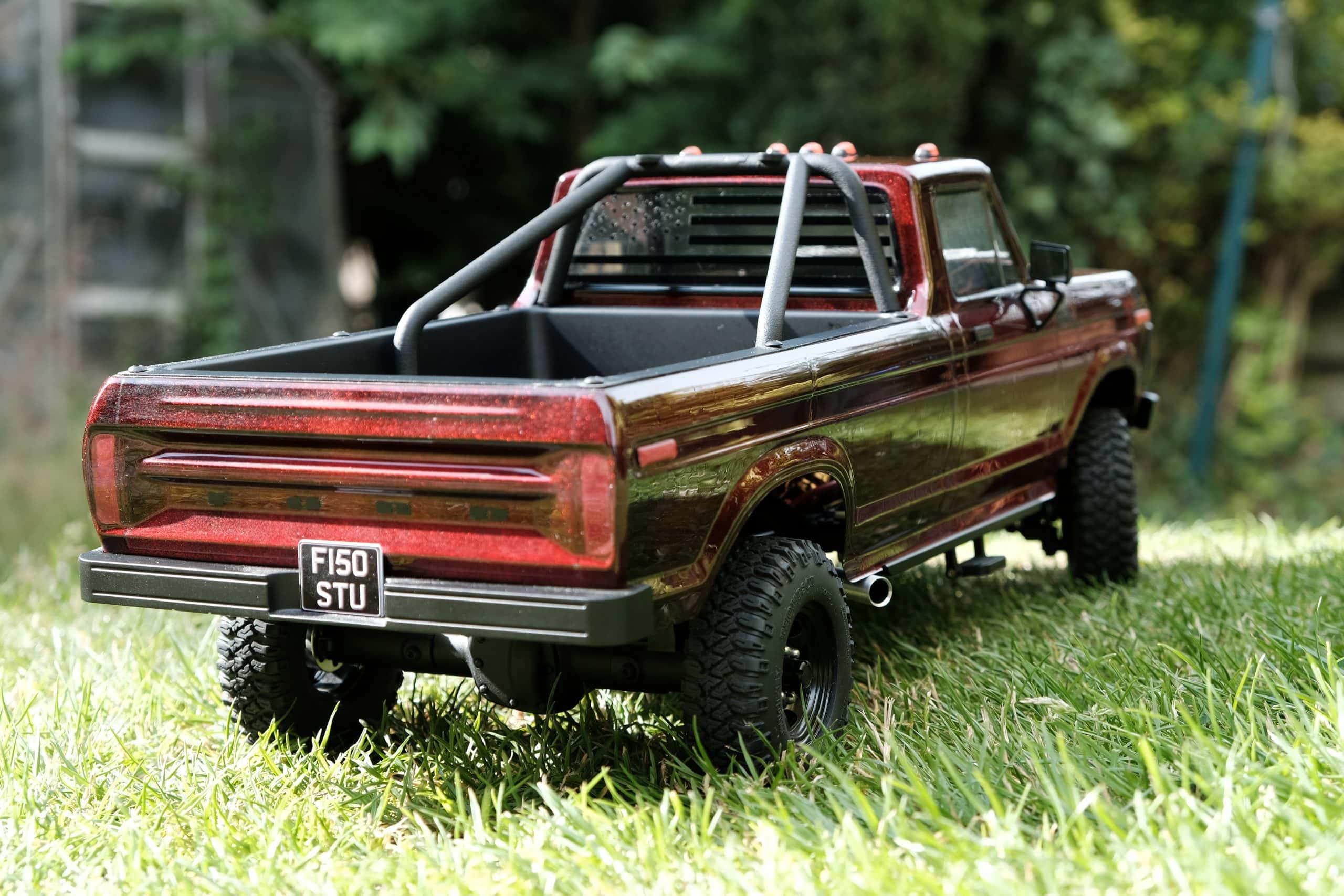 The rundown on Stuart's custom Carisma SCA-1E Ford F-150:
I want to thank Stuart for the opportunity to learn more about this build. The level of creativity and imagination that goes into the transformation of a stock R/C machine is nothing short of amazing. This custom SCA-1E is definitely proof of that.
If you want to see more of his creations, check out his Facebook page, SP – RC Scaler.
Image credit: Stuart Pardue/Carisma Scale Adventure