Over the past year, I've watched the Traxxas TRX-4 enter the scale R/C scene and become an instant favorite among hobbyists. Their original offering, the TRX-4 Land Rover Defender, got the ball rolling and was quickly followed by additional models (TRX-4 Tactical Unit, TRX-4 Ford Bronco, TRX-4 Assembly Kit). Each of these options provided the same chassis foundation and features as the original.
Then, Traxxas decided to change things up a bit. With the introduction of the TRX-4 Sport, they've released a stripped down, no frills version of their trail machine. Many of the "nice to have" features (two-speed transmission, remote locking differentials, cruise control and higher-end TQi transmitter) were left out of this model, leaving you a bare-bones rig that still has tremendous potential.
While I've had my eye on the TRX-4 since it first launched, this is the model that really has me amped up (aside from the Bronco, of course…). A straight-up trail machine that can compete head-to-head with a number of established brands and models, not just on features but also on price? Sign me up!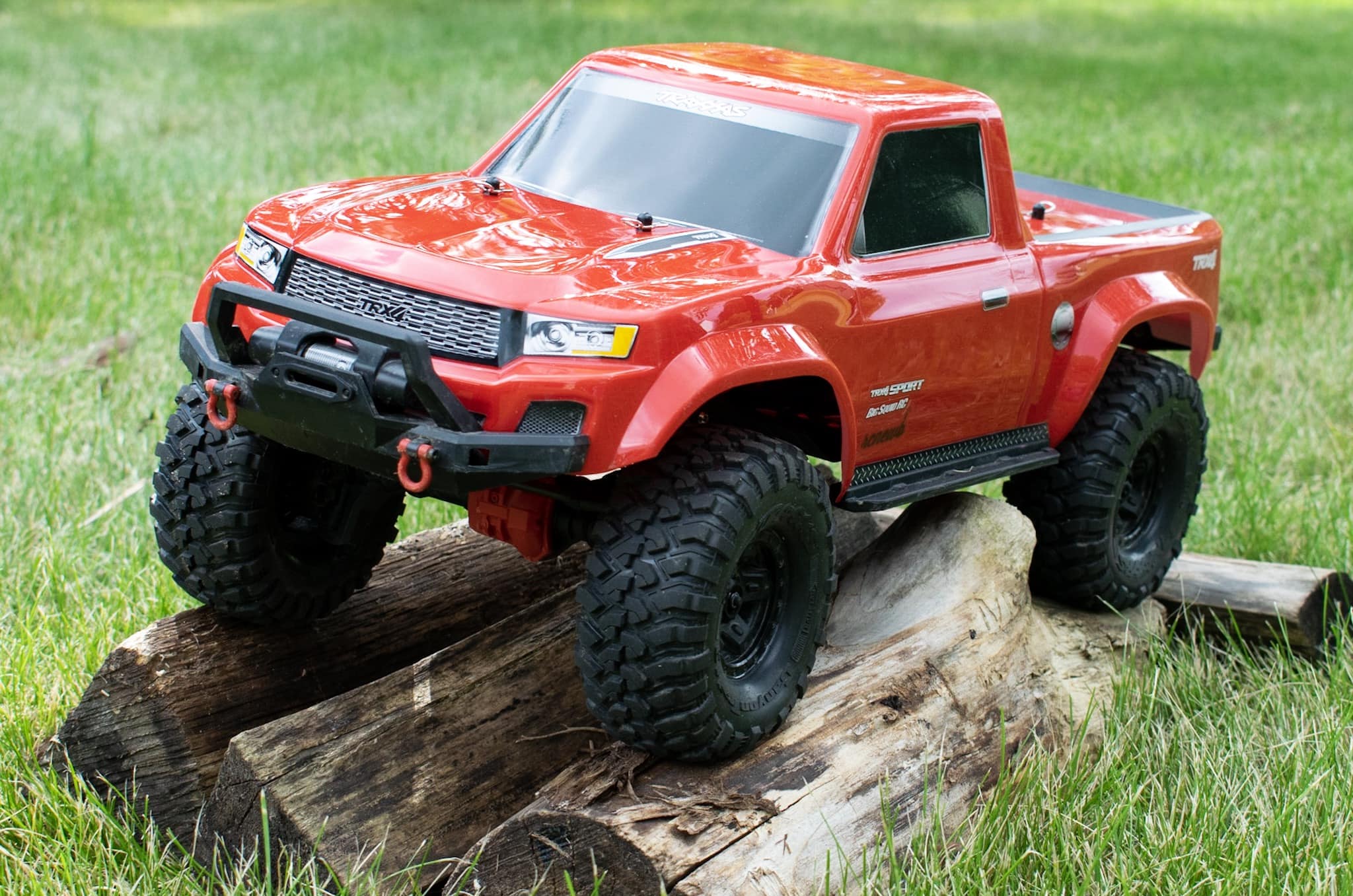 What's Included:
1 Traxxas TRX-4 Sport R/C trail truck

1 Traxxas TQ 2-channel radio transmitter

1 Instruction manual

1 Decal sheet

Cost: $359.99 – $339.99
Initial Thoughts on the Traxxas TRX-4 Sport
There aren't too many moments when I feel compelled to hug the person delivering our mail. Very, very few, in fact. I happened to be at home when the TRX-4 Sport arrived and, as soon as I was able to figure out what was being walked up my driveway, I felt an overwhelming sense of glee, almost to the point of outright giddiness.
I managed to contain this sensation, keep my composure, and kindly thank the deliveryman while wishing him well as he turned to leave. As he fired up his truck and drove off, my attention returned to the box that lay before me. I'm not certain, but it felt like a Grinch-esque grin slowly appeared on my face as my kids asked what was in the box.
You might wonder why I've written this long run-up before sharing my thoughts on this truck. To put it simply; I've been waiting for this truck. All of the bells and whistles that are included on the main TRX-4 models are great, however, they all post potential failure points (or features that might not get much use depending on where you drive). The TRX-4 Sport offers the basic platform of those other machines, but at a lower price ($359.99) and with less maintenance-worry.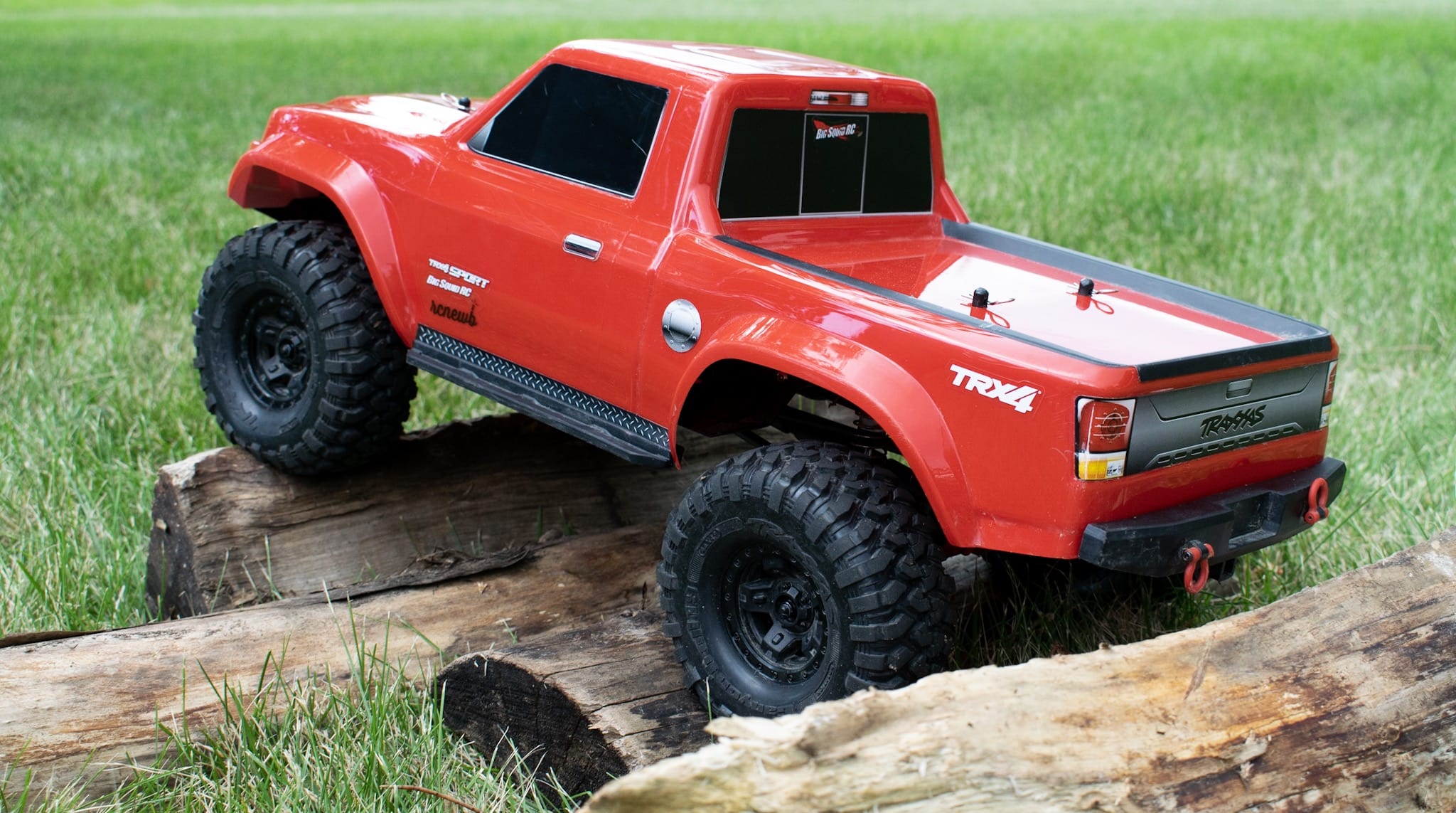 Exterior Appearance
When it was first announced, the one area of the Traxxas TRX-4 Sport that I was the least enthused about was the body. After seeing the gorgeous Ford Bronco and Land Rover Defender bodies that had come before it, the "plain Jane" pickup truck body that sits atop the Sport didn't do much to pull me in.
After getting this truck into my hands, however, my thoughts have changed. The truck has a basic, unassuming appearance to it. When you turn it loose on a trail or a backyard filled with obstacles, the worry of losing a scale item or body accessory goes away. The body design and straightforward style almost beg it to be driven hard, with nothing held back.
With that said, the accessories that Traxxas will soon release for this model will transform it into an entirely different truck (visually).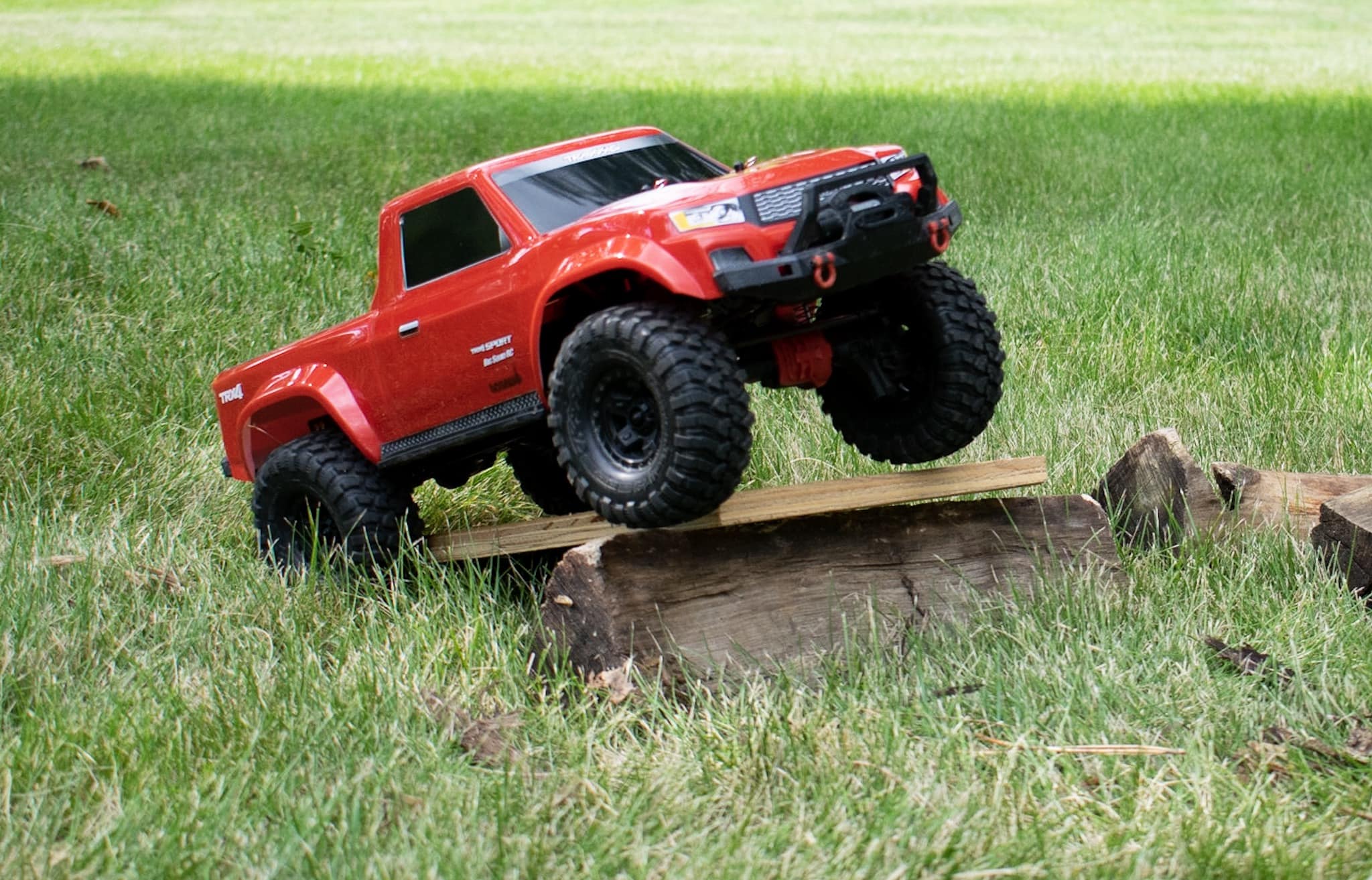 Technical Performance
After my first outdoor drive with this truck, I was hooked. The "XL" 1.9" tires have much more grip in them than I'd imagined. They have a stickiness to them that allows for incredible traction no matter what solid object you're trying to overtake.
The portal axles and slightly taller tires give the truck a "hot knife through butter" feel when crawling. While I've mainly stuck to log crawling and backyard driving up to this point, there hasn't been anything I've put in front of the TRX-4 Sport that it couldn't (or didn't) handle with ease.
Only the Axial RR10 Bomber (with 2.2" tires) and the Redcat Racing Everest GEN7 Sport come to mind when I think of rigs that have handled obstacles and terrain the same way. Coupling that traction and torque performance with Traxxas-brand durability, you have a 1/10-scale trail machine that can seemingly do it all. While it's not a speed machine (currently tested on NiMh batteries), it does have solid "pep" and can cruise along quite well.
As I try to think of an area that I feel could be improved upon…I'm struggling to come up with an example. Short of writing a love letter about this truck (and not having anything to say during my official review), I'll leave my initial impression at this:
Driving the TRX-4 Sport has been nothing short of fun, and I look forward to even greater driving challenges with this truck in the future.
Where You Can Buy the Traxxas TRX-4 Sport: