I have a love/hate relationship with surprises. Good surprises, such as receiving a new R/C vehicle, or finding extra money in your wallet, are perfect. However, there are bad surprises too. When it comes to radio-controlled cars and trucks, I've found that there can be surprises lurking around every corner.
When Redcat Racing announced they were developing a 1/10-scale R/C "scaler," I was not only surprised but also excited. My first rock crawler experience was with a Redcat Racing RS10 Rockslide, a vehicle that kickstarted my love for scalers and crawlers. Although that vehicle is in the hands of my oldest son now, it is still a solid performer and one that both he and I enjoy wheeling whenever the urge arises.
The Redcat Racing brand has undergone some changes in recent years and turned its focus to durability and fun while still keeping its price points low. Their entry-level radio-controlled trail truck, the Everest GEN7 features two trim levels, both under $300. Do those low costs ($199.99 Sport and $279.99 Pro) equate to a worthy trail rig option? Let's find out.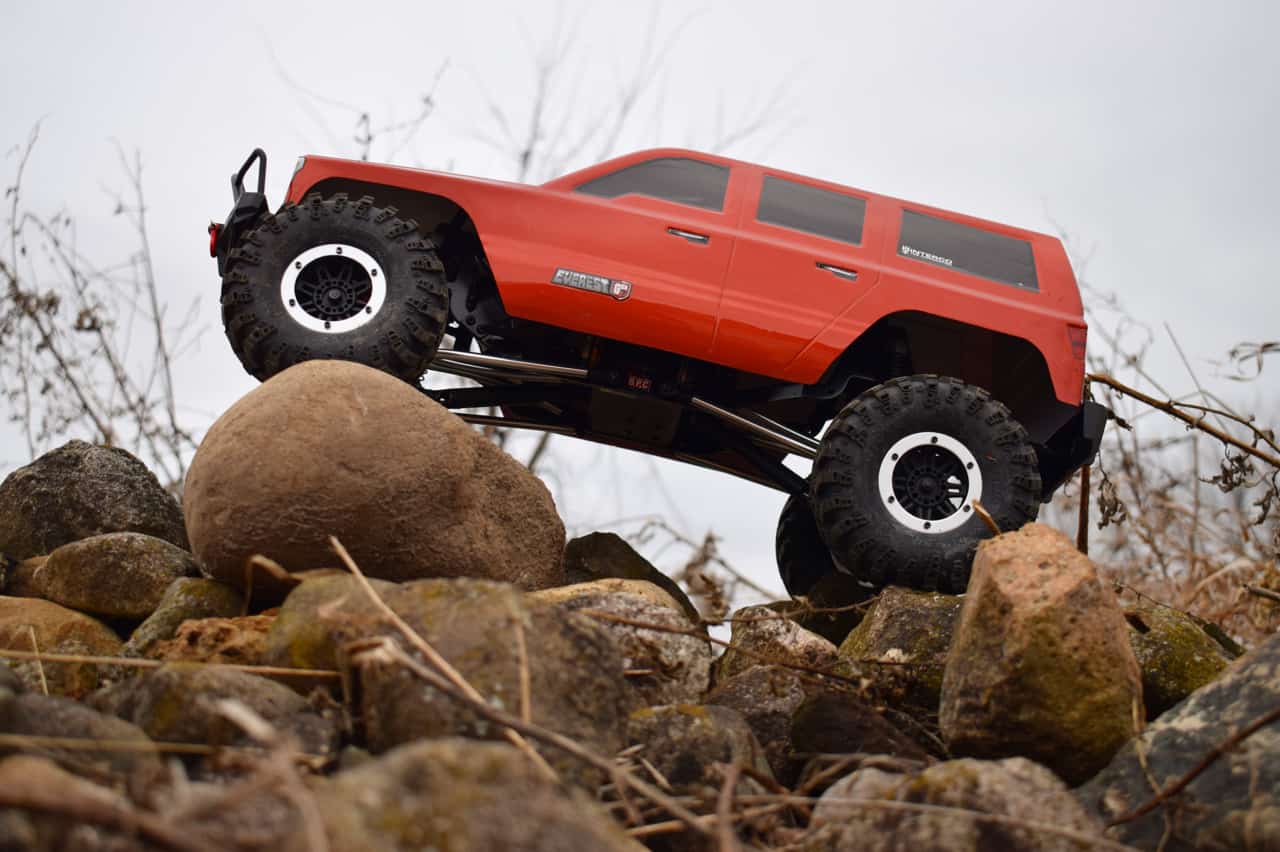 The Model:
What's Included:
1 Redcat Racing Everest GEN7 Sport 1/10-scale R/C Trail Rig

1 7.2V, 2000 mah Hexfly NiMh battery

1 2-channel transmitter

1 Instruction manual

1 Decal sheet
Unboxing the Redcat Racing Everest GEN7 Sport
The Body
Redcat Racing's body designs have largely been their own creation. While they have had a few one-off licensed models in the past, the bulk of their lineup uses unlicensed bodies, which help keep costs down. The body of the Redcat Racing Everest GEN7 Sport looks aggressive and suits the overall appearance of the truck to a "T."
The thickness of the polycarbonate may seem thin in some areas (toward the bottom of the doors and fenders, for example). However, it is durable and has survived a few rollovers without any issue. The decal pack that's included with every GEN7 allows for quick and easy customization, letting you personalize the rig as soon as it's taken out of the box.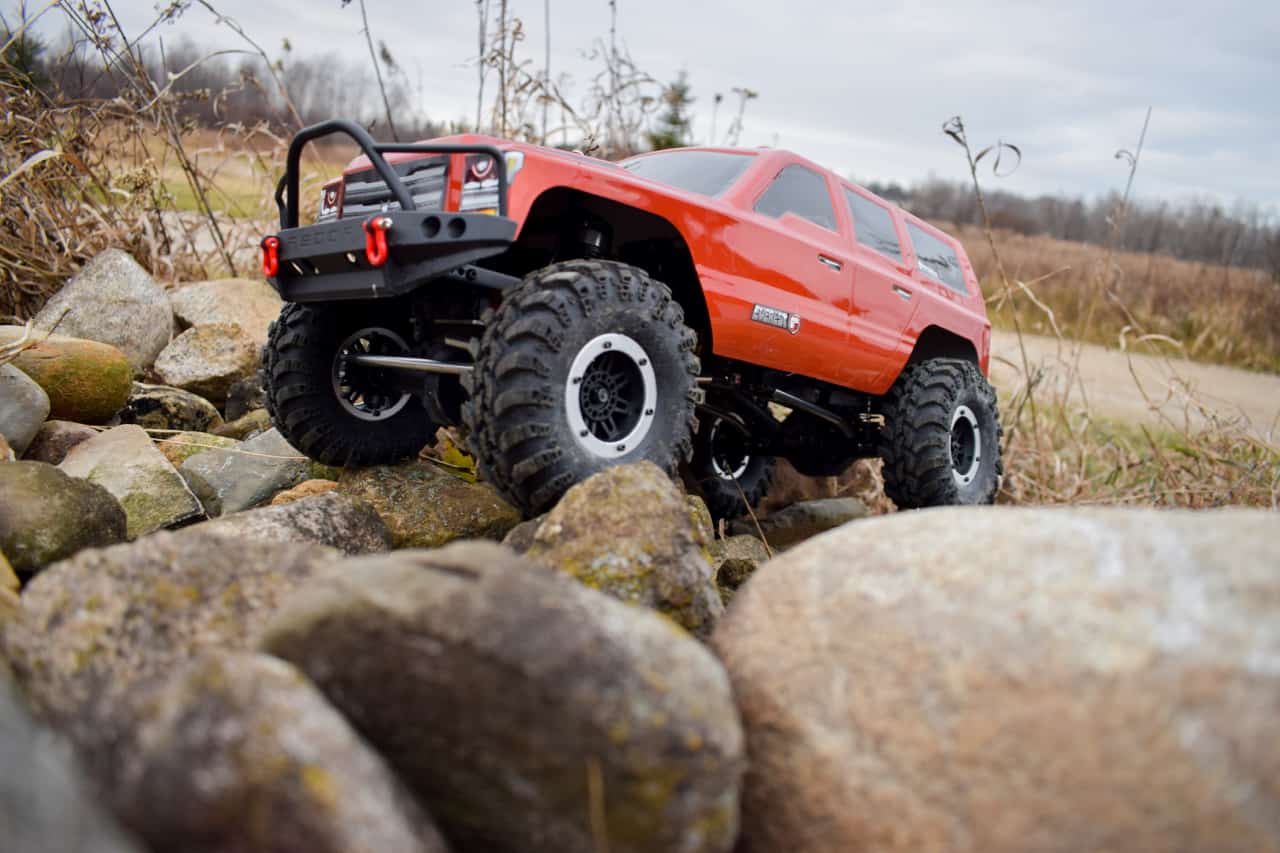 The Everest GEN7 Sport lacks the scale accessories and body details of the Pro. However, there are ways to add details and accents to this rig without much cost.
The Chassis
Whether you're on the trail, the rocks, or somewhere in-between, you want to have a rig with a solid base. The Everest GEN7 brought in BP Custom Chassis to design the foundation for both their Everest GEN7 Sport and Pro models. While other 1/10-scale R/C crawlers and scale rigs use a c-channel frame rail, Redcat Racing's entry uses a flat, relatively-thin rail.
Don't let the thickness of the material fool you; this chassis is firm. Picking the truck up, you'll immediately feel how solid it is, which gives an instant feeling of satisfaction. It's hard to describe, but you'll know it when you experience it.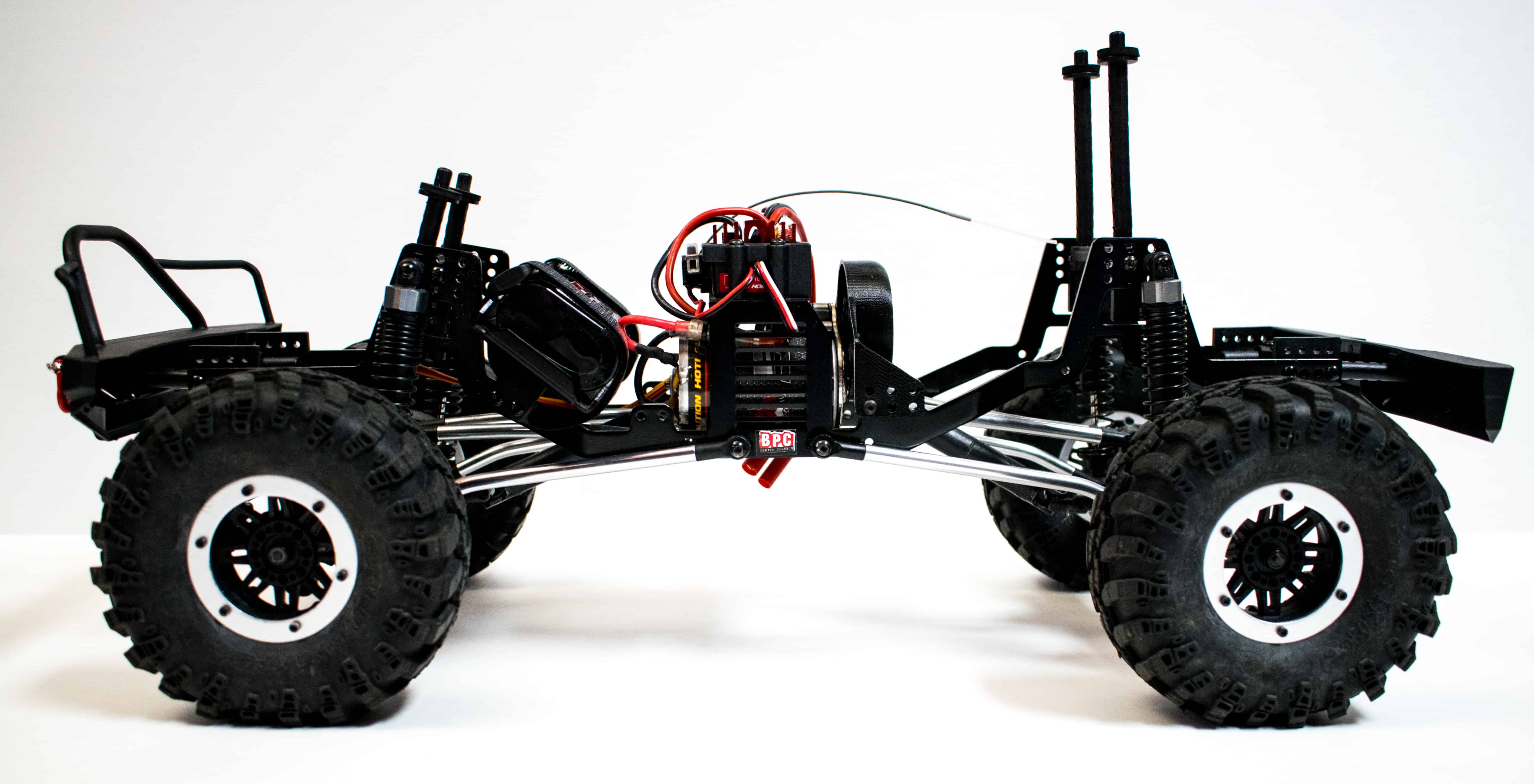 Sprouting from the base chassis are four oil-filled shocks, plastic-bodied and aluminum-capped. The shocks are adjustable by way of adding or removing rings in-between the top cap and the spring. The springs themselves are hefty but not too stiff.
Working in tandem with the shocks are four aluminum lower suspension links. Each link has a slight bend, three-quarters of the length, just before it mounts to the axle. This kink allows for extra ground clearance for both trail driving and taking on obstacles. While some ready-to-run (RTR) models utilize plastic (or nylon) suspension links and components, it's nice to see aluminum parts offered right off the bat.
The only wrinkle that I've found in the Everest GEN7 design centers around the steering knuckles. There is a slight "knub" of material that prevents what I feel is a full range of turning. Looking closely, I understand why these "knubs" exist, as they keep the steering linkage from making contact with the front of the axle/differential "pumpkin." That said, I feel that this hinders turning performance which could lead to frustration while on the trail.
The Motor and ESC
As brushed motors go, the included 550-size power plant in the Everest GEN7 Sport (and Pro) does a great job out of the box. Offering plenty of torque and decent top-end speed, it provided the power needed to conquer the many obstacles that were put in front of it.

Similar to the chassis, the electronic speed control (ESC) is an outsourced design. Featuring a Hexfly (by Hobbywing) waterproof setup, this rig is compatible with a range of battery options, including NiMh and LiPo (7.4V and 11.1V).
The Tires and Wheels
Between the chassis and the tires, I'm not sure which is my favorite aspect of this rig. Using officially-licensed, 1.9" Interco Super Swampers mounted to beadlock wheels, this rig has been able to handle whatever I've put in front of it. From suburban terrain to local parks and trails to a pile of loose, uneven rocks, the Everest GEN7 clawed its way up and over everything in its path.

While the stock tires and wheels perform exceptionally well, they also look great. The black multi-spoke plastic wheels are accented (and sandwiched) by two silver steel beadlock rings. I've had thoughts of swapping these wheels out for something new. However, the stock appearance has stuck on me.
The Controller
If you run a variety of RTR radio-controlled vehicles, you'll soon discover that a tribble-like infestation of 2.4GHz controllers has taken over your workbench. Although you'll find the same adjustments and setting controls on a majority of the offerings, there is one area where all controllers vary. Comfort.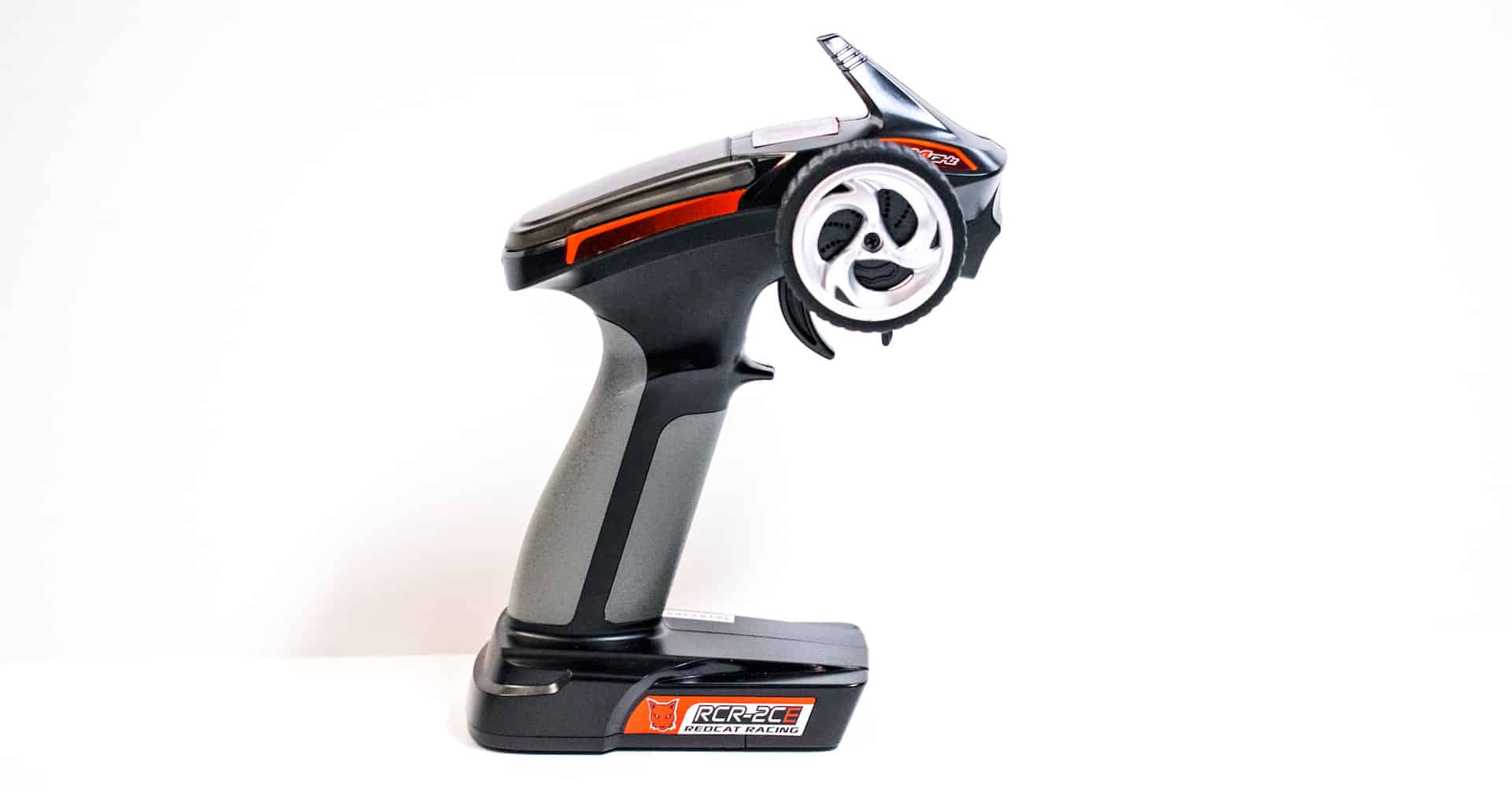 I've long held the thought that the controller is the most important piece of R/C gear, simply because it's your only physical connection to the vehicle. If the ergonomics of your controller don't mesh with your personal style, then your overall experience is going to suffer. Thankfully, I've come across more well-designed controllers than not, and the Redcat Racing RCR-2CE keeps that tradition going.
The controller handle feels nice while holding it and the steering wheel provides plenty of grip and almost no feeling of slippage. As far as on-the-fly adjustments go, you can fine-tune the steering and throttle trim, along with the steering dual rate, all from easily accessible knobs. The steering and throttle direction can also be adjusted from "normal" to "reverse", depending on your personal preference.
Out and About with the Redcat Racing Everest GEN7 Sport
Taking this rig into the outdoors has been a treat. Starting off at a local park, I explored some hills, trails, and a few paved surfaces, all to get an understanding of how this rig would handle. From there, the challenges increased, including this "run on rocks."
With the rock climb testing the performance capabilities of this truck, a fun outing with another Redcat Racing rig (the RS10 Rockslide) proved to be an excellent test of durability. After everything was said and done, the Everest GEN7 Sport came away with only one missing body clip.
Is the Redcat Racing Everest GEN7 Sport the Right R/C Crawler for You?
This 1/10-scale radio-controlled truck appeals to me on a variety of levels. Above all, the performance is impressive. Personally, I feel that it's spot-on with that of my Axial SCX10 Classic, a vehicle that costs significantly more than the Everest GEN7 Sport. Setting price aside for a moment, the level of fun that I've had with this rig has exceeded my expectations. I've found it to be capable, durable, and simply a joy to drive.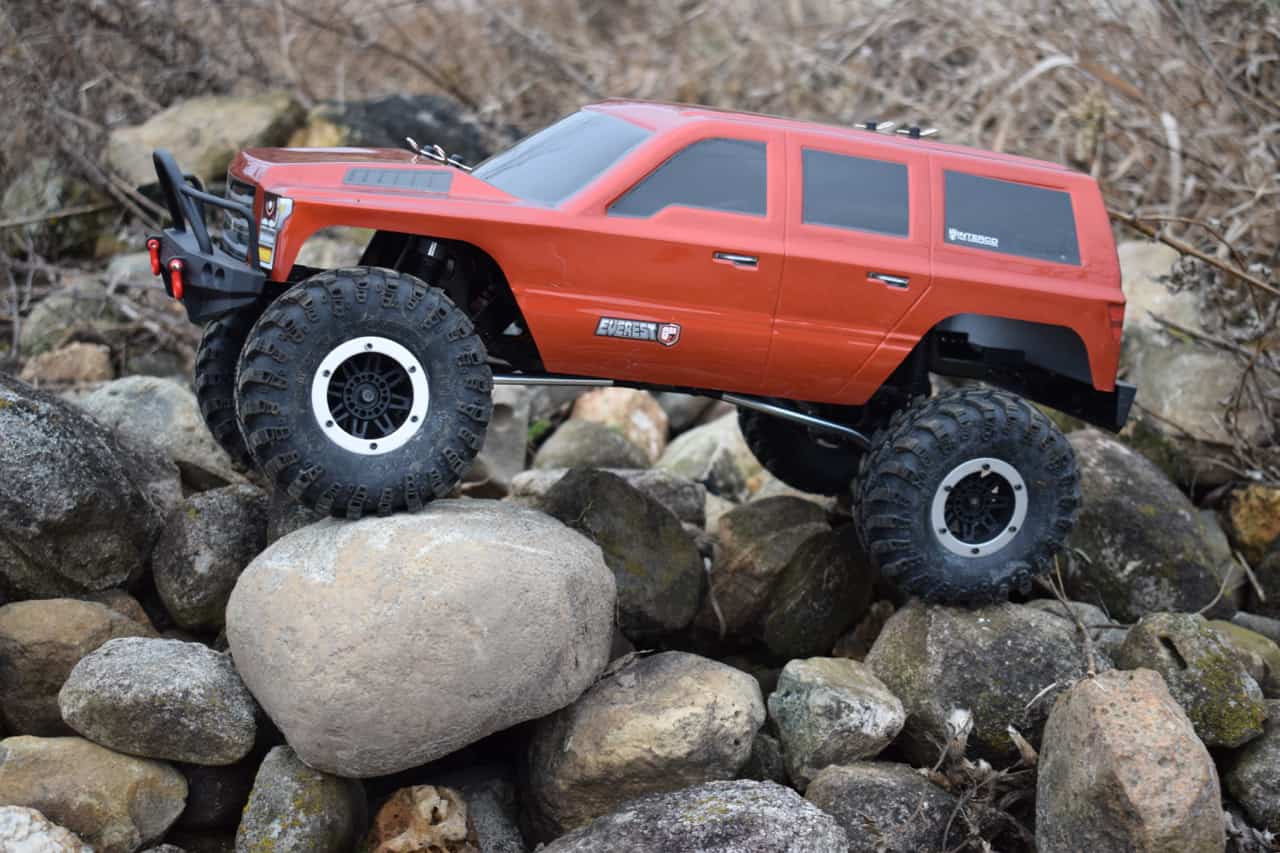 No matter the terrain, flat, hilly, rocky, or a combination of the above, it has performed at an incredibly high level. While the steering knuckle "knubs" are an annoyance, they can easily be removed and the stock steering linkage replaced. The Everest GEN7 Sport is a solid starting point for anyone who's interested in exploring R/C crawlers and scalers. Whether you're new to the hobby, or a longtime participant, this rig is fun out of the box and provides plenty of room to grow and upgrade, making it a machine that you can transform into your own personal masterpiece.
Factoring in price, at $199.99, you'd have to look far and wide to find an R/C model that's as capable as this, at such a relatively low cost.
Where to Purchase the Redcat Racing Everest GEN7 Sport