Fresh off my overview and review of New Bright's Trak Attak, a fun, toy-grade radio-controlled "buggy", New Bright was kind enough to provide another vehicle for my reviewing pleasure. While the RC Pro Warrior, a 1/12-scale buggy, is geared toward younger R/C enthusiasts, it also introduces them to features and vehicle characteristics that are found on hobby-grade machines.
Sharing aspects such as a removable polycarbonate body shell and 2.4GHz radio, this isn't your typical radio-controlled toy. New Bright and other brands that you'll find in the toy aisles of your local stores have been raising their game in recent years, narrowing the gap between toy-grade and entry-level, hobby-grade machines.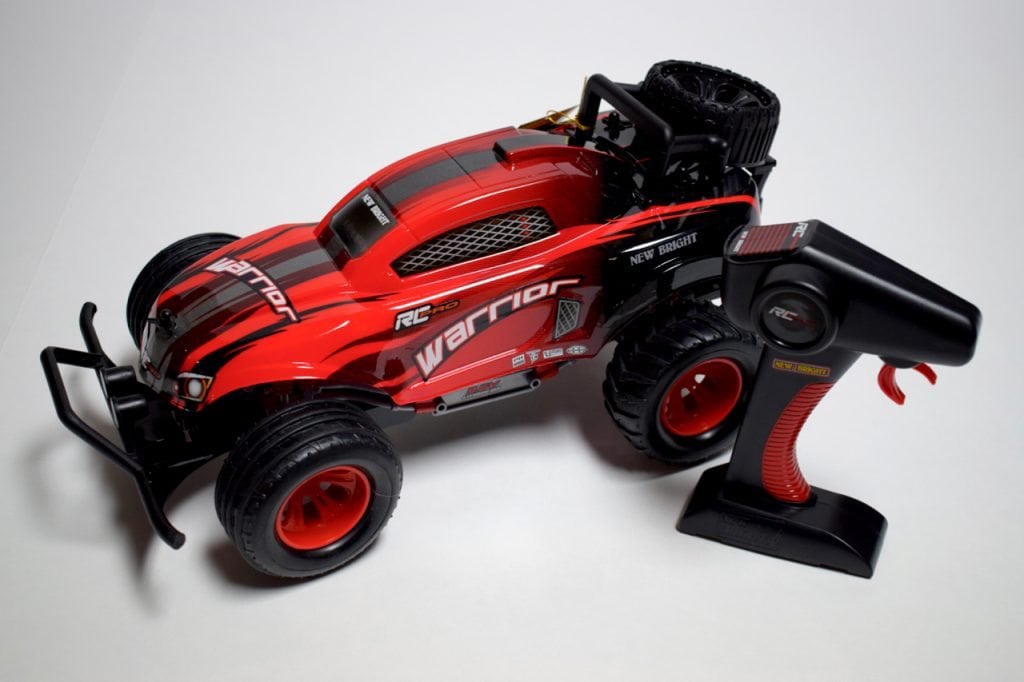 What's Included
1 RC Pro Warrior vehicle

1 2.4GHz controller/transmitter

1 9.6V Li-Ion battery (vehicle)

1 9.6V Li-Ion wall charger

2 AAA batteries (controller/transmitter)

3 Replacement body clips

1 Instruction manual
Unboxing the New Bright RC Pro Warrior
First Impressions of the New Bright RC Pro Warrior
The Body
The RC Pro Warrior uses a polycarbonate body that is both lightweight and durable. While my "test drivers" and I have yet to perform a proper test drive of this vehicle, they did manage to drive it into a number of pieces of furniture right off the bat.
Outside of the durability, the RC Pro Warrior looks great. The aggressive body design and graphics suit each other well and it is a very eye-catching vehicle.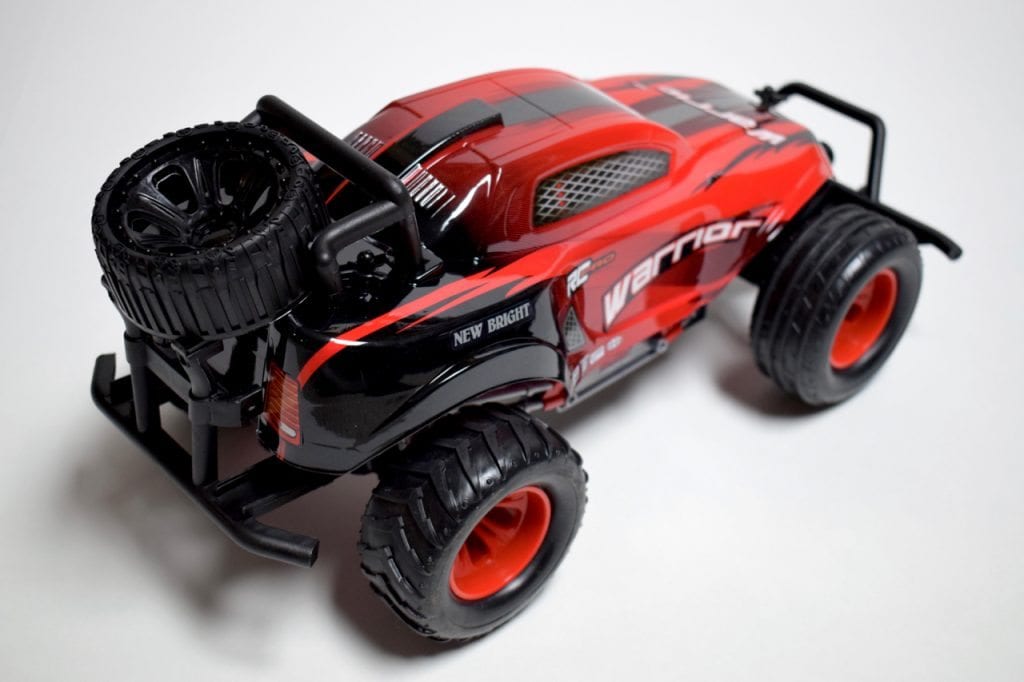 The Chassis
Underneath the polycarbonate body is a no-frills chassis. There are no functioning mechanical suspension components on this model, although there are some molded plastic visual features that give the opposite impression. The lack of suspension means this vehicle should probably steer clear of extreme jumps and airborne activities, however the overall chassis flex should allow for some light "bashing" and mayhem.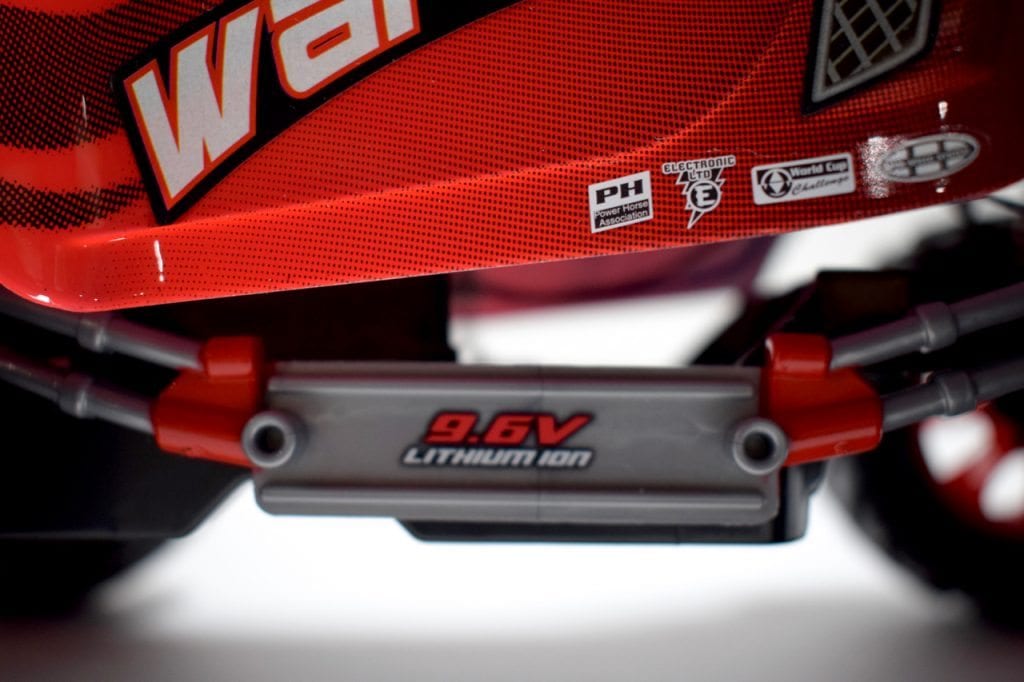 The Controller
While not designed for adult-sized hands, the controller for the RC Warrior Pro feels comfortable when holding it and is extremely lightweight. There isn't much travel on the steering knob/wheel and the physical endpoint doesn't provide a solid "stop" reaction. I've found this can make knowing how much further to turn the knob a bit confusing.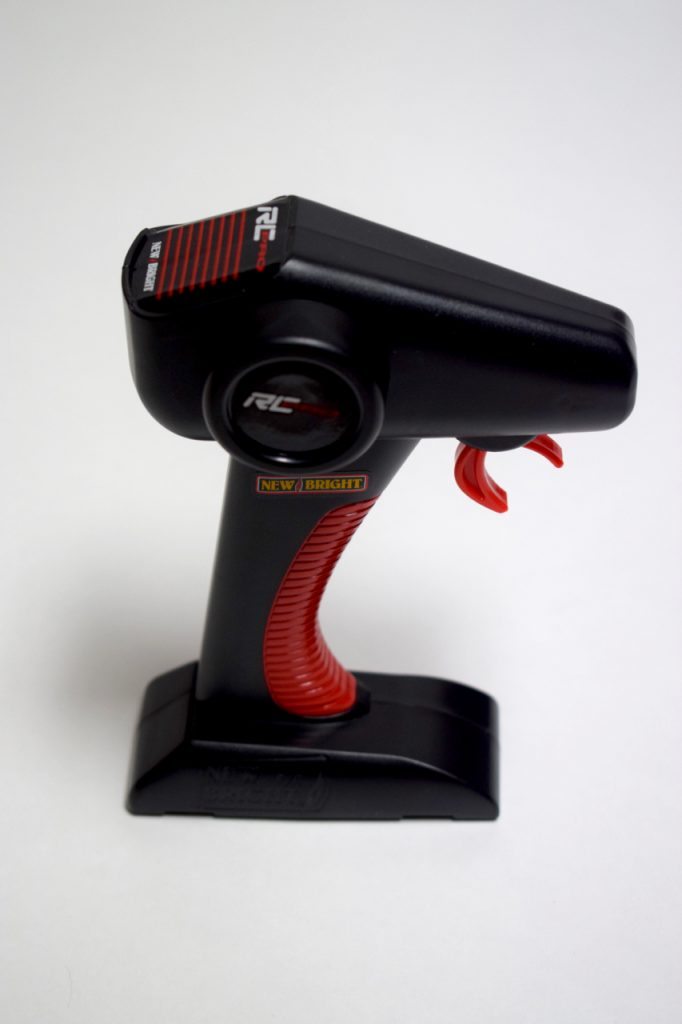 Handling and Performance
Without having performed a full battery run on this vehicle, I can't speak to the overall performance, however, the 9.6V Lithium Ion battery does a decent job providing this machine with power during our quick-drive tests that we've completed. While it shows decent top-end speed, getting up to speed takes a little while longer than with the previously reviewed New Bright Trak Attak. Whether this is due to the 12.8V battery that provided power for that model or the twin-motor setup that it featured, there is a noticeable torque/launch difference between these two machines.
An Entry-Level, Budget Buggy
The great thing about toy-grade R/C vehicles is, ultimately, the cost. You're not spending an exorbitant amount of money on a vehicle. While the performance doesn't always match up to expectations, you can still manage to have a great time with these vehicles, where fun is the name of the game.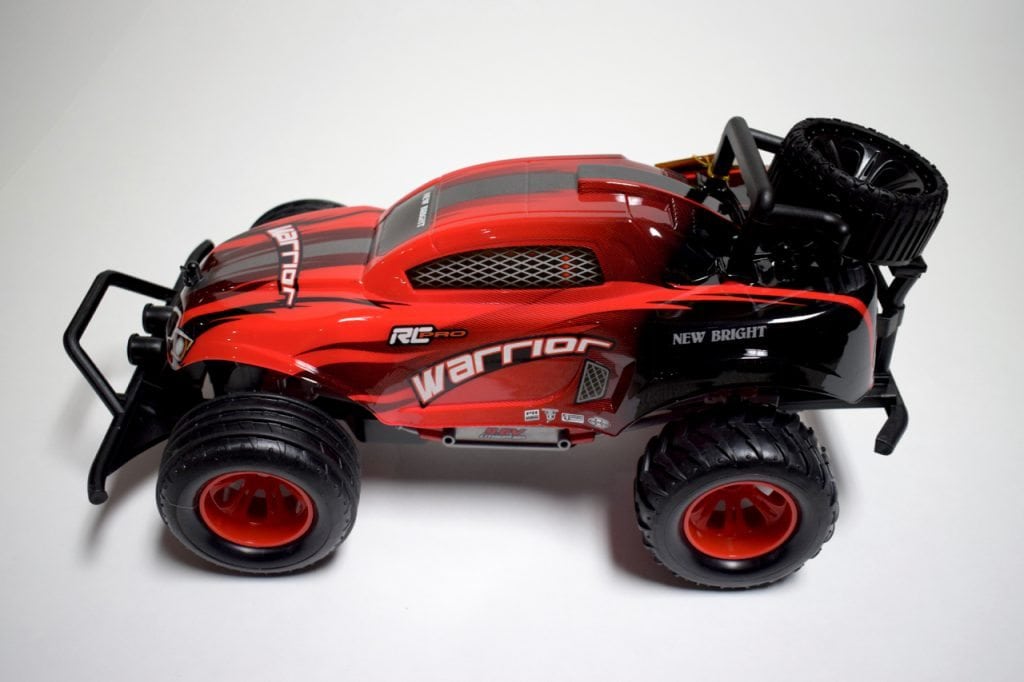 With the New Bright RC Pro Warrior, you get an aggressively styled radio-controlled buggy that features elements that are typically found on more-expensive models, whether they are hobby-grade or not. Priced at $39.97 (at Walmart and Walmart.com), this model looks to be a fun, low-cost option that can help "test the waters" before making a big leap into the world of R/C. It's also a budget-friendly way to pick up a vehicle that should be able to withstand some abuse while also providing a great time.
Learn more about the RC Pro Warrior at newbright.com.