An entry-level R/C trail truck kit that packs in everything but the kitchen sink.
I've been on the lookout for new projects and avenues to explore within the hobby, with one specific model re-appearing time-after-time. The popular ECX Barrage 1.9 trail truck hit the hobby scene late last year and since then, it has hopped into and out of my shopping cart on numerous occasions. As strong as the pull may be for this vehicle, I've never been able to pull the trigger on purchasing one. That soon may change.
After the recent release of the, the Barrage Doomsday, still another branch has sprouted on this growing trail truck tree. The latest Barrage model is a build-to-drive kit, bringing with it everything you'll need to head out on the trail.
While most radio-controlled model kits will get you 80-90% to completion, this new Barrage kit takes a page from the ECX Amp kit by including (in addition to the vehicle itself) the radio, electronic components, battery, and charger. All-in-all, it's an impressive package for $179.99.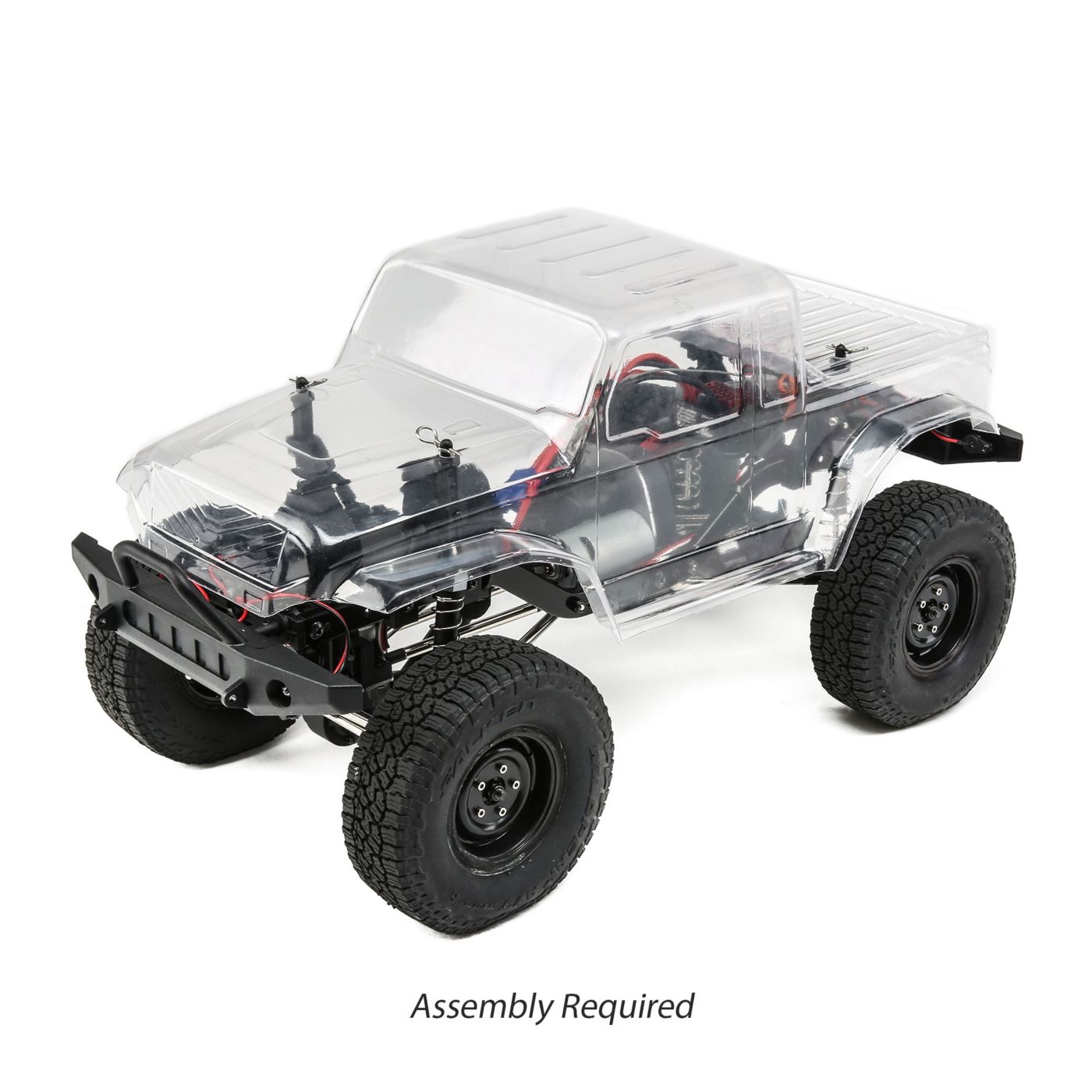 While the ready-to-run and kit models look the same, there are some differences underneath the kit version's clear polycarbonate skin. For starters, a higher-torque, higher-power 390-size brushed motor powers this 1/12-scale machine. Aluminum chassis components, such as the servo mount and steering links, provide improved performance and longer axles and axle housings provide a wide stance without the need for extended wheel hubs.
Another unique aspect is the shock placement, with the kit version gaining outward-mounted shocks for an improved scale look and performance benefits.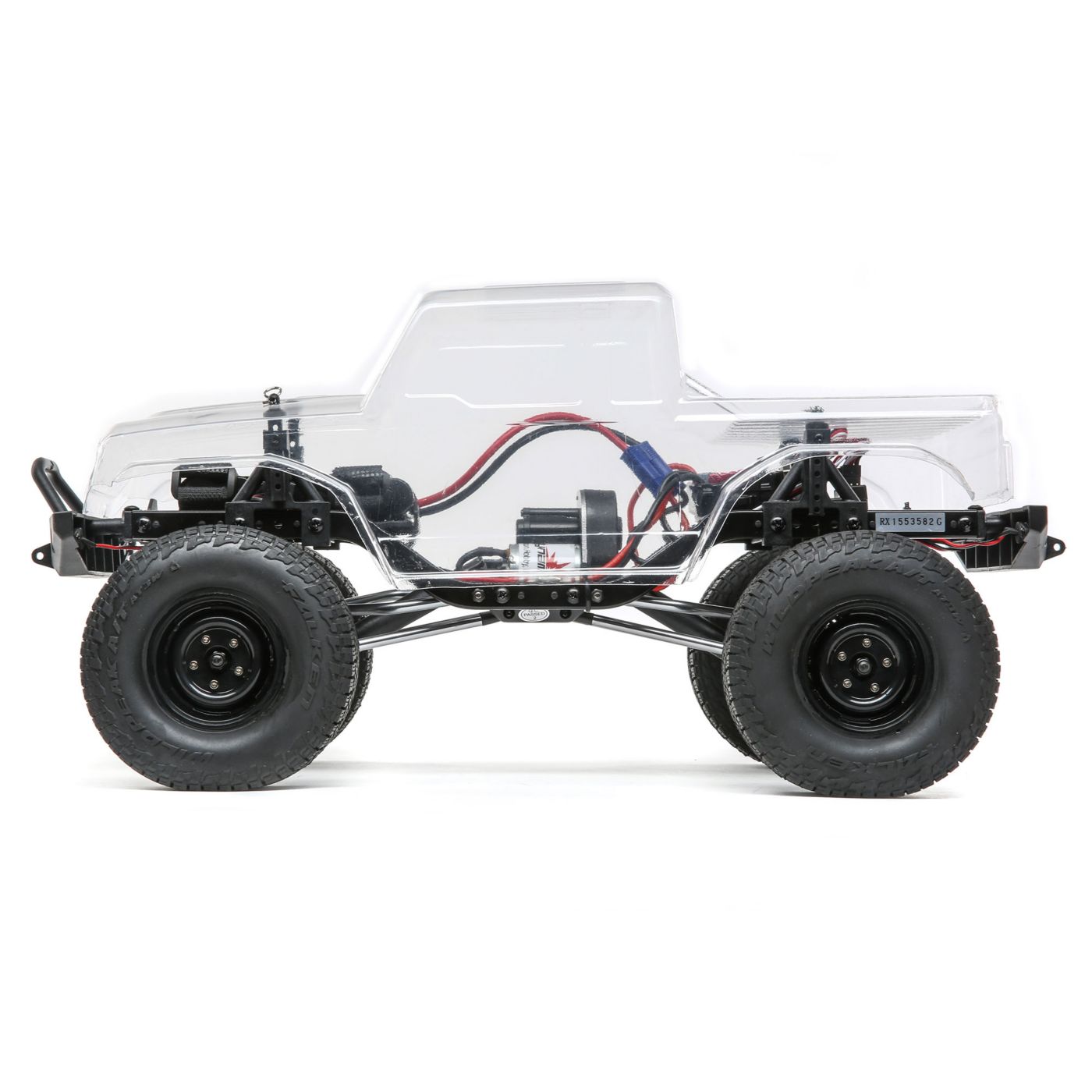 ECX Barrage Kit Specs:
Type: Rock Crawler

Scale: 1/12 (1.9 Class)

Length: 16.4in (417mm)

Width: 7.7in (196mm)

Height: 8.5in (216mm)

Ground Clearance: 2.25in (57mm)

Wheelbase: 9.9in (252mm)

Weight: 2.8lb (1.3kg)

Chassis: Steel Ladder Frame

Suspension: Solid Axle 4-Link

Drivetrain: 4WD

Tire Type: Soft, Falken AT3W All Terrain

Motor: Brushed 390

Speed Control: Dynamite 60A Brushed

Radio: ECX 2.4GHz 2-Channel

Servos:Spektrum S602

Batteries: Dynamite 900mAh 6-cell NiMH

Charger: NiMH

Gear Pitch: 48

Wheel Size: 1.9in (49mm)

Diameter, 1.1in (27mm) Width

Kit/RTR: Build-To-Drive Kit

Shock Type: 3 in (75mm) plastic body

Body: Unpainted

Ball Bearings: Complete
The ECX Barrage kit is priced slightly lower than the RTR version, but keep in mind that you'll need to supply paint for the body before you can complete your build. At any rate, this is an attractive option for entry-level trail enthusiasts, longtime hobbyists, or anyone who's looking to add a fun and durable rig to their lineup.
Learn more about the ECX Barrage Kit at ecxrc.com.
Image credit: ECX