If you haven't heard, scale, trail rigs are quite a popular form of R/C vehicle. That popularity has grown immensely over the past few years, and it doesn't appear to be slowing down. Not one bit.
With new vehicles being teased by brands such as Traxxas, Redcat Racing and HPI, the landscape of "scale", rugged off-road vehicles is shaping up to become a buyer's market. Adding to that mix of machines is a ready-to-run (RTR) 1/10 trail rig from Caster Racing.
The CJ10-16-RTR 1/10 Jeep Rock Rocket features a body-style (available in red or gray) that mixes the Jeep Wrangler with other off-road exploration vehicles. It includes a rollbar-mounted LED light bar (with LED lights), front and rear bumpers, towing shackles and other small visual details.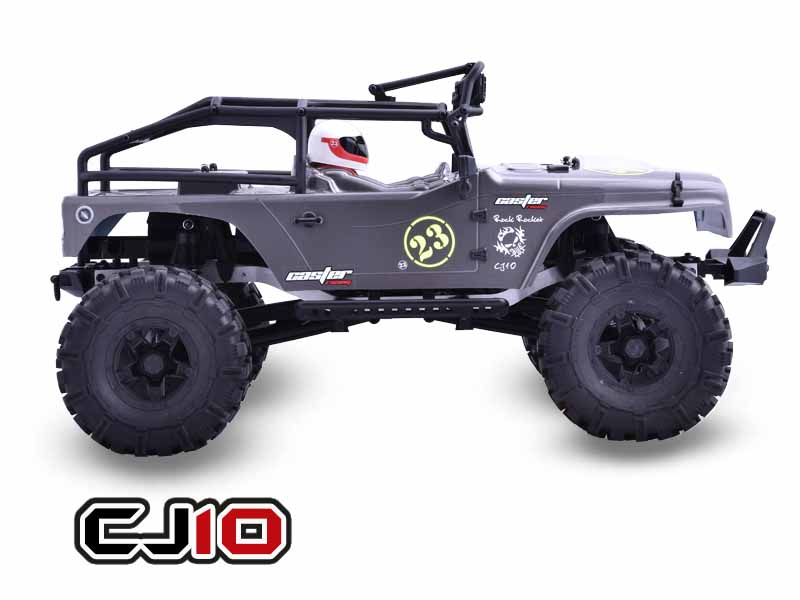 Looking underneath the body, the CJ10-16-RTR utilizes a ladder-frame chassis design that's become quite commonplace on other radio-controlled 1/10 and 1/12-scale trail trucks. The chassis and component layout looks very similar to that of the Axial SCX10, featuring a rear-mounted battery tray, rock sliders, mid-mount motor/transmission, and front-mounted electronics.
Four threaded shocks (with adjustment rings) give stablility to this rock runner and soft, rubber tires help provide the grip that it needs to get over and around obstacles.
The electronic and mechanical components that make this machine go appear to be solid. A Hobbywing 40A electronic speed control (ESC, waterproof) and a brushed, 540-size motor provide the power to take the CJ10-RTR-16 Jeep Rock Rocket on the trail and to points beyond.
Caster Racing CJ10-16-RTR Jeep Rock Rocket Specifications
Width 250mm
Length 500mm
Height 255mm (without body)
WheelBase 315mm
Radio 2.4G Radio with EPA
Motor 540 brushed motor
ESC Hobbywing Waterproof 40A Brushed ESC
Battery 1700MAH Hard Case Li-ion Battery
Servo 9kg Metal Gear Servo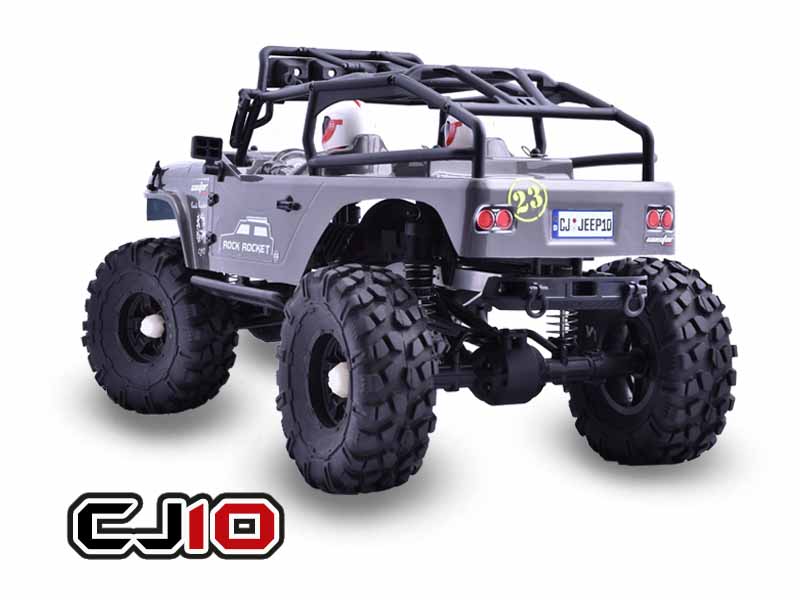 The price for the CJ10-16-RTR appears to be between $328.98 and $390.00, depending where you look. Given the spec-list, it should be a competitive option if you're looking for a unique, radio-controlled "scaler".
Learn more about the Caster Racing CJ10-16-RTR Jeep Rock Rocket at casterracing.com.
Image credit: Caster Racing