Well, I certainly didn't see this coming. Lately, R/C brands have been giving small hints that new models would be released, both through clever teases as well as flat-out admissions. Not Axial. No, for their latest off-road release, they chose to drop a video premiere in the wee hours of the morning, showcasing their latest addition to their storied SCX10 lineup.
While I've been wooed by other brands in recent years, my first true R/C "scaler" was an SCX10. It opened my eyes to the joys of an area of the hobby that I wasn't sure I'd appreciate…and I still enjoy running that rig to this day. However, time passes, new models come onto the scene, and others get left behind. While Axial has evolved the SCX10 through the years with the SCX10 II, it's been a while since they've done a true refresh to this platform. Until now.
Their latest release, the SCX10 III Jeep Wrangler Rubicon JLU Kit, updates this 1/10-scale trail machine with a number of visual and performance-focused enhancements. Inside and out, this new kit should offer up plenty of enjoyment for R/C hobbyists and trail-running fanatics.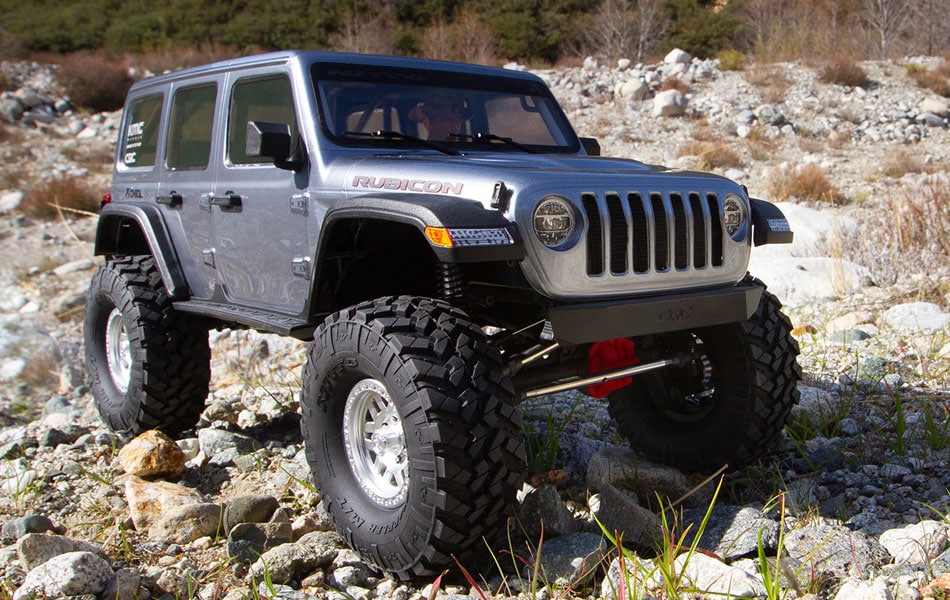 Scale Details
While I don't typically break a new model release down into sections, there's quite a bit of detail to unpack in the SCX10 III, beginning with the visual elements that make up this model. Before I get started, I know this model comes with a Jeep Wrangler Rubicon body.
No matter what your feelings on this body style might be, you have to admit that this recreation is quite impressive. In fact, I actually thought I was watching a 1:1 Jeep adventure video for a few moments.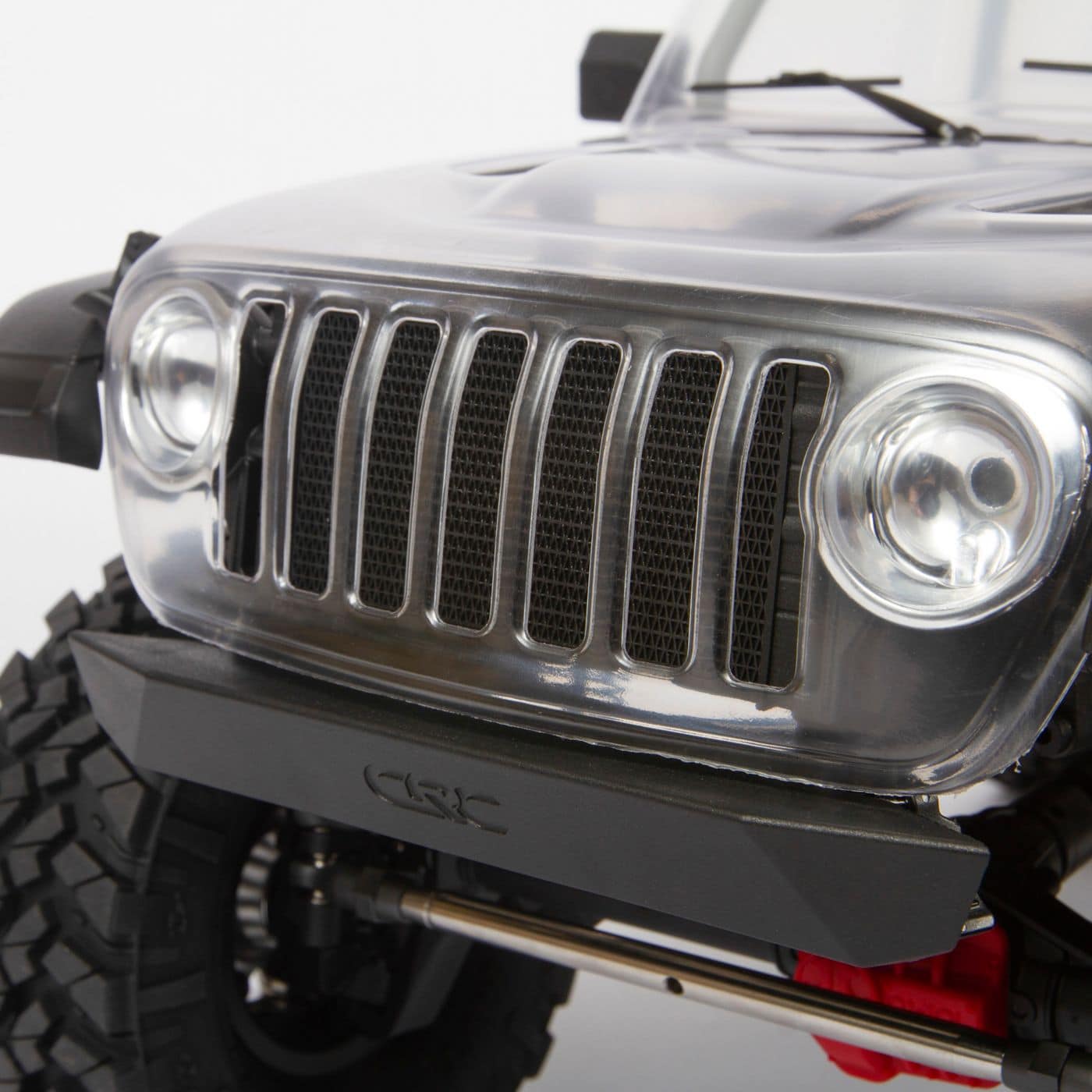 The clear polycarbonate body offers plenty of details baked into it, from the grille and headlight area to the rear end and taillights. In between (and on top of) those molded details, this kit provides an assortment of accessories to help you further the scale realism of your build.
Windshield wipers, door handles, hood latches, and a license plate frame are just a few of the bits that this kit includes. And the detail doesn't stop with the exterior. The interior of the SCX10 III is also tricked-out with visual goodies, including a detailed interior tray (featuring a molded dashboard, steering wheel, and seats) and a driver figure with an assortment of headwear.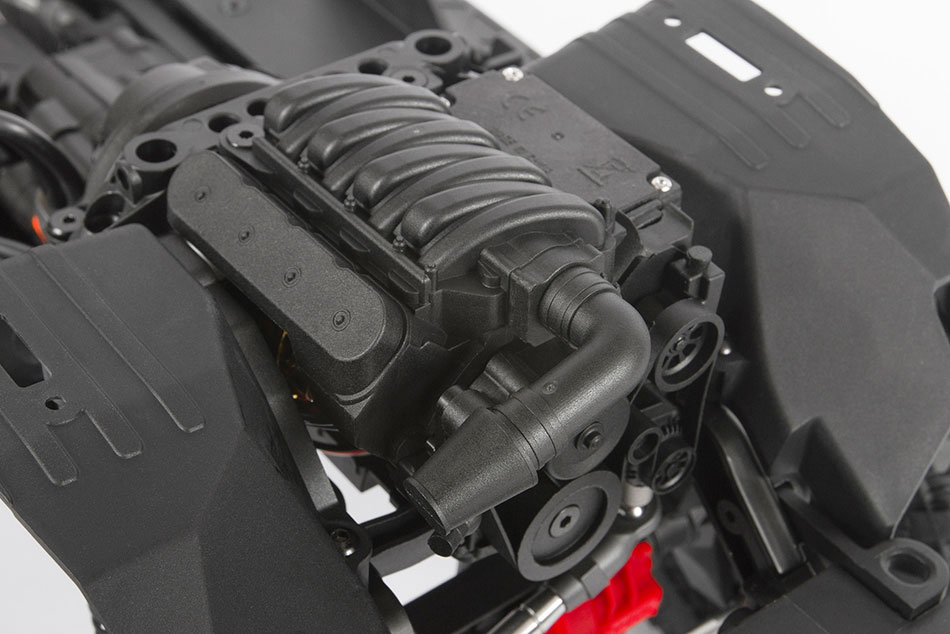 A plastic, tube-frame cage helps keep your driver protected, and also provides another layer of realism for your build. Speaking of plastic, this kit also provides a scale motor enclosure to help keep the realistic vibes flowing, even when the body is off.
Chassis Changes
More than just a pretty face, the Axial SCX10 III packs in several updates, including portal axles, an optional dig function, multiple battery-mounting locations, and a chassis with inner fenders and side trays.
While some of these enhancements are performance-based, I'm happy to see Axial add inner fenders and side trays to the SCX10 III chassis. With many popular models featuring these items, it's a great way to keep up with the Joneses per se.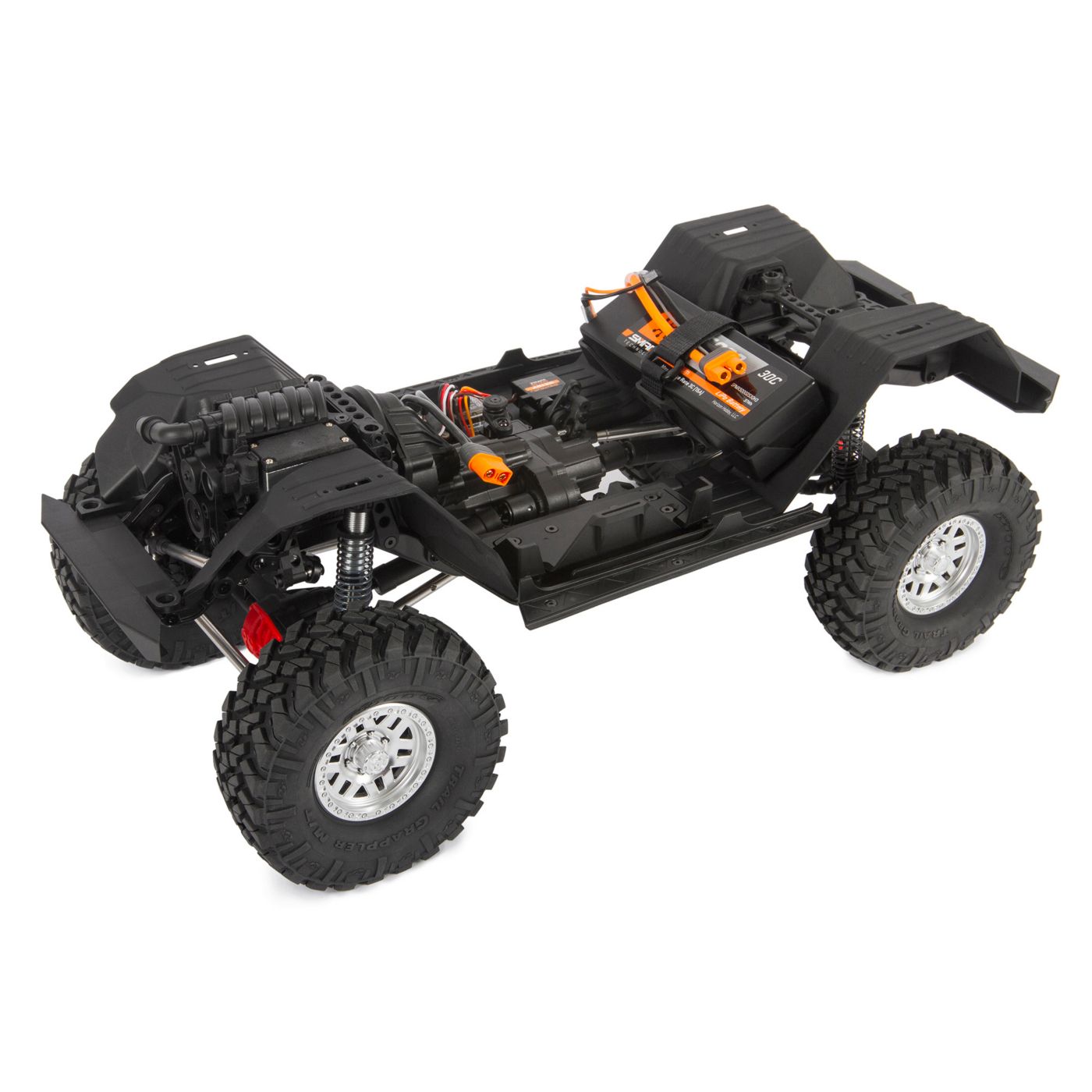 The other major performance features of this model are the portal axles and optional dig function. Maintaining a higher amount of ground clearance compared to traditional, straight-axle rigs, the SCX10 III seems to borrow heavily from the Axial Capra…which isn't a bad thing.
Another item worth mentioning is the multiple battery mounts which this kit offers. With options for standard-size and "shorty" packs, you can situate your battery weight just about anywhere you'd like for maximum crawling performance.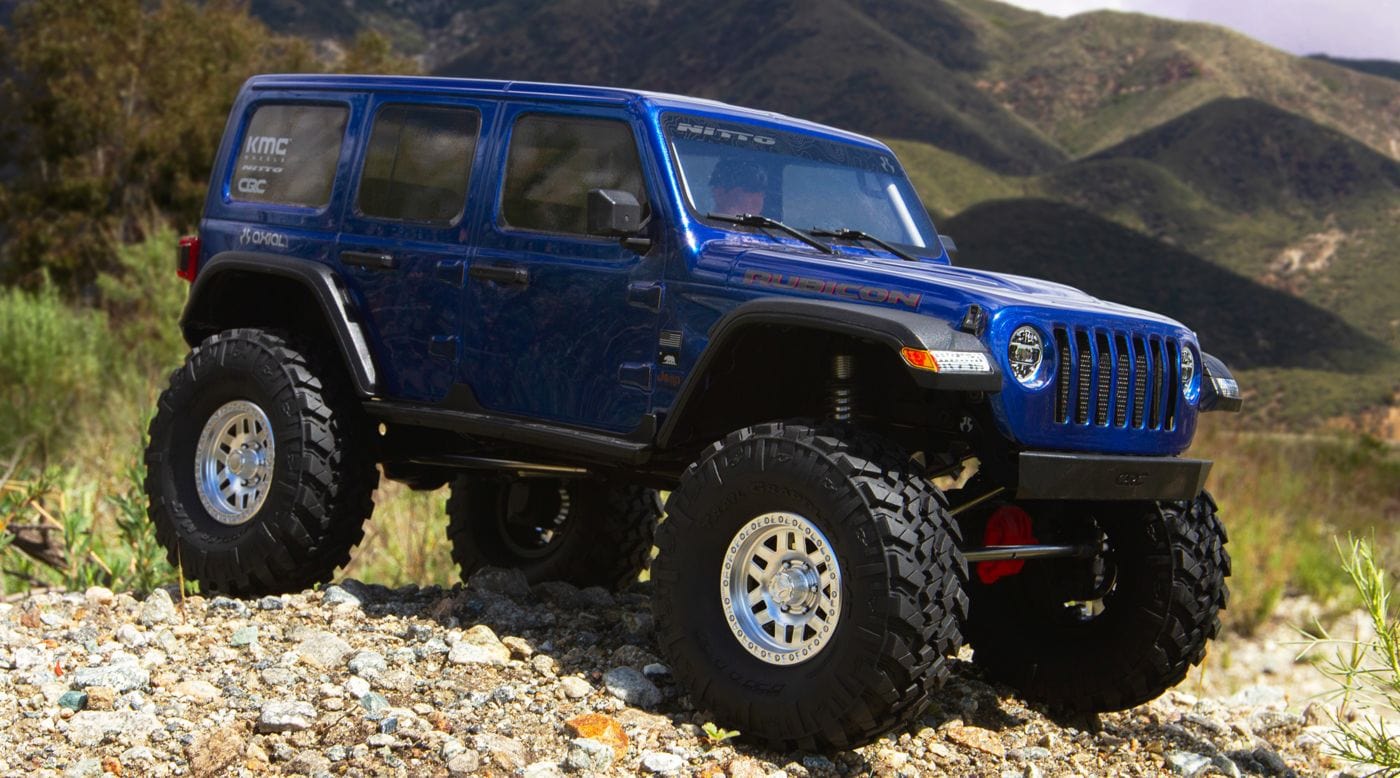 Axial SCX10 III Jeep Wrangler JLU Kit Specs:
Model type: Kit
Height: 9.5 in (241mm)
Length: 19.125 in (485mm)
Width: 9.25 in (234mm)
Wheelbase: 12.3 in (312mm)
Ground Clearance: 3 in (76.2mm)
Track: Front and Rear 8.9″ (226mm) distance from outer edges of tires measured side to side
Weight: 6.5 lbs (2.9kg)
Wheel Type: Injection-molded 3-piece beadlock 1.9 KMC Machete
Shock Type: Oil-filled coil-over spring
Body: Clear polycarbonate Jeep Wrangler Unlimited with detailed interior
Price: $369.99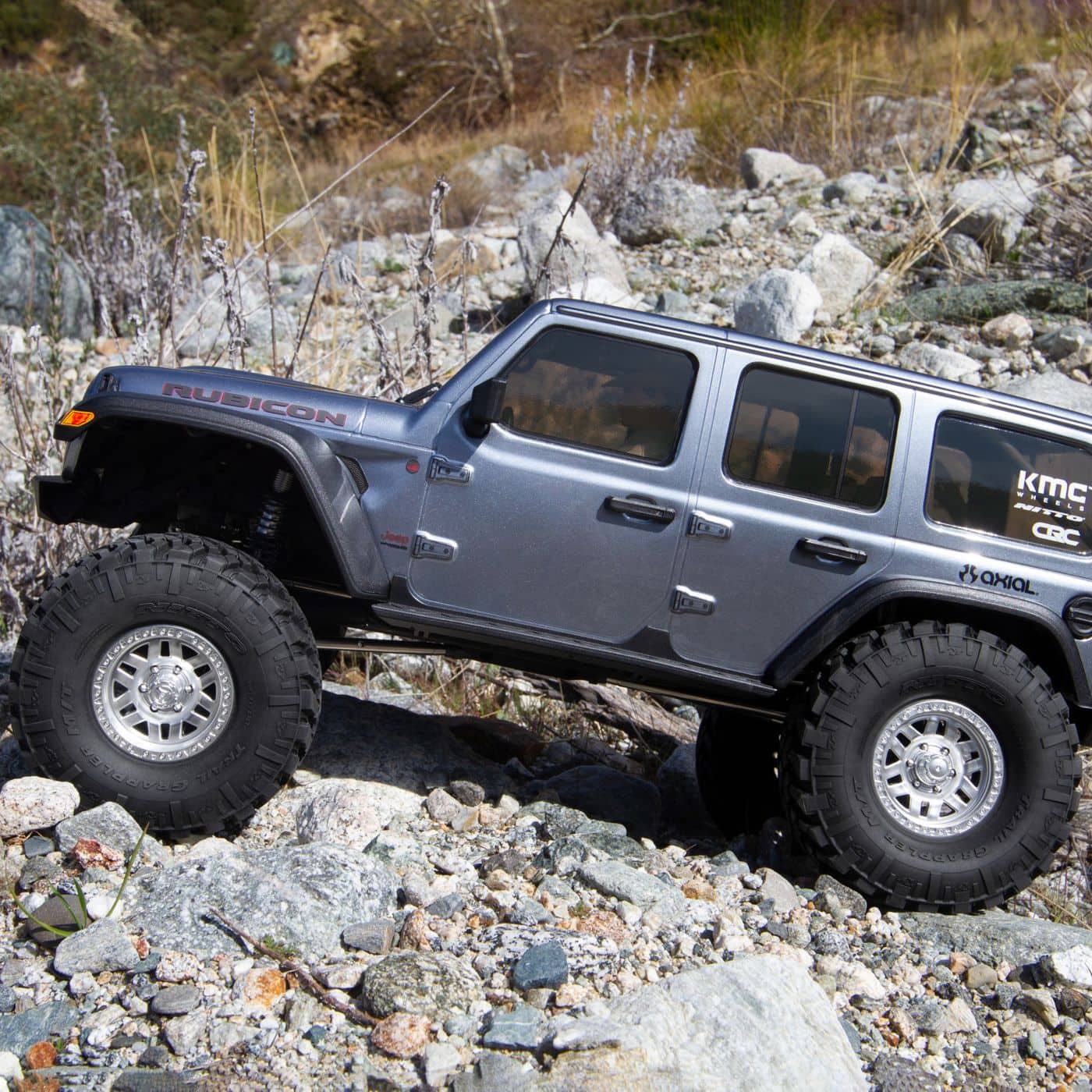 Alas, this is a kit, which means you'll need to bring some of your own items to the party. To complete this build, you'll need a radio system (transmitter and receiver, 4-channel, 2.4GHz), a brushed or brushless motor (540-size), an ESC, a steering servo, batteries, a battery charger, polycarbonate paint, and assembly tools.
Priced at $399.99 (or $369.99 at horizonhobby.com), the SCX10 III Jeep Wrangler Rubicon JLU Kit will be available through Axial, Horizon Hobbies, and their dealers. Visit axialracing.com to learn more about the latest addition to the SCX10 lineup.
Image credit: Axial