Reese Elementary School will play host to this small-scale R/C showdown.
Thumb RC and the ROVE program of Reese Elementary in Reese, MI have partnered for the upcoming Michigan Mini Off-Road Championship Series (MMORCS) presented by Redcat Racing.
Starting on November 5, 2016, this series will feature seven classes of racing on an indoor track located in the Reese Elementary School gymnasium.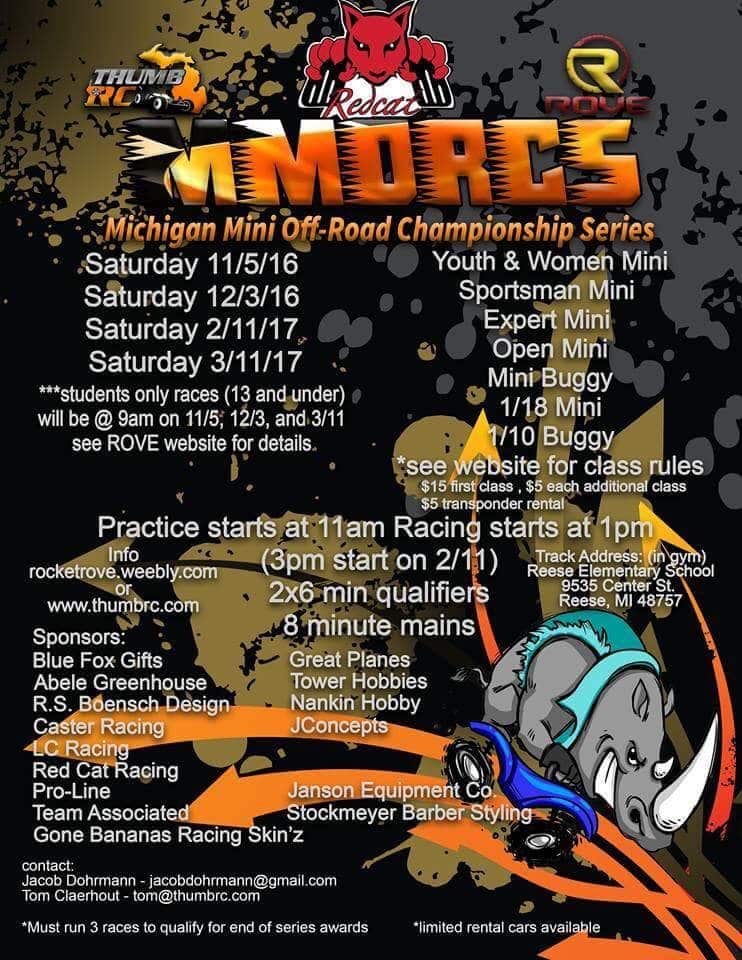 Because of the tie-in with the ROVE program, there are three student-only races for kids age 13 and under, starting at 9:00am on 11/5/16, 12/3/16, and 3/4/17. The public is invited to attend and participate in this overall series, which has a race day starting time of 11:00am (3:00pm starting time on 2/11/16).
On each race day, there will be two 6-minute qualifying sessions and one 8-minute main race for each class.
Speaking of the classes, the seven that are available allow for a wide array of vehicle types and skill levels.
2016/2017 MMORCS Racing Classes
Youth & Women Mini
Sportsman Mini
Expert Mini
Open Mini
Mini Buggy
1/18 Mini
1/10 Buggy
Full MMORCS 2016/2017 Schedule
Saturday, November 5, 2016
Saturday, December 3, 2016
Saturday, February 11, 2017
Saturday, March 4, 2017
Additional information on the 2016/2017 Michigan Mini Off-Road Championship Series can be found at thumbrc.com.
If you have questions about the classes, racing rules, or other aspects of the series, you can contact Jacob Dohrmann (ROVE/Reese Elementary) or Tom Claerhout (Thumb RC) for more details.