Max Speed Technology (MST) teased a new model a few months ago, signaling that they'd climb into the R/C monster truck ring with the likes of Traxxas, Axial, and Tekno RC. The cryptic teaser images which were posted on Facebook have given way to actual product photos, along with a model name.
The MTX-1 is the latest ready-to-run (RTR), off-road, radio-controlled truck from MST. Available in two motor configurations (brushed and brushless), this truck looks the part of a ground-pounding, car-crushing monster.
Atop the tube-frame chassis sits a "C-10" pickup truck body which, while not officially licensed, looks quite a bit like a Chevrolet model from the early '80s.
Underneath the skin of this truck, you'll find an assortment of features such as full bearings, impact-resistant shocks and steering knuckles, and a quick-release battery case. All of these components combine to create a fun and durable vehicle that's perfect for backyard bashing.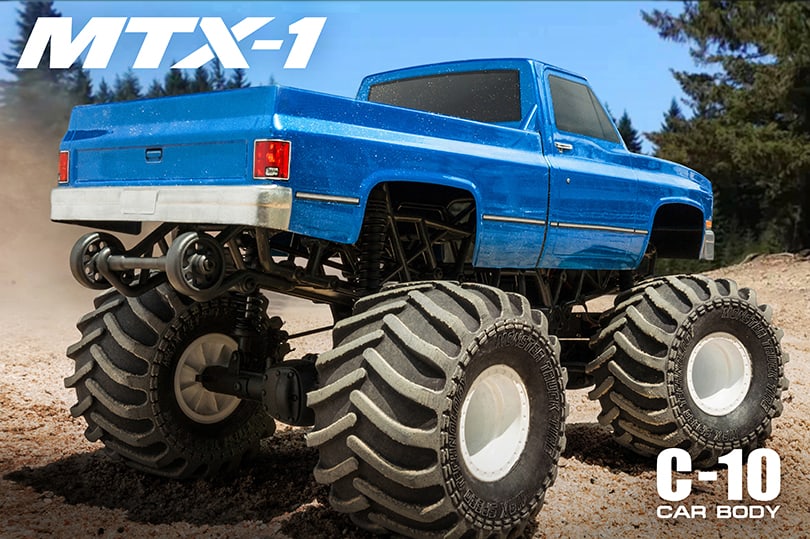 MST MTX-1 R/C Monster Truck Specs:
Length:  467mm
Width:  294mm
Height:  276mm
Wheelbase:  280mm
Ground Clearance:  66mm
Tires:  130 x 78mm
Motor:  30T, 540-size brushed or 3000KV brushless
Diff. Type:  Gear diff
Shocks:  Oil damper
The brushed MTX-1 carries a price of $289.99 while the brushless version is priced at $349.99. Learn more about this new model at rc-mst.com.
Image credit: Max Speed Technology