With the success of their first scale, trail rig growing every day, Vaterra is releasing another variation of their Ascender into the wild.  Focusing on Ford fans, the new 1972 Ford Bronco Ascender RTR is sure to hit all of the high notes that the original has, with a few minor differences.
Make, model, and body aside, the major difference between the Ford Bronco Ascender and the Chevy Blazer version is the wheelbase. Featuring a shorter, 10.95″ wheelbase, this new model has a noticeably shorter frame than the previous model.  With longer suspension links, you could customize this rig to match any body that you'd like, but this version is specific to the Ford Bronco's length.  Everything else that hobbyists have grown to love about the Vaterra Ascender remains intact.
Specifications
Length: 17.5 in (445mm)
Width: 9 in (229mm)
Height: 9 in (229mm)
Ground Clearance: 1.06 in (37mm) at Differentials
Wheelbase: 10.95 in (278mm)
Weight: 4 lbs (1.8kg)
Chassis: Steel Ladder Frame
Suspension: Multi-Link Solid Axle
Drivetrain: 4WD
Tire Type: 4.5 in (115mm) Licensed Super Swamper TSL SX
Motor: 540 Brushed
Gear Pitch: 48-Pitch
Wheel Size:

Diameter: 1.9 in (48mm)
Width: 1.1 in (27mm)

Shock Type: Oil Filled Threaded injection molded
Body: Painted 1972 Ford Bronco
Ball Bearings: Complete vehicle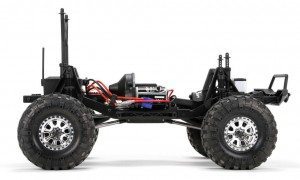 Priced at $399.99, this new addition to Vaterra's impressive lineup should give scale and trail fans another great platform to build off of.  Learn more about Vaterra's 1972 Ford Bronco Ascender at VaterraRC.com.
Image credit: Vaterra