Each day brings new advancements to our world and to the R/C hobby. While the vehicle models have seen feature improvements over the years, so to have the components needed to control them. That said, there's something to be said for simplicity.
To that end, Tactic has introduced two radios for surface and air use that are rooted in basic features and, as a bonus, won't destroy your hobby budget.
Tactic TTX200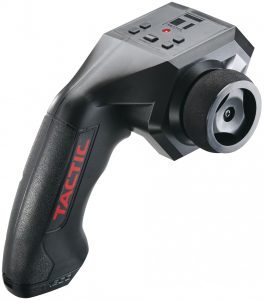 The first offering is the TTX200, a surface radio that I'm familiar with, as it's bundled with the Axial Yeti Jr. lineup of small-scale vehicles. As a two-channel, trigger-style radio, it provides basic functionality for controlling the fundamental functions of your radio-controlled car or truck.
This no-frills option is lightweight, offers a beefy grip and includes buttons for fine-tuning your vehicle's handling. Steering trim, throttle trim and steering end point adjustments can all be made from the toggles on the face of the TTX200.
The overall size of the transmitter is a bit smaller than what you'll find with other radios, making this option a good choice for smaller-scale vehicles, or even younger hobbyists. Included with this transmitter is a Tactic TR325 3-channel micro receiver.
Priced at $39.99, this controller is an economical option for adding a spare transmitter and receiver to your parts bag, or outfitting a new build with a much-needed controller.
Tactic TTX660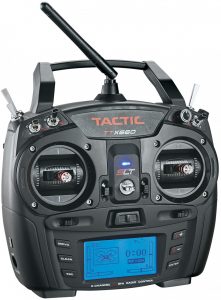 If your hobby endeavours take you to the sky, the Tactic TTX660 is an option for your flight needs. This 6-channel, twin-stick controller is intended for R/C plane, helicopter, and multirotor use.
The TTX660 includes a LCD display to help you visualize your adjustment settings and fine-tune the handling of your aircraft. With a 30-model memory, and multiple switches for tuning and assigning controls for flight control or FPV features, this transmitter looks to be a great option for newer pilots and seasoned pros alike.
Priced at $139.99, it's an option worth looking at if you're getting into radio-controlled flight and want to contain your costs.
Learn more about both of these R/C transmitter models at tacticrc.com.
Image credit: Tactic