Traxxas has let one of its unicorns run free. Originally released as a Snap-On Tools exclusive, you can now have a rig to haul your exotic RC cars to the track with the TRX-6 Ultimate RC Hauler (#88086-4).
Based on the TRX-6 platform, this truck features a black semi-tractor-style cab and a detailed flatbed for hauling or displaying on-road R/C machines. The chassis has been elongated to accommodate the flatbed, making this one massive machine.
Whether you also run a Traxxas 4-Tec or something similar, this looks like an awesome way to add another level of scale realism to your radio-controlled adventures.
The visual details on this machine look stunning. From the black chrome body accessories and "big rig" wheels to the array of LED lights that you'll find throughout, this truck has all the makings of a scale stunner.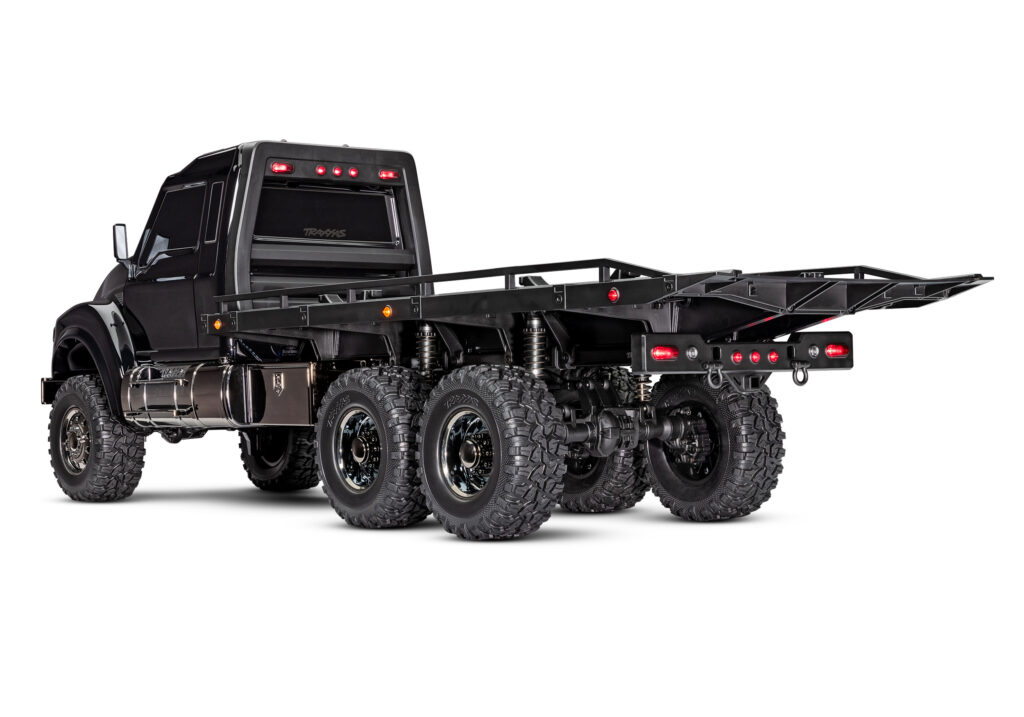 Traxxas TRX-6 Ultimate RC Hauler Specs:
Length (overall): 37.5 inches (953 mm)
Length (chassis): 34.0 inches (863 mm)
Front Track: 9.8 inches (245 mm)
Rear Track: 9.8 inches (249 mm)
Ground Clearance: 3.14 inches (80 mm)
Weight: 10.7 pounds (4.83 kg)
Height (overall): 11.9 inches (303 mm)
Wheelbase (front & intermediate axle): 18.6 inches (471 mm)
Wheelbase (front & rear most axle): 23.7 inches (603 mm)
Approach Angle: 60°
Departure Angle: 55°
Breakover Angle: 57°
Front Shock Length: 3.54 inches (90 mm)
Rear Shock Length: 3.54 inches (90 mm)
Front Wheels: 2.2 x 1.02 inches (56 x 26 mm)
Rear Wheels: 2.2 x 1.02 inches (56 x 26 mm)
Battery Tray: 158.75 L x 47 W x 23/26 mm H
Front Tires: 4.64 x 1.89 inches (118 x 48 mm)
Rear Tires: 4.64 x 1.89 inches (118 x 48 mm)
Hex Size: 12 mm
Speed Control: XL-5 HV
Motor (electric): Titan® 21T Reverse Rotation
Transmission: 2-speed High/Low, Remote Shifting
Gear Pitch: 32P
Differential Type: 4 Gear, Remote Locking
Chassis Structure / Material: Steel Ladder Frame with Nylon Composite Crossmembers
Brake Type: Electronic "Hill Hold"
Drive System: Shaft-Driven 6WD
Steering: Chassis Mounted Servo
Servo: 2075X Metal Gear
Transmitter: TQi™ 2.4GHz 4-Channel Transmitter
Receiver: 6533
Priced at $669.99, this rig will be available for purchase through Traxxas and its dealers. Learn more about the Traxxas TRX-6 Flatbed Hauler at traxxas.com.
Image credit: Traxxas