As the weather begins to warm up (slowly), more details about the upcoming scale and trail-focused rig from Traxxas emerge. While the last update provided us with a name and some teaser photos, the most-recent update provides a close look at some of the internals and design considerations that have gone into the chassis of the TRX-4 Scale and Trail Crawler.
While some of the early prototype images show the rough overview of the chassis and suspension components, this update dives into the reasoning and benefit of those design considerations.
As with just about every Traxxas vehicle you come across, the TRX-4 will include waterproof electronics, from the metal gear steering servo to the receiver box and electronic speed control (ESC). By sealing up the electronics and making it difficult for water to penetrate them, you won't need to put the brakes on your fun or turn away from a challenging, wet path.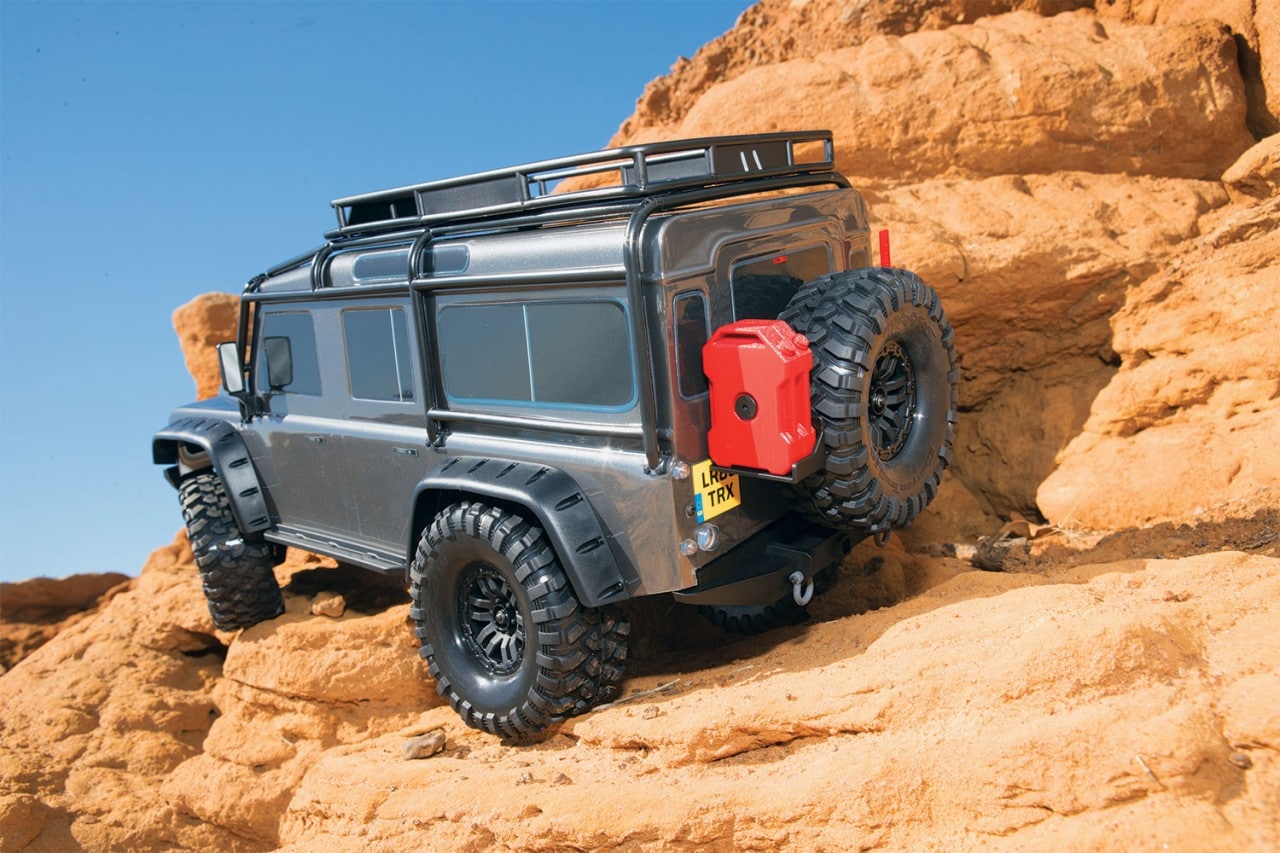 Visual details, inside and out.
The attention to detail on the exterior of this trail rig is at an all-time high, with the Land Rover Defender body including accessories and visual touches from a roof rack and fuel cans, to a snorkel and front-mounted tow shackles. There are also functional details that include functional purpose, such as the inner fender design.
Browsing through this update release reveals some unique concepts and features which will aid in the functionality of the TRX-4. "Cruise Control" is a transmitter-enabled feature that allows you to set your speed and hold it when you find your trail drive has flattened out and gotten predictable. Fine-tuning adjustments can be made to increase or decrease your speed, just as 1:1 cruise control operates.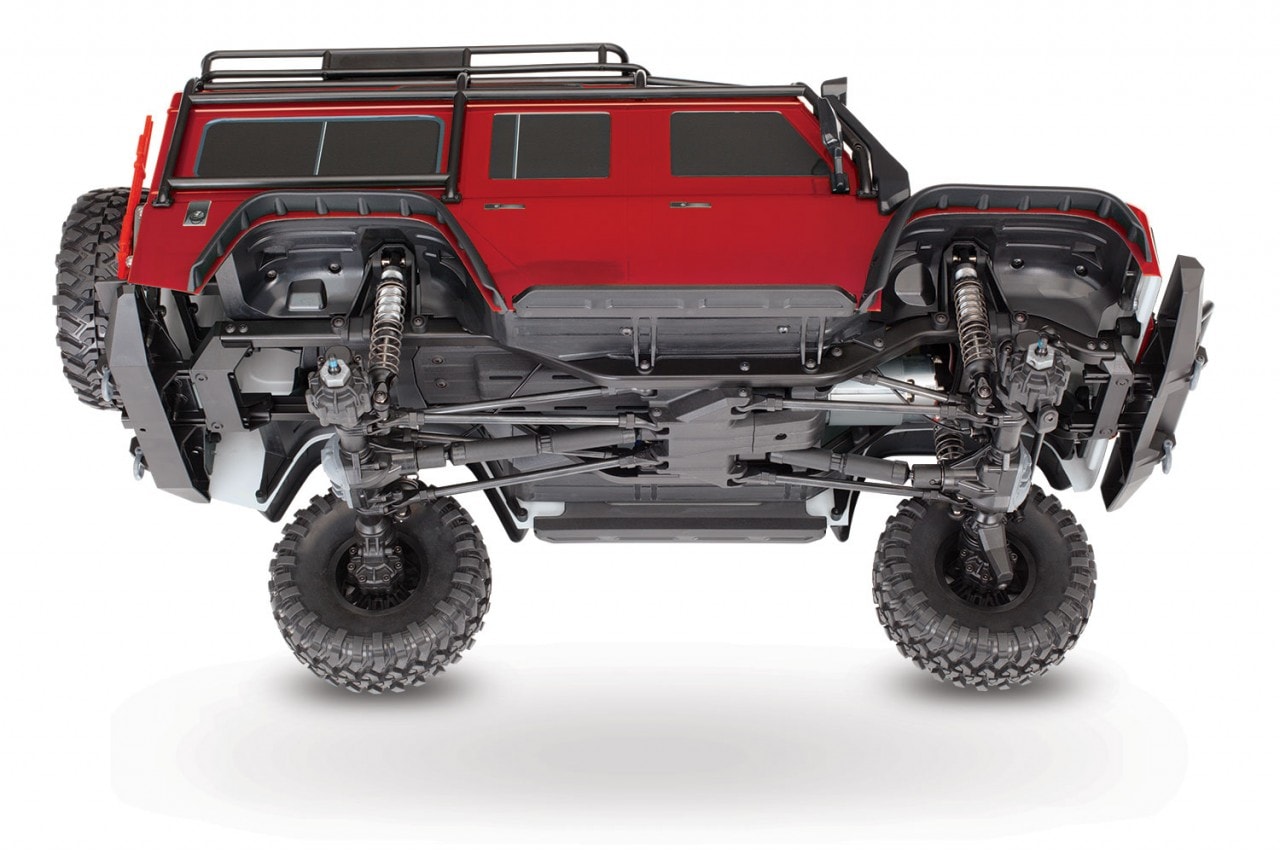 Designed to roll (over just about anything).
When the first photos of this rig were posted in January (2017), there were two Chassis elements that received considerable online chatter. The first was the axle design. Rather than using a straight, solid-axle setup, the Traxxas TRX-4 will utilize a portal axle design. Not only does this carry a unique look, but it also serves to improve handling by increasing the ground clearance of the rig without "supersizing" the tires. They've also integrated gear reduction at the wheel mounts, which will help in reducing chassis torque twist. Compared to other RTR scale trail rigs, the inclusion of steel suspension links and a steel chassis frame should also aid in the overall handling performance of the TRX-4.
Rounding out the list of surprises are a two-speed (high/low) transmission and remote locking differentials. Both of these features should make this one unstoppable trail rig and allow for fine-tuning the crawling and trailing performance when terrain becomes tricky.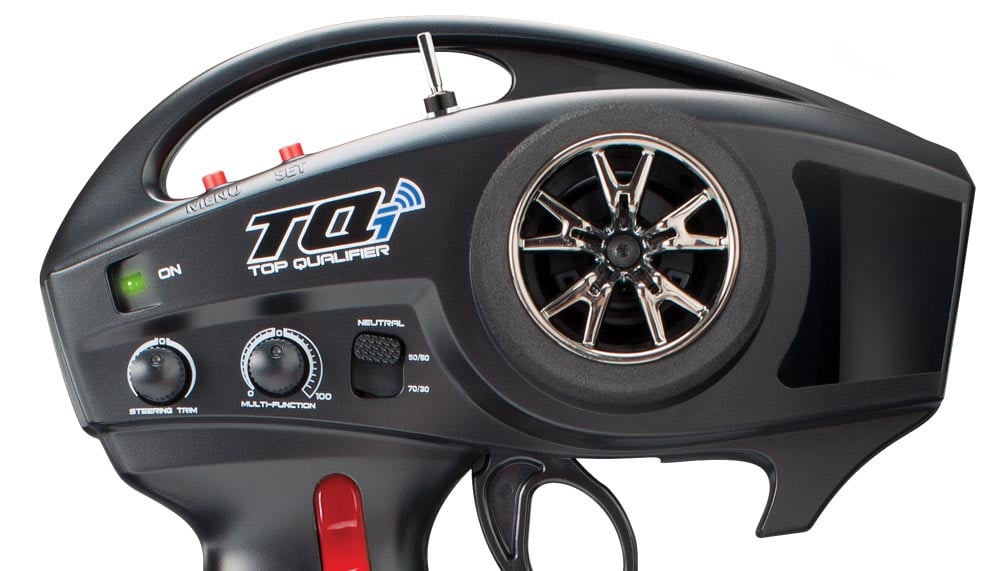 Estimated price and availability.
Lastly, the details covered some of the "basics" that we've come to know on similar, trail-focused radio-controlled models. The TRX-4 will roll on 1.9" tires and will include aluminum shocks that include height-adjustment features.
In addition to those details, a suggested retail price of $479.99 ($449.94 (Amazon.com) has also been revealed. As someone who likes to stretch their hobby dollar, I'm hopeful that the end price on this rig will be a bit lower, specifically around the low to mid $400 range. Coupled with the pricing announcement, a mid-May 2017 release date was also mentioned.
You can keep up with the details on the Traxxas TRX-4 by signing up for email updates at traxxas.com. If you're one of the many scale R/C enthusiasts that's chomping at the bit to learn about this vehicle, be sure to check out Traxxas.com as additional information is released.
Image credit: Traxxas