Bigger, beefier, and bash(ier) sum up this 2018 upgrade.
When I think of radio-controlled vehicles that were built to bash, a number of them come to mind. At the top of that list, however, sits the Traxxas E-Revo.
This monster truggy has seen minor upgrades throughout the years, but nothing compares to the overall overhaul that Traxxas has blessed this beast with for 2018. The body, chassis, wheels, and tires have all seen updates and improvements, ranging from performance refinements to overall durability.
Here are the highlights of this revamped R/C machine. For starters, the body has received some cosmetic tweaks, both in molded features and graphics. Two new color options are available (orange/blue and green/blue) and both are equally eye-catching.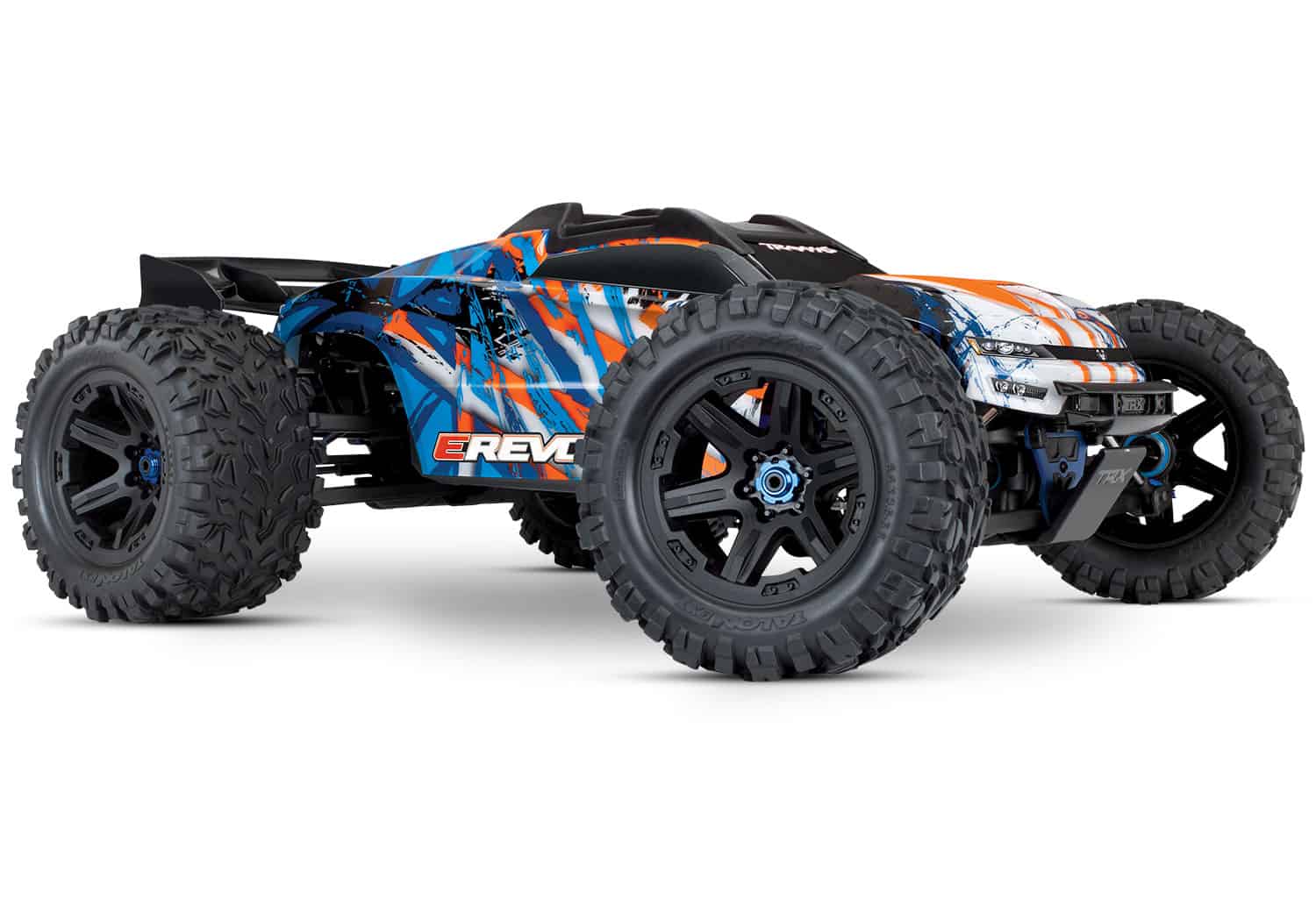 The E-Revo body also features a body clip-less design, thanks to new body latches. As someone who likes clean lines (and tends to lose more body clips than I'd like to admit), I appreciate this new latch system both for its design and its visual appeal.
But let's face it, you don't buy an R/C truck like this for it's looks and clean lines. You buy it for its power and ability to withstand whatever you drive it through (or into). To that end, Traxxas has blessed the E-Revo with new driveline components (dubbed "MAXX-SPEC").
This combination of gears and driveshafts is designed specifically to handle the high-output that the E-Revo's brushless motor can put out, specifically when you mate that powerplant to a 6S LiPo battery.
With top speeds claiming to be in excess of 70mph, this truck will rip, and all of its components need to stand up to a constant stream of stress. To that end, the suspension and chassis components have received beefier, thicker arms and connection pieces.
The tires and wheels of the Traxxas E-Revo have also been updated, moving to new, Talon EXT tires. These new tires are larger and feature a new tread pattern to assist with off-road performance. For added durability, the sidewalls are thicker than the previous version. 6-spoke wheels are also included, again with durability in mind.
Capping off the refreshed machine is the self-righting system which Traxxas introduced with the X-Maxx. In all, these look like well-thought-out updates which should make the E-Revo even more impressive (if not popular).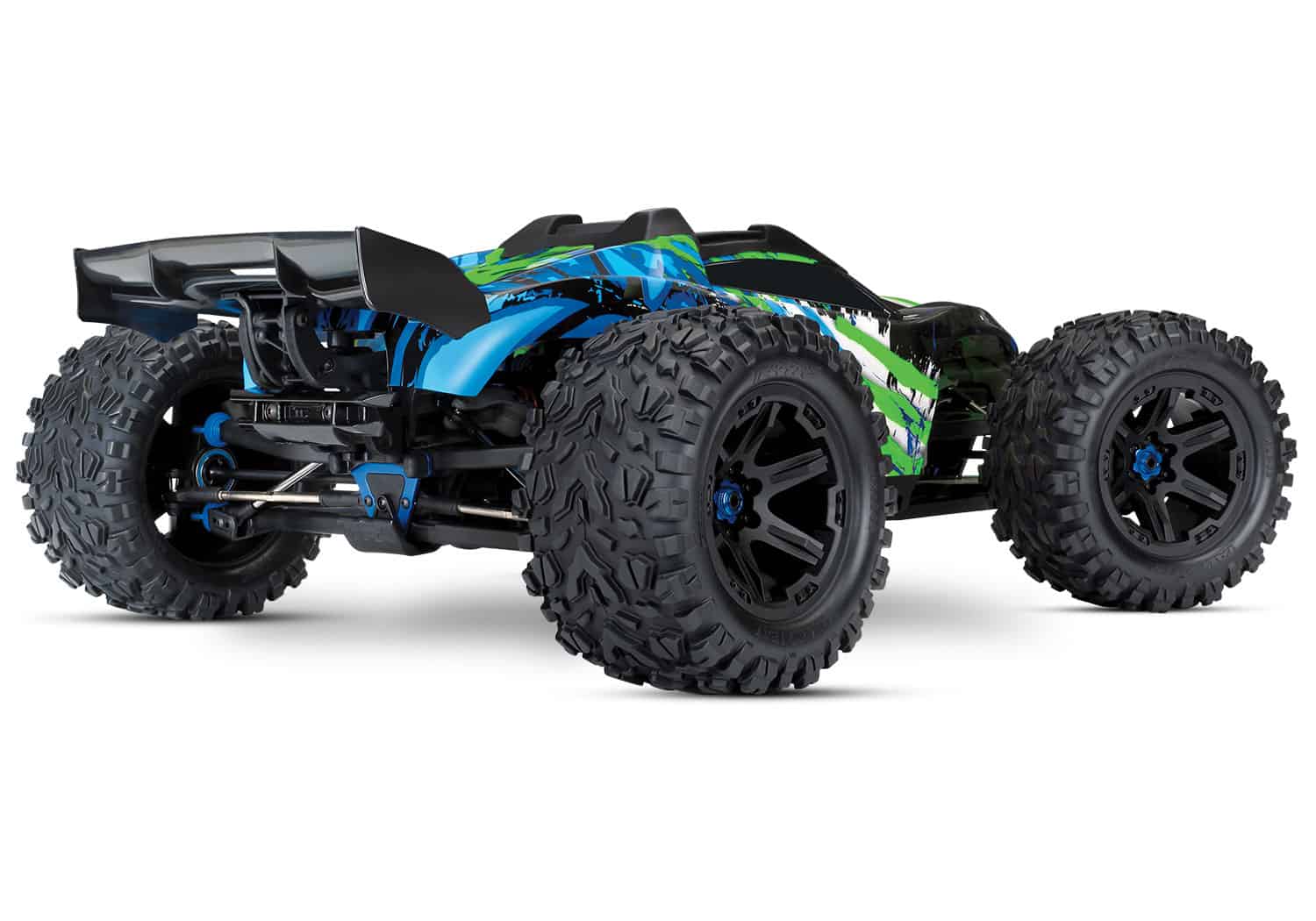 2018 Traxxas E-Revo Specs:
Length: 23.05 inches (585mm)
Width: 18.32 inches (465mm)
Ground Clearance: 2.9 inches (73mm)
Weight: 11.2lb (5.08kg)
Height: 8.7 inches (221mm)
Wheelbase: 14.94 inches (380mm)
Front Shock Length: 3.42 inches (87mm)
Rear Shock Length: 3.42 inches (87mm)
Tires (pre-glued): 6.4 x 3.5 inches (162mm x 88mm)
Wheels: 3.8 inches (97mm)
Speed Control: Velineon® VXL-6sMotor (electric): 2200kV
Transmission: Single speed
Gear Pitch: 1.0 Metric pitch (Mod-1)
Final Drive Ratio: 20.49:1
Differential Type: Sealed, 4-gear
Center Differential Type: Sealed, 4-gear (20M weight oil)
Chassis Structure / Material: Composite tub
Brake Type: Electronic
Drive System: Shaft driven 4WD
Steering: Bellcrank
Radio System: 2.4GHz TQi™ 2-channel transmitter with 6533 TSM receiver
Servo: Dual 2075
Top Speed (optional gearing): 70+ mph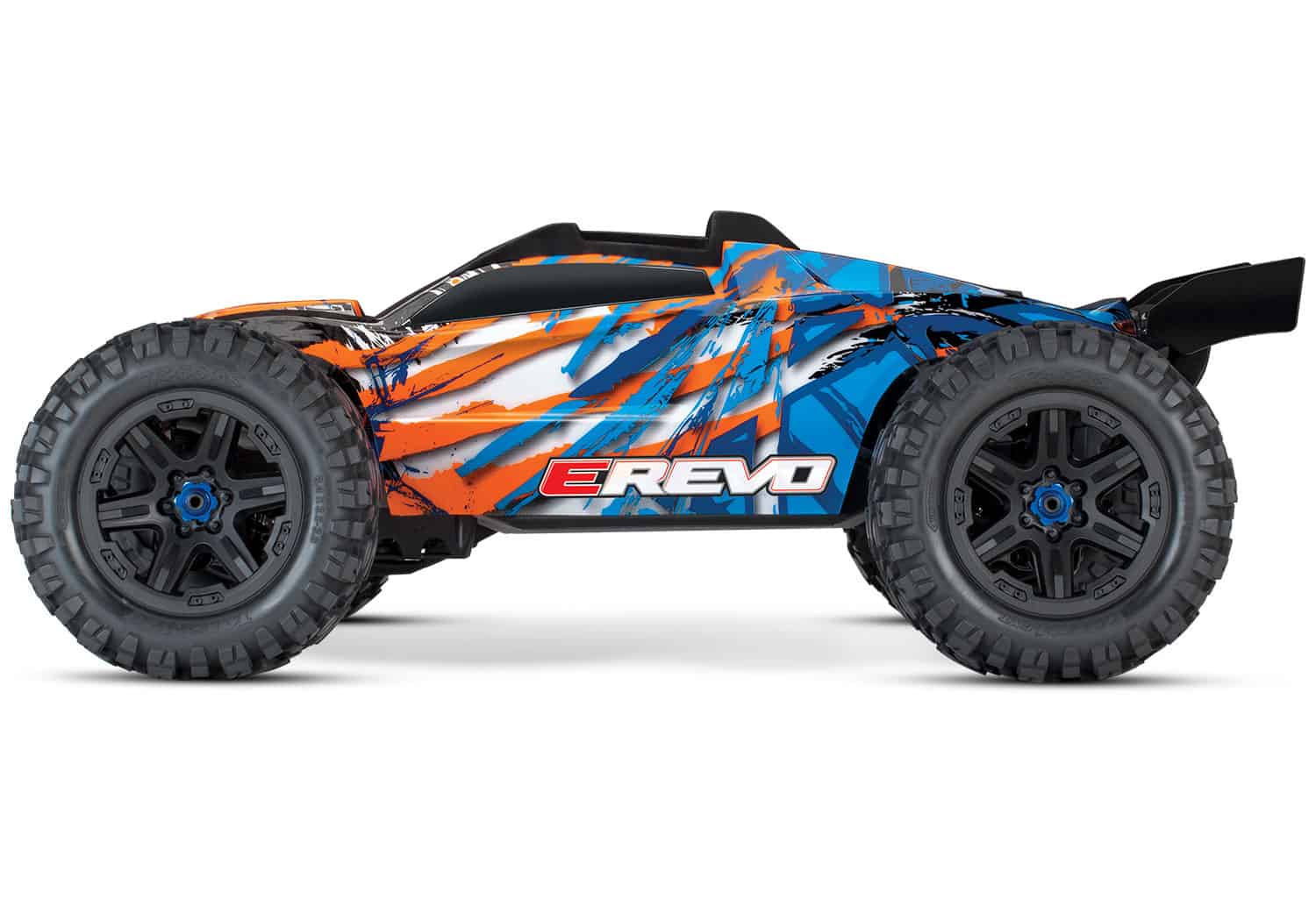 Priced at $589.99, the updated Traxxas E-Revo will be available in late February (2018) both online and at your local Traxxas dealer. Get all of the details about this new model at traxxas.com.
Image credit: Traxxas