Staying on top of your game in any sport or competitive environment is crucial. In the world of R/C racing, that constant evolution can be seen through the almost-yearly updates and releases from many of the sport's biggest brands.
Team Associated has developed an update to one of their most-popular and successful 1/10-scale buggy platforms, the RC10 B44. Its successor is the RC10 B64, a kit that is geared toward indoor carpet and high-grip racing conditions.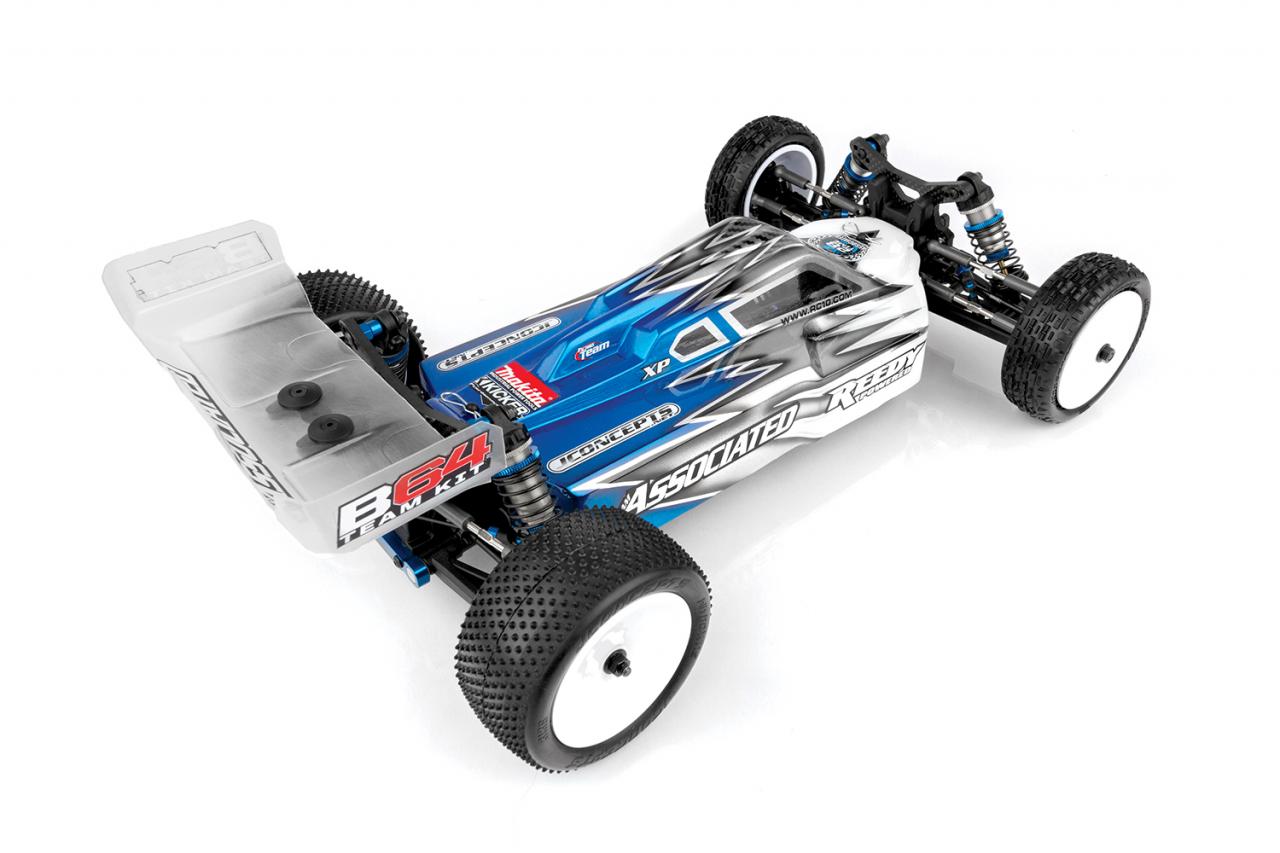 The previous model, while excellent on dirt, saw need for improvement in higher-grip environments. This need lead to the chassis and component updates that are found in the RC10 B4.
Improved suspension, providing smoother overall performance and handling, is made possible through V2 12mm Big Bore aluminum shocks which are mounted to carbon fiber shock towers. Additional handling adjustments and tuning is possible through caster blocks, front and rear sway bars.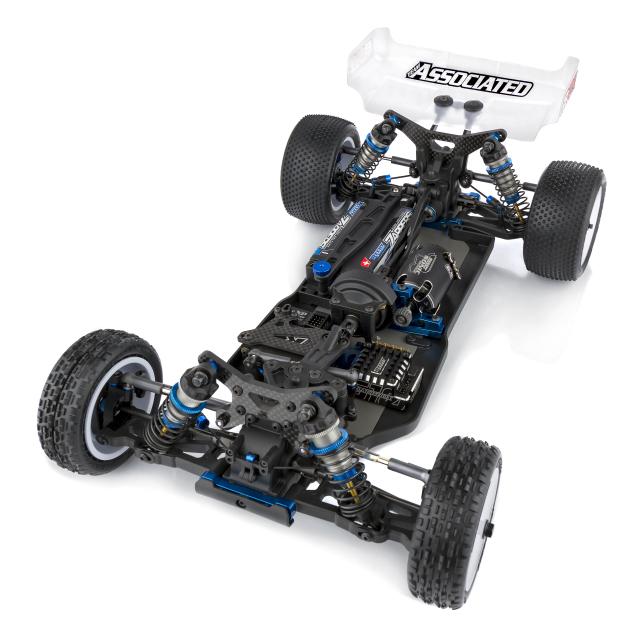 Overall adjustability and customization has been a focus of the B64 Team Kit. The areas of the vehicle that require hands-on attention while at the track are easy to access and tune.
See the Team Associated RC10 B64 Team Kit in Action
From the sounds of it, the folks at Team Associated have done their homework on this buggy kit and have put together a competitive option for indoor carpet and astroturf tracks.
Team Associated RC10 B64 Specifications
Power Source: Electric

Terrain: Off-Road

Body Style: Buggy

Scale Size: 1:10 Scale

Assembly Level: Kit*

Length: varies based on setup and components

Width: varies based on setup and components

Wheelbase: 284mm (11.18in)

Weight: varies based on setup and components

Drive: 4WD
As this is a kit, there are select items that are required to complete the build process:
RC 2-channel surface frequency radio system

Batteries: 2S, 7.4V LiPo Shorty battery pack

Battery charger (peak detection charger recommended)

Electronic speed control

RC electric motor

Pinion gear

Steering servo

1:10 scale tires and inserts

1:10 scale wheels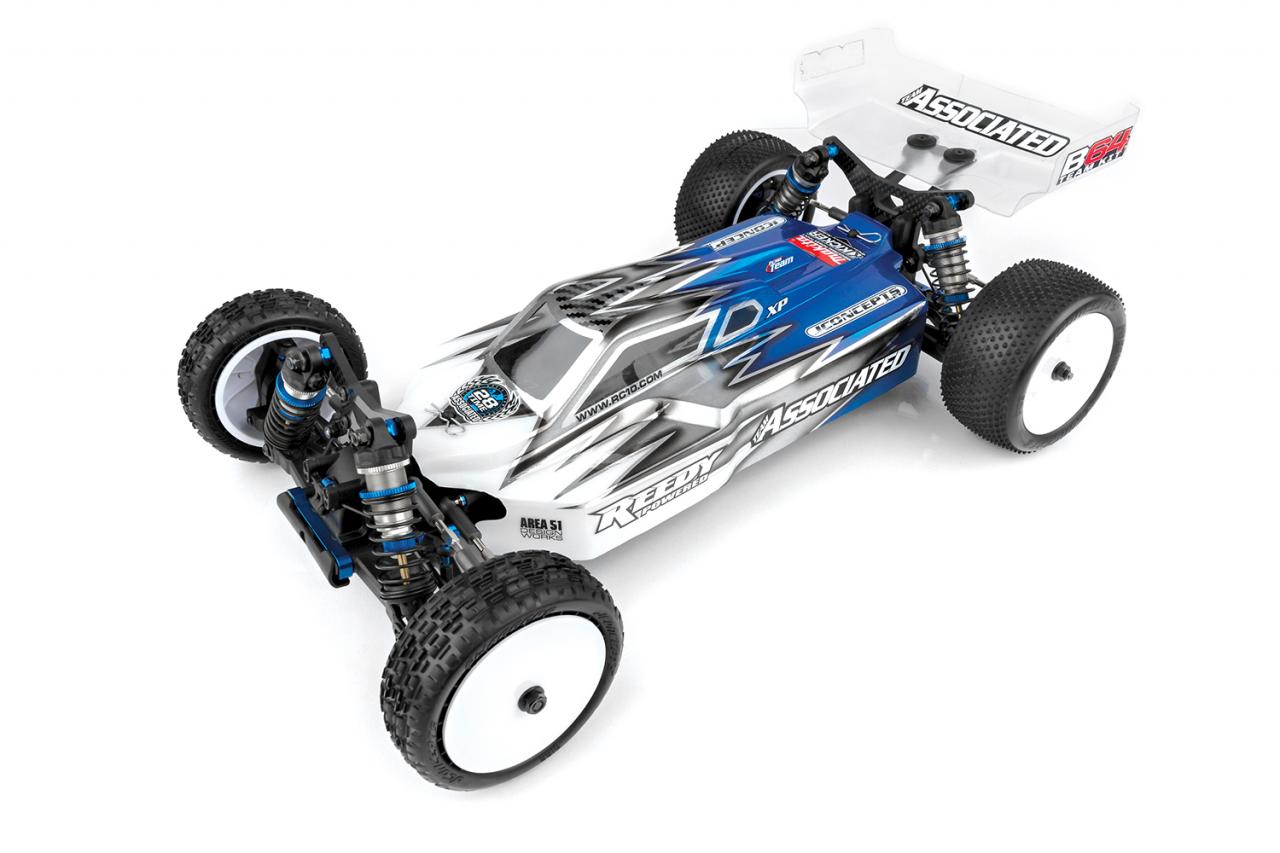 The Team Associated RC10 B64 buggy kit carries a price of $429.99. Learn more about this new model on the Team Associated website.
Image credit: Team Associated
amzn_assoc_placement = "adunit0";
amzn_assoc_tracking_id = "rcnewb-20";
amzn_assoc_ad_mode = "search";
amzn_assoc_ad_type = "smart";
amzn_assoc_marketplace = "amazon";
amzn_assoc_region = "US";
amzn_assoc_title = "Team Associated RC10 B44 Parts and Hop-ups";
amzn_assoc_default_search_phrase = "team associated b44 parts";
amzn_assoc_default_category = "All";
amzn_assoc_linkid = "7a146606cceb1aa4a2e81c3691f905c5";
amzn_assoc_search_bar = "true";
amzn_assoc_search_bar_position = "top";