When I think back to my earliest memories of seeing hobby-grade R/C cars, the first images that come to mind are the pages of old Tower Hobbies catalogs and radio-control car magazines. I would flip through those pages at home and in the library of my elementary school, gazing with wonder at the machines that were spread out before me. Each page brought more dreams, more possibilities, more lust. When I think of "classic R/C", the first vehicle that still comes to my mind, still to this day, is Tamiya's Blackfoot. A 1/10-scale radio-controlled monster truck, this vehicle featured a stylish black body and eye-catching yellow wheels. Long discontinued, this vehicle holds a very dear spot in the hearts of longtime hobbyists. Imagine their reaction, and mine, upon learning that this old-school beauty will soon be re-released.
Tamiya (and fan-sites) have posted some intial photos of their updated, 2016 version of the Blackfoot (#58633). Still a kit, this brute doesn't have many details available yet, save for an estimated price of $264.00. If you're not familiar with a kit setup, you'll need to supply your own radio system (transmitter and receiver), electronics (ESC, motor, and in some cases, servo), battery pack(s), charger, and paint. With very little details availalbe, now might be the time to start planning your build and gathering the "other" parts and pieces as you await the official release of this model.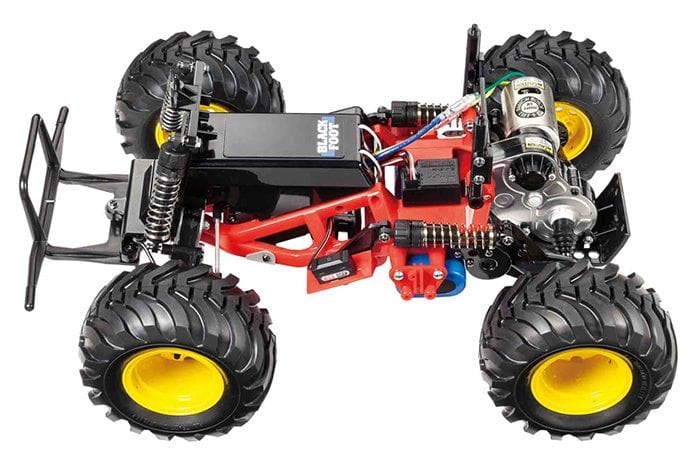 There have been other re-releases of classic radio-controlled cars and trucks in the past few years, but none of them have made me as happy as the news of the Blackfoot's re-emergance. I have this model circled as a personal "must have" and will be paying close attention to it as additional details become available. Learn more about the 2016 re-release of the Tamiya Blackfoot at TamiyaUsa.com.
Image credit: Tamiya