Axial has rapidly grown its SCX10 III lineup since it was announced earlier this year. Starting with a kit version of the Jeep Wrangler JLU and moving to a ready-to-run (RTR) model, they quickly covered their bases, especially in the eyes of Jeep fanatics.
If you've wanted to dive into the SCX10 III but were waiting for a slightly different body style, your wait may be over. Axial and Horizon Hobby have released the third model in the SCX10 III line, the Jeep JT Gladiator RTR. Modeled after the 1:1 Jeep JT Gladiator, the rugged, off-road styling of this adventure-driven pickup truck is recreated for your R/C adventures.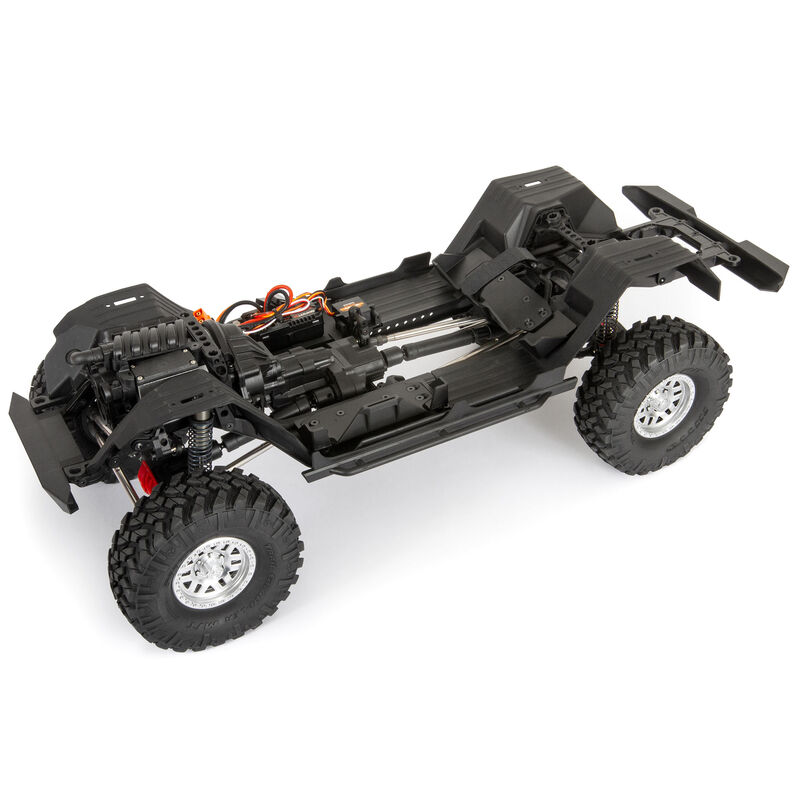 The SCX10 III offers some unique and interesting features, all of which you'll find in this new model. An optional DIG function can be enabled to allow you to lock the rear axle for tricky terrain. Other carryover items from previous SCX10 III models include the detailed V8 engine motor cover, LED lights, and detailed body interior.
What sets this model apart from its siblings is definitely the body. The Jeep Gladiator offers a longer wheelbase in 1:1 form and that has been carried over to this 1/10-scale radio-controlled machine. With a 14″ wheelbase, the SCX10 III Jeep JT Gladiator is able to support a truly scale body, which features a three-piece design and plenty of built-in visual detail.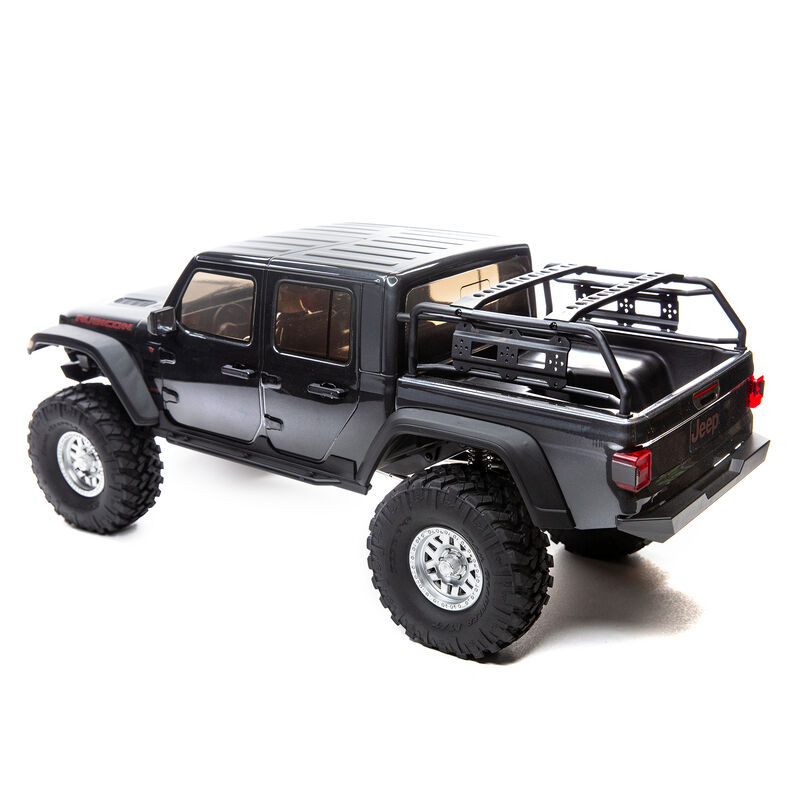 Revamped inner fenders help camouflage the internal components from different viewing angles, helping to make this model look as close to 1:1 as possible. Licensed Nitto tires, KMC wheels, and CRC bumpers round-out the visual ruggedness of this rig.
On the electronics side, this version of the SCX10 III features plenty of Spektrum gear, including a DX3 DSMR radio transmitter, Firma Smart 40A ESC/receiver, and steering servo.
Axial SCX10 III Jeep JT Gladiator RTR Specs:
Height: 9.5″ (241 mm)
Length: 22.25″ (565 mm)
Width: 9.25″ (235 mm)
Weight: 7lbs (3175g)
Ground Clearance: 3″ (76.2mm)
Wheelbase: 14″ (355.6mm)/Adjustable
Front Track: 8.9 in (226mm)
Rear Track: 8.9 in (226mm)
Final Drive Ratio: 45.6:1 Low / 31.3:1 High
Scale: 1/10
Model Type: Ready-to-Run (RTR)
Where to order the Axial SCX10 III Jeep JT Gladiator:
Priced at $519.99, the Axial SCX10 III Jeep JT Gladiator will be available through Axial, Horizon Hobby, and their dealers. Visit horizonhobby.com to learn more about this 1/10-scale RTR RC crawler.
Image credit: Axial/Horizon Hobby