Who's ready for a super-scale version of an off-roading classic? FMS has announced its latest standard-scale release, the 1/10 Toyota FJ40 RTR. This follow-up to the 1/10 Atlas and Mashigan brings a highly-detailed, officially licensed hardbody trail truck to the scene that's ready to head out on an adventure.
With scale details rivaling the Mashigan, the FJ40 offers an array of visual treats, both inside and out. The hard plastic exterior (available in blue or yellow) of the FMS Toyota FJ40 boasts several details, such as exhaust vents, functioning, hinged doors, textured running boards, clear windows, side mirrors, and illuminated LED headlights.
On the inside, FMS appears to have left no detail on the table, offering up rubber-upholstered driver and passenger seats, a detailed dashboard, and a functioning steering wheel. In the cargo area of the FJ40, you'll find beautifully replicated bench seats that feature padded cushions.
With all the scale goodies sprinkled throughout this rig, it may be easy to overlook what's under the hood. Like their smaller-scale models, FMS is packaging most of the electronics for the Toyota FJ40 under the hood. A 550-size, 35T brushed motor provides the power to this trail machine, and the 3S LiPo capable ESC will keep things moving as long as you have juice.
Other construction highlights include a ladder-frame chassis, four-link suspension, oil-filled shocks, 1.9″ wheels, and high-traction tires.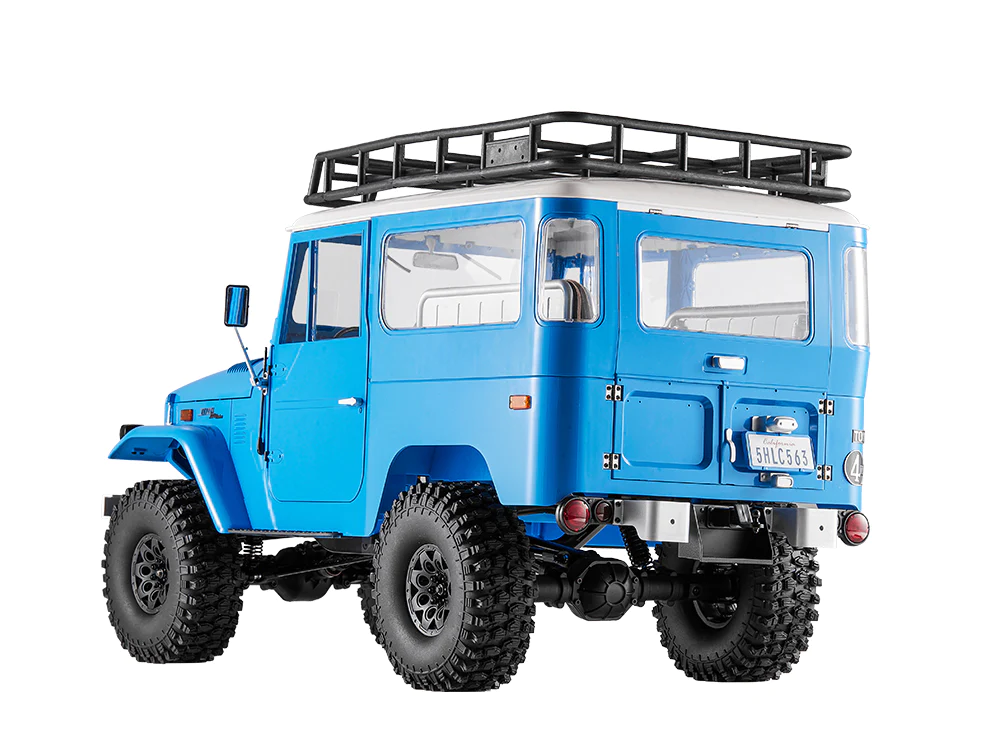 FMS 1/10 Toyota FJ40 RTR Specs:
Length: 571mm
Width: 268mm
Height: 326mm
Wheelbase: 339mm
Tire F/R: 115mm
Approach Angle: 65°
Departure Angle: 40°
Ground Clearance: 82mm
Motor: 35T 550 (Brushed)
Remote control distance: 80m
The Toyota FJ40 Trail Truck is priced at $349.99 and is available through FMS and its dealers. Visit fmshobby.com to learn more about this highly-detailed 1/10-scale R/C trail truck.
Image credit: FMS