Axial celebrated 15 years of R/C fun last year and in 2021, they're showing that they haven't slowed down one bit. Today, they released their latest ready-to-run (RTR), 1/10-scale rock-ruling creation, the RBX10 Ryft rock bouncer.
On the outside, the Ryft looks like a throwback to Axial's early days. With a visible tube-frame chassis, minimal body panels, and massive 2.2″ tires, this rig is ready to take on the most extreme conditions imaginable.
Other exterior performance details include licensed 2.2″ Interco Super Swamper TSL Bogger tires, Raceline Monster Wheels, metal front, and rear differential covers, and aluminum long-travel shocks.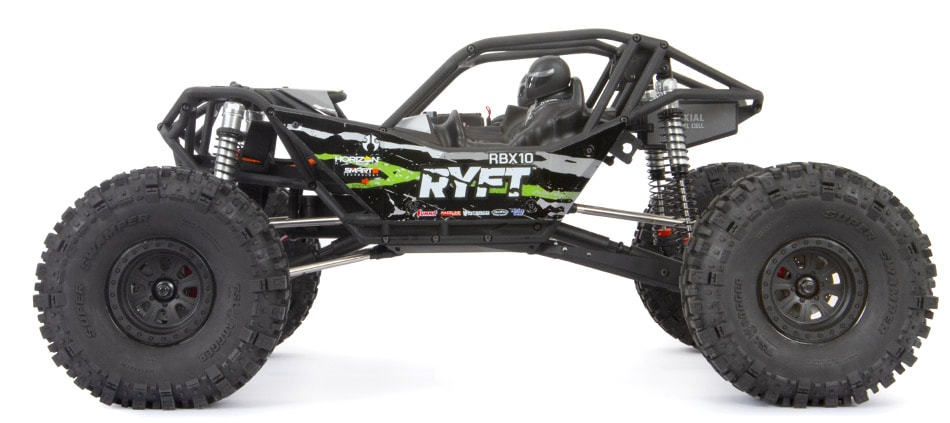 Rough and tumble on the outside, this rock-bouncer appears to be as equally wild on the inside. Powered by a Spektrum 2200kv brushless motor, the RBX10 is no slouch when it comes to tire-spinning speed. In addition to the motor, a Spektrum Firma 130A Smart ESC is nestled inside the chassis of this rig, providing the ability to run up to 4S LiPo power.
Capping off the electronics setup on this rig, this RTR model is packaged with a Spektrum DX3 2.4GHz radio transmitter and a Spektrum S614S servo.
Priced at $499.99, the Axial RBX10 Ryft is available directly from Axial, Horizon Hobby, and their dealers. Visit axialracing.com to learn more about this 1/10-scale R/C rock bouncer.
Image credit: Axial/Horizon Hobby