ARRMA has introduced another model to their "street bash" lineup, the Felony Street Bash 6S BLX. Sharing many of the under-body features of their Infraction Street Bash muscle truck, this new model offers tire-eating, pavement piercing performance that's wrapped in an aggressive muscle car body.
With a design that's a mix of Mad Max and The Fast and the Furious,  the ARRMA Felony features a low profile and wide stance make it perfect for drifting, carving doughnuts, or just going fast. Powered by a Spektrum Firma 4074 2050kv brushless motor, this on-road R/C car is a capable speed machine, but it also has plenty of performance and handling chops.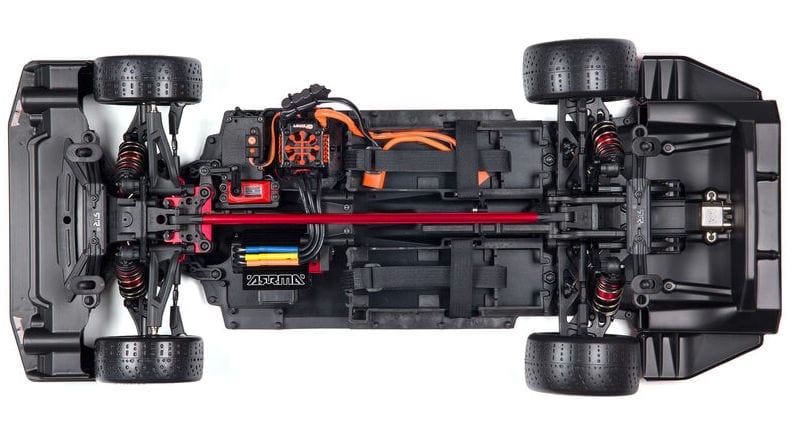 The Felony's driveline, chassis, and suspension components are all designed for durability and should be able to withstand a solid torture-test every now and then. It comes equipped with dBoots Hoons tires and features waterproof/water-resistant electronics for fun in just about any type of weather.
A 3-channel radio system is included, pairing a Spektrum DX3, 2.4GHz transmitter with a Spektrum SR6110AT receiver, which includes Active Vehicle Control (AVC). For an immersive driving experience, the radio system supports the Spektrum Dashboard app, which requires a Spektrum Bluetooth Module, DX3 smartphone mount, and an Apple or Android-powered smartphone.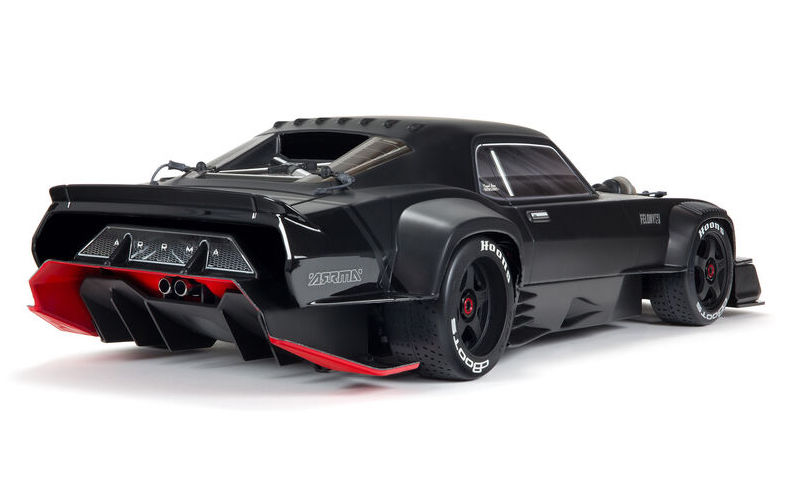 Turning our attention back to the body, the Felony can be customized with the help of a series of included scale details, including a large hood blower,  engine intake, and cooling accessories. With these options and the choice of a black or orange base color, there are plenty of ways for you to customize the appearance of your ride. The rear spoiler is also adjustable to let you set it up for the right look or performance benefit.
ARRMA Felony Street Bash 6S BLX Specs:
Height: 7.56″ (192 mm)
Weight: 11lbs (4990g)
Length: 28.54″ (725 mm)
Width: 12.91″ (328 mm)
Front Track: 12.13 in (308mm)
Rear Track: 12.91 in (328mm)
Motor: Brushless, Sensorless, 2050kv
Battery: Up to 6S LiPo  (sold separately)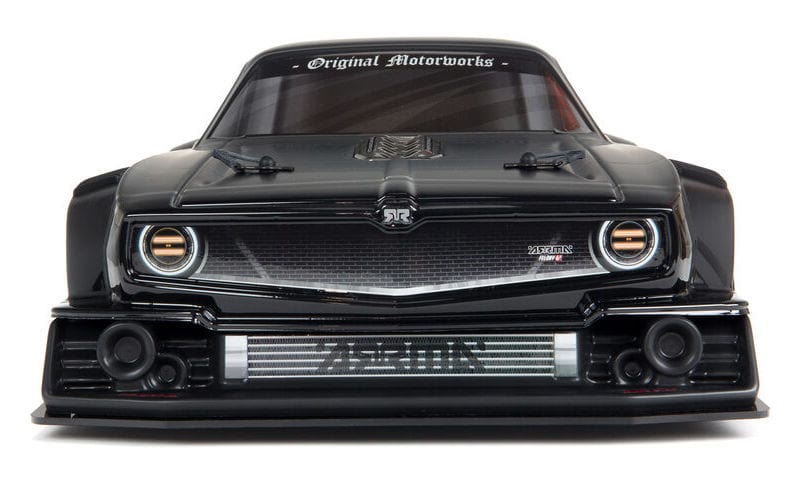 Where to order the ARRMA Felony 6S BLX:
Priced at $649.99, the Felony Street Bash 6S BLX will be available through ARRMA, Horizon Hobby, and their dealers. To learn more about this 1/7-scale R/C road ripper, visit arrma-rc.com.
Image credit: ARRMA