Well hello! It sure has been a while. I think it is safe to say that life happens. For me, it was home improvements since the last time I've written here. One big improvement was widening the driveway and walkway to the front door. Using brick, we did quite a bit to make our house look nicer. Not only that, but I finally got what I've wanted for some time… room to run my on-road cars. With the track closed and the nearest one over an hour away, I haven't been able to test this car in the 8 months or so I've owned it.
This car would be the Redcat Racing Pagani. With all wheel drive, a stock spec brushed motor, and a very simple 2.4Ghz radio setup, the street price of less than $130 definitely seems appealing. But, is this car all show?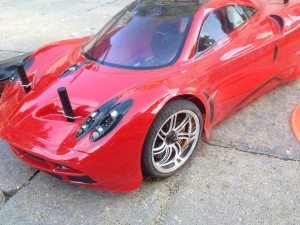 The first thing that made me want to buy this was the excellent Pagani body. The pictures I'd seen made it look top notch. In person, it's equally stunning. The stickers, however, are not. They look good at first, but bubble and peel due to the complex surfaces on the body. Overall body fitment is good, but the body posts are incredibly tall and do not come trimmed to the correct height. The wheels look good and the offsets work well to give the car a scale feel. Even the fake disk brakes look good. Only problem?… they spin with the wheels as they are actually functional hubs.
The second reason I bought this Redcat was their introduction of a belt drive car. Previous cars had shaft drive (as you'll see in a future review). This car is oddly similar to several Yokomo models I've seen. It's heavy and mostly plastic. However, it does have some nice metal components including a nice motor mount setup. I'd guess the mid motor setup would be to help with overall stability. Add the included old school battery pack though and the car gets rear heavy.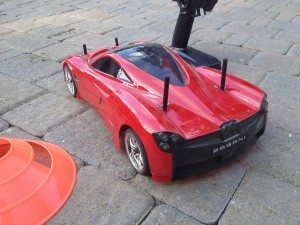 The last reason I decided to give it a try was the price. Even with a brushed motor and esc, finding any r/c with a 2.4Ghz remote and ready to run for less than 200 bucks is a true challenge. I purchased mine from eBay just to see what kind of results I'd have. The seller was great and everything shipped quickly. As it turns out, most sellers online do NOT stock anything. Instead, the products come straight from the warehouse in Arizona where Redcat is headquartered. Rather than Redcat having to shoulder the weight of customer service (which I hear is pretty decent), online sellers try to help solve issues. I had no major issues to report so I cannot say how service is, but I'd imagine it to be as good as the person you're dealing with which, of course, will vary.
So, how's it drive? Pretty good! For a stock wind brushed motor, the overall speed is good and the car is decently quiet. The servo feels responsive and the esc has a good linear feel to it. As far as electronics go, I couldn't find a single thing to complain about. The chassis, on the other hand, that's another story.
There are many good things to say about the chassis. It handles bumps well and seems pretty tough. On more than one occasion, I skidded off my driveway and was able to drive back onto it. The screws are countersunk and they don't seem to catch on anything. What I didn't like about the chassis was that rearward weight bias I mentioned earlier.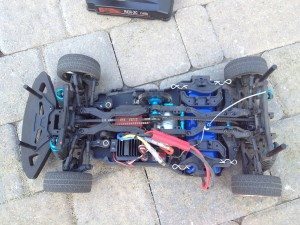 Even with the offset wheels and tires, the car pushes quite badly off throttle and oversteers to the point of spinning out on hard throttle application. The oil filled shocks work hard to put the power down, but even the softer tires cannot seem to keep up. On older concrete with a rough texture, the car was over-responsive. While driving on the new brick, the car was far less responsive and was prone to spinning out. Perhaps the most noticeable fault was the car's inability to track in a straight line. I was able to get it close, but the car still pulled. With some small camber and toe in tweaks (which do have adjustments) I'm sure this could be rectified. Something I've found is that most cars need adjusting out of the box. For testing of this RTR, I felt it was best to run it as it came out of the box.
There were no shock leaks, but I did notice the differentials leaking fluid. It's possible the fluid is just too light. Another issue is the exposed belts. The drivetrain is efficient with them, but they are exposed to the elements. It doesn't take a very large piece of road debris in order to damage the belt. In fact, mine already has some damage from a small pebble. However, it doesn't seem to be enough to keep the car for running. I was able to run a solid 20 minutes on the included pack without issue.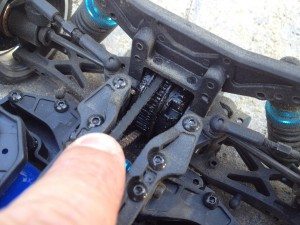 As you can see, there are several things to like about this Redcat Pagani. But, you do get what you pay for. Most of the issues may be solved with simple car adjustments. The leaking differentials a a bit of cause for concern and the exposed belts will wear quickly with debris outdoors. With that said, the car is still a great deal.
For the money, you get quite a bit of car. One that's actually perfect for a beginner just to see if it's something they like. However, the experienced racer may grow tired of adjustments and components that probably need more polish out of the box.
If you're a basher, this car is perfect for you. Run it until it quits and get another. If you're a beginner or novice, get it and race with friends. At least you'll look cool and the car can be adjusted to grow with you as your skills improve. If you're experienced like me, you can still have fun too. But, don't expect perfection. After all, you're getting a "deal".
(In the near future, I'll see if I can resolve all the issues and re-test the car to give a more thorough assessment of the car's potential.)