Further proof that good things come in small packages.
The complete, in-depth review of this model appears on our sister site, smallscalerc.com.
Throughout my time in the R/C hobby, I've come to appreciate certain avenues that I never thought I would. The funny thing about it has been how my appreciation has evolved into an obsession. If you were to ask me what "sides" of the hobby I enjoy the most, my split-second response would be "scale radio-controlled vehicles/trail rigs" and "smaller-scale, mini/micro R/C machines".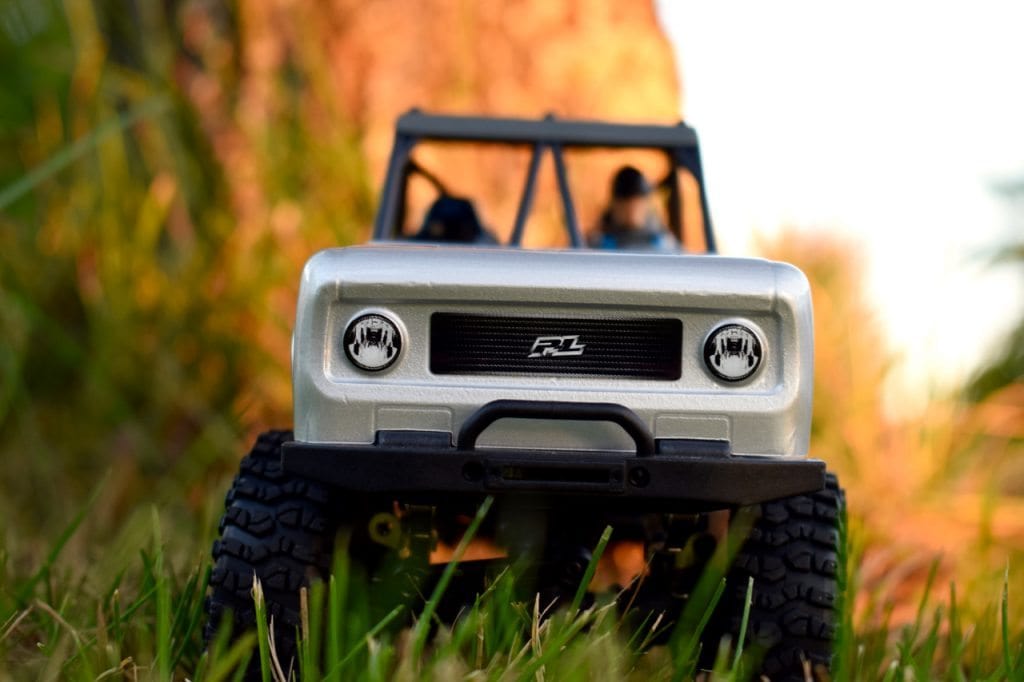 When a radio-controlled car or truck manages to combine those two aspects, my attention is piqued. Pro-Line had my full attention when they announced their 1/25-scale Ambush 4×4 Mini Scale Crawler a few months ago. On the outside, it appeared to be the perfect combination of scale visual elements, scale chassis components, and a compact radio-controlled crawler. Thankfully, I was able to get a first-hand look at this ready-to-run (RTR) micro-model, courtesy of Pro-Line.
Over the last few weeks, I've been testing, examining, and flat-out enjoying this model. Through it alI, I have discovered where it excels, in what areas it falls short, and above-all, how much fun it brings to the table.
Pro-Line Ambush 4×4 Mini Scale Crawler Specifications
Length: 7.80″

[198mm]

Width:

3.75″ [95mm]

Wheelbase: 4.52″ [115mm]

Weight: 0.68lbs. [308g]

Price: $195.46
What's in the Box
1 Pro-Line Ambush 1/25-scale vehicle

1 350mAH Lithium Ion battery (vehicle)

1 USB Lithium Ion battery charger

1 decal sheet

1 2.4GHz pistol-grip transmitter

1 wheel wrench

1 instruction manual

4 AA batteries (transmitter)
An Indoor Boredom Buster
The scale of this rig just begs to be used indoors. Offices, warehouses, basements, you name the place, and the Ambush 4×4 is ready to rock. For my indoor testing, my basement turned out to be a prime location.
Much to my chagrin, my kids have trouble picking up their toys after they're done playing. While this typically isn't something I'm happy about, it proved to be the perfect proving ground for my review.
Zigging and zagging around and over a wasteland of toys, the Ambush motored through it all, rarely needing "hand-of-God" assistance. Its 1/25 size did prevent it from driving over obstacles that my 1/10 rigs can clear with ease, however I came away from my indoor tests very impressed with the performance of this machine.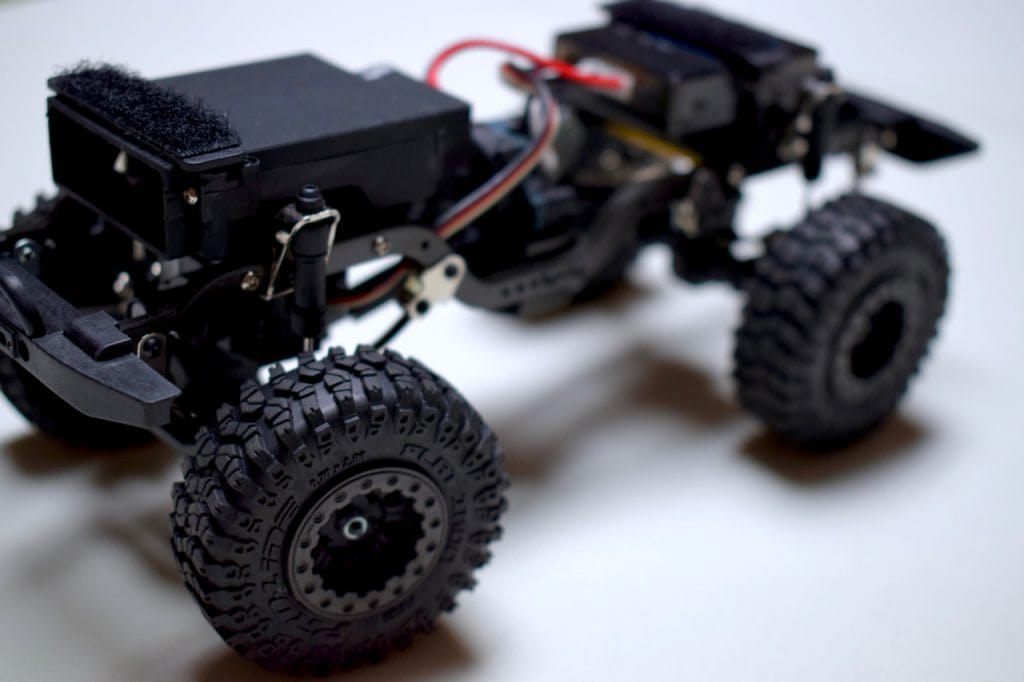 Tackling inclines is one test that I perform on all of my crawling and trail rigs. I did have some questions and doubts about how the Ambush 4×4 would handle these procedures, given the small motor and scaled-down stature of the tires. Thankfully, there wasn't much to worry about once I got rolling. The grip offered by the smaller-scale Flat Iron rubber is second to none. Steep inclines proved to be no match for this tiny truck. It made quick work of whatever incline I put in front of it and gave the speed selection a workout. No matter what speed setting I chose, the Ambush 4×4 made its way up and down the path without breaking a sweat.
Changing up my indoor tests, I wanted to see how the leaf-spring suspension handled "drastic" elevation and obstacles at the same time. This is where the Ambush's size and suspension components created difficulty when driving. The narrow width of this rig makes it easy to roll when one side is higher in the air than the other. Aiding this action is the lower amount of travel in the suspension.
While I was hoping the Ambush 4×4 would would have all of the traits and driving characteristics of a 1/10 trail rig, that just isn't the case. There are many moments where you'll have three tires making contact with terrain and obstacles, while the fourth is lifted into the air. In the end, there isn't much flex from the suspension or the chassis, when traversing intense obstacles.
Having said that, almost every obstacle (save for one that required modification to better-suit a 1/25 vehicle) that was put in front of the Ambush, it conquered without much trouble. The previously-mentioned stiffness and low suspension travel made for some difficult driving at times, but I was forced to change my approach, adjust my line, and think my way out of "stickier" situations. And I had a blast while doing it.
Hitting the Trail in (Scale) Style
Given the size of this small-scale truck, it's easy to think that it would perform at its best while indoors. After my indoor test revealed some handling quirks, I wanted to see how the Ambush took to the great outdoors.
For my first test, I brought the Ambush with me during my lunchtime break and visited a local park and hiking path. The path was on the "easy" side with parts of it being paved while the remainder of it was covered in mulch. It featured a beautiful forest backdrop and on each side of the path were sticks, twigs, and small gullies that were the perfect compliment to the vehicle I was carrying.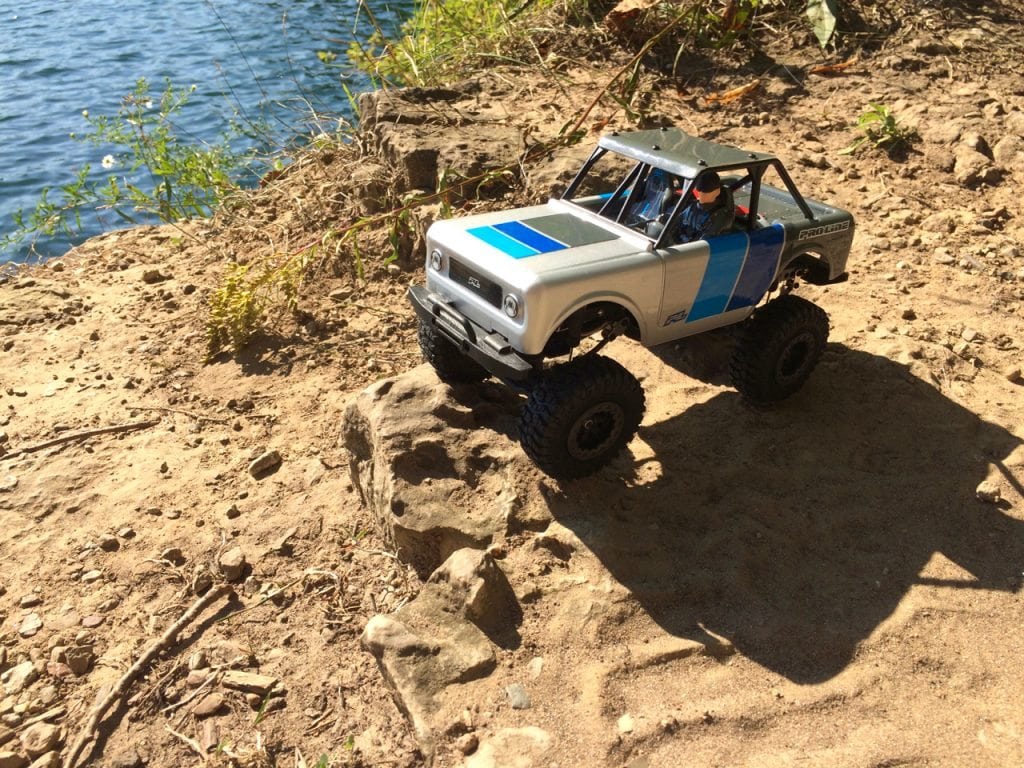 Starting out on the paved path and quickly transitioning to the much-covered area, the Ambush 4×4 performed like a champ. The path was relatively clear of natural debris and I was able to drive anywhere I pleased without having to push the vehicle's capabilities. After a few minutes of this, I ventured off the beaten path and onto the shoulder of the walkway. Here, I encountered larger sticks and logs, some of which were much larger than this tiny trail rider.
Using the handy speed setting adjustments on the transmitter, I had no trouble navigating these natural obstacles, making quick work of barriers and steep inclines. From the performance and handling side, the Ambush did everything that I asked of it. And on the visual front, it looked the part of a trail truck as it made it's way down the path.
A few weeks later, I brought the Ambush 4×4 along for a family hike in a state park here in Wisconsin. Filled with elevation changes, differing terrain types, and pathways that featured roots and rocks, this was the perfect outdoor test of this tiny rig.
The surroundings of this trail test were extreme, especially by 1/25-scale standards. There were a few flips, tumbles, and falls, but again, the level of fun never diminished. Overall, the Ambush 4×4 did everything I asked of it, and then some. While the extreme nature of the obstacles proved to be too taxing (at times), the  for the narrow width and previously-mentioned suspension/chassis challenges, it remained a blast to drive.
Is the Pro-Line Ambush 4×4 the Right R/C for You?
After weeks of indoor and outdoor test, my overall enthusiasm for this small-scale rig hasn't waned. Small-scale R/C vehicles have become my "go-to" when I want to unwind for a few minutes and forget about my day. No matter the scale, these vehicles all have the same effect; they bring the fun.
Pro-Line's Ambush 4×4 also fits into this "fun" category, but offers some additional perks. The slower speed makes it a natural fit for indoor driving and the compact size enables you to take it anywhere and drive it. It's the perfect messenger bag companion for a lunchtime drive around the office or stopping by a park on your way home from work. No matter what the situation, you can find time to drive this vehicle.
The question you have to ask yourself is this; "Does Pro-Line's Ambush 4×4 have a spot in my R/C collection?". The two largest factors in that decision may be performance and price. Let's tackle performance first.
From all of my testing and evaluation, the Ambush 4×4 doesn't behave exactly as a 1/10-scale trail rig would. The narrow width and suspension setup don't allow for much flex out of the box. You could do a few modifications to it, such as removing the internal shock springs, and to get closer to a larger-scale crawling rig, but you're not going to see a mirror image, handling-wise.
As for price, the near-$200 price tag may cause you to think twice about this purchase. I have paid far more and far less for a variety of vehicles with multiple levels of build quality. In my mind, Pro-Line hits a homerun with the quality and build craftsmanship of this rig. I didn't see any craftsmanship issues or defects that caused issues during my testing, and I don't foresee any cropping up down the road.
As hobbyists are quick to say, "you get what you pay for". With the Ambush 4×4, you're investing in a premium-level, small-scale trail and crawling rig that you can take, and drive, just about anywhere you could imagine. It blows away boredom with the flip of a switch and brings smiles to the faces of those driving, and watching it.
You can't put a price tag on fun, and the Ambush 4×4 brings the fun in spades.
Read the complete, in-depth review of this model on our sister site, smallscalerc.com.