When you're building or updating the wheels on an R/C vehicle, the number of options available seems endless. While that can be overwhelming, it's a great opportunity to try new things, whether it's the visual style, size, wheel material, or a combination of attributes. I recently decided to transform one of my radio-controlled trail trucks into a rotating showcase by pairing different bodies, wheels, and tires with it and then swapping them out over time, creating new and unique appearances.
Pro-Line's Carbine 1.9″ Internal Bead-Loc Dually Wheels ($41.95) have appealed to me from the moment they were released. While most of the vehicles in my R/C collection are based on "daily drivers," the idea of building a military-themed machine was something that I wanted to explore. Thankfully, the folks at Pro-Line provided me with a few pieces to help turn that plan into a reality.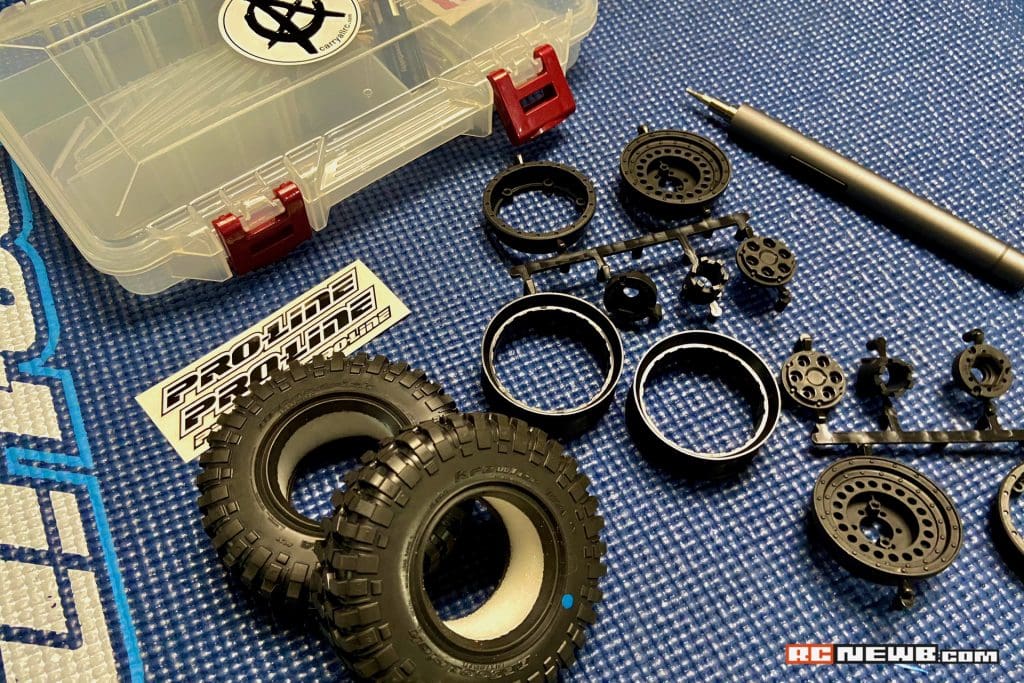 Installing Pro-Line's Carbine 1.9″ Internal Bead-Loc Dually Wheels
Getting these wheels mounted to tires and rolling down the trail is almost too easy. This isn't my first go-around with Pro-Line's Internal Bead-Loc wheels, so I knew what to expect. I say this because not all beadlock wheels offer an easy installation process. Finding the right balance of surface pressure, even-handedness, and patience can take time. Thankfully, Pro-Line has designed its wheels and tires to sync up harmoniously.
For some, the biggest selling point of these wheels might be their ability to function as "duallys." This option offers a unique way to set your rig apart from the rest of the pack and provides some added width and stability for your R/C crawler. I stuck with a standard, single wheel/tire setup for my needs, but I appreciate the option to switch things up should the mood strike me.
With more pieces than normal, each pair of Carbine wheels arrives attached to a parts tree. The individual parts might require additional trimming after being removed, but I found success by simply twisting each piece loose from the tree.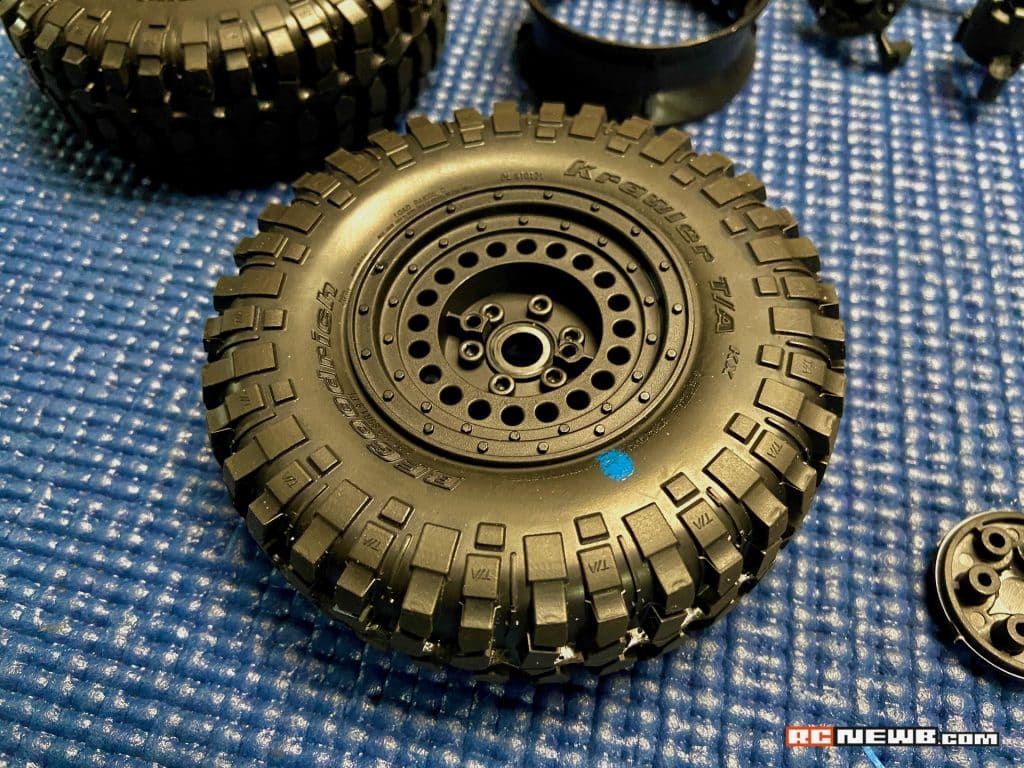 The only hardware you should need to assemble and install these wheels is a 2.0 hex driver and a standard wheel nut driver. Finding the right order to piece the wheels together might be tricky at first, but thankfully Pro-Line offers a handy visual guide and video which walks you through the process.
The tires that I chose to pair with these wheels were Pro-Line's Class 0 BF Goodrich Krawler T/A KX 1.9″ Rock Terrain Truck Tires. While the name may be mighty, these tires are actually much smaller than what I'm used to running. Since these wheels have a distinct look to them, finding the right tire to pair them might take some time. Another great visual-pairing option would be Pro-Line's Grunt 1.9″ Rock Terrain Truck Tires. Since I'm already running a set of those on a different machine, I figured I'd change things up and try out Pro-Line's smallest outer-diameter tire.
Although the tire's outer diameter was smaller, the inner diameter was still 1.9″, which made for a simple and easy mounting experience. Once I got into a rhythm of piecing the wheels together, I had all four shoes ready to install.
Note: Since plans tend to change, especially when they're plans that I've made, I switched out model platforms (Redcat GEN8 P.A.C.K. to Element RC Enduro) for this build mid-stream, which is why you might notice two different chassis in my review photos.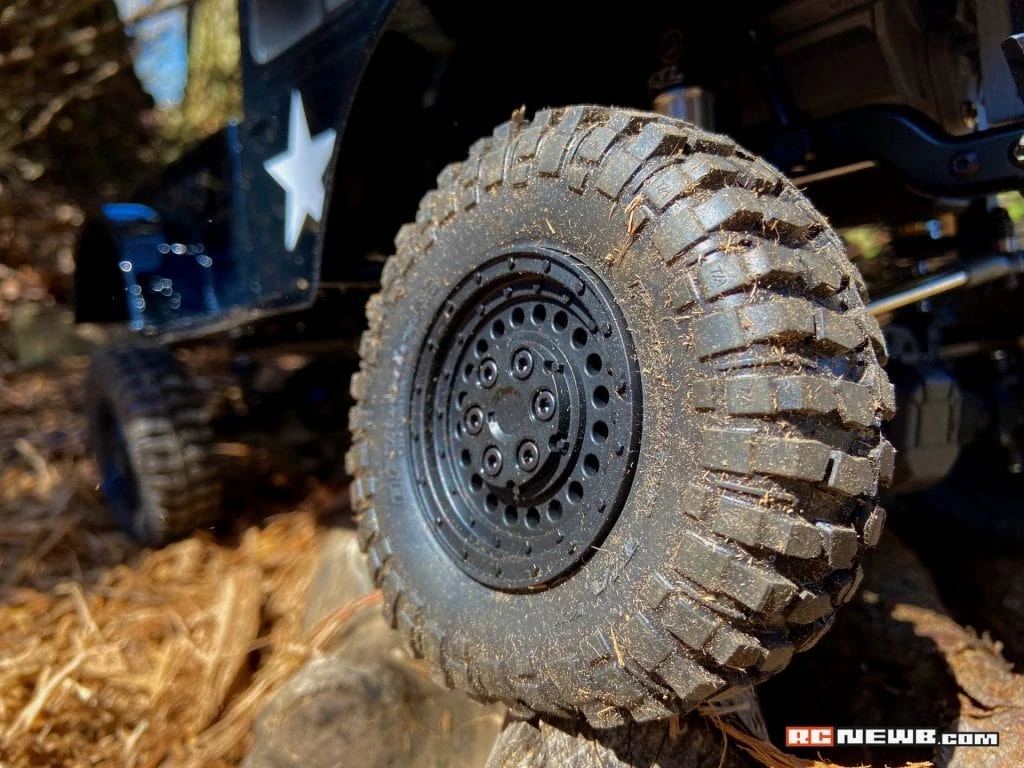 Ready for Adventure: On the trail with Pro-Line's Carbine 1.9″ Bead-Loc Wheels
While it might seem like a shallow statement, the main reason I chose these wheels was for their appearance. The rugged, armored vibe they give off is perfect for creating a military-themed build or rig overhaul. With the right set of tires and body, you can really craft something unique.
I paired my wheel and tire combo with Pro-Line's 1946 Dodge Power Wagon Tough-Color Body, a rig that can either be seen as military-esque or pedestrian. Overall, I am thrilled with how this transformation played out.
Pro-Line Carbine Bead-Loc Dually Wheel Photo Gallery
What's the Verdict: Are Pro-Line's Carbine 1.9″ Internal Bead-Loc Dually Wheels the right fit for your rig?
With their easy-to-install design (especially when paired with Pro-Line tires), these military-style wheels are great for transforming a traditional trail truck into a rugged, rough, and tumble off-road ranger.
Easy to assemble and durable enough to withstand the trials of the trail, these wheels are a great option for your unique trail truck needs. I'd certainly get these wheels again if I build another military-themed machine. Visit prolineracing.com to buy a set for your own rig.