I sure do love tires. There's something about a fresh set of rubber on an R/C machine that brings new life and a new set of possibilities into play. When it comes to crawler and trail truck tires, I have gravitated toward the big, beefy options from Pro-Line Racing's XL lineup. While these tires fit a 1.9″ wheel, they offer greater width and height when compared to "standard" 1.9″ tires. When it comes to performance, these tires are second-to-none; however, they tend to lack in terms of scale realism.
Don't get me wrong, if you want your rig to roll over anything that comes across your path, any set of XL 1.9″ tires should do just that. That said, if you're building a rig that leans toward "scaler" more so than "crawler" then you might want to find a tire with a slightly smaller profile.
During my search for a solid all-around performer in both visual detail and crawling capability, I stumbled across a tire that had been under my nose for years. Pro-Line's BFGoodrich All-Terrain KO2 1.9″ G8 Rock Terrain Truck Tires ($32.99 per pair) have been available for a while, but I've overlooked them up until now. I was sent a set of these tires for an old-school Chevy C10 build that I'm working on, but I quickly added two additional sets for my Redcat GEN8 International Scout II and Traxxas TRX-4 2021 Ford Bronco. Whether the rig is a classic or a modern trail machine, these tires work. Let's take a closer look at these high-performing, attractive scale and trail tires.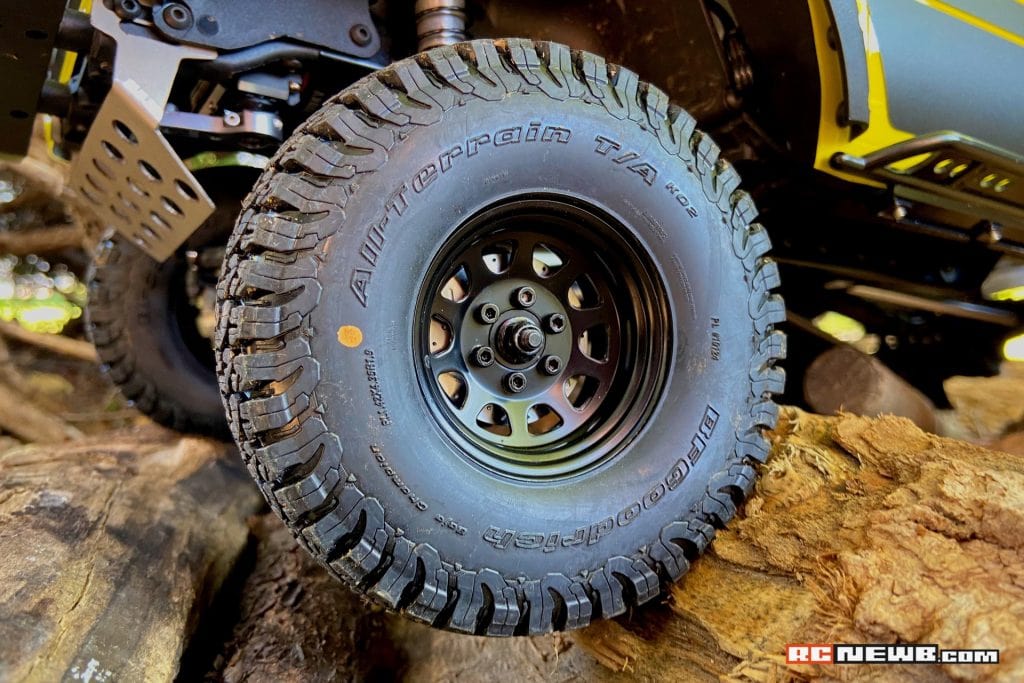 Installing Pro-Line's BFGoodrich All-Terrain KO2 1.9″ G8 Rock Terrain Truck Tires
Depending on the wheels that you're installing these tires onto, your installation task can go two ways. It can either be smooth sailing (especially when using Pro-Line's Internal Bead-Loc wheels), or it can take a little extra time and patience. I used a spare set of inner-rings from Pro-Line's Bead-Loc wheels for one of my tire installs and paired it with a metal-bodied set of wheels from Hobbypark. My two other wheel mounting setups use a set of wheels from SSD RC and a set of 1.9″ beadlock wheels from Injora.
The tools required to install these tires will vary based on your wheel choice. In most cases, you should be able to get the job done with a 2.0mm hex driver and a wheel nut driver. Before you tighten your screws down, make sure your tire bead is sealed and not "blowing out." I ran into this a few times but eventually got it sorted out. As soon as your tires are mounted, you can bolt them onto your rig and hit the trail.
Ready for Adventure: On the trail with Pro-Line's BFGoodrich All-Terrain KO2 1.9″ G8 Rock Terrain Truck Tires
Given the smaller, dare I say "petite" nature of these tires, they might look more at home on a groomed trail than on a rocky, treacherous course. That said, the first place I took these tires to test was my front yard rock & wood setup. These tires handled everything with ease, no matter the type of terrain, damp, slick wood, or angular, jagged rocks.
The tread pattern on these tires is much smaller than what I typically run, so I was very pleased by the performance of these new shoes. Additionally, these tires use Pro-Line's G8 compound and not the super-soft Predator compound that I typically run. Both rigs, the Redcat GEN8 and the Traxxas TRX-4 cut through the course like a hot knife through butter. It's a silly analogy, but it was awesome to see how well these tires performed compared to my standard rubber.
What's the Verdict: Are Pro-Line's BFGoodrich All-Terrain KO2 1.9″ G8 Rock Terrain Truck Tires the right fit for my rig?
If you're in the market for tires that blend scale looks and solid performance on just about any terrain, look no further than Pro-Line's BFGoodrich All-Terrain KO2 1.9″ G8 Rock Terrain Truck Tires. Their physical dimensions (Height: 4.35in/110mm, Width: 1.42in/36mm) might be smaller than others, but any hesitation should melt away after you see them mounted to your favorite rig.
After running these tires on the TRX-4 and GEN8, I am more than sold on the performance of these tires, which more than matches their stunning appearance. I highly recommend these tires for anyone who's overhauling a ready-to-run (RTR) rig or building a custom crawler kit. At $35.95 per pair, these are a reasonably-priced upgrade that should fit into anyone's budget. Visit prolineracing.com and pick up a few sets for yourself!