Earlier this year, I had the idea to build a trail truck for the sole purpose of being a showcase and test mule for a variety of wheels, bodies, and accessories. With space in my R/C garage at a premium, I decided that it's easier to stack polycarbonate bodies on top of one another than to squeeze multiple rigs onto a shelf. Shifting my plans a bit, I employed my Element RC Enduro Sendero chassis to be the base for these rotating rigs.
Three vehicle concepts came to mind when I began planning out this project, the first of which was a military-adjacent Pro-Line 1946 Dodge Power Wagon. This body seems to be one of the more popular models when scrolling through my social media feeds, and it offers plenty of creative flexibility. Wanting to hit the ground running, I chose to use Pro-Line's 1946 Dodge Power Wagon "Tough-Color" Body ($74.95). This would save me time in the paint booth, and while there was still snow on the ground when I was scheduled to start this build, I figured I could use all the help I could get.
Here's a closer look at this pre-colored trail truck body, designed and provided by the fine folks at Pro-Line Racing.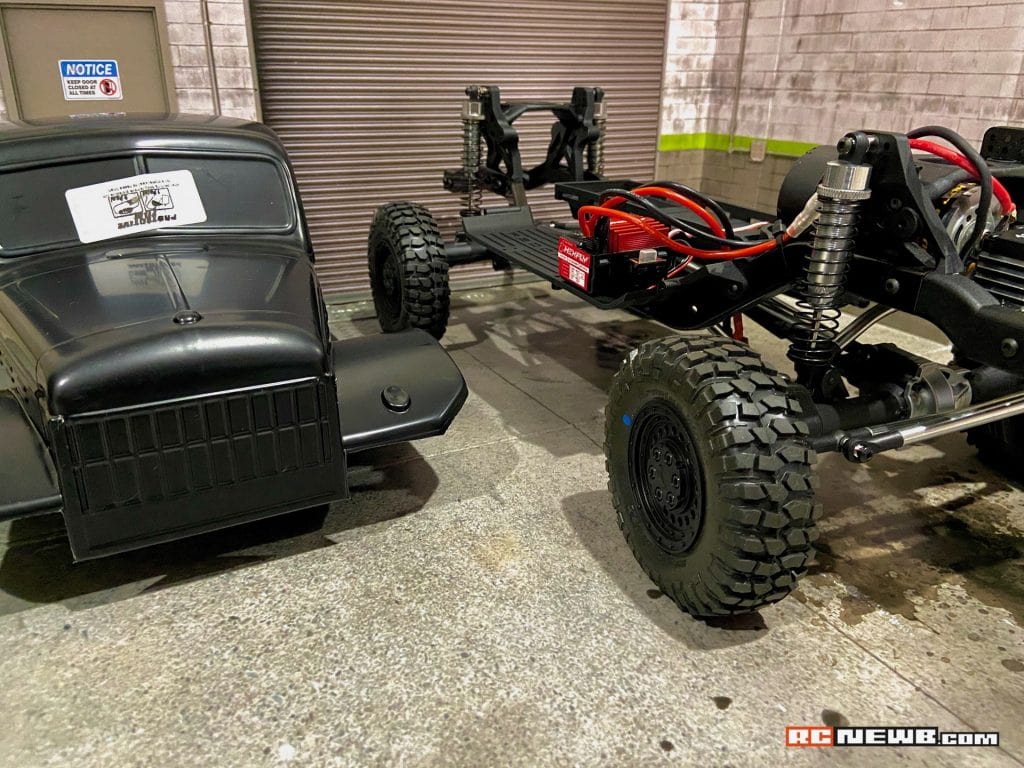 Installing Pro-Line's 1946 Dodge Power Wagon Tough-Color Body
Pro-Line's two Dodge Power Wagon body options (clear and "Tough-Color") feature a multi-piece design with the cab separated from the bed. Not only does this add to the visual realism of the body, but it also offers wiggle room if you choose to build a flat-bed-style truck rather than using the Lexan bed. For my build, I went all-in with the parts Pro-Line provided and tackled the task of trimming the body.
While the "Tough-Color" line of bodies will save you a little time, you'll still need to cut and trim the body to fit your desired chassis. Many popular models are compatible with this Lexan lid, designed to fit R/C trucks with a 12.3″ wheelbase. No wheelbase adjustments were needed to fit this body to the Element Enduro chassis; however, I found it necessary to move some of the electronic components around to support the narrower-than-normal width of the Power Wagon.
Attaching the cab and bed of the Dodge Power Wagon Body was a straightforward affair. Pro-Line provides dimpled marks in both sections of the body, giving you an easy guide to drill or ream holes for the connecting screws. All assembly hardware is included in the body kit, so you won't need to raid your spare parts bin. The only cosmetic add-on that I had issues with was the headlights. These are another separate piece that you need to cut, trim, and assemble. I was unsure of what markings to follow when cutting and cut them slightly shorter than needed. To remedy this, I designed replacement headlights in Shapr 3D and generated them on my 3D printer.
Once the body had been completely trimmed and assembled, I discovered that some work needed to be done to achieve the correct visual height (or at least visually correct).
To fully capture the rough and tumble military feel of this rig, I had paired this body with a set of Pro-Line Carbine 1.9″ BeadLoc Wheels and Pro-Line BFGoodrich Krawler T/A KX 1.9″ Class 0 Tires. With their smaller outer diameter, the tires required some extra consideration to the body post height. Some of the body's design features (such as the tapered front and running boards) threw a few curveballs my way, but I was able to work with and around these quirks to get the body installed.
Note: Since plans tend to change, especially when they're plans that I've made, I switched out model platforms (Redcat GEN8 P.A.C.K. to Element RC Enduro) for this build mid-stream, which is why you might notice two different chassis in my review photos.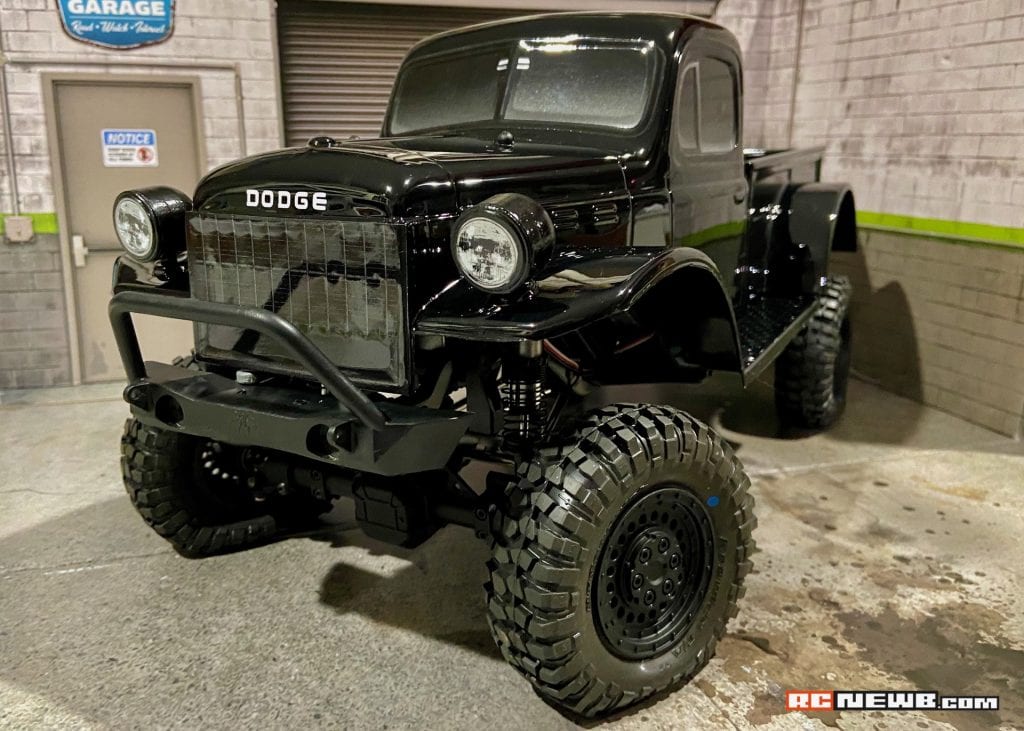 Ready to Roll: On the Trail with Pro-Line's 1946 Dodge Power Wagon Tough-Color Body
One of the Tough-Color body line's benefits is its durable, chip-resistant finish, perfect for carefree trail adventures. I had planned to take full advantage of the "tough" in Tough-Color until I saw the beautiful, glossy shine of the black polycarbonate (post film removal). It is, in a word, glorious.
Working past that beauty, I was very pleased with how this Dodge Power Wagon body turned out. While there were a few adjustments to be made to get the fit "just right," it was worth it to see this rig in its completed form. After a few obligatory garage photos, it was time to roll out into the yard for a shakedown.
Now, I understand that a crawler body does nothing to impact a vehicle's performance, but it was a rewarding sight to see all of the pieces for this build working together. The body offers plenty of wheel clearance, and I couldn't see any areas that would require additional adjustment. In all, it was a successful installation.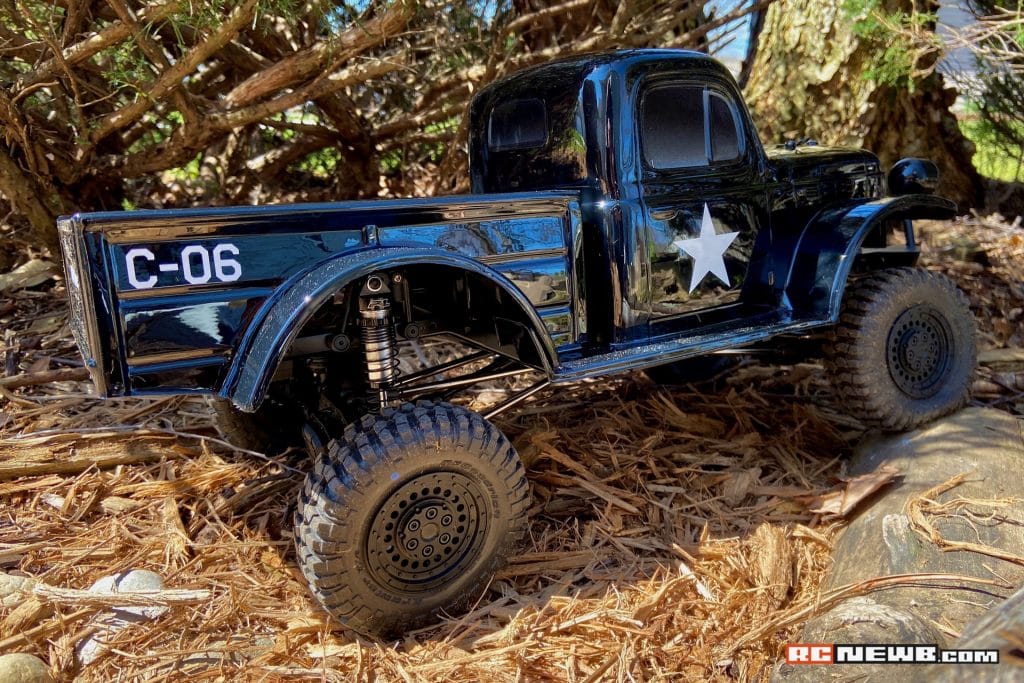 What's the Verdict: Is Pro-Line's 1946 Dodge Power Wagon Tough-Color Body the Right Rit for Your Rig?
The retro (very retro) styling of Dodge's 1946 Power Wagon might be an acquired taste to some, but I've found this body style growing on me since I wrapped up my install. Not having to worry about painting thanks to the Tough-Color black finish, it was nice to speed run through a body install and hit the trail a bit quicker than normal.
If you're looking for a new lid for your 1/10-scale R/C trail truck and want the added benefit of ease and durability, I highly recommend Pro-Line's 1946 Dodge Power Wagon Tough-Color Body. Visit prolineracing.com to buy one for your rig today.