Toy aisle R/C discoveries can be hit or miss, both from a quality and experience standpoint. They sometimes lack some of the refinements and "polish" that you'd find in a hobby store model, however, there are some surprises. When the New Bright R/C 1/14 DashCam Jeep Trailcat hit the shelves of my local Walmart, I was immediately drawn to it, both for its beauty, as well as its promise of a low-cost, entry-level FPV experience.
After wheeling this machine for a few months, both indoors and out, as well as witnessing some younger drivers take a turn behind the controls, I'm pleasantly surprised by what New Bright has brought to the table.
What's Included:
1 Jeep Trailcat DashCam R/C Crawler – $59.97 (

Available at Walmart.

)

1 R/C controller

1 FPV goggle smartphone enclosure

1 9.6V Li-Ion battery

1 9.6V Li-Ion battery charger

1 Instruction manual
The Body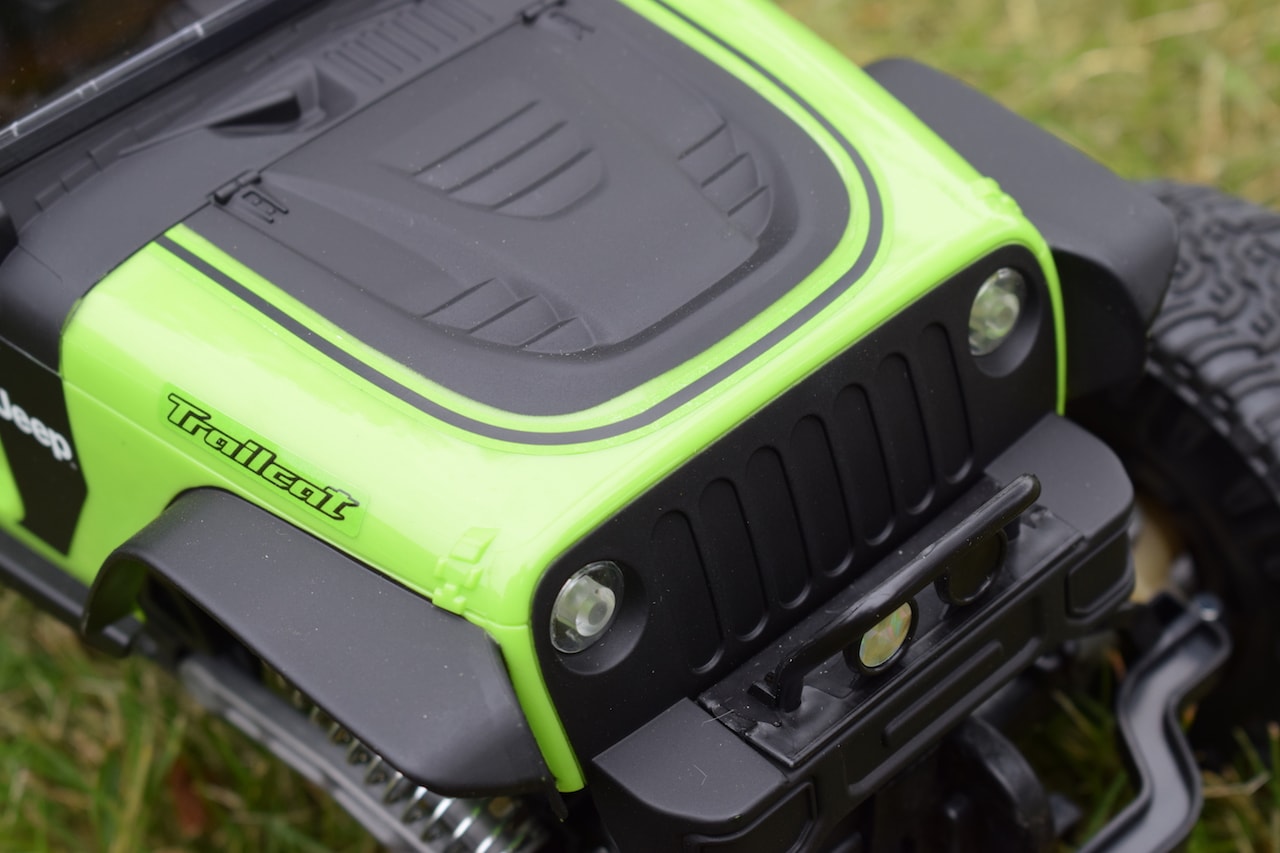 For starters, the body is beautiful. BEAUTIFUL. That's the first aspect that grabbed my attention while I was checking out the latest vehicles in Walmart's toy aisle. New Bright never seems to skimp on attention to detail with their bodies, which is why so many of their "hardbodies" end up mounted to hobby-grade radio-controlled vehicles.
As a side note, if you love the look of this body, New Bright has created a ⅛-scale version of the Jeep Trailcat, minus the FPV component, which should match up well with a 1/10-scale crawling rig chassis ( such as the Axial SCX10, Vaterra Ascender, Traxxas TRX-4, Carisma SCA-1E or Redcat Racing Everest GEN7).
Small details such as the mesh plastic roof and exposed roll-bar doors give this vehicle a rough and tumble attitude, which is contrasted with the sportscar-like hood vent details. There are LED lights behind the headlight lenses, which illuminate as soon as the vehicle is turned on. They project a small amount of light in front of the DashCam, however, they primarily add a scale visual feature to this Jeep…and it's an awesome one.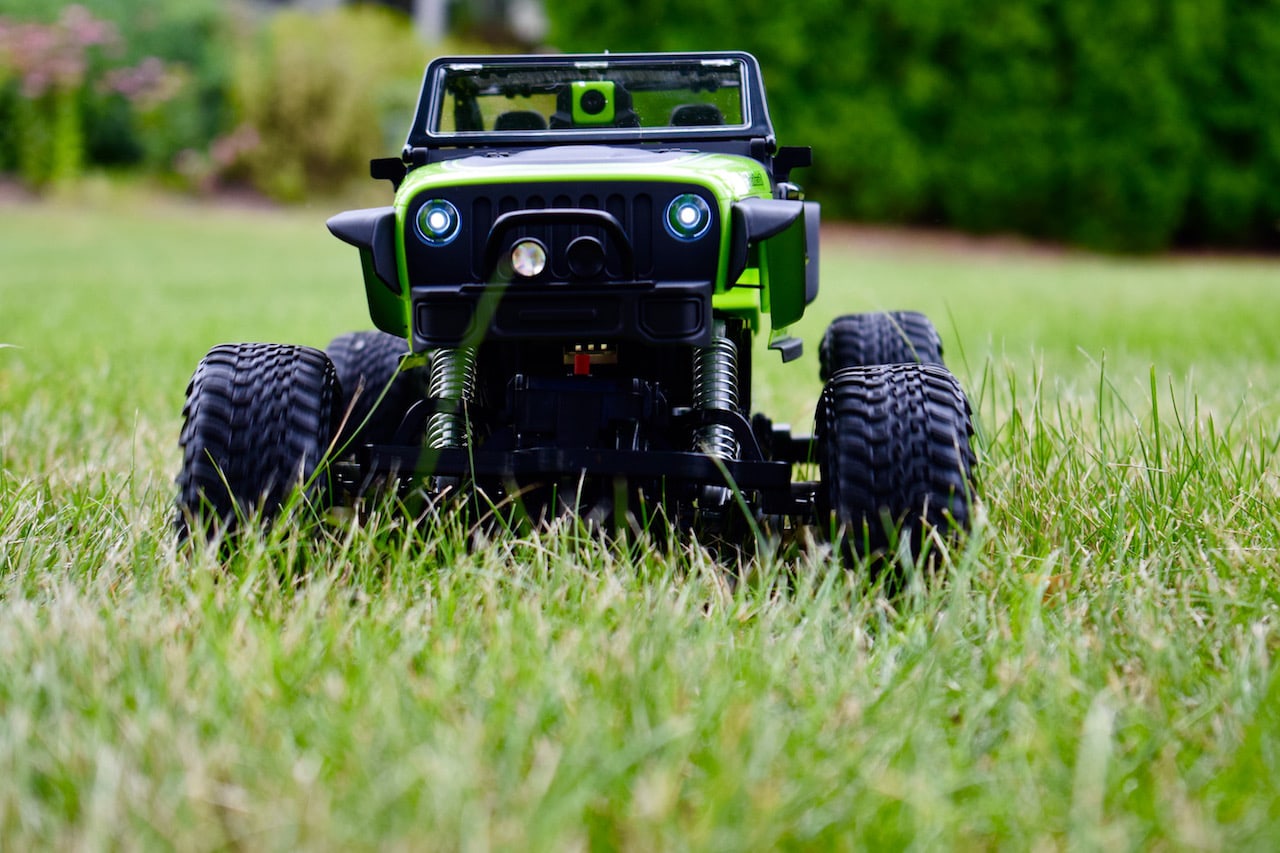 Set against the flat black grille, this crawler looks mean when lit up and driving towards you.
The Tires
R/C crawling can be quite challenging and technical, depending on where you're driving and what you're hoping to drive over. The tires on this radio-controlled crawler look impressive, and perform well, though they're not as soft or forgiving as you might like them to be when it comes to technical crawling situations which require high grip tires.
The tire material is a bit on the hard side, however, it does grip well thanks to the tread pattern that's built into it. At any rate, it scoots over grass and pavement with ease and can ramble up and over obstacles quite well, too.
The Chassis
Using a four-link suspension setup and active shocks, the DashCam is very flexible and able to twist and contort itself without losing balance. While driving, I (and my test drivers) were able to flip and roll this vehicle, however, those occurrences were due to "speed of approach" rather than being off-balance.
The durability of the chassis should also be noted here. While we didn't take on any rocks, we did set this vehicle up against a few log piles, which meant steady impacts and some jarring landings. There were a few airborne launch attempts, which the rig survived as well.
The Controller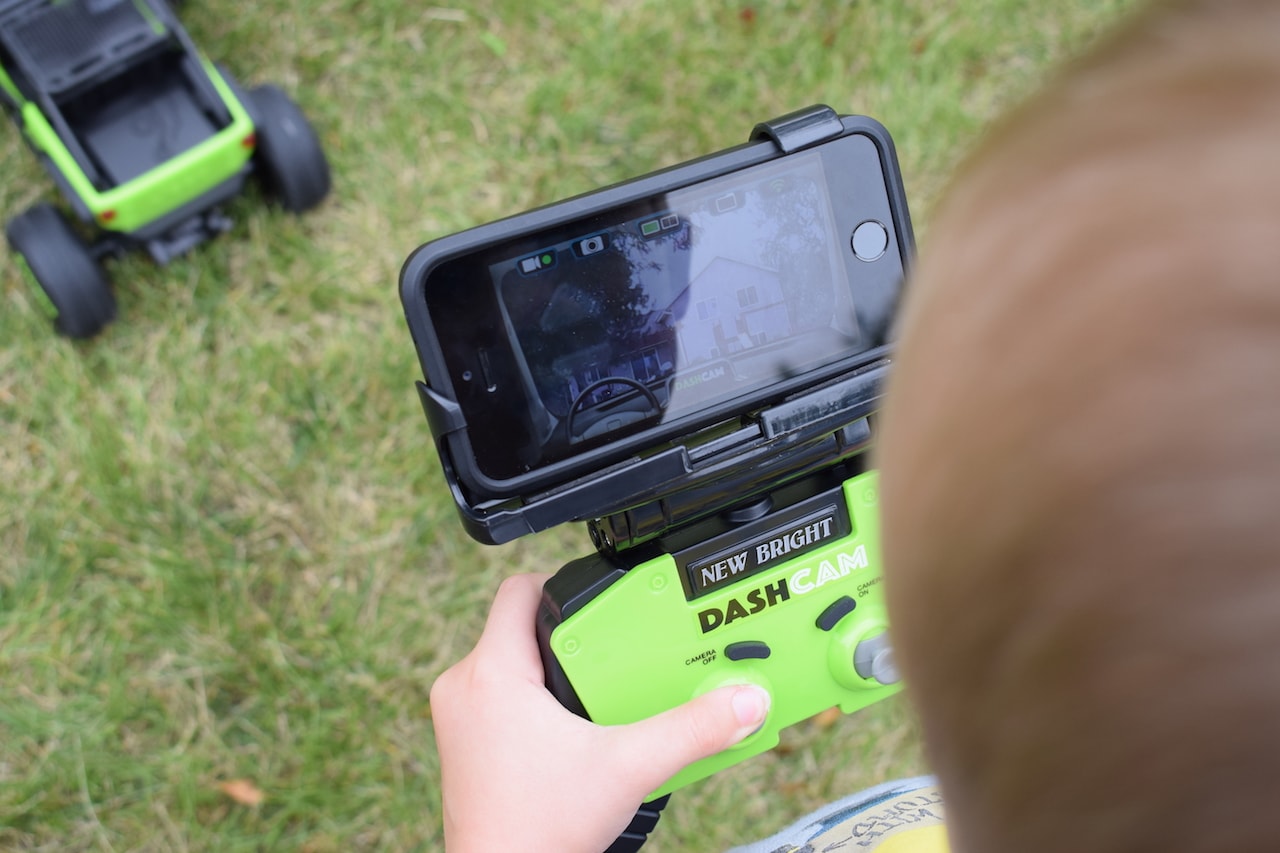 While it's not designed for adult hands, the controller felt comfortable while holding it. My younger test drivers didn't have any complaints about the controller either, finding the individual steering and throttle sticks easy to use and work with.
While not tied to the controller directly, this vehicle does lack proportional steering and throttle. Boiling that down, when you turn or accelerate in either direction, you're performing that action in with an "on/off" approach. There isn't a way to slowly apply throttle or slowly turn this vehicle to navigate a tricky terrain. It's all or nothing.
While this is a drawback, it's nothing that can't be overcome. I found myself playing with the throttle (blipping it on and off) to get as close to a proportional feel as possible. It works if you're willing to shift your game plan a bit.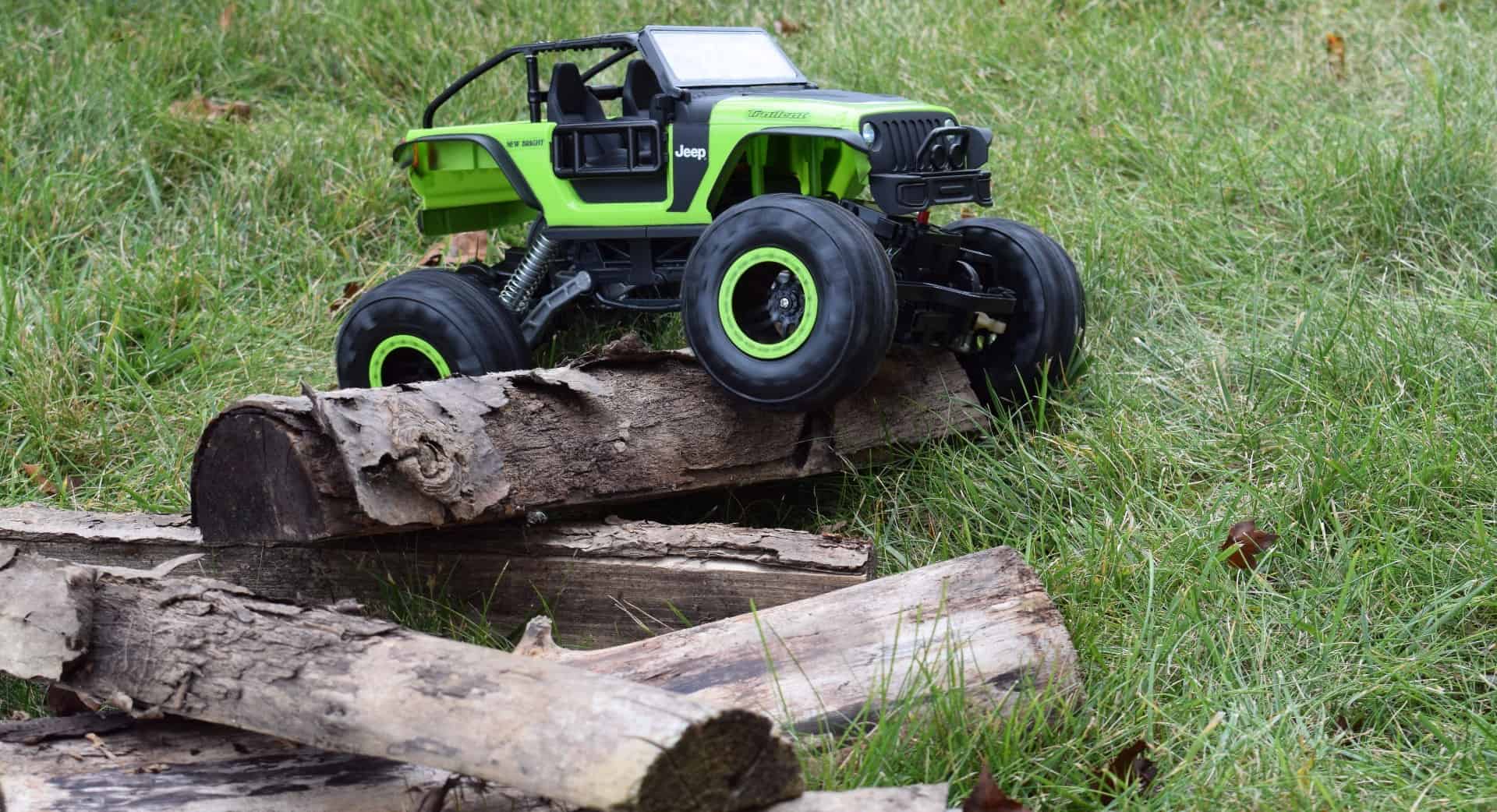 Another nice feature which this vehicle offers is the ability to drive it via a smartphone. While the primary use of the smartphone is to act as the FPV viewer, you can also hold your mobile device in "landscape mode" and drive the New Bright R/C Dashcam without the traditional controller. It's a perfect backup if your controller batteries die or you forget to pack your controller when heading out for an adventure.
The DashCam radio also uses a 2.4GHz frequency, meaning you can drive multiple (up to six) DashCam vehicles at the same time, without frequency interference.
The Driving Experience
Indoors or out, this is a fun vehicle to drive. I enjoyed wheeling it and I enjoyed watching the test drivers give it a solid workout, blasting it over logs, tearing through the grass, and launching it off foam ramps. As a standard R/C truck, it's a solid machine with durability that surpassed (and surprised) my expectations.
If you're looking to get into R/C crawling with this rig, you may find the lack of proportional steering and throttle aggravating or tough to overcome. While this does handicap the technical crawling possibilities of the DashCam, the vehicle itself is a solid platform to get a feel for radio-controlled crawling and FPV.
The FPV Experience
Aside from the cool design, the fact that this vehicle serves as a low-cost, entry-level FPV machine was very appealing. Having personally discovered the world of FPV this year, I have been on the lookout for other ways to experience driving a radio-controlled vehicle through this experience.
Using a WiFi connection to a smartphone, the FPV experience of the DashCam is unique and takes a while to get used to. The video flow is solid, and the video display features an overlaid steering wheel and dashboard graphic, making it a fun experience for younger drivers. Personally, I could do without the additional graphic, however, that didn't hamper the driving experience.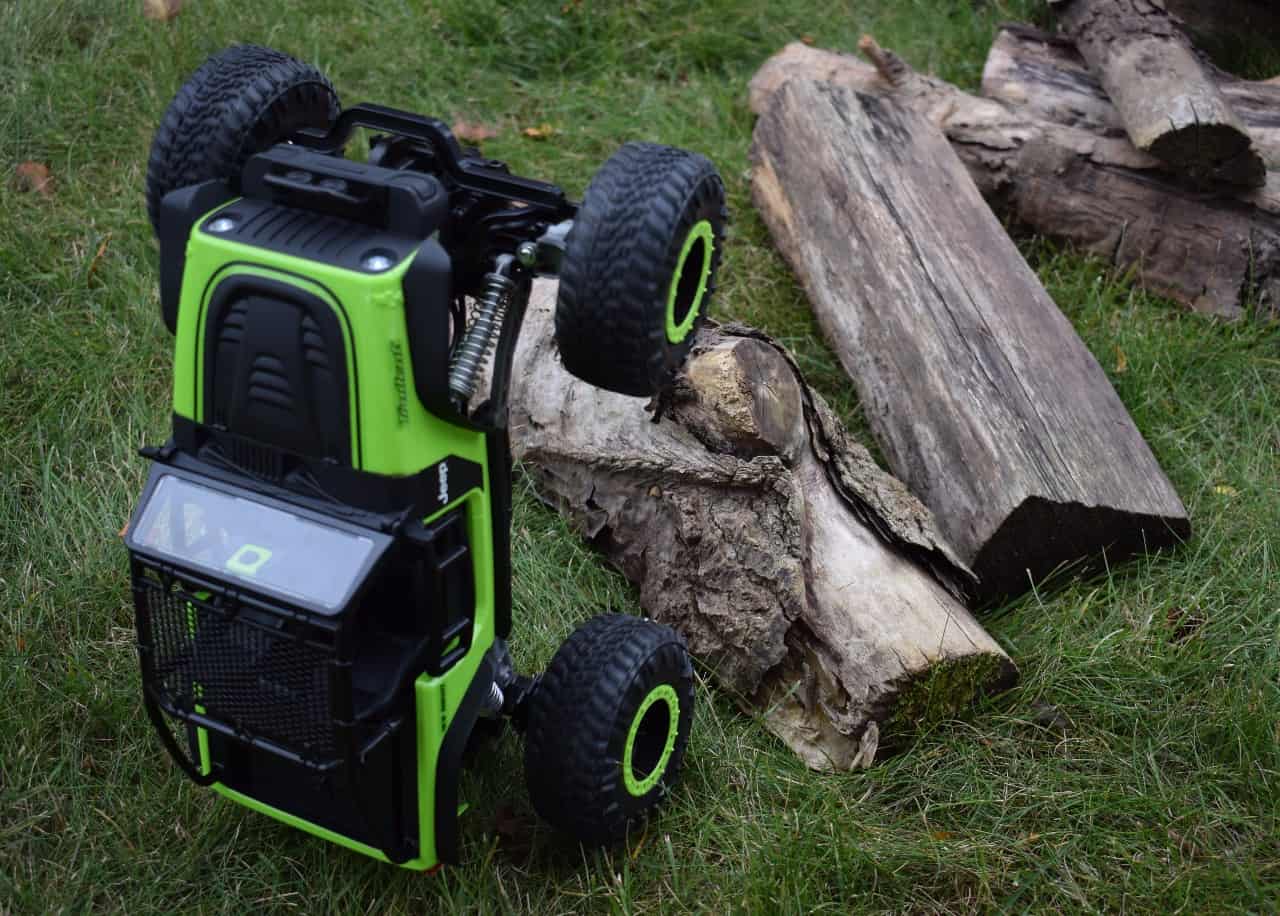 The New Bright R/C DashCam Jeep Trailcat offers two ways to mount your smartphone during the FPV experience. The first and preferred method for me is to insert them into an included FPV headset. A sliding cartridge holds the phone in a secure manner, allowing you to seal off the rest of the outside world while driving. This gives you an immersive experience and is what I believe FPV is all about.
If you'd prefer to use the FPV camera as a secondary view, a mounting bracket on the controller securely holds onto your phone, giving you the ability to glance down and see what your vehicle is "seeing".
Paring a smartphone to the DashCam is a very quick and easy process, getting you up and running in no-time. The DashCam app (iOS or Android) has a number of features built into it, including video recording, still camera capture, and "binocular view", which splits the full-screen image into two separate displays.
Is the New Bright R/C Dashcam Jeep Trailcat FPV Crawler the right R/C rig for you?
Although I consider myself to be an experienced driver when it comes to radio-controlled crawling rigs, I had a great time driving this vehicle, even for a few minutes at a time. If you're interested in getting into either R/C rock crawling or FPV, this is a very low-cost way to get your feet wet and see if you enjoy the experience. Granted, the vehicle performance won't be what you'll experience in a hobby-grade vehicle, however, it's still a fun machine to tear around with.
Ultimately, this vehicle is geared toward younger drivers, and the DashCam has proven itself to be a hit with my test drivers. From drive "just about anywhere" capability, to the experience they get from the FPV video feed, my crew has enjoyed driving and exploring with this rig.
Where to purchase the New Bright R/C Dashcam Jeep Trailcat Crawler