Through my 10+ years in the R/C hobby, I've become familiar with several brands and models. Still, I haven't had as much experience with a fair number of brands. Such is the case with FMS. Known first and foremost for their highly detailed R/C models, they have a knack for building beautiful vehicles, focusing on mid-to-small-scale sizes. FMS is your brand if you need a 1/12-scale or smaller radio-controlled machine with decent performance and stunning visuals.
They've only recently begun to play in the mid-to-large-scale range of models. Their 1/10 Atlas continues to build a fanbase with its cost, appearance, and performance chops. It's an enticing appetizer for those who want a solid blend of visual detail and trail performance, but what about the main course?
Well, if your main passion is scale detail, and you want a vehicle that can tackle the trail, let me introduce you to the FMS 1/10 Toyota FJ40 Land Cruiser. The folks at FMS sent me one of these big rigs to take a closer look at. Here is an overview of what you can expect from this 1/10-scale trail machine.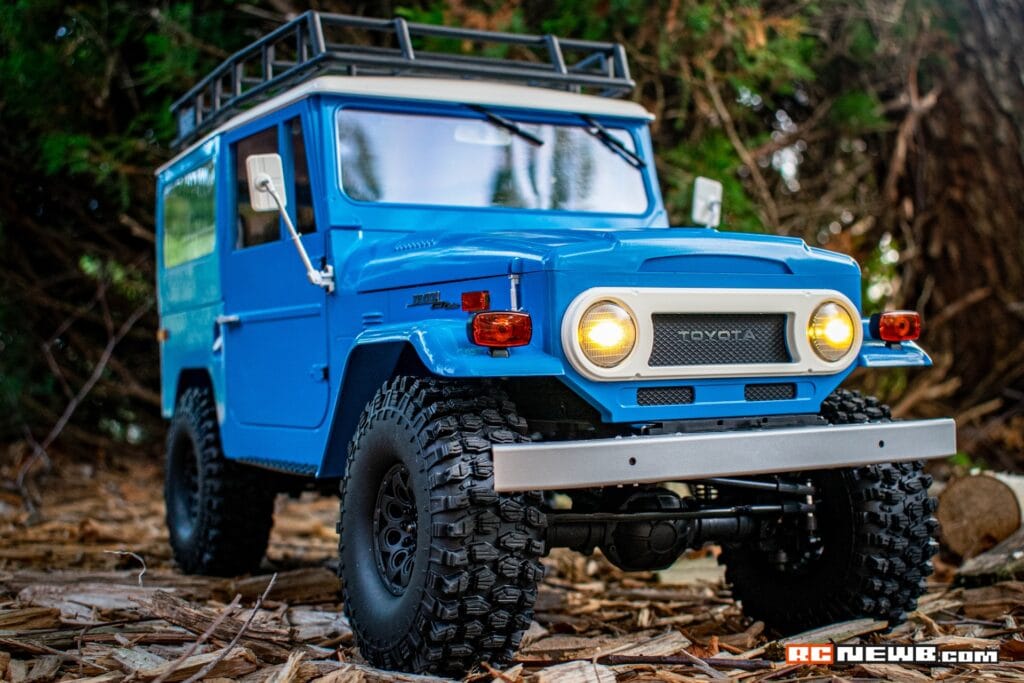 FMS 1/10 Toyota FJ40 RTR Specs:
Length: 571mm
Width: 268mm
Height: 326mm
Wheelbase: 339mm
Tire F/R: 115mm
Approach Angle: 65°
Departure Angle: 40°
Ground Clearance: 82mm
Motor: 35T 550 (Brushed)
Remote control distance: 80m
Cost: $349.99
What's Included with the FMS 1/10 Toyota FJ40 RTR:
1 1/10-scale Toyota FJ40
1 2.4GHz Radio Transmitter
1 Tire/multi-tool
1 USB Battery Charger
2 Metal Body Emblems
1 Front License Plate Holder/Bracket
2 Side Mirrors
2 Side Mirror Brackets
Various Screws
1 Instruction Manual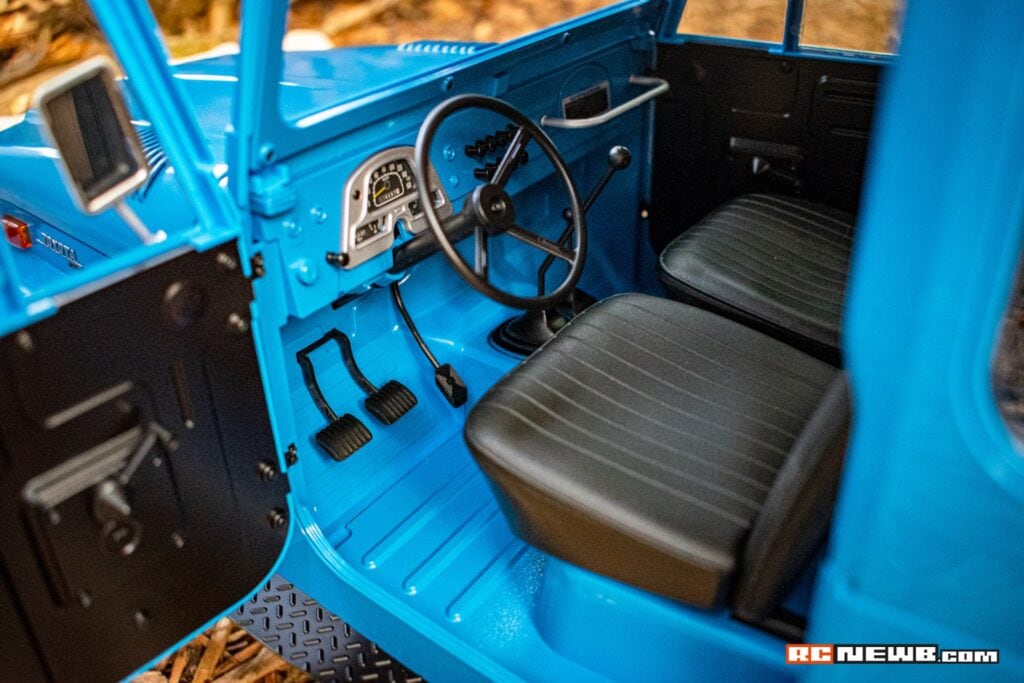 The Packaging:
It's rare for me to mention the packaging of any R/C vehicle, but with what FMS has done with the FJ40, they've earned an entire review segment. The quality and thought that goes into not just this but every FMS release I've gotten my hands on is second to none.
Wrapped in a traditional cardboard box, the core packaging for this model is a large expanded polystyrene (EPS) "treasure chest" that not only keeps this machine safe during shipping but also doubles as a transport and storage case. The main case keeps the FJ40 Land Cruiser snug as a large-scale bug, even with the additional foam blocks and packing materials removed.
The Body:
Enough about the packaging (but seriously, it's some great packaging); the real sizzle of the FMS Toyota FJ40 is the body. I could have sworn I heard angels singing when I opened the storage case for the first time. It was giant, it was glossy, it was glorious.
It was also a bit of a handful to wriggle out of the container/carrier, but once it was free, it looked even better than when I first saw it only moments ago. One thing you can't take away from FMS is their attention to detail. No matter the scale, they never seem to miss when it comes to visual aspects. This Land Cruiser is no different.
From the exterior to the interior, you'd be hard-pressed to find an asset on this model that wasn't found on its 1:1 counterpart (and vice-versa). Bumpers, functioning door handles, side mirrors, interior touches, and even the rear bench seats are all lovingly recreated in 1/10-scale hard plastic. The body is made up of several parts, so if you want to remove the top and doors, you can do that. The side and rear doors are also functional, allowing your scale creativity to run wild.
Speaking of scale, there's a bit of fuzziness around the true scale of this vehicle. FMS is promoting it as a 1/10-scaler, and it does size appropriately to that measurement, however, the features of the body are larger than that.
I tossed an action figure from one of my 1/10-scale rigs into the driver's seat, and I quickly discovered that I was dealing with something larger than the advertised scale. No worries, I'm down with large-scale machines, but if you're going to trick out your own FMS FJ40, you'll want to find a driver and accessories that are closer to 1/7-scale.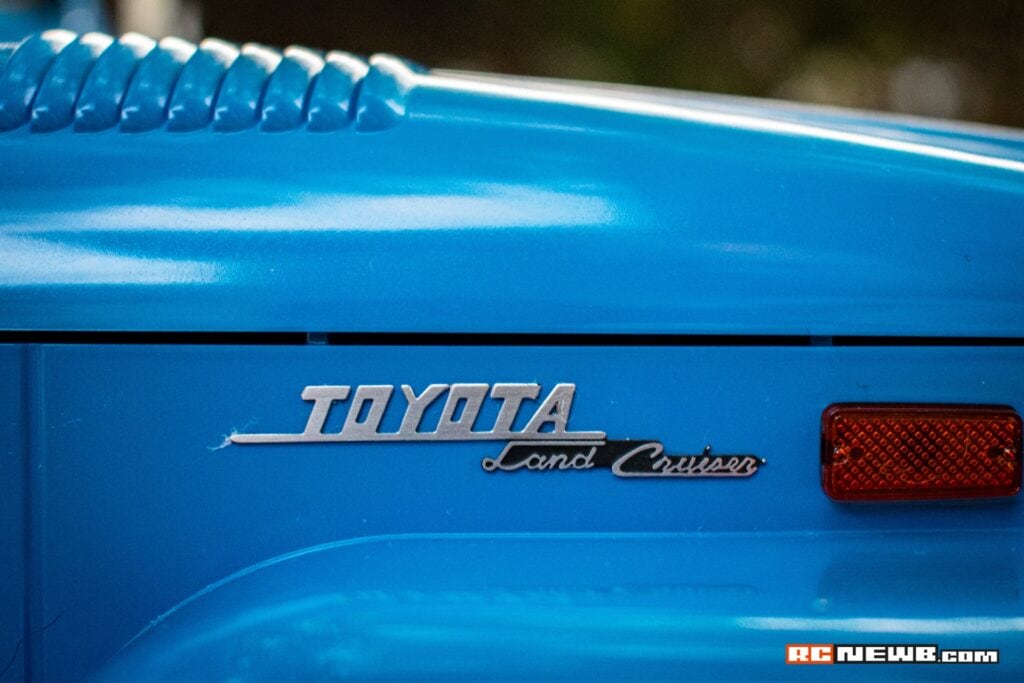 The Electronics:
Under the hood (seriously), you get a glimpse of what this machine is rocking on the performance side. A 550-size brushed motor sits in a front-mounted position, right where you'd find the engine on a full-size off-roader. Pretty cool, right?
The electronics on this rig aren't cutting-edge, but they get the job done. The stock setup features a 100% drag brake, showcasing the jiggliness of the shocks. I've been running this machine with a 3S LiPo, which exacerbates this factor. If you plan on keeping the stock electronics installed, I'd recommend (just as it was suggested to me) turning the drag brake off.
The controller is a FlySky G4P, which I've experienced with other ready-to-run (RTR) machines. It's a comfortable transmitter that isn't very heavy, but some fine-tuning controls leave something to be desired.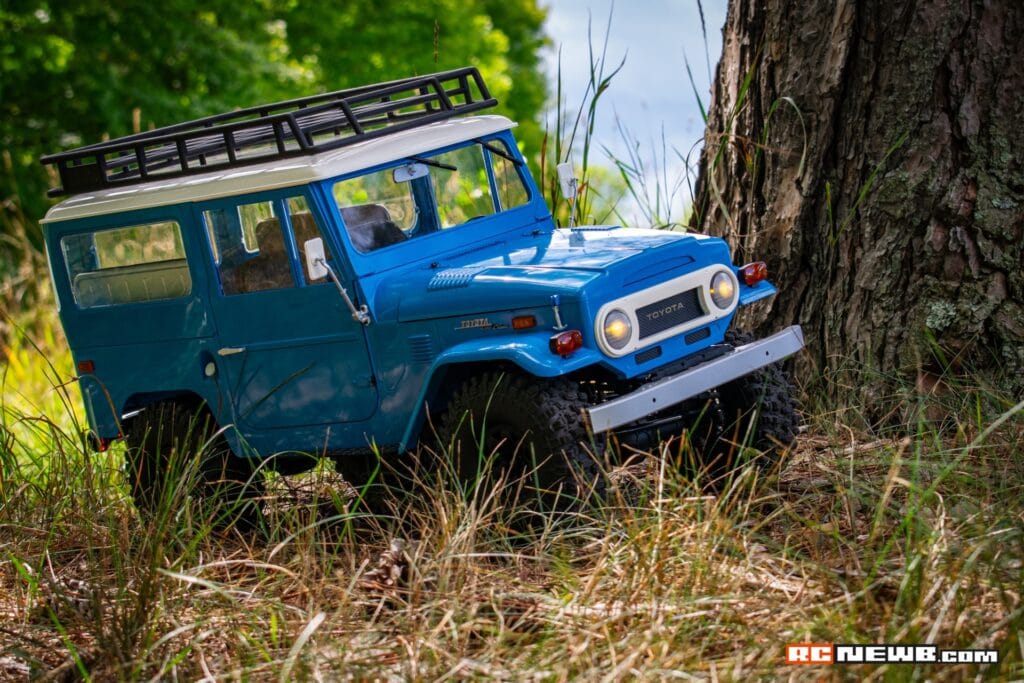 The Chassis:
The chassis of the FMS FJ40 is what you'd expect to find in a hobby-grade R/C trail truck. Metal ladder-frame chassis rails and metal four-link suspension serve as the foundation for this rig, while oil-filled shocks, jiggly as they are, help keep things under control.
Since this is a hard-bodied crawler, there is substantial body roll approaching inclines and side-hilling. Overall, the chassis is laid out very well and offers plenty of room if you need to remove the body and make adjustments.
This FJ40 Land Cruiser rolls on 1.9″ wheels with rather large tires that offer plenty of traction. The aggressive, stepped lug pattern makes quick work of trail obstacles, letting you continue your R/C adventure without breaking a sweat.
Performance:
With as much attention paid to the visuals, you might expect this machine to suffer in the performance department. Thankfully, that isn't the case. While I personally wouldn't take this rig on extreme crawling expeditions, it holds its own on several types of terrain, including rocky wilderness paths. From a paved driveway to a short-grass field to rock-laden woodlands, this machine is up for just about any challenge, and it looks great while doing it.
I'm rather conservative when I drive my machines, but I did find the overall running characteristics of the FMS FJ40 to be charming, if not quirky. The bouncy body that pitches to and fro gives a throwback feel and almost puts me in the driver's seat for an off-road adventure. The motor, while powerful, seems to chug along in certain instances, playing up the old-school aura of this machine.
It's big, it's bulk, and I love it.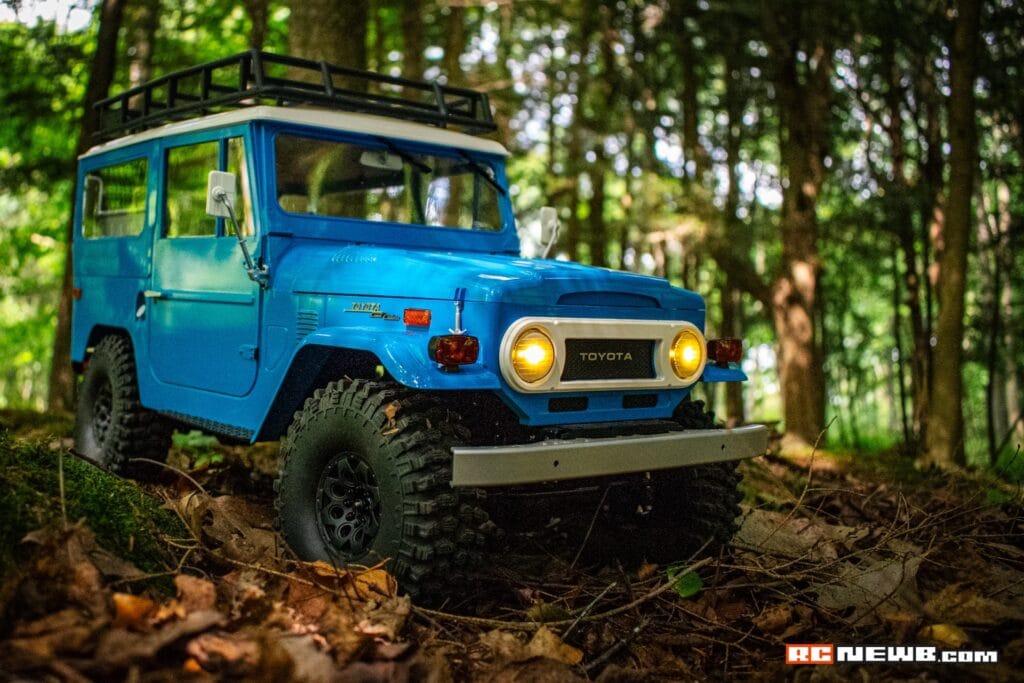 What's the Verdict?
If that last line didn't tip you off, here's another less-than-subtle hint: you need to take one for a spin! I've said this in other reviews, and I'll say it in many more; this rig isn't perfect. It's charming, top-heavy, and bouncy, but it is fun. Fun to drive in the backyard and even more fun to trek out into the wilderness for a hike. After all, fun is the name of the game when it comes to this hobby, right?
The visual details on the FMS FJ40 are stellar, and if I manage to make enough room in my R/C garage, I can see myself picking up another one of these off-roaders. Along with the driving experience, it's got amazing potential for customization.
At $349.99, this rig is competitively priced against other models in its category. If you put a premium on scale detail, this rig is a must-have. For those of you who have yet to check out FMS, specifically their larger-scale offerings, do it. You won't be disappointed.
Where to Buy the FMS 1/10 Toyota FJ40 RTR: