Over the past few years, Traxxas has slowly pushed the boundaries of scale realism in unexpected ways. Not only have their bodies become more detailed, incorporating different and more durable materials to provide additional visual style, but they've also brought to market a new way to mount bodies to chassis, eliminating the need for unsightly body posts.
Their latest off-road creation, the Traxxas Raptor R Pro Scale, blends raw, brushless performance with ultra-realistic styling, creating a 1/10-scale, radio-controlled truck that can easily be a shelf queen or a backyard basher.
The most stunning aspect of this truck has to be the body. Traxxas is no stranger to creating Ford Raptor replicas, having created a version based on the Slash platform for many years. The Pro Scale Raptor R elevates visual details through molded details throughout the body. The grille, headlights, bumpers, side mirrors, and more all look as true-to-life as possible, making it hard to mistake a photo for this 1/10-scale truck with its 1:1 counterpart.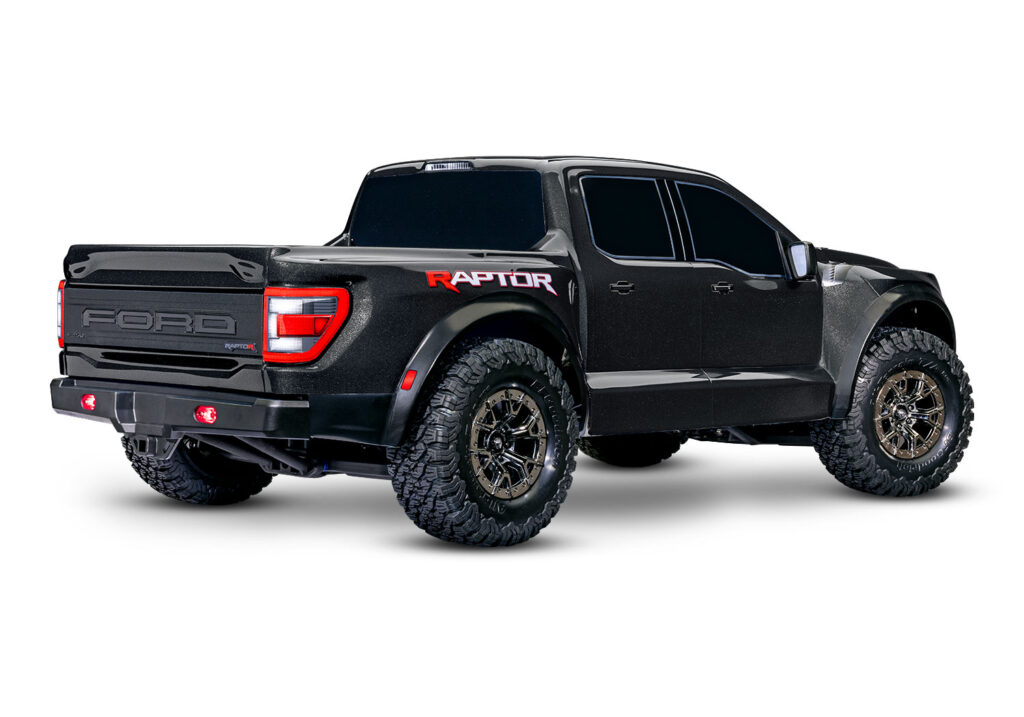 Traxxas also continues using its "clipless" body mounting system on this truck, eliminating protruding body posts and body clips. Similar to their other "clipless"-bodied models, this Raptor R replica looks nearly realistic at almost every angle.
Three body colors are available at launch; however, only two are available for online purchase (red and blue). The black Raptor R Pro Scale is a Traxxas dealer exclusive through November, 1, 2023, when it becomes available worldwide.
Under the body you'll find a time-tested Slash platform with a few modifications. The most significant change to this model is the longer wheelbase, which allows the Raptor R Pro Scale to keep its 1:1 proportions when sized down to 1/10-scale.
A 3500KV Velineon® brushless motor provides the power for this truck, allowing it to achieve speeds in excess of 60 mph (with a 3S LiPo battery and 18/54 pinion gear).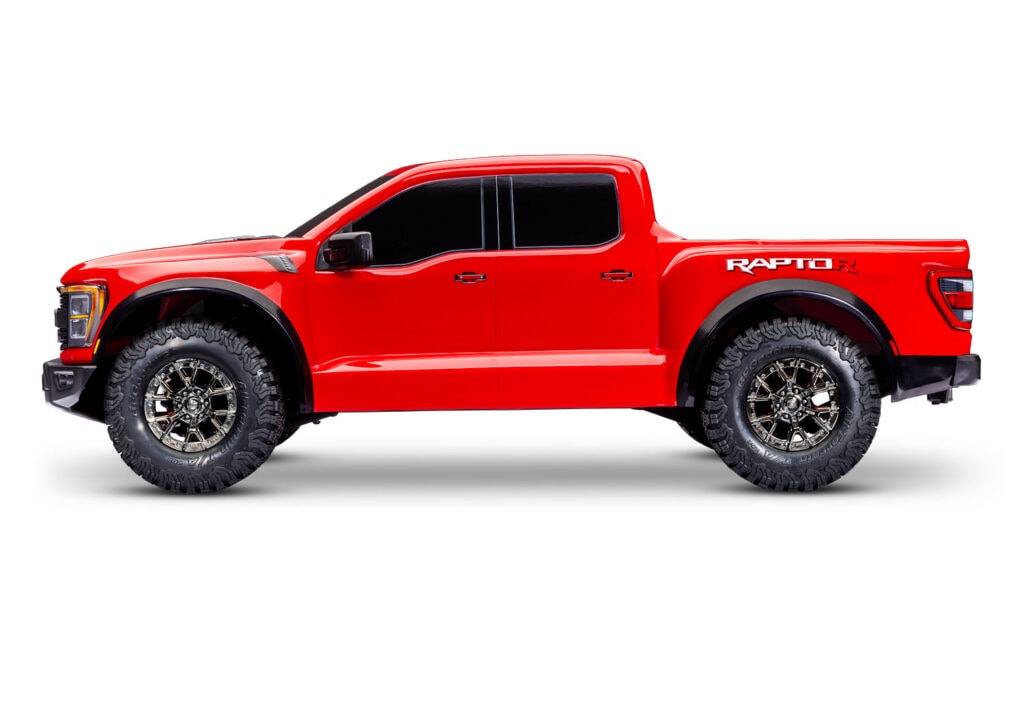 Traxxas Ford F-150 Raptor R Pro Scale Specs:
Length: 24.98 inches (637mm)
Height (overall): 8.91 inches (226mm)
Front Track: 11.63 inches (289mm)
Rear Track: 11.63 inches (289mm)
Wheelbase: 15.11 inches (384mm)
Ground Clearance:
1.38 inches (35mm)
2.05 inches (52mm) (center)
Weight (no battery): 6.05 pounds (2.74kgs)
Shock Length (front): 3.45in (88mm) – Long
Shock Length (rear): 3.98in (101mm) – XX-Long
Tire Diameter: 4.5 x 1.9 inches (114mm x 48mm)
Wheel Diameter:
2.2 inches (56mm) (inner)
3.0 inches (76mm) (outer)
Speed Control: Velineon® VXL-3s (#3355R)
Motor (electric): 3500KV Velineon® Brushless
Overall Drive Ratio: 37/13 ring/pinion gear ratio
Differential Type: Hardened steel bevel, sealed, limited slip
Gear Pitch: 32
Chassis Structure/Material: Composite tub
Drive System: Shaft-driven 4WD
Steering: Dual-bellcrank with integrated servo saver
Tires: Licensed BFGoodrich® All-Terrain T/A® KO2 2.2″ pre-glued with foam inserts
Tire Diameter: 4.48 inches (114 mm) (front and rear)
Wheels (front/rear): Licensed 2.2″ Ford® Factory option wheel
Wheel Diameter:
2.2 inches (56 mm) outer
3.0 inches (76 mm) inner
Radio System: 2-Channel, TQi™ 2.4GHz Transmitter with TSM® receiver
Servo: 2075 Waterproof Digital Servo (125oz-in torque)
Top Speed: 60+ MPH with optional included gearing and 3s LiPo
Battery Compartment (L/W/H): 165mm (6.49″) x 50mm (1.95″) x 23/26mm (1.02″/0.90″)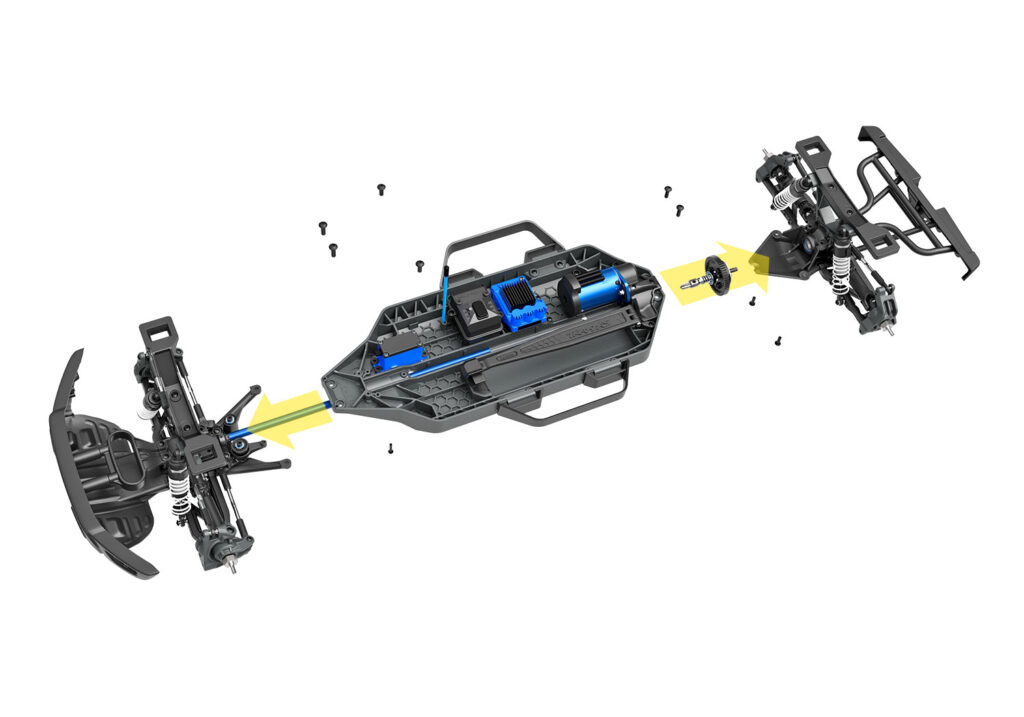 The Raptor R Pro Scale is priced at $529.95 and will be available in early August (2023). Visit traxxas.com to learn more about this highly-detailed R/C truck.
Image credit: Traxxas