ARRMA's Nero 6S BLX Monster Truck features new "Diff Brain Technology", adding a new set of tools to your driving arsenal
Technology advancements are a frequent occurrence in our everyday lives. Our phones, computers, and even watches are on a constant march of change and evolution. While the R/C hobby has experienced similar progression, the movement isn't as frequent. Perhaps that's why new, "outside the box" items cause so much buzz. For a number of weeks, ARRMA (and it's parent company Hobbico) teased something that would seemingly revolutionize the hobby. The big reveal came to pass, and the new technology that was hinted at came in the form of new internals, specifically a "smart" differential.
This new "Diff Brain" technology is nestled deep inside the wrapper of a new radio-controlled monster truck. The ARRMA Nero 6S BLX is an impressive 1/8-scale vehicle that features everything you'd imagine from a fun-focused R/C machine. It's worth noting up front that there are two versions of the Nero 6S BLX, one with the Diff Brain system installed (AR106011) and one that has the option to include it at a later date (AR106009). Both "flavors" of this vehicle are ready-to-run (RTR), making it easy to open up the box and soon after, open up the throttle on these massive monsters.
The spec sheet for the Nero includes a 2.4GHz radio system, durable chassis design, shaft-driven 4-wheel drive, a brushless motor, the BLX4075 200kV 4-pole (capable of handling a 6S LiPo battery and boasts speeds of 60+mph) and a number of other impressive features. The most intriguing one is the locking differential system that is controlled via the Nero's transmitter.
Promoted as having four driving modes, (Blast, Wheelie, Drift, and Climbing) you can change the performance characteristics of this truck on the fly, with the simple turn of a knob.
"Take control of four driving modes, straight from the transmitter. The NERO 6S takes previous limitations, commonly found in the Monster Truck class, and buries them. Easily switch between four available driving styles and enjoy optimised performance, all at the turn of a dial, all in real-time."
Packing this type of versatility into a truck that's focused on bashing may seem a little gimmicky on the surface, but I feel this tech application could have some unique applications in other "purpose-built" radio-controlled vehicles. An on-road scale vehicle that can easily switch from driving to tire-burning speedster with a simple change could be very interesting. Off-road applications are possible as well, if this system is married to a vehicle like Axial's SCX10 or RR10 Bomber. Giving added control on uneven terrain would be a welcome assist for outdoor scale enthusiasts. Even as a driving assist/teaching tool, this could possibly help younger drivers or other first-timers get a better handle on their vehicle, with the ability to advance beyond the need to use it as their skill increases.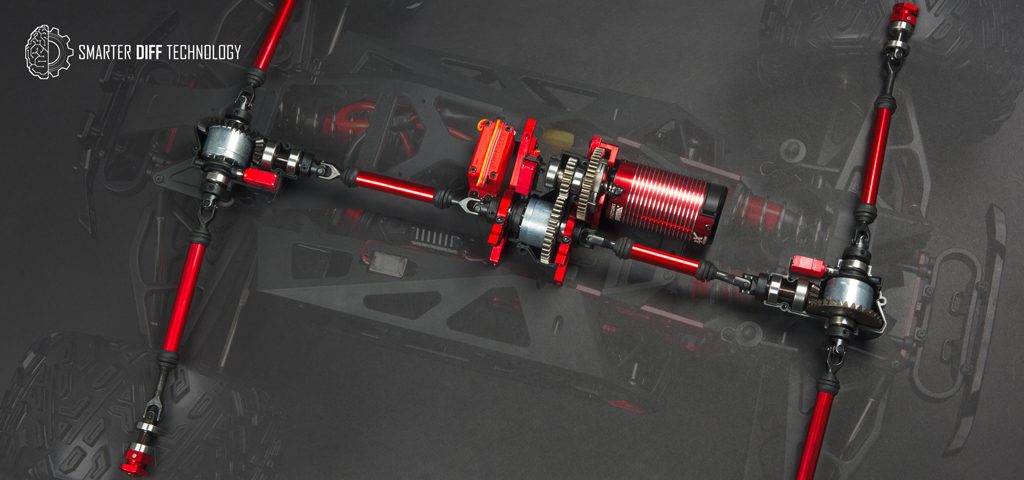 Shifting focus back to the Nero, this is an impressive vehicle that looks like it is built to take quite a beating without causing worry that the chassis will fail. With a slightly higher price that matches it's larger stature, the Nero 6S BLX carries a pricetag of $799.99. Learn more about this new radio-controlled monster truck, as well as details about Diff Brain, at arrma-rc.com.
Image credit: ARRMA