Provided by Tom Claerhout, Thumb RC Raceway
Salewsky Dominates as the Thumb RC Summer Series Rolls On
The 3rd Annual Thumb RC Summer Series continued on August 6th at Thumb RC in Gagetown, MI. The event featured 1/8 through 1/18 scale electric classes. For the first time this year temps were in the 80's, and it was partly cloudy. The track continues to get rougher by the end of each race day as the track gets harder throughout the year. 62 entries signed up for eight classes that produced some great racing on the day.
Youth & Women A Main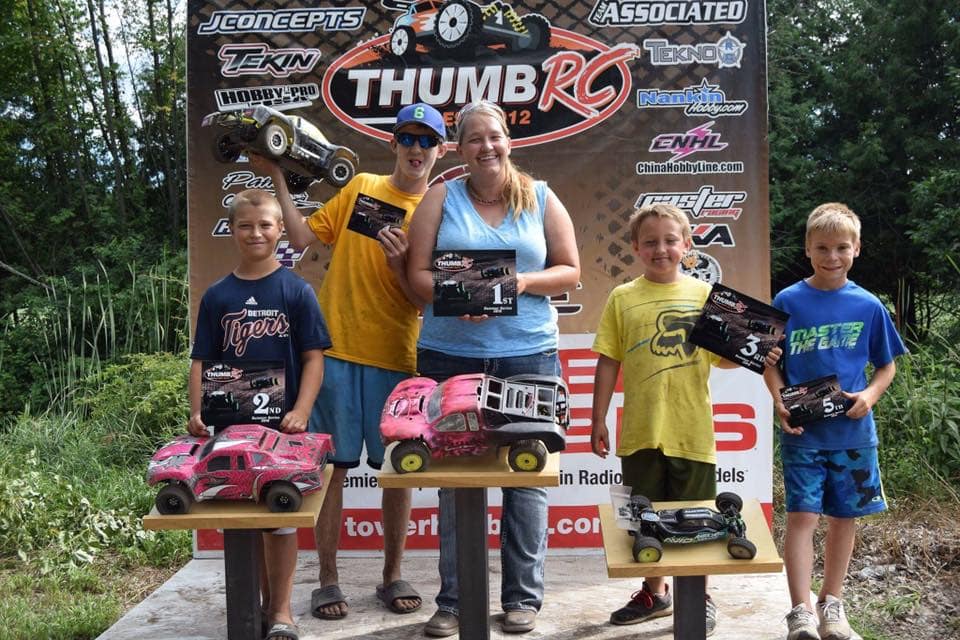 The Youth & Women class continues to be one of the best classes for spectators. Froggie and Ethan battled for first for the entire main event. Ethan managed to close the gap to a few seconds several times, but never could hold onto the lead. Froggie pulled out the win on her birthday with a nine second lead over Ethan at the finish. Logan took third place. He was close to the leaders but made a few mistakes that cost him a bunch of time. Joe Brandlow took fourth and battled with Nate Dog who took fifth.
1

st

:  Crystal Bandlow (Froggie)

2

nd

: Ethan Ulewicz

3

rd

: Logan Drapinski

4

th

: Joseph Bandlow

5

th

: Nate Dog



2WD Short Course A Main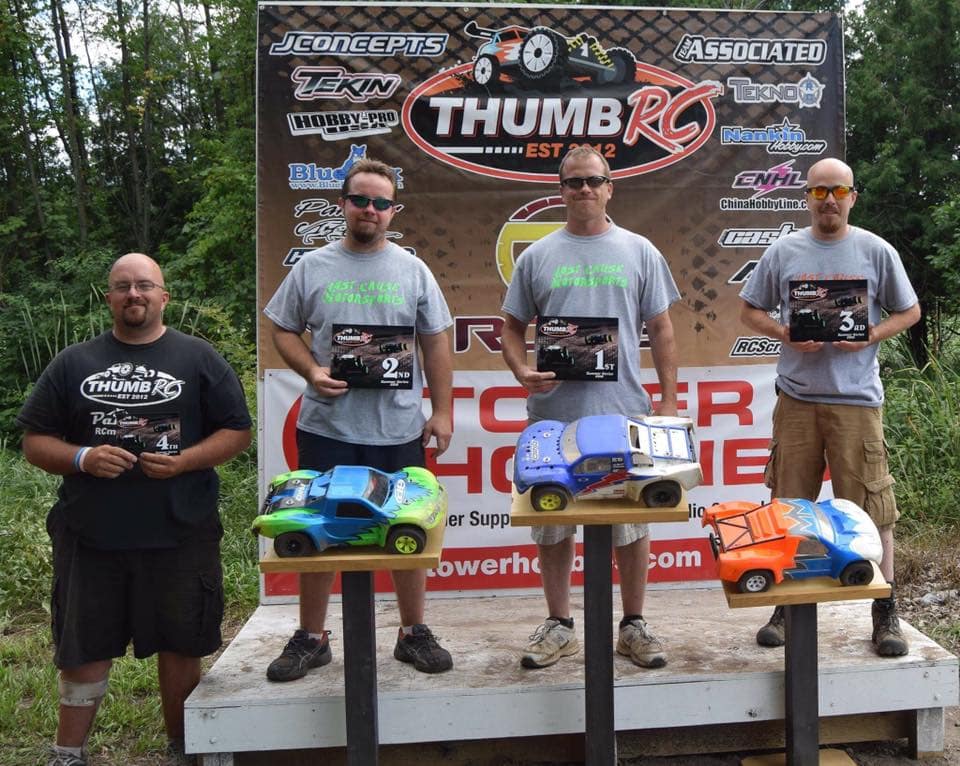 The 2WD Short Course class continues to have a light turnout. The class had five entries on the day. The main featured some great battles and shenanigans between Josh, Randy and Jeremy. They were battling hard and crashing each other for the first six minutes of the race. However, with two minutes to go Josh put the hammer down and took control of the race. He won by three seconds over Randy. Jeremy came in another five seconds behind Randy. Sven took a lonely fourth place two laps behind the leaders as he struggled to find traction on the slick track.
1

st

: Josh Salewsky

2

nd

: Randy Drapinski

3

rd

: Jeremy Salewsky

4

th

: Sven



Stadium Truck A Main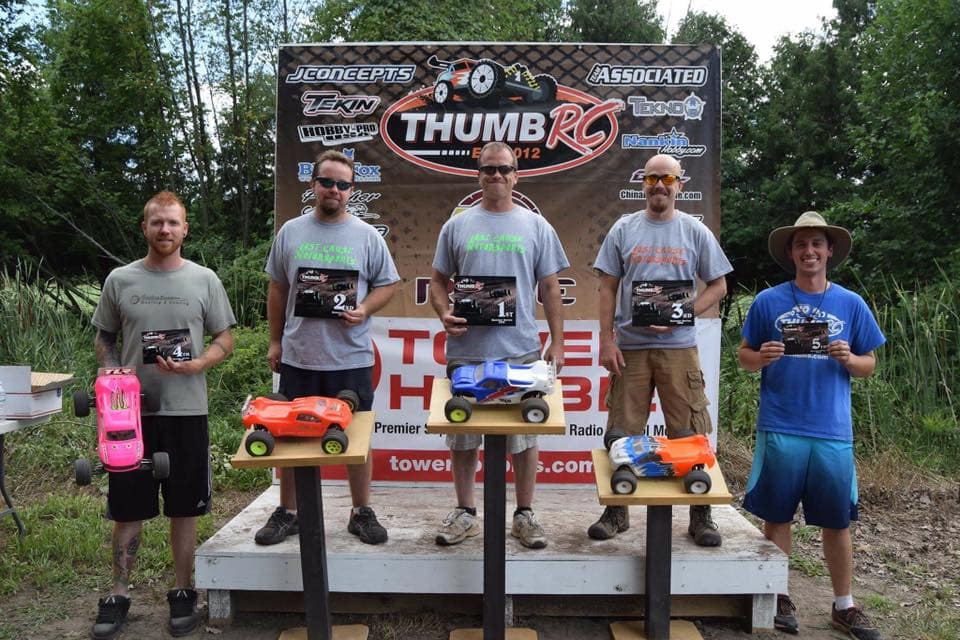 The stadium truck class continues to grow every race. However, Josh Salewsky had his truck dialed in and was in a class of his own. At the finish of the main he had a commanding sixteen second lead over Randy in second. Jeremy finished four seconds behind Randy as they swapped positions during the race. Justin and Tom battled for a few laps before Justin found his groove and pulled away for fourth. Tom settled for fifth.
1

st

: Josh Salewsky

2

nd

: Randy Drapinski

3

rd

: Jeremy Salewsky

4

th

: Justin Protusiewicz

5

th

: Tom Claerhout



2WD Buggy A Main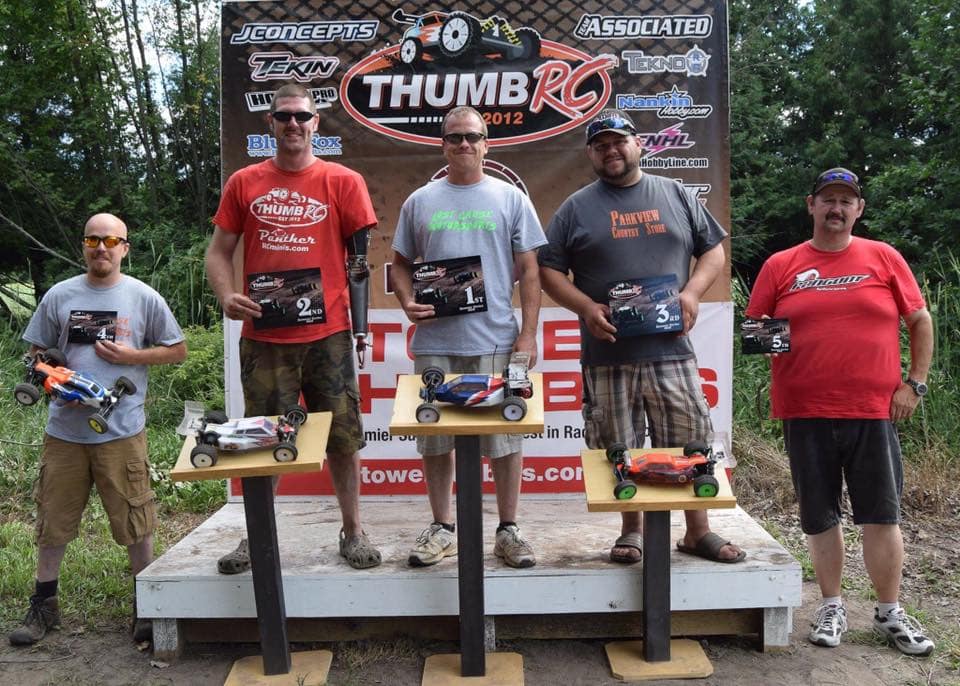 The 2WD Buggy class was fast and fun all day. The top five drivers all finished on the same lap. Josh Salewsky was the top qualifier and made quick work of the field. He led every lap of the race. Toecutter was able to keep the leader honest and finish four seconds behind. Ryan Burch qualified sixth but was able to make his way onto the podium in third position. Jeremy Salewsky took fourth and first time Thumb RC racer Rob McAuley was fifth.
1

st

: Josh Salewsky

2

nd

: Toecutter

3

rd

: Ryan Burch

4

th

: Jeremy Salewsky

5

th

: Rob McAuley
4×4 Short Course A Main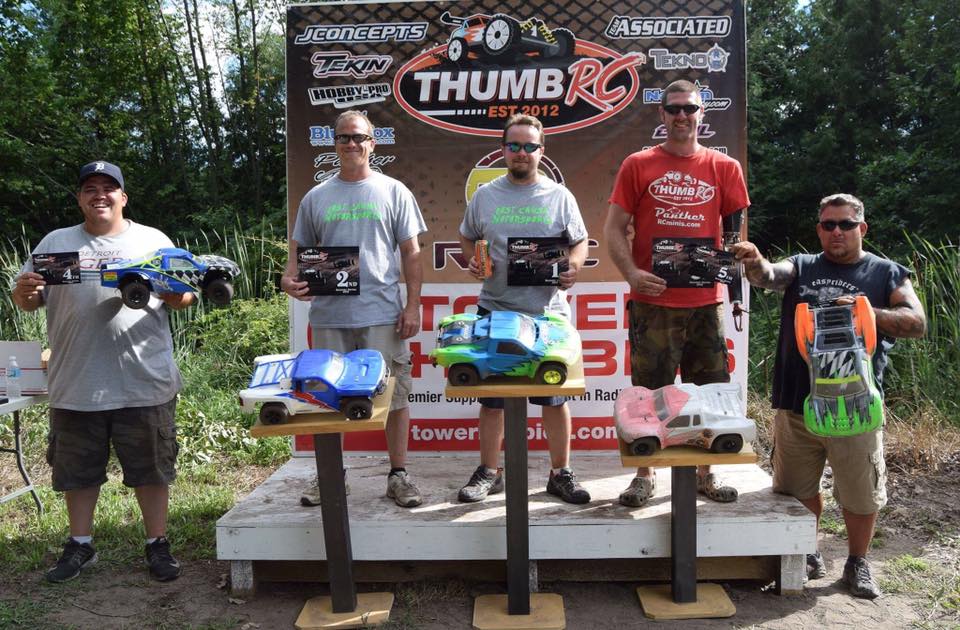 The 4×4 Short Course class continues to be the bumper car class of rc racing. The trucks are extremely fast, and the class is usually packed with fast drivers. It's hard to find a way around your fellow driver so as the saying goes "rubbing is racing". Jiff was the top qualifier but had his struggles during the main. After the first few corners, he was in last place stuck on the tubes. After the first few straightaways Josh and Randy were able to break away from the field. They battled throughout the entire race and Randy pulled out the win by six seconds over Josh. Toecutter slowly worked his way through the field after starting in eleventh position to finish third. Jiff came all the way back to take fourth and Rick was fifth.
1

st

: Randy Drapinski

2

nd

: Josh Salewsky

3

rd

: Toecutter

4

th

: Jiff

5

th

: Rick Delreal



4WD Buggy A Main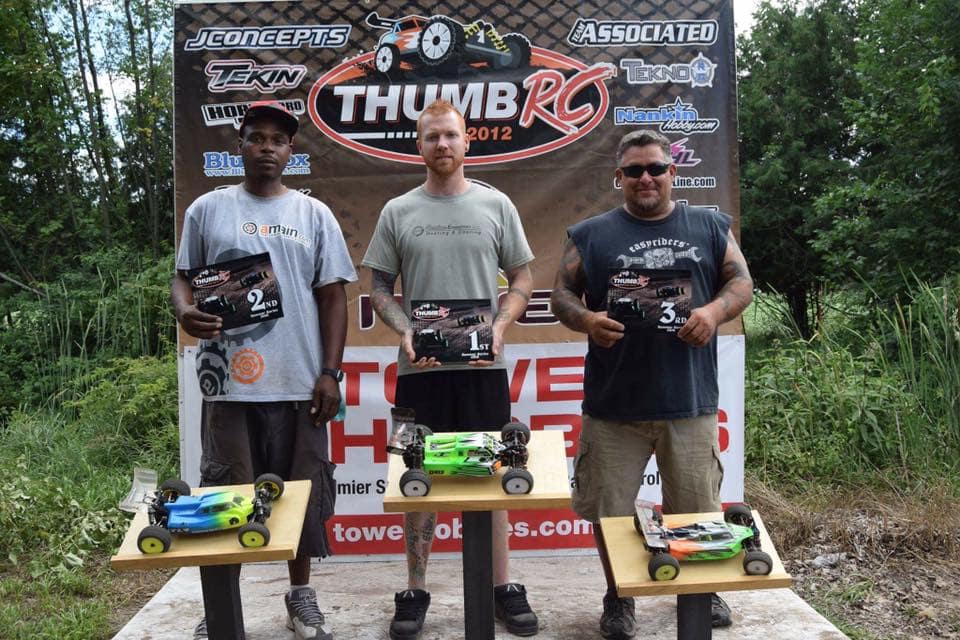 The 4WD Buggy class was the smallest class of the day. Ethan broke his car during qualifying so only three cars lined up for the main. Rick was having gear issues and his car made it a quarter of a lap before coming to a stop. That left Justin and Damaine to battle for the win. The battle never materialized as Justin opened up a gap that he would never relinquish. Justin finished with a lap lead of Damaine for the win.
1

st

: Justin Protusiewicz

2

nd

: Damaine

3

rd

: Rick Delreal



Open Mini A Main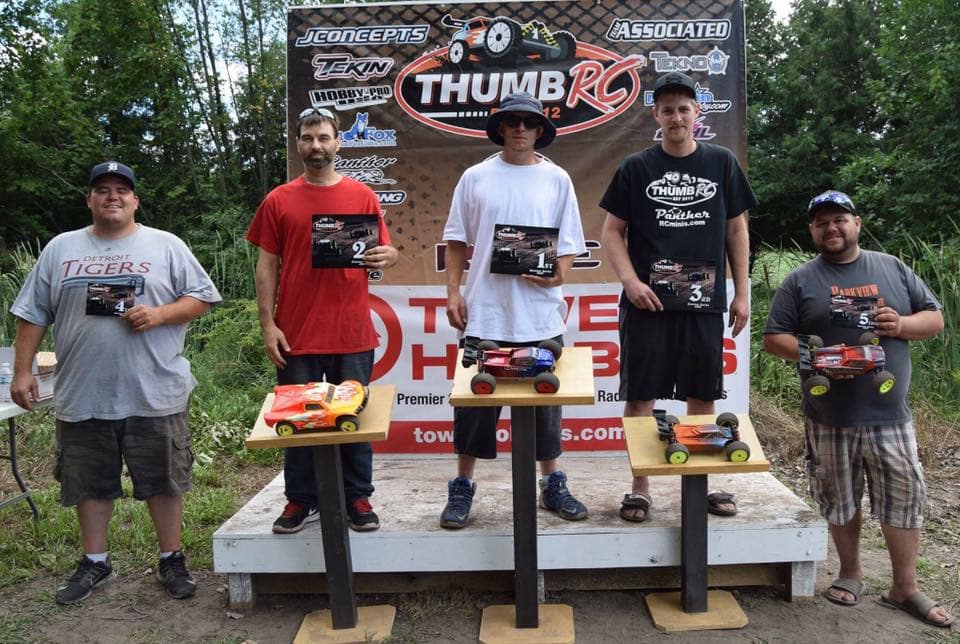 The Open Mini class was back in full force after a small turnout last race. The class featured eleven entries. Unfortunately, only seven cars made it to the finish line. Mechanical issues took their toll on several drivers. Toecutter was the top qualifier but he was only able to complete five laps before his car quit. Jimbob battled with Toecutter for the first few laps and then opened up a huge lead after Toecutter retired from the race with car issues. Brian Trammel finished second, one full lap behind the leader. Brandon Bischer drove a clean race for third and had a great battle with Jiff and Ryan Burch for the final spot on the podium. Mike Royer missed out on fifth place by .02 seconds at the line and took sixth.
1

st

: Jimbob

2

nd

: Brian Trammel

3

rd

: Brandon Bischer

4

th

: Jiff

5

th

: Ryan Burch

1/8 Buggy A Main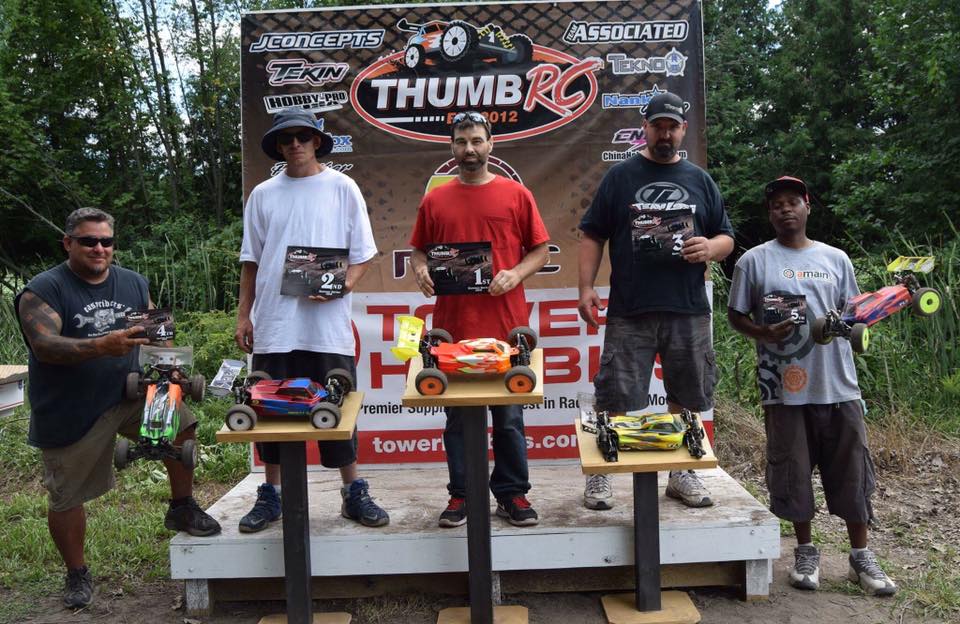 The 1/8 Buggy class is always one of the most competitive classes of the day. It seems like there is a new winner at every race. Brian Trammel was the top qualifier on the day. He led every lap of the race and won by ten seconds at the finish line. Jimbob drove by himself in second for the entire race. He was never pressured. Scooter, Rick, Damaine and Kool-Aid had an epic battle to fill out the last few podium positions. Rick and Scooter swapped positions all the way until the last lap when Scooter was able to secure third and cross the finish line with a four second gap back to Rick. Damaine took fifth.
1

st

: Brian Trammel

2

nd

: Jimbob

3

rd

: Scooter

4

th

: Rick Delreal

5

th

: Damaine
A big thank you goes out to all of the drivers for making this race success. The summer series finale at Thumb RC is on August 27th. We will have a ton of free raffle prizes to give away. Don't miss it!
Thank you to these great sponsors: JConcepts, Tekin, Blue Fox Gifts, Panther Tires, Hobbywing, Robinson Racing, MIP, Boca Bearings, Castle, Team Associated, Tekno RC, Nankin Hobby, Chinahobbyline.com,Caster Racing.