The amount of detail and scale realism that have been poured into radio-control car and truck models over the past few years has been staggering. With it has come a rise in scale accessories and scale creativity. I've seen amazing creations built by hobbyists as well as select manufacturers. Everything from scale tools, trailers, and even complete garage setups. It's an amazing aspect of the hobby to witness. If scale is at the heart of your passion for R/C, you have to see what the folks at Pro-Line have dreamt up.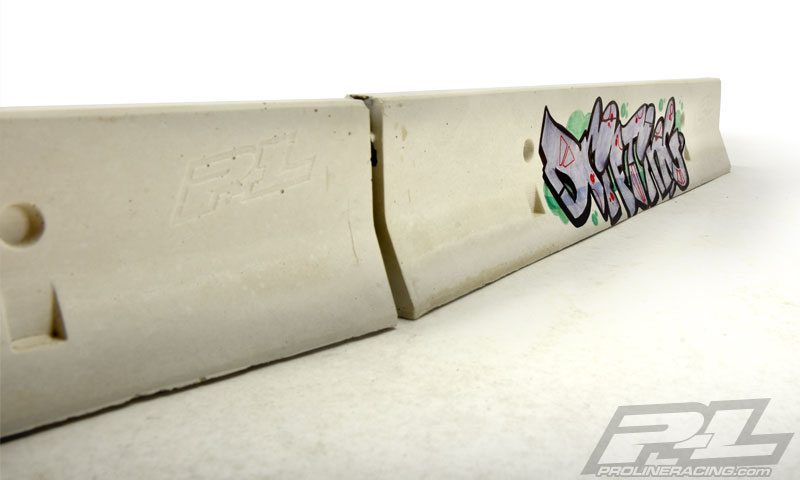 Their latest scale accessory is the True Scale 1/10 K-Rail, a concrete (yes, you read that correctly) and steel rail that can be used in many scale applications. Measuring 19.75″(l) x 2″(w) x 3″(h), this item can be stacked, linked, or lined up in rows to fit whatever scene you have in mind.
For drifting and street-course layouts, you can use the K-Rail to create barriers and assist with track marking and layout. Trail trucks and off-road machines can use this unique item as an obstacle or trail gateway. At the very least, it can provide a fun backdrop for photographing your latest radio-controlled creation.

As mentioned earlier, Pro-Line's True Scale K-Rail is made from concrete, making painting and customizing easy. It's even reinforced with steel rebar, just like the 1:1 scale concrete barriers that you might see in your everyday travels.
Specifications:
Length: 19.75″ (501mm)
Width: 2″ (51mm)
Height: 3″ (76mm)
The True Scale 1/10 K-Rail is priced at $21.21, making this a budget-friendly way to add some unique scale flair to your R/C garage or setup. You can learn more about this new scale accessory at prolineracing.
Image credit: Pro-Line