Monster trucks and scale rigs have been the hot ticket in 2017 and they're not slowing down as the year draws to a close. Losi has added a second vehicle to their Tenacity line with their new Tenacity MT, and this machine looks like a real beast.
Powered by a 3800kv brushless motor, this 1/10-scale, four-wheel drive monster truck is ready to roll on, and over, whatever you throw at it. Based on the Losi TEN chassis, this radio-controlled monster truck utilizes a ladder-frame chassis to boost both durability and ground clearance.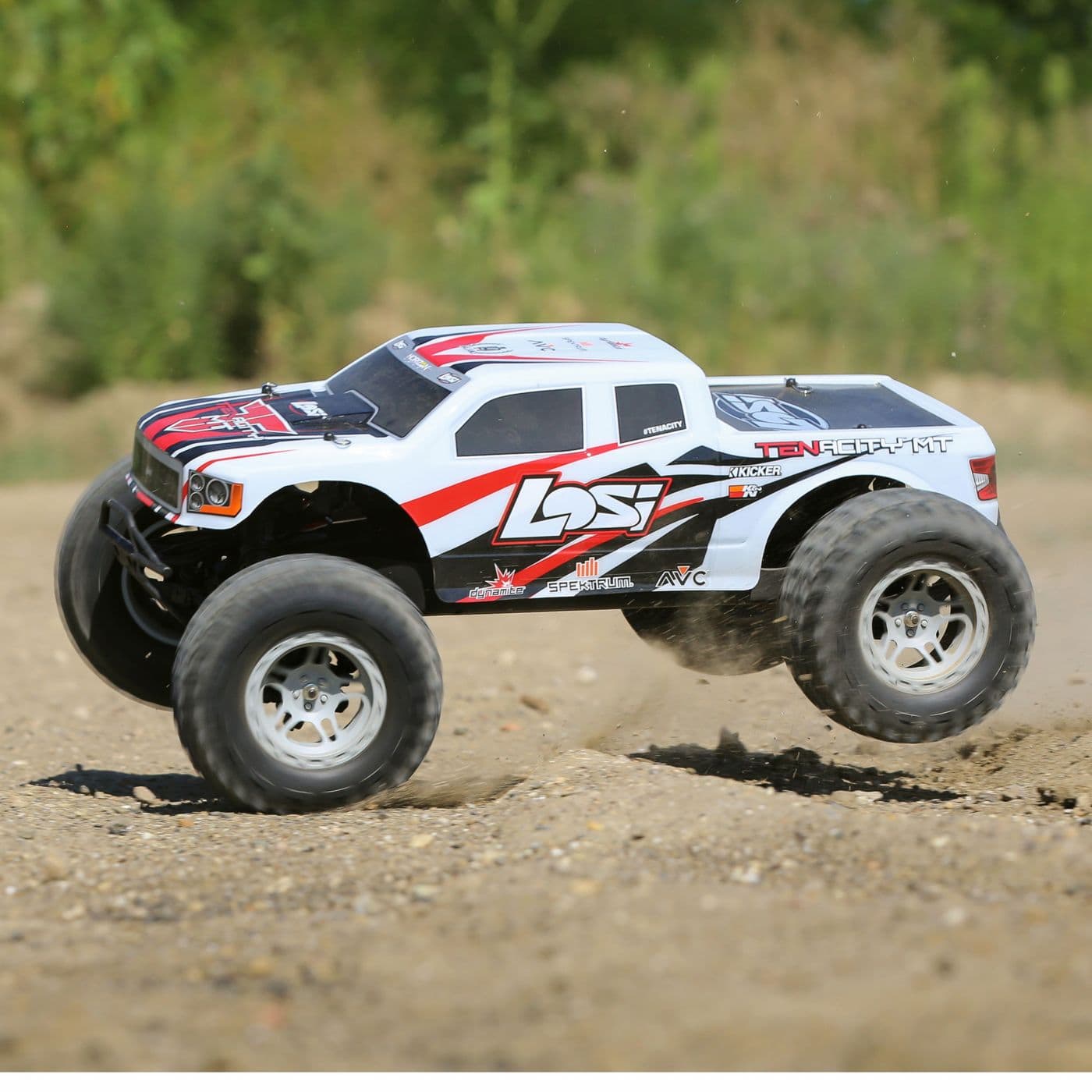 In the looks department, this machine easily passes for a monster truck, with big, beefy wheels and low-profile tires set to crush anything that might get in its way. The Tenacity MT also includes waterproof/water-resistant electronics for full-throttle fun in any type of condition. Active Vehicle Control (AVC) is also included to provide handling support whenever things get out of hand.
An optional speedometer add-on (controller-mounted) will let you see how fast the Tenacity MT is moving and the Spektrum Dashboard Mobile App will give you an even deeper look into the inner workings of the truck. With a quoted top speed of 50+ mph (with optional gearing) chances are, things will get cooking…quickly.
Two body options are available, white with red and black accents and blue with white and black accents. No matter which look you pick, you're bound to get a solid machine through-and-through. On top of it all (literally), a Spektrum FPV mount is included, allowing you to easily mount a FPV camera to capture every minute of R/C action.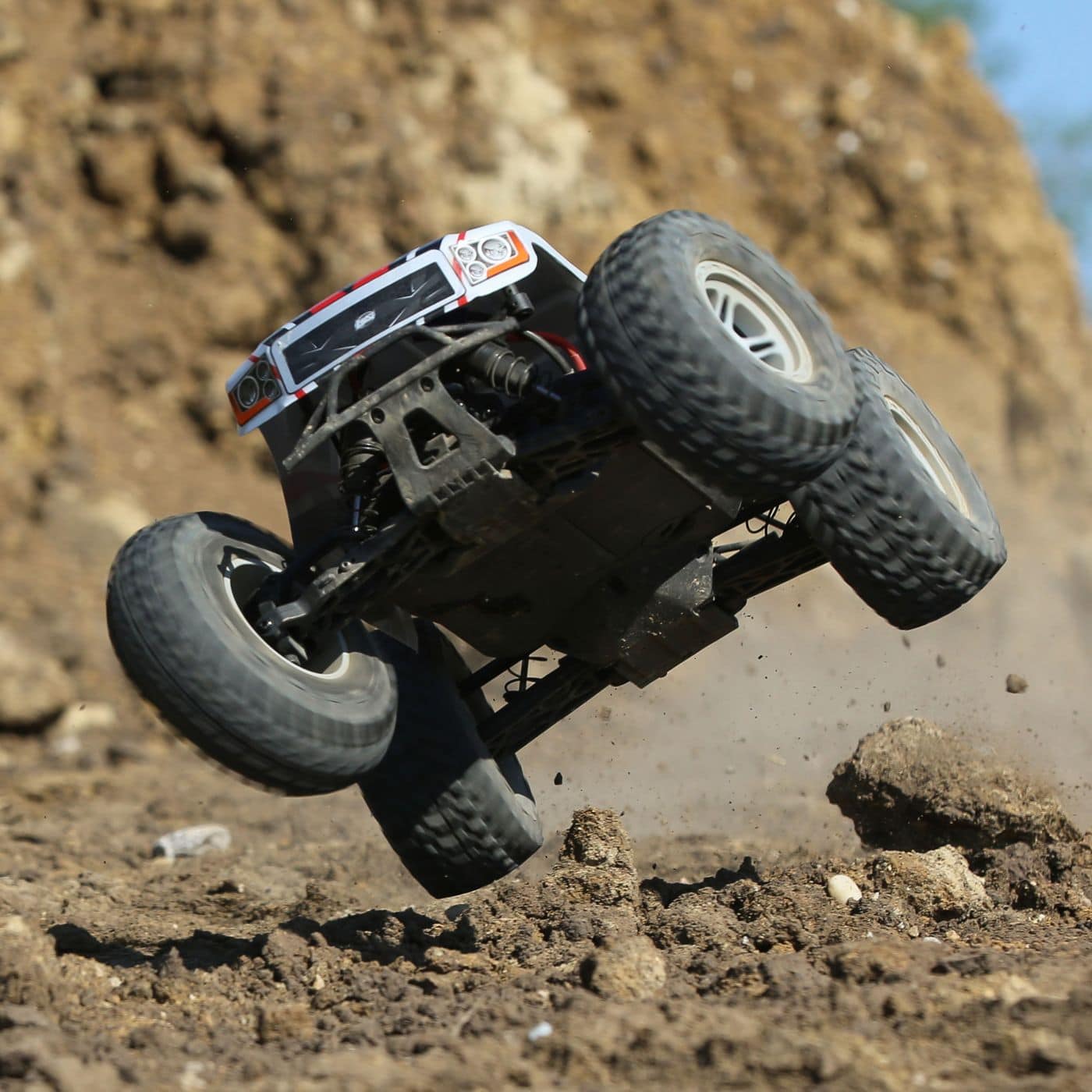 Losi Tenacity MT Specifications
Scale: 

1/10

Length: 

20.2 in (514.4mm)

Width: 

13.5 in (343mm)

Height: 

8.5 in (216mm)

Ground Clearance: 

2.5 in (63.5mm)

Wheelbase: 

13 in (330mm)

Weight: 

6.2 lb (2.8kg)

Chassis: 

Composite Plastic

Suspension: 

Coil-over, Independent

Drivetrain: 

4WD

Tire Type:

All-Terrain

Motor or Engine: 

Non-Sensored Brushless, 550 4 Pole 3800Kv

Speed Control: 

Included

Radio: 

Spektrum DX2E

Servos: 

Included

Batteries: 

7.4 5000mAh 2S 30C or 11.1V 5000mAh 30C 3S Hardcase LiPo Battery with EC3 connector (Sold Separately)

Charger: 

Sold Separately

Gear Pitch: 

MOD 1

Wheel Size: 

2.8 in (71.2mm)

Kit/RTR: 

RTR

Shock Type: 

12mm Composite Plastic, Oil-Filled

Body: 

Tenacity Monster Truck, Screen Printed

Ball Bearings: 

Yes
The Tenacity MT is priced at $399.99 and is available online and at your local Losi dealer. Learn more about this new, entry-level, radio-controlled monster truck at losi.com.Learn more about this new, entry-level, radio-controlled monster truck at losi.com.
Image credit: Losi